Christmas Fruit Mincemeat Pies are sweet, fruity and traditionally served not only on Christmas, but Easter as well
These Christmas Fruit Mincemeat Pies are a South-African favorite traditional Christmas treat. The pies are normally only on sale during Christmas and Easter in the supermarkets.
As it is one of my son's favorite sweet treats, I first made some myself, earlier this year, on his birthday, as part of the dessert table.
Had I known (right, my own ignorant mistake!) earlier just how easy these are to make, I would have started baking them years ago already !
These are much more delicious than most of the store-bought brands.
I doubt whether I will buy in-store again as it is very easy to make, using a good quality bottled Fruit Mincemeat. (I only use SAFARI, but am not sure whether this specific brand is available outside of South-Africa).
Never had a Christmas Fruit Mincemeat Pie ? Well, it is a sweet, very fruity little pie, or cookie, not quite sure which category is correct.
As I mentioned I buy a good quality filling, but I do know people also make their own fillings, where the ingredients are more or less the same, with small differences.
Before we go onto the recipe: there are NO animal meat in Fruit Mincemeat !
It is the meat of the fruit which is minced. Much, much older recipes might have used actual meat, but that is something I have no knowledge about.
Above you can see what I mean by a "patty pan" in the recipe below. Very shallow and just big enough for a two bite fruit mincemeat pie.
I prefer these to the deeper (mini muffin or standard muffin) sized pies, as they are incredibly sweet and I know (from previous store-bought pies) bigger ones are just too much.
These pies can be made in a mini or standard muffin pan as well. You will then have to double/triple the recipe to make 12 pies.
Open or closed Fruit Mincemeat pies ?
They can be served the way I make them – open with a star on top or cut a large enough circle to cover the top (make a small hole to allow steam to escape in each pie, if making "closed" pies).
This is of course a personal choice – let me know which you prefer, shallow or a deep fruit pie ? And if you have not tasted one yet, will you try the recipe?
More Christmas recipes you like:
Connect with us :
PINTEREST TWITTER FACEBOOK INSTAGRAM
Christmas Fruit Mincemeat Pies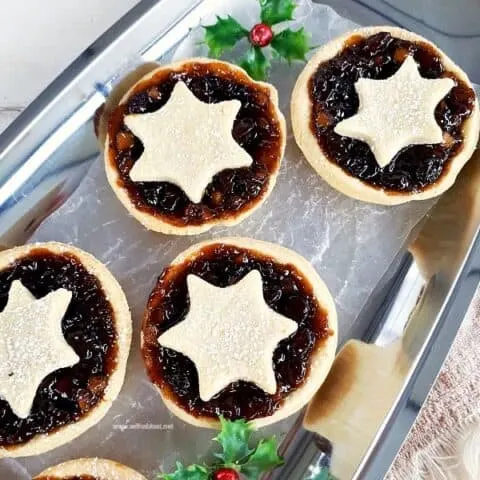 Christmas Fruit Mincemeat Pies
Christmas Fruit Mincemeat Pies are sweet, fruity and traditionally served not only on Christmas, but Easter as well
Ingredients
1 cup Flour
1/4 cup Butter, cubed
1 TB Caster Sugar, heaped (Superfine Sugar)
1 TB Cornflour, heaped (Cornstarch)
1 Large Egg
12 t Fruit Mincemeat, heaped (homemade or store-bought)
1 t Icing Sugar, to dust
Instructions
Pre-heat oven to 180 deg C (350 deg F) – Spray a shallow patty pan with cooking oil
Using a food processor, process the Cake Flour, Butter and Caster Sugar until crumbly – add the Egg and process until well combined (add a little more Flour if the dough is too moist)
Place dough on a floured surface and knead until smooth – cover with plastic wrap and chill for 15 minutes
Roll out the dough to a thickness of 3mm – using a round cutter, slightly larger than the patty pan holes, cut 12 pieces and place in the patty pan – scoop 1 heaped teaspoon of Fruit Mincemeat into each base
Using a star cutter (or any similar), cut 12 stars and place on top of each pie
Bake 12 – 15 minutes until golden brown. 7.) Remove from oven – dust with Icing Sugar whilst still hot – transfer to a cooling rack until completely cooled
Notes
Total time does not include dough chilling time
Nutrition Information
Yield

12 Servings
Serving Size

1 Pie
Amount Per Serving
Calories

85
Total Fat

4g
Saturated Fat

3g
Trans Fat

0g
Unsaturated Fat

1g
Cholesterol

26mg
Sodium

37mg
Carbohydrates

10g
Fiber

0g
Sugar

2g
Protein

2g
Nutrition value is not always accurate
Keep in a sealed container.