White Chocolate Mousse Cake has a chewy Cake base, creamy Mousse and a taste which will blow you away ~ make-ahead friendly recipe
I have the best White Chocolate Mousse Cake recipe for you today ! Seriously, this is the most divine dessert I have made this year.
Then again I AM a white chocolate lover and any chocolate mousse has always been a favorite.
Extremely creamy with the most incredible taste – it is almost as if you eat a white chocolate bar, just creamier and way more delicious.
The sliced piece is huge, I mean really, really huge and I only used the slice for the photo.
Because this white chocolate mousse cake is so rich, even I would not have been able to finish the slice at once.
Not saying anything about going back 30 minutes later for another slice though !
The base, or cake crust if you will, is the only bit which needs baking and that takes around 20 minutes in the oven. The rest is melt, beat, mix and chill. Easy, right?
I think this is a beautiful dessert which would look awesome on your dessert table at Christmas or any other family gatherings you have on this month.
Perfect for Christmas dessert !
Sprinkled with Candy Cane and then lightly dusted with some silver and blue edible glitter as well, to give it more of a Festive look.
The chocolate cake base is a very plain recipe. However, once the Mousse is spooned over and the Cake is chilled, the base turns into a delicious chewy bit !
Not gooey, just chewy which is a wonderful combination with the creaminess of the Mousse.
Beautiful dessert (because you eat with your eyes first!) delicious, and .. uhm, make two if you are having guests over as everyone will want seconds ! (making 2 is just a suggestion…but highly recommended!)
More Chocolate recipes you might like:
White Chocolate Mousse Cake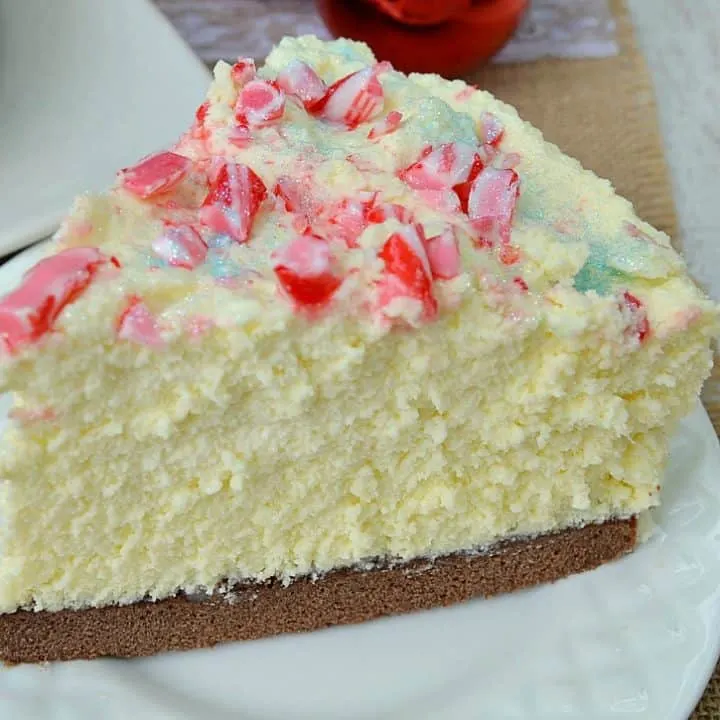 White Chocolate Mousse Cake
Total Time:
8 hours
35 minutes
White Chocolate Mousse Cake has a chewy Cake base, creamy Mousse and a taste which will blow you away ~ make-ahead friendly recipe
Ingredients
BASE:
4 Eggs beaten until creamy, in a medium mixing bowl
2 TB Water
2/3 cup Caster Sugar (Superfine Sugar)
1/4 cup Cocoa Powder
1 cup Flour
3 TB Butter melted
MOUSSE:
600 g White Chocolate good eating quality ( 21 oz )
4 cups Fresh Cream (whipping cream/double cream), divided
1 TB Gelatin
TO DECORATE:
Candy Cane coarsely chopped (optional – depending on occasion)
Edible Glitter (optional – depending on occasion)
Instructions
BASE:
Pre-heat the oven to 180 deg C (350 deg F) – spray a 24 centimeter ( 9 inch ) loose bottom cake pan and line the base with baking paper
Bring the Water and Caster Sugar to a boil for a minute until the Sugar has dissolved – remove from the stove
Whilst beating the Eggs, add the warm dissolved Caster Sugar in a thin stream to the Eggs – beat 2 – 3 minutes on high
Sift the Cocoa and Flour over the Egg mixture – beat another minutes, scraping the sides and bottom halfway through
Add the Butter – mix until combined – pour batter into the prepared cake pan – bake 20 minutes or until a tester comes out clean (the cake does not rise much) – remove from the oven and let cool completely in the pan
MOUSSE:
Melt the White Chocolate and let stand to cool to room temperature
Place the Gelatin in a small bowl – cover with just enough water – it should be fully sponged after about 3 minutes – heat 1/4 cup Fresh Cream until hot – add to the Gelatin and stir until the Gelatin has dissolved and is runny
Meanwhile, beat the remaining Fresh Cream until stiff peaks form – whilst still beating, add the melted White Chocolate and the dissolved Gelatin (NEVER stop beating) – beat until all is well combined
Scoop onto the baked chocolate Cake base and chill overnight
TO DECORATE:
Remove carefully from the pan – sprinkle with Candy Cane and dust with Edible Glitter if using
Nutrition Information
Yield

16
Amount Per Serving
Calories

561.6
Total Fat

40.1g
Saturated Fat

24.6g
Unsaturated Fat

8.7g
Carbohydrates

50g
Sugar

40.2g
Protein

3,8g
Use a sharp knife to slice into serving portions – leftovers must be kept refrigerated.
LINDA
Remember to PIN !