Very pepperminty, moist Chocolate Peppermint Cupcakes with a simple but rich buttercream frosting and sprinkled with Candy Cane and Mint Crunch
I am still on a Peppermint kick and think my son is especially happy about it, as he is a huge fan of anything Peppermint and these Chocolate Peppermint Cupcakes are no exception.
The cupcakes are not only rich in color, but in taste as well with the added Mint Crunch. I am not sure whether Mint Crunch is available everywhere as I found mine at our local baking supply store.
No brand name which makes me think the store buys in bulk and then re-package.
Which Peppermint candy to use in a cupcake ?
I think just about any other hard Peppermint candy would work in this recipe. Provided that it is chopped fairly small as the Mint Crunch which you can see I also sprinkled over half of the Chocolate Peppermint Cupcakes.
I just love Pillsbury products and I am not really a big fan of cake mixes (except when I am in a hurry or have tons of baking to do).
Pillsbury products are on special promotion at most of our super- and hypermarkets at the moment, so I grabbed a couple of cake mixes and even some frosting.
You can see a tiny piece of Mint Crunch sticking out in the first cupcake photo above, on the right.
It does not melt, but instead goes chewy and spreads the delicious Peppermint taste through the cake. Absolutely divine !
My plan was to only add some Peppermint Essence to the cupcake batter. However, I have been looking for the Essence for months now and no one seems to ever have stock !
Another one I can not find is Rum Essence .. quite weird as both these flavors are very popular in South-African baking.
Anyhow, back to the cupcakes. These are super moist and the chewy bits of Mint Crunch are just enough to not overpower the chocolate flavor.
Love more Peppermint ??
The two flavors together are great in almost all recipes and I like the quantities as below. However, if you would like an even more pepperminty flavor, add the Mint Crunch as well as some Peppermint Essence.
Besides a little Vanilla, I did not flavor the frosting as I think that might be a little too much and then there is also the Candy Cane and/or Mint Crunch sprinkled over the frosting.
More Cupcake recipes you might like:
Chocolate Peppermint Cupcakes
Yield: 24 Cupcakes
Chocolate Peppermint Cupcakes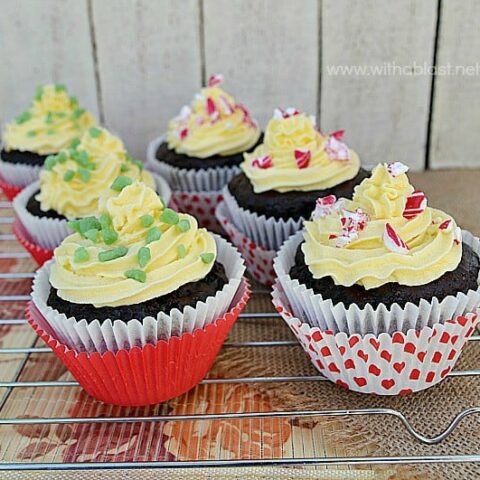 Very pepperminty, moist Chocolate Peppermint Cupcakes with a simple but rich buttercream frosting and sprinkled with Candy Cane and Mint Crunch
Ingredients
CUPCAKES:
1 Box Pillsbury Chocolate Cake Mix
1 cup Water
1/3 cup Vegetable Oil
3 Large Eggs
1/2 cup Mint Crunch
FROSTING:
4 cups Icing Sugar (Powdered Sugar)
1 cup Unsalted Butter, softened
2 t Vanilla Essence
1/2 cup Candy Cane, (crushed) and/or Mint Crunch
Instructions
Pre-heat the oven to 180 deg C (350 deg F) – line 2 x 12 hole cupcake pans with liners
In a large bowl, beat together the Cake Mix, Water, Oil and Eggs for 2 minutes, scraping the bottom and sides regularly – stir in the Mint Crunch
Fill the prepared cupcake holes 3/4 full – bake 20 – 22 minutes or until a tester comes out clean – remove from the oven and let cool completely
FROSTING:
Beat together the Icing Sugar and the Butter (add a little more Butter if the mixture is too dry) until well combined – add the Vanilla and mix another minute
Spoon or pipe the frosting over the cooled cupcakes and sprinkle with Candy Cane and/or Mint Crunch
Nutrition Information
Yield
24 Servings
Serving Size
1 Cupcake
Amount Per Serving
Calories

218
Total Fat

11g
Saturated Fat

5g
Trans Fat

0g
Unsaturated Fat

6g
Cholesterol

44mg
Sodium

23mg
Carbohydrates

29g
Fiber

0g
Sugar

24g
Protein

1g
Nutrition value is not always accurate