Moist Pineapple Holiday Cake with an amazing Pudding Cream Pineapple Frosting. This is one holiday cake you simply have to make !
When I say this Moist Pineapple Holiday Cake is moist, I mean it is really, really moist and bursting with Pineapple in every bite – from the cake straight through to the amazing frosting.
And yet again, this is a wonderfully easy recipe starting with a cake mix. You can use any brand as long as it is either Vanilla or Yellow cake mix.
I have even tried it once with a cake mix brand I am not particularly fond of, but was the only box I had, and it turned out just as delicious as when I use my favorite brands.
The Pineapple is added to the cake mix with the juices and that's where all the moisture comes from. I just love a cake, or any sweet treat, with all these tropical tastes this time of the year.
It also helps, of course, that we are two weeks into Summer as well as in the middle of the Festive season where just about any kind of treat, sweet or savory is highly in demand.
And don't let me start with the frosting ! Absolutely divine !
No icing sugar or cream cheese in this one. Fresh cream beaten together with a box of pudding and more pineapple and it holds up 100% !
My daughter was just on her way the other Sunday, when I'd finished frosting the cake. I cut the cake in half as it was only hubby and I at home for dinner that evening, and sent it home with her.
Not long after, she texted me saying everyone fell in love with the cake. This cake is a regular on our dessert menu, holidays or not.
I bake mine in a bundt pan, two round pans, or a large square cake pan.
It makes no difference which you decide to use. However, I prefer the bundt pan as there is more open areas for the frosting… did I mention how amazing the frosting is ?
More Cake recipes you might like:
Moist Pineapple Holiday Cake
Yield: 12 Servings
Moist Pineapple Holiday Cake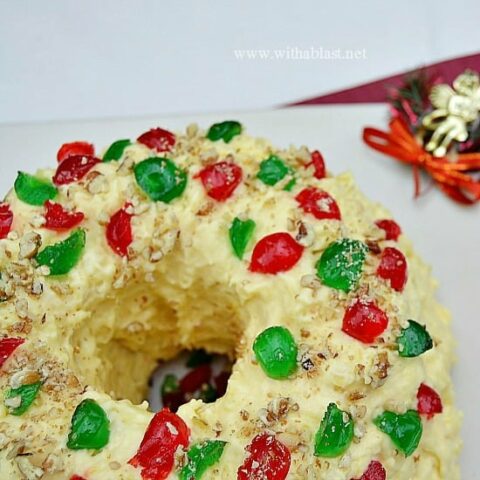 This is one of the Christmas Cakes which you just have to try ! Moist, soft, double Pineapple and an amazing Pudding Cream Pineapple Frosting
Ingredients
CAKE:
1 Box Vanilla Cake Mix, (or Yellow Cake mix)
1/2 cup Unsalted Butter, softened
1 can (410g) Crushed Pineapple, keep undrained
3 Large Eggs
FROSTING:
1 cup Fresh Cream, (double cream/whipping cream)
1 box Instant Vanilla Pudding, (4 servings size box)
1 can (410g) Crushed Pineapple, drained, but retain liquid
DECORATIONS:
1/3 cup Red and Green Glace Cherries, whole, halved or chopped
1/4 cup Pecan Nuts, chopped
Instructions
Pre-heat the oven to 180 deg C (350 deg F) – spray a bundt pan with cooking oil
In a large mixing bowl, beat together the Cake Mix, Butter, can of Pineapple (with juice) and the Eggs for 2 minutes on high – transfer to the prepared pan and bake 35 – 40 minutes or until done
Cool the cake 10 minutes in the pan – transfer to a cooling rack and let cool completely
FROSTING:
Meanwhile, make the Frosting : Whip the Fresh Cream until stiff peaks form – add the Vanilla Pudding – beat another minute – add the drained Pineapple plus 1/2 cup of the retained juice (if it's not enough – fill up with Water to make 1/3 cup) – beat another 2 minutes – chill until ready to use
Notes
Once the Cake has cooled completely, spread over the Frosting – decorate with Glace Cherries and sprinkle over the Pecan Nuts
Nutrition Information
Yield
12
Amount Per Serving
Calories

365
Total Fat

20g
Saturated Fat

11g
Trans Fat

0g
Unsaturated Fat

7g
Cholesterol

89mg
Sodium

355mg
Carbohydrates

44g
Fiber

1g
Sugar

25g
Protein

4g
Nutrition value is not always accurate