Amarula Cake is a soft, fluffy and Amarula-Cream drenched cake – absolutely decadent served at tea time or as an everyday dessert !
Amarula Cake – another South-African recipe ! This one was not planned – I received my leaflet from MOIR'S yesterday. They send out one every six months with the most delicious recipes

What is Amarula ?
It is just one of the most popular cream liqueurs in South-Africa!!
Here is what the leaflet had to say about Amarula:
"AMARULA cream liqueur is a South-African classic made from the fruit of the Marula Tree. When ripe, the fruit drops off the tree and ferments naturally. Many wild animals love this fruit and can be seen falling over and very drunk when they eat the fallen fruit that has turned rather alcoholic! "
I know this fruit is not easy to find but now and then we go to the North West Province which is quite popular over weekends (only an hour's drive there).
Especially for brunches and laid back lunches and it is very scenic around the Hartebeestpoort Dam area.
Anyhow, a few years ago we parked at one of these restaurant/street vendor sites, under a huge tree, and as I got out of the car, I stepped on these little fruits on the ground.
When I picked it up, my hubby, (who grew up on a farm), told me it's a Marula fruit.
Very excited, because I finally saw a fruit of which I already knew the liqueur very well, I asked him whether one can eat it as is… dumb question !
He laughed and said I shouldn't try that, as he had a nasty experience on the farm as a child, and if I REALLY wanted the fruit, I should rather see if there was a vendor selling them when they were handpicked and not lying on the ground.
Amarula Cake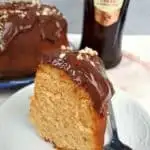 Amarula Cake
Amarula Cake is a soft, fluffy and Amarula-Cream drenched cake - absolutely decadent served at tea time or as an everyday dessert !
Ingredients
CAKE:
2 1/4

cups

Flour

1 1/3

cups

Sugar

1/2

TB

Baking Powder

1/2

t

Salt

1/2

cup

Unsalted Butter

melted

1

cup

Milk

6

TB

Amarula Cream Liqueur

**see note below for substitution suggestion if unavailable

2

Extra-Large

Eggs

1

t

Caramel Essence

1/4

cup

Fresh Cream

(double cream)
GANACHE:
100

g

Milk Chocolate

melted (3.5 ounces)

2

TB

Amarula Cream Liqueur

2

TB

Pecan Nuts

chopped

Icing Sugar

for dusting (optional)
Instructions
CAKE:
Pre-heat oven to 180 deg C (350 deg F) – Spray a medium bundt pan with cooking oil

Sift together the Flour, Sugar, Baking Powder and Salt in a large bowl

Beat together the melted Butter, Milk, 4 TB Amarula, Eggs and Caramel essence in a medium bowl – add to the dry ingredients and stir until just mixed (do not over mix)

Pour batter into the prepared ring pan and bake for 50 – 60 minutes until a tester comes out clean

Remove from oven – un-mold the cake and place on a wire rack (wax paper underneath to catch any dripping)

Heat the Fresh Cream and the remaining 2 TB Amarula until just warm – pour over the cake. Let the cake cool completely
GANACHE:
Combine the melted Milk Chocolate and the Amarula – pour over the cake, followed by the chopped Pecan Nuts – Dust with Icing Sugar
Recipe Notes
Any Cream based Liqueur can be used (the taste will however NOT be the same as with an Amarula Cream Liqueur)
Enjoy with a cup of coffee or tea!
LINDA
You might also like :