Pesto-Bacon Sauce with Chicken is a quick, easy and delicious creamy dish, served over Pasta and made in minutes – scrumptious ! A huge time saving skillet recipe.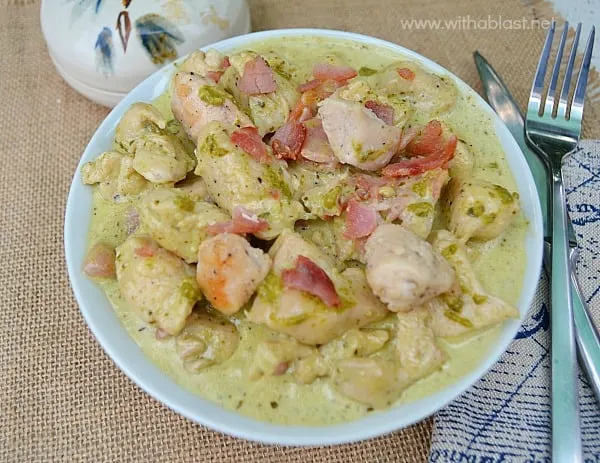 This Chicken in Creamy Pesto-Bacon Sauce dish is so easy to make and ready in a flash. I made it a couple of weekends ago when my daughter was home and she could not stop talking about it.
The following weekend her friend had come with her for the weekend and days before, she had already asked me to please make it when he is here as she was sure he would love it too.

I had second thoughts about that, as he is also a bit of a picky eater, not much though. I have seen a lot worse over the years, but I knew one thing he does not like is spinach, no matter which way it is being served.
Therefore, when she asked me to make this dish again, I was sure he would not like it, as it seems he is one of the anti-green-food people.
Ever cooked for someone like that? My son is a 50/50 on the anti-green thing, but he does like spinach.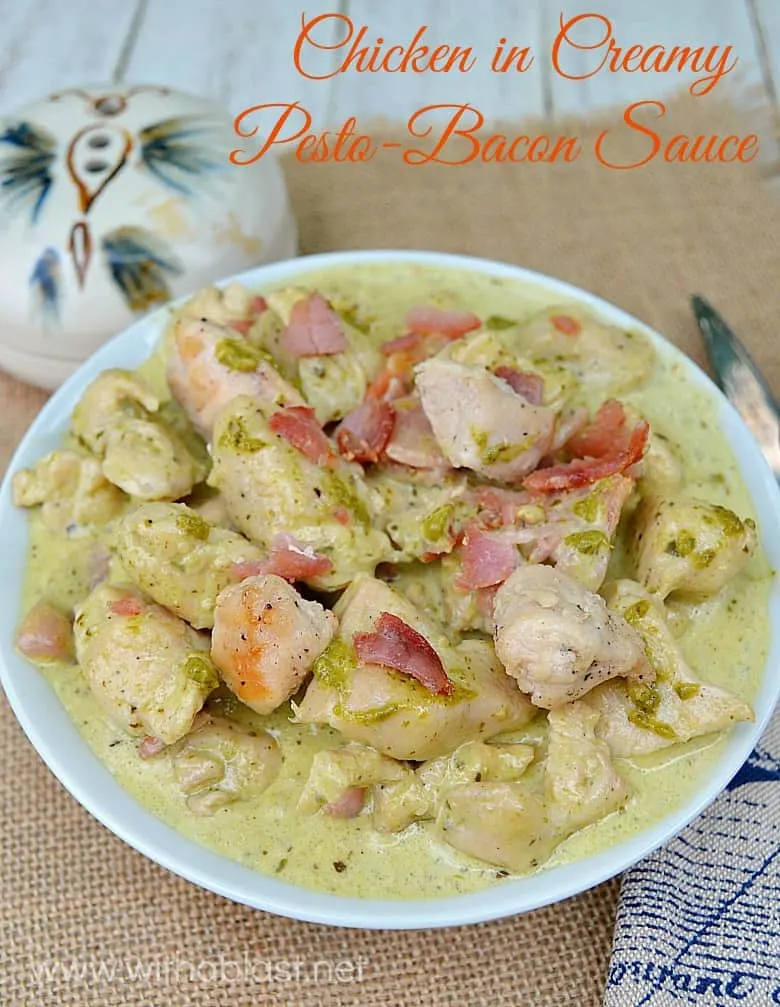 Right, I was wrong, the friend did in fact like the Chicken in Creamy Pesto-Bacon Sauce and he returned a clean plate to the kitchen.
Just shows, never think you know someone's culinary tastes (or maybe just never actually tell them what's in a dish!).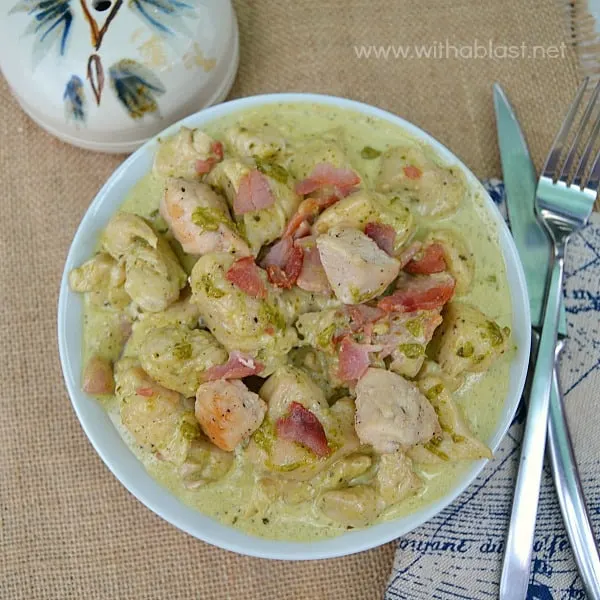 This dish comes together in about 15 – 20 minutes ! Now that is lightning quick, but it tastes as if hours were put into the cooking.
Rich, creamy and so tasty. And there is a lot of awesome sauce going on in this Chicken recipe. I like to sprinkle a little extra Black Pepper over mine once I have dished up.
Have a look at my Creamy Chicken and Bacon Pasta for another quick, comforting dinner recipe !
Chicken In Creamy Pesto-Bacon Sauce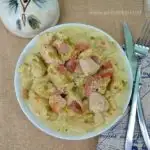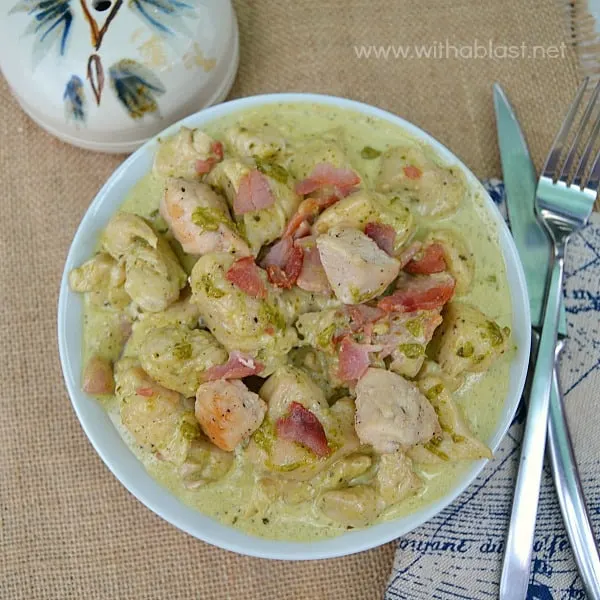 Chicken in Creamy Pesto-Bacon Sauce
Quick and easy can be delicious and this Chicken dish, served over Pasta is made in no time at all - scrumptious ! A huge time saving skillet recipe.
Ingredients
2

TB

Olive Oil

4

Chicken Fillets

cubed

Salt and Black Pepper

to taste

6

strips

Bacon

chopped

2/3

cup

Basil Pesto

1 1/2

cups

Fresh Cream

(whipping cream/double cream)
Instructions
Heat the Olive Oil in a large skillet – season the Chicken with the Salt and Pepper – stir-fry until done – remove from skillet and keep aside

Fry the Bacon in the same skillet until crispy – add Pesto and stir-fry 30 seconds – add the Cream, let simmer for 1 – 2 minutes – add cooked Chicken and heat through
Serve over Pasta of your choice.
LINDA