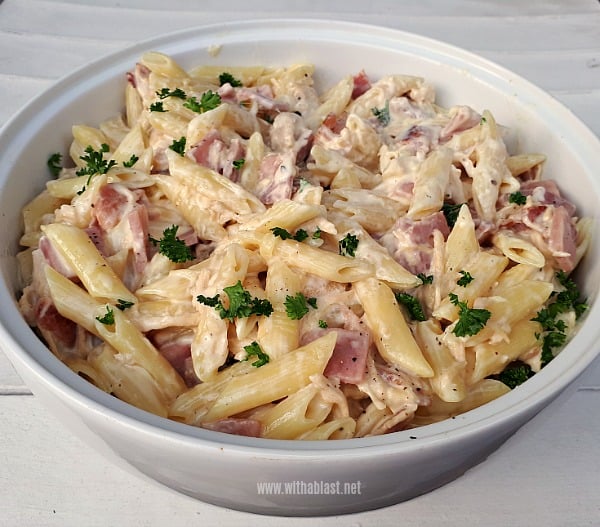 If you are looking for a scrumptious, cheesy comforting dinner recipe, this Creamy Chicken and Bacon Pasta is just what you need.
This dish has it all – Chicken, Bacon and Ham is always a delicious combination and when paired up with a rich cheesy, Cream Cheese sauce you have the ultimate comfort food.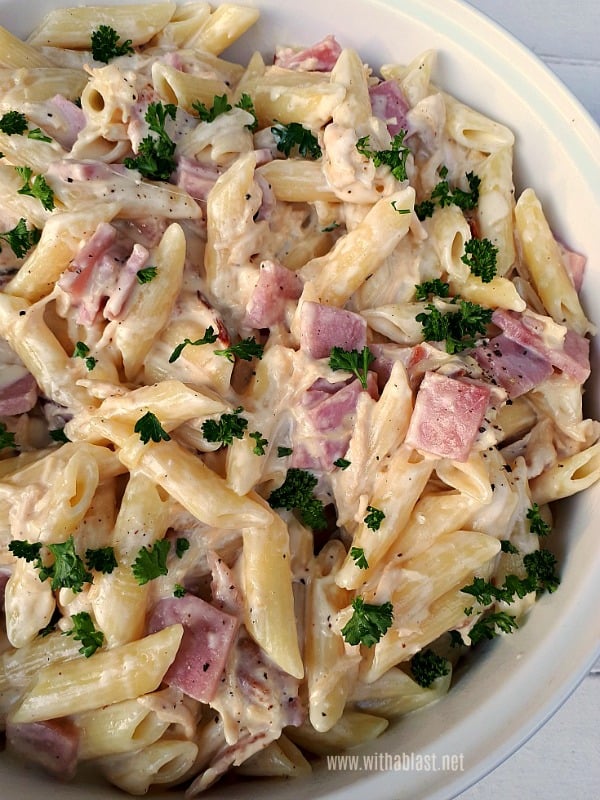 Look at that ! Don't you just want to dig in ? I do not serve the Pasta with any sides as this is so rich, but if you want to stretch the portions to maybe 8 servings, a crunchy side salad would be perfect.
I normally cook the Chicken much earlier, sometimes even the night before, in order for the Chicken to cool completely which makes it easier to cut into cubes, but when I cook everything at the same time, the warm Chicken shreds more than cube, if you know what I mean ?
No matter whether it is shredded or cubed, the taste is the same. The Bacon, Pasta and the Sauce can be done at the same time and if your Chicken is already cooked, this meal can be ready to serve in under 20 minutes.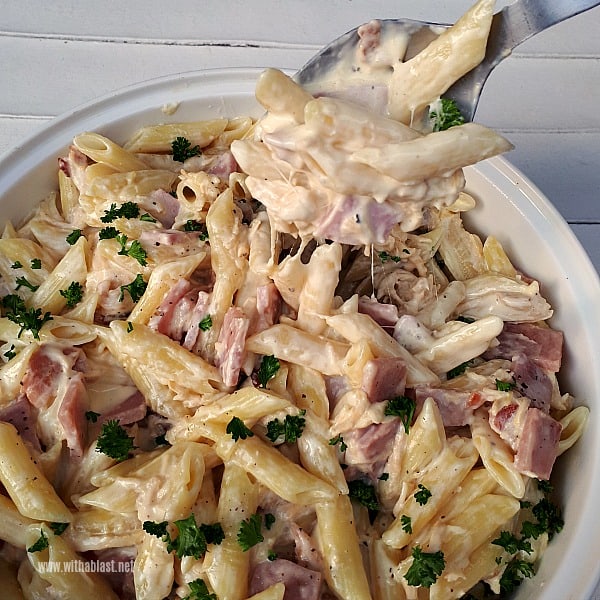 Creamy Chicken And Bacon Pasta
slightly adapted from this recipe
6 Servings
INGREDIENTS:
500g Penne Pasta ( 16 oz )
2 cups Fresh Cream
250g (8 oz) Cream Cheese
2 t Dried Onion Flakes
1 t Garlic Salt
1 t Salt
1/2 t Black Pepper
1 1/2 cups Mozzarella Cheese, grated
750g Chicken Fillets, cooked and cubed ( 1 1/2 pounds )
250g Bacon, fried crispy and chopped ( 1/2 pound )
250g Deli Ham, cut into small pieces ( 1/2 pound )
Parsley, chopped (optional)
DIRECTIONS:
1.) Boil the Pasta as per instructions on the bag – drain and transfer to a large mixing bowl.
2.) While the pasta is cooking, melt the Cream cheese in a medium pot over low heat – Once melted add the Fresh Cream and stir until combined – Add the Onion flakes, Garlic salt, Salt and Black Pepper, stir, then add the Mozzarella cheese – stir until smooth. Remove from heat.
3.) Add the Chicken, Bacon, Ham and the Cream Cheese sauce to the Pasta in the large mixing bowl – Mix it all up – transfer to a serving dish, garnish with finely chopped Parsley and serve.
This dish is very rich and no side dish or salad is necessary.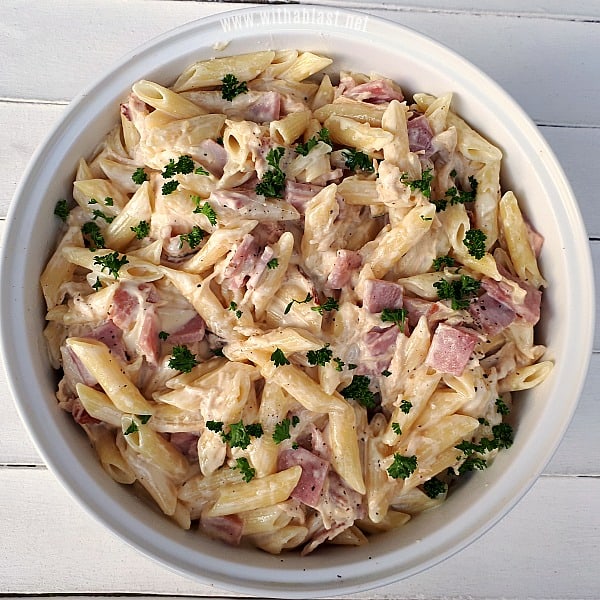 LINDA