Strawberry Liqueur Trifles ~ Boozy Jello made from fresh Fruit Juice, combined with Custard, Strawberries, Swiss Roll slices and topped with Cream and a Cherry make these Individual (or one huge!) trifles a winner each and every time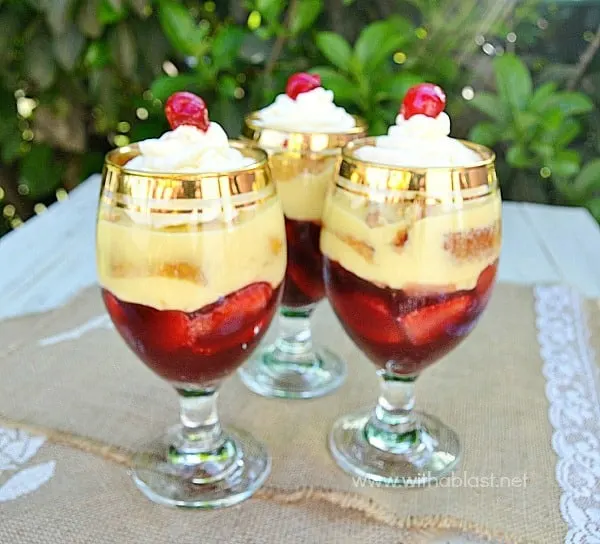 December is trifle time ! Trifles are so versatile to make. But I think the basics are quite clear – some kind of jello, custard, cake, fruit and some toppings.
These Strawberry Liqueur Trifles are not made with the usual box of jello, but instead with a Fruit Juice which is being jello-rised (not a word? .. well, I am sure you know what I mean!).
I used fresh sliced Strawberries in this recipe, but used ready-made thick Custard as I just about always have a couple of cartons of long-life Custard in the pantry.
The Caramel Swiss Rolls are from Woolworths, but you can use any kind or type of cake (pieces or slices) in a trifle.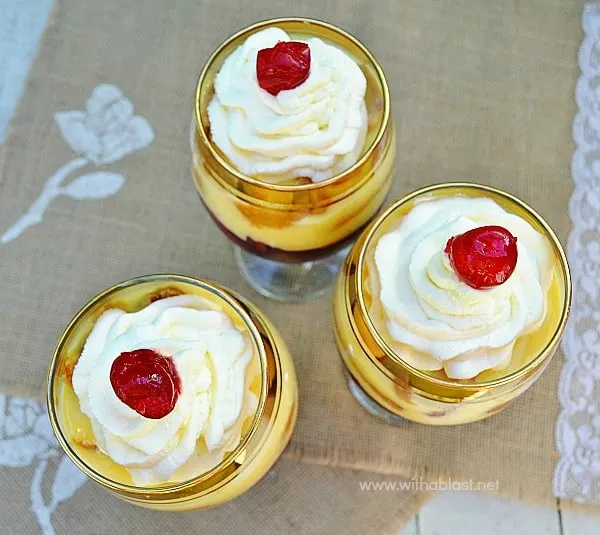 Adding Liqueur or any other alcohol is definitely an adult only dessert. However, to make it kid-friendly you may want to leave out the Liqueur and instead use some more Fruit Juice.
The Wild Berry Juice which I have used, has a bit of zest to it, which I kind of like. All the rest of the ingredients are quite sweet and the zestiness makes a delicious contrast in taste.
Also up to you what kind of Juice you prefer to use, and the great thing about a trifle is that the flavors do not really have to go together. Like Strawberries and Berry Juice, a Pineapple juice will go just as well with Strawberries.
And there is no such thing as too many colors in a trifle, especially during the Festive season where everything IS about color.
*Note : Make individual servings or one large trifle. The larger trifle may just take a little longer for the Jello-Juice to set.
More Sweet Treat recipes you might like:
Strawberry Liqueur Trifles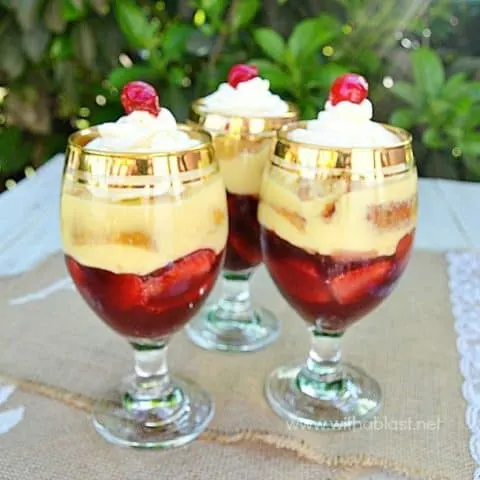 Strawberry Liqueur Trifles
Total Time:
1 hour
15 minutes
Strawberry Liqueur Trifles ~ Boozy Jello made from fresh Fruit Juice, Custard, Strawberries, Swiss Roll, Cream and Cherries make these Individual (or one large!) trifles a winner each and every time
Ingredients
2 1/2 cups Fresh Berry Juice (any flavor)
1 TB Gelatin, plain
1/3 cup Medium Sherry Liqueur
2 cups Strawberries, sliced
6 Mini Caramel Swiss Rolls, sliced (store-bought or homemade)
2 cups Thick Custard, ready made, divided
Whipped Cream, to top
Glace Cherries, to top
Instructions
Pour 1/3 cup of the Juice over the Gelatin in a small bowl – let sit until sponged – heat in the microwave (about 6 seconds) until dissolved and runny

Save 2 tablespoonfuls of Juice and keep aside – pour the remaining Juice into a medium bowl – add the hot, dissolved Gelatin to the Juice whilst beating on high

Add 1 TB Liqueur to the reserved Juice and set aside for later – add remaining Liqueur to the Juice/Gelatin mixture and mix well

Arrange the Strawberries in the bottom of your serving glasses/dishes – pour the Juice/Gelatin mixture over and refrigerate until set

Pour half the Custard over the layer of set Jelly, followed by a layer of Swiss Roll slices – drizzle the Juice/Liqueur mixture, in step 3, over the Swiss Roll slices and pour over the remaining Custard



Top with Whipped Cream and a Glace Cherry
Nutrition Information
Yield

6
Amount Per Serving
Calories

312.3
Total Fat

9g
Saturated Fat

4.8g
Unsaturated Fat

1.4g
Carbohydrates

47g
Fiber

1.3g
Sugar

27.9g
Protein

7.3g
Serve immediately or keep chilled until ready to serve.
LINDA