Tasty Cheese Ball with the most delicious, somewhat spicy, Nut and Fresh Herbs Crusted all around – this is a winner as an Appetizer every time and great to add to a savory platter too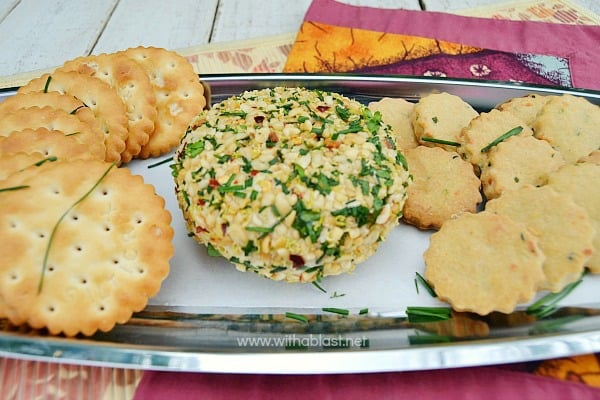 I love Blue Cheese, most cheeses for that matter, but my family only has a few favorites. Unfortunately if I do not hide the Blue Cheese in something, they would not touch it. But, they gulp down this Nut and Herb Crusted Cheese Ball in no time at all – Blue Cheese added and all !

The Nut and Herb Crust is fantastic and you can use Pecan Nuts, Walnuts or even Sprinkling Nuts, whichever is your favorite. The Nuts contribute a lot of taste to the Cheese Ball and every time I make this Nut and Herb Crusted Cheese Ball.
I use a different type of Nut and my family immediately notices the difference in taste. So far, Pecan Nuts are in the lead, but they never say no to the Cheese Ball, no matter the type of Nut !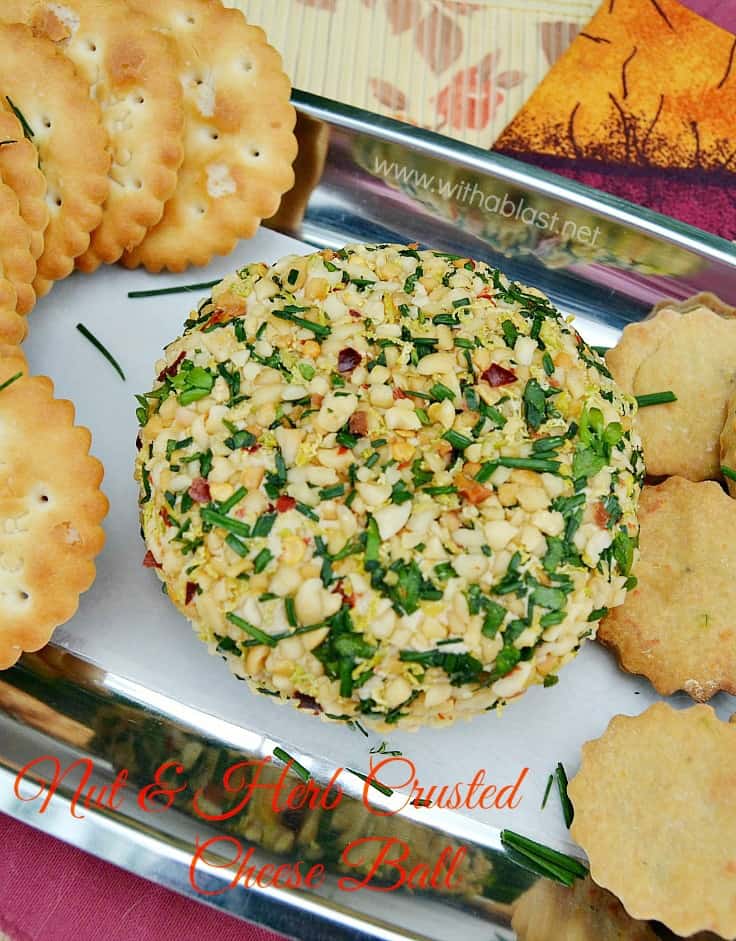 I made this Cheese Ball the other day as an appetizer, but make it as part of a larger savory platter as well. Especially when we are watching Rugby, or Cricket, which is a full day game (if you do not know Cricket – there are one day games and also five day games), so a lot of sport watching and not a lot of time to cook dinner.
That is when I bring out my savory platters, loaded not only with things like Cheese Balls and other rich-not-too-healthy goodies, but I also include raw vegetables. More types of cheeses like cottage cheese and such, which is more on the healthy side – all about balance ! (I'm trying !)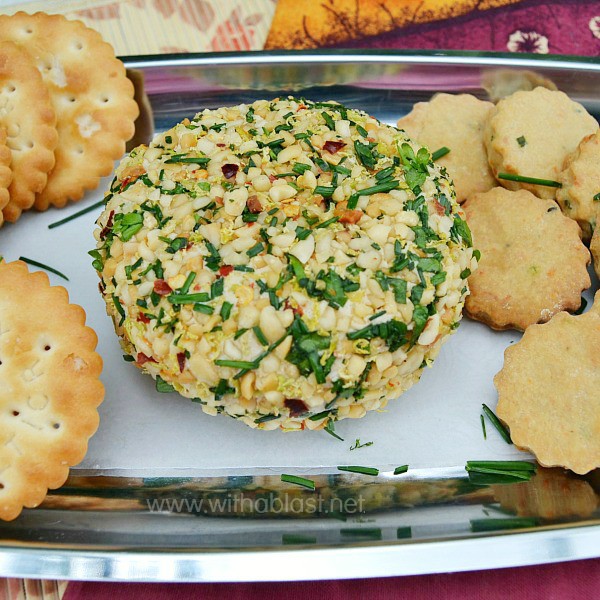 Anyhow, looking at the pics you might think it is a small Cheese Ball because the savory crackers on the left look huge .. must be my photography. There is no way one of those crackers are the same size as the Cheese Ball which is in reality about double the size of a round of Camembert Cheese. Ideally enough to serve at least 6 – 8 people.
You can always double the recipe, make a huge Cheese Ball or two regular sizes, depending on how you prefer to serve your snacks.
I baked the Cheddar and Chive Biscuits on the right, which is way better than store-bought and you can find the recipe HERE for them.
Nut And Herb Crusted Cheese Ball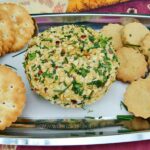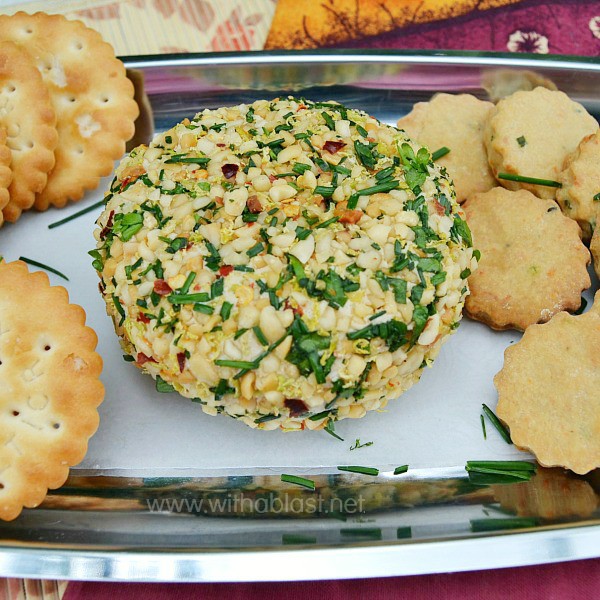 Nut And Herb Crusted Cheese Ball
Tasty Cheese Ball with the most delicious, somewhat spicy, Nut and Fresh Herbs Crusted all around - this is a winner as an Appetizer every time and great to add to a savory platter too
Ingredients
1/3

cup

Creamy Blue Cheese

broken

125

g

Cream Cheese

softened ( 4 oz )

2

TB

Brown Onion Soup Powder

1

t

Chili Flakes

3

TB

Fresh Parsley

finely chopped

3

TB

Fresh Chives

finely chopped

1

t

Lemon Zest

finely grated

1/3

cup

Pecan Nuts

or Walnuts, Sprinkling Nuts (toasted and chopped)
Instructions
Blend together the Blue Cheese, Cream Cheese and Soup Powder until smooth – form into a Ball, wrap with plastic wrap and refrigerate for an hour or two until firm

Meanwhile, mix together the remaining ingredients – place on a plate and set aside (I leave it open in order for the Parsley and Chives to dry out just a tiny bit, which makes it easier to stick to the Cheese Ball)

Remove the Cheese Ball from the refrigerator – roll in the Nut and Herb mixture, pressing lightly – let stand for 15 minutes before serving or keep chilled until ready to serve
Recipe Notes
Total time excludes chilling time
LINDA