The fresh taste of Chives and rich Cheddar make these savory biscuits (crackers) 100% better than any store-bought kind. Perfect to serve with dips and cheese balls as an appetizer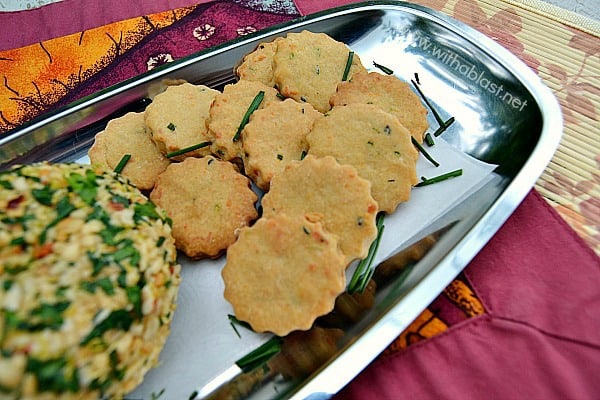 It's that time of the year ! Parties, family gatherings, watching the big game… You name it and you will find a reason to serve these scrumptious Cheddar and Chive Biscuits .

I suppose it could be called crackers, but to me a cracker is much thinner and crispier. These Biscuits rise to just a little higher than which it was rolled out to. It is definitely much tastier than store-bought crackers or biscuits.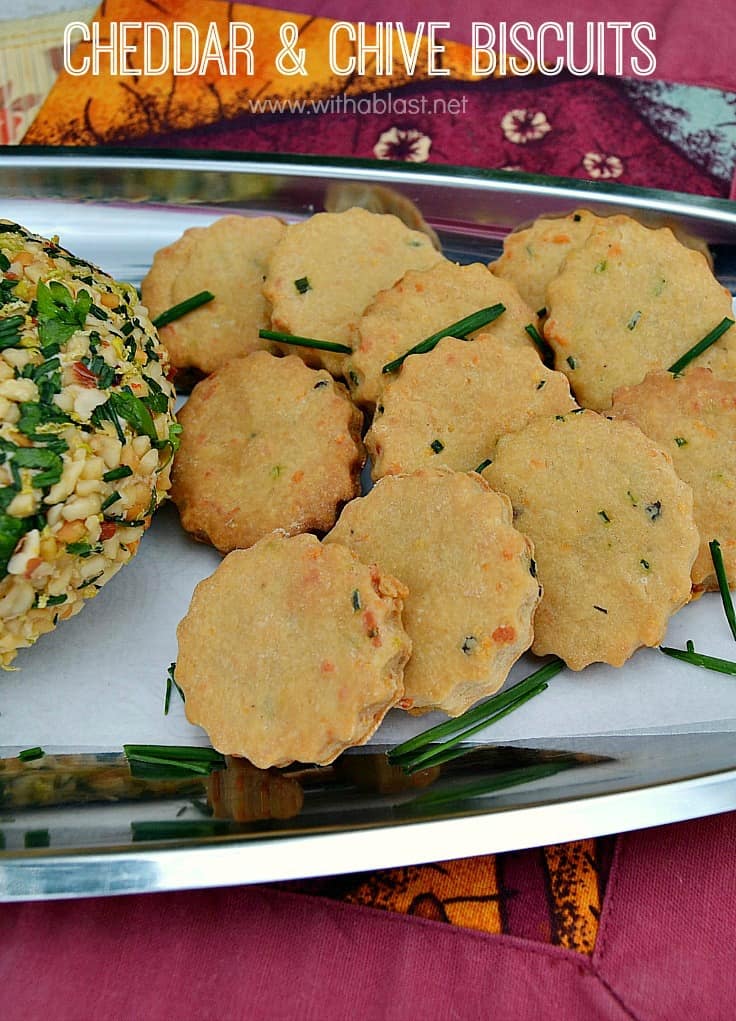 It is a bonus that this recipe does not require any heavy kneading or rolling out. The kneading is minimal and rolling out, a breeze. Perfect for my problem with my arms.
This time I made tiny Biscuits. You can make them bigger and seeing as the dough does not spread, you can place them fairly close to one another.
I use one baking sheet per one batch, and two baking sheets when I bake a double batch. Which is much better and convenient as both baking sheets fits into the oven on the center rack.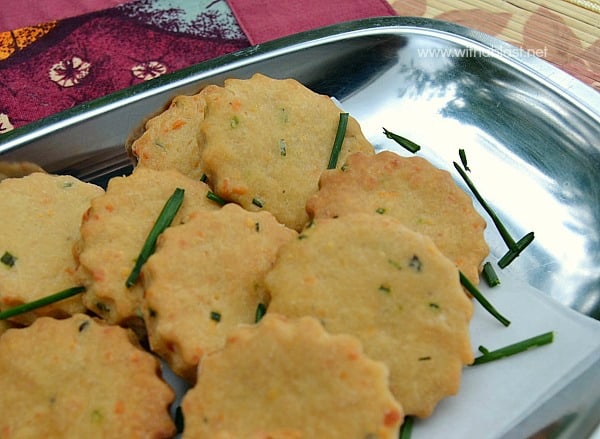 Imagine the smell of these Cheddar and Chive Biscuits baking ! Absolutely wonderful and as soon as my family catches even a whiff of the smell, they're in the kitchen – dogs included 😉 .
Therefore, for me, it is better to bake a double batch as it seems we have an appetizer to an appetizer, if you know what I mean. Half eaten warm straight off the baking sheet and half when the Biscuits are cooled and served as it is meant to.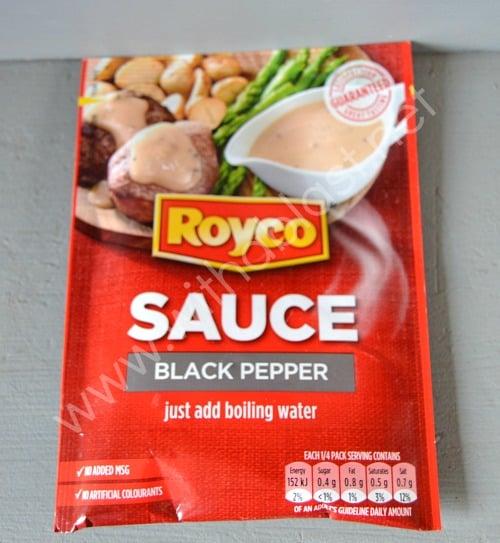 *I am including a photo of the Black Pepper Sauce I use, as I am not sure whether these are available world wide, and wanted to give you a look at the packet in case you know of something similar to use, or at least give you an idea. I use the Powder as is, dry from the packet – not mixed with a cup of Boiling Water as stated on the pack.*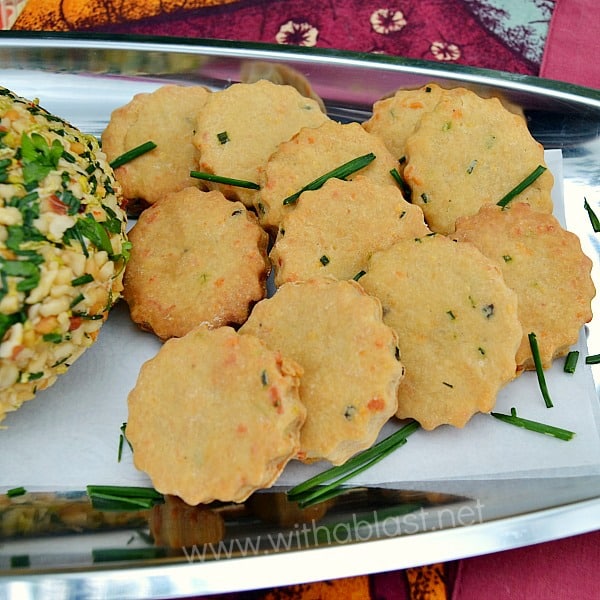 Serve with Dips or Cheese Balls . Recipe for the Cheese Ball as shown in the photos can be found HERE.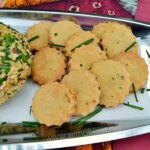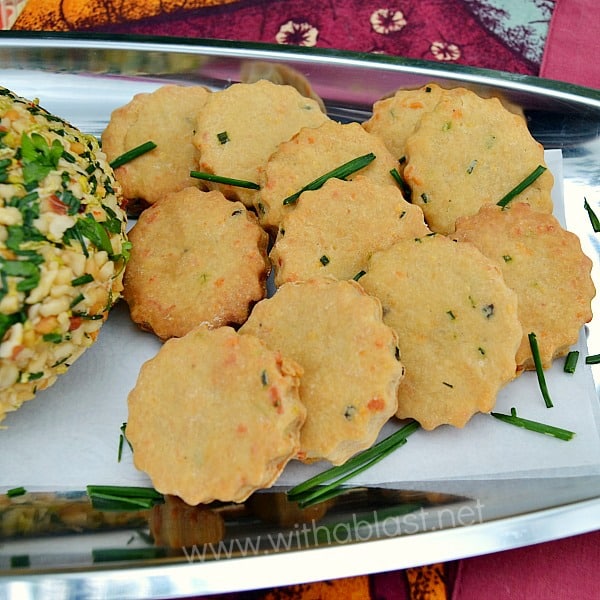 Cheddar And Chive Biscuits (Crackers)
The fresh taste of Chives and rich Cheddar make these savory biscuits (crackers) 100% better than any store-bought kind and is perfect to serve with dips and cheese balls as an appetizer
Ingredients
1 1/2

cups

Flour

1

packet

Black Pepper Sauce Powder

see note below

1/2

cup

Cheddar Cheese

finely grated

1

TB

Fresh Chives

finely chopped

1/2

cup

Olive Oil

1

Egg Yolk

1/3

cup

Water
Instructions
Pre-heat the oven to 180 deg C (350 deg F) – line a baking sheet with baking paper or spray with cooking oil. (you can also wait and pre-heat the oven after step 3)

Mix together the Flour, Sauce Powder, Cheese and Chives in a medium mixing bowl

In a separate small mixing bowl, beat together the Olive Oil, Egg Yolk and Water – add to the Flour mixture and mix well – knead until smooth (about 2 minutes) – roll into one long roll, wrap with plastic wrap and chill at least 30 minutes

Unwrap the dough and roll out on a lightly floured base to a 5mm thickness – use a 2.5cm (1 inch) cookie cutter and cut out – place on the baking sheet and bake 20 – 25 minutes or until golden – cool completely on a cooling rack
Recipe Notes
NOTE: *See photo in post of the Black Pepper Sauce I use, as I am not sure whether these are available world wide, and wanted to give you a look at the packet in case you know of something similar to use, or at least give you an idea. I use the Powder as is, dry from the packet – not mixed with a cup of Boiling Water as stated on the pack.*
Total time excludes chilling time
LINDA