Italian Meatball and Pasta Sticks make a fun, unique appetizer, lunch or light dinner. Kids love these appetizer sticks !
Surprise your family with these Italian Meatball and Pasta Sticks for dinner one night or perhaps at lunchtime.
Not only are they fun to make, these Pasta Sticks look very appetizing, too. And make no mistake, it is not only about looks !
This makes a wonderful, delicious main meal (lunch or light dinner) with veggies or salads on the side.
Or serve them as appetizers .. whichever way you prefer.
The Italian Meatballs are juicy, and just as delicious on it's own, thanks to the sauteed Onion and Garlic, as well as the Parmesan Cheese that goes into the Meatballs.
These Pasta Sticks are also great served warm or cold (not ice cold though).
However, it really should not stand for more than a couple of hours or the Pasta might go a bit rubbery. Well, not rubbery per se, I'd say a little more chewier, if you know what I mean.
The quantities used to thread onto the sticks are all just an estimate, a balance of Pasta and Meatballs which my family like, therefore if you prefer more Pasta, add more Pasta.
I have made these Italian Meatball and Pasta Sticks with Macaroni and Shell-shaped Pasta before, but it did not come out as great.
In fact, it was a bit of a mess, the Macaroni was way too soft and the Shells kept tearing, and just did not look right. The Penne on the other hand, works like a charm!
More appetizer recipes you might like:
Connect with us :
PINTEREST TWITTER FACEBOOK INSTAGRAM
Italian Meatball And Pasta Sticks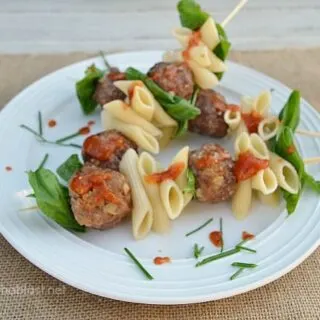 Italian Meatball and Pasta Sticks
Italian Meatball and Pasta Sticks make a fun, unique appetizer,lunch or light dinner. Kids absolutely love these !
Ingredients
2 cups Penne Pasta
1 Onion, finely chopped
3 t Fresh Garlic, crushed
1 TB Olive Oil
1/2 cup Parmesan Cheese, finely grated
1/2 cup Fresh Breadcrumbs
1 Extra-Large Egg, lightly beaten
1 TB Thyme, finely chopped
450 g Lean Ground Beef, ( 1 pound )
Salt and Black Pepper, to taste
36 Basil Leaves
1 cup Tomato Based Pasta Sauce, (your favorite – homemade or store-bought)
Instructions
Cook the Pasta as per the packet's instructions, drain and keep aside
Pre-heat the oven to 200 deg C (400 deg F) – spray a 20 x 20cm ( 8 x 8 inch) oven dish with cooking oil
Heat the Oil in a small pan – saute the Onion and garlic until light golden and soft – remove from heat and let cool 5 minutes
In a large bowl, mix the Onion, Parmesan, Breadcrumbs, Egg, Thyme and Beef until well combined – season to taste with Salt and Pepper and give the mixture a final mix – form into 24 small golf ball sized balls and place in the refrigerator for 10 minutes to firm up – transfer to the prepared oven dish and bake 25 – 30 minutes, turning halfway, until done
Once the baked Meatballs have cooled enough to be handled by hand – start to thread the ingredients onto 12 Wooden Kebab Sticks – Basil leaf, 4 Penne Pasta, 1 Meatball – repeat and end with a Basil leaf
Nutrition Information
Yield

12
Serving Size

1
Amount Per Serving
Calories

183
Total Fat

8g
Saturated Fat

3g
Trans Fat

0g
Unsaturated Fat

4g
Cholesterol

53mg
Sodium

245mg
Carbohydrates

13g
Fiber

1g
Sugar

2g
Protein

15g
Nutrition value is not always accurate
Serve warm or cold, drizzled with Pasta Sauce or serve the Sauce on the side as a dipping sauce.