Avocado Ritz is the most delicious, quick and easy Appetizer, Shrimp filled Avocado, which is loved by all and our family favorite !

Images updated September 2018
Avocado Ritz is our family's favorite Appetizer and I have no idea why after 2 1/2 years of blogging, I have never shared a recipe for this delicious Appetizer.
I usually make this when the main dish takes up a lot of time and needs constant attention.
The Avocado Ritz can be made up to an hour before serving. However, the filling can even be made the day before.
As long as you keep the Shrimp mixture in a sealed container in the refrigerator, the filling will be fine.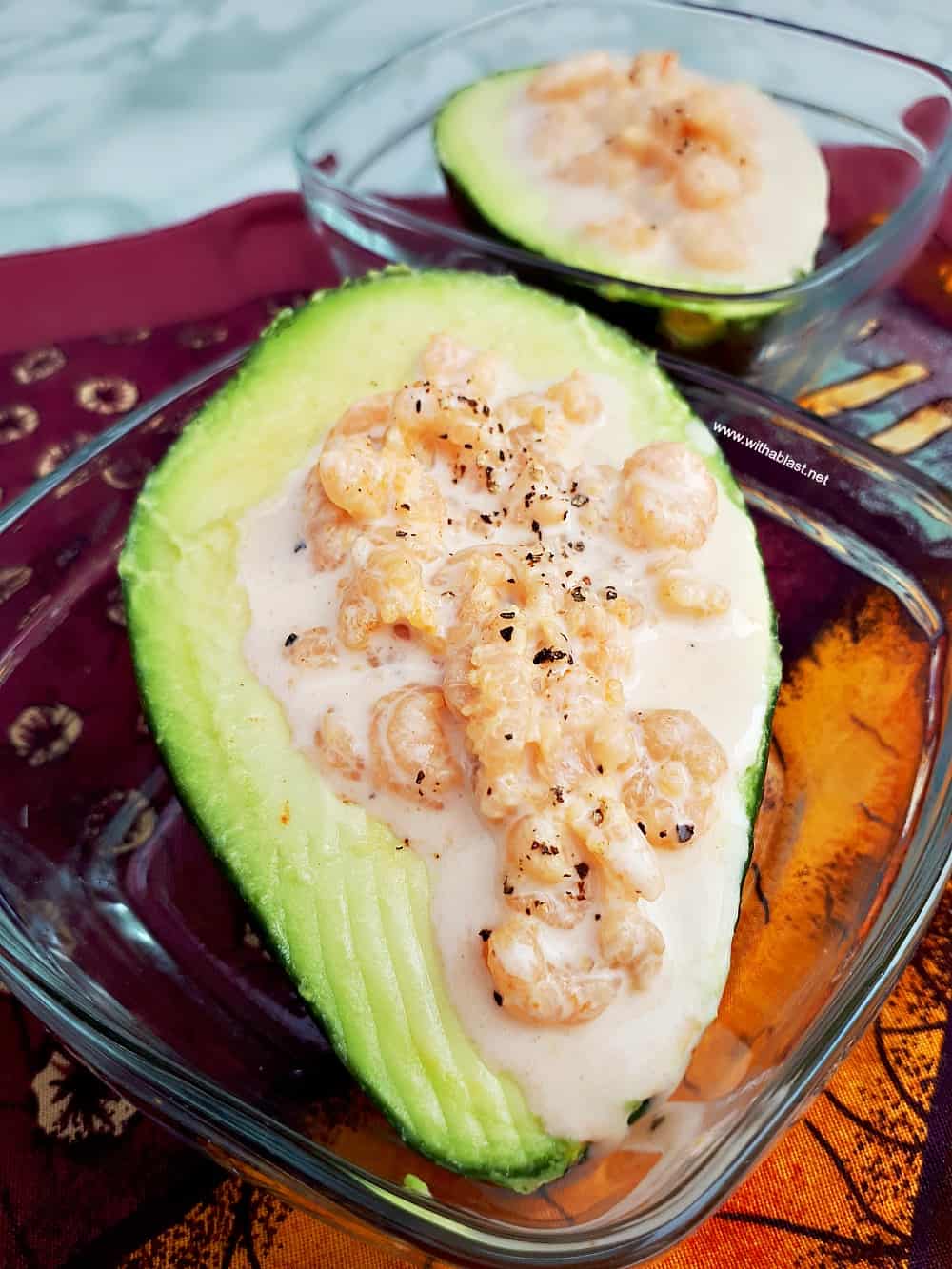 I know some people like their Avocado Ritz to be more on the zesty side. And have actually seen restaurants serve extra Lemon Juice on the side.
I am quite happy with the amount of Lemon Juice in this recipe, but if you prefer more zest, go for it !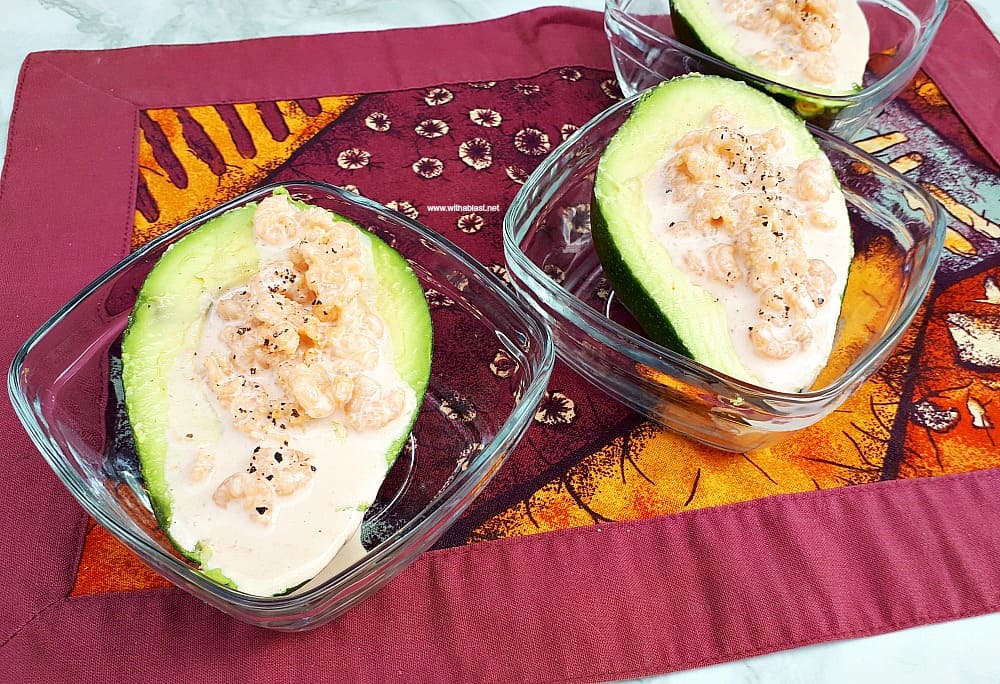 This same Shrimp filling goes very well served in Lettuce cups.
Seeing as we are all Avocado addicts, I only served it once in a Lettuce cup and immediately received a couple of dirty looks 😉 . Have to admit, I prefer the Avocado as well !
I always keep a bag or two of cooked Shrimp in the freezer, not only for this Avocado Ritz, but also for some Rissoles I like to make. (I get the idea I also do not have a recipe on the blog for the Rissoles!)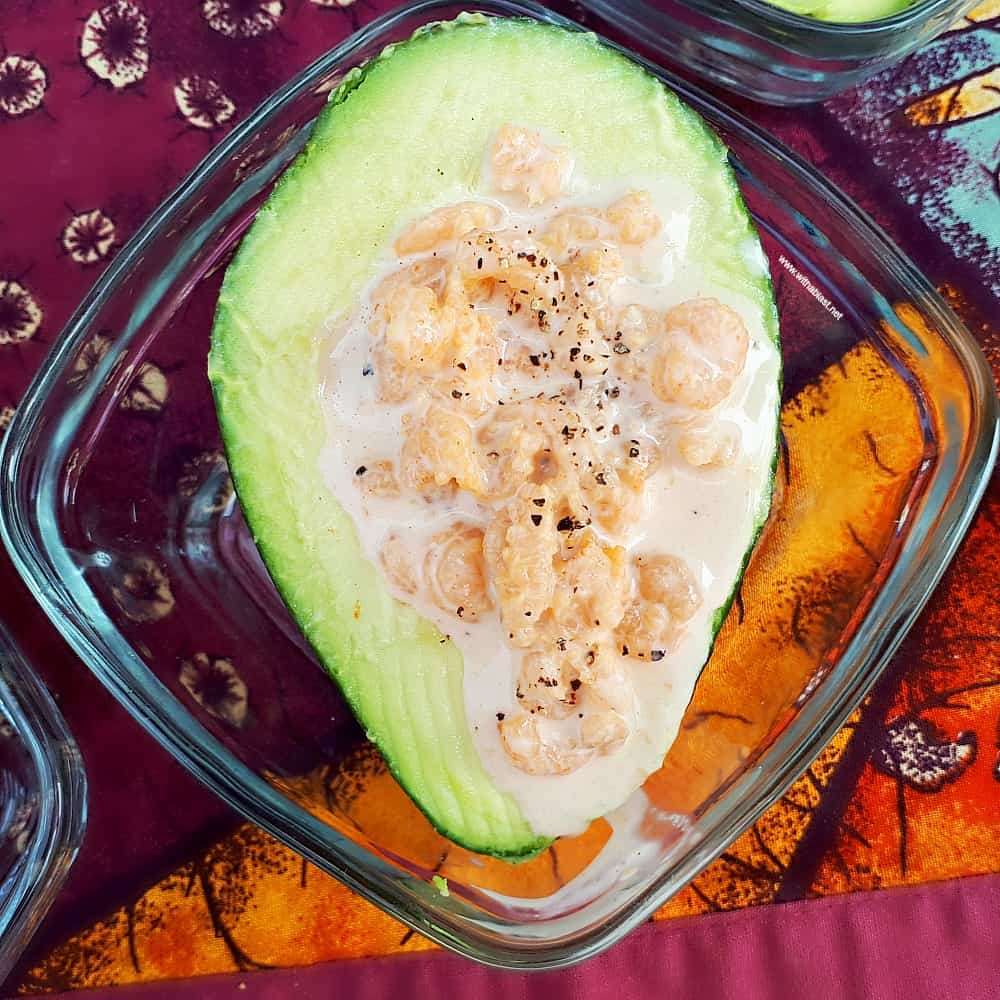 Next time you need an Appetizer in a hurry – this recipe is your answer – enjoy !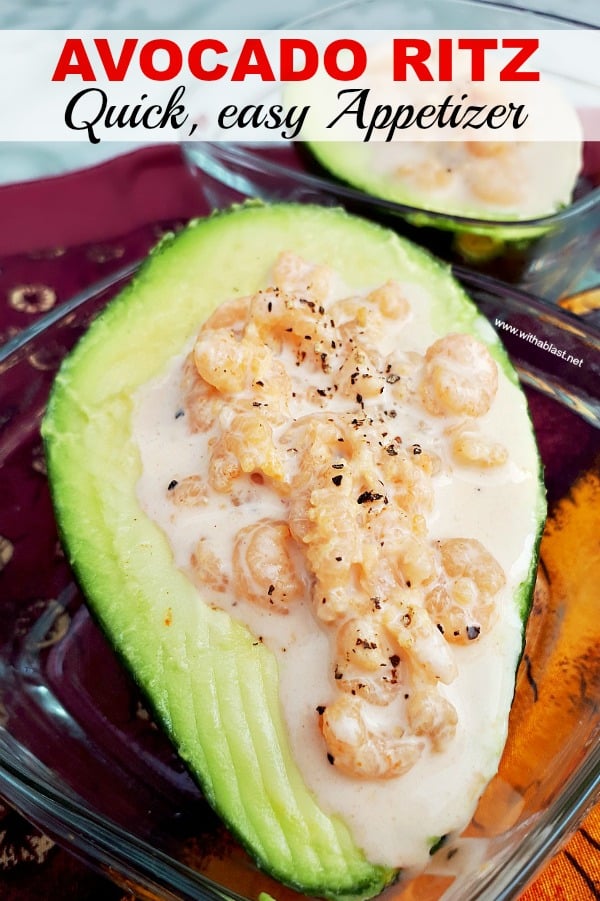 More Appetizer recipes you might like:
Avocado Ritz (Appetizer)
Yield: 4 Servings
Avocado Ritz (Appetizer)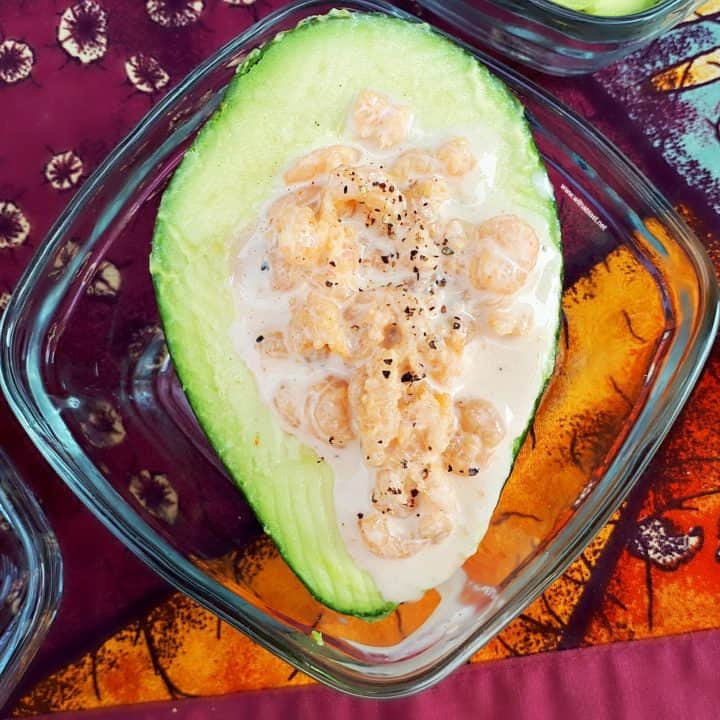 Avocado Ritz is the most delicious, quick and easy Appetizer, Shrimp filled Avocado, which is loved by all and our family favorite
Ingredients
2 Avocados, halved, pips removed
1/4 cup Mayonnaise
1/4 cup Buttermilk
1 TB Lemon Juice, (plus 1 teaspoon extra)
1 t Tabasco or Sriracha Sauce (use more or less as per your preference)
2 t Tomato Sauce, (thick Ketch-Up)
2 cups Cooked Shrimp, defrosted and drained
1/4 t Salt
Black Pepper, optional
Instructions
Use the one teaspoon of Lemon Juice to rub over the open, exposed parts of the Avocado halves – set aside
Mix together the Mayonnaise, Buttermilk, Lemon Juice, Tabasco/Sriracha and the Tomato sauce in a medium bowl
Add the Shrimp and season with Salt – fill the Avocado hollows with the Shrimp mixture
Notes
Serve chilled with Black Pepper (if using)
Nutrition Information
Yield
4
Amount Per Serving
Calories

404.6
Total Fat

25.2g
Saturated Fat

3.9g
Unsaturated Fat

19.6g
Carbohydrates

9.1g
Fiber

5.9g
Sugar

1.7g
Protein

36.1g
LINDA