Teriyaki Salmon is a delicious and healthy dish that is easy to prepare. It is a Japanese dish that involves marinating Salmon in a sweet and savory sauce made with soy sauce, rice vinegar and a few other everyday ingredients, and baking it to perfection.
The end result is a dish that is tender, flavorful, and packed with nutrients. Whether you are a fan of seafood or just looking for a healthy and tasty meal, teriyaki salmon is definitely worth trying !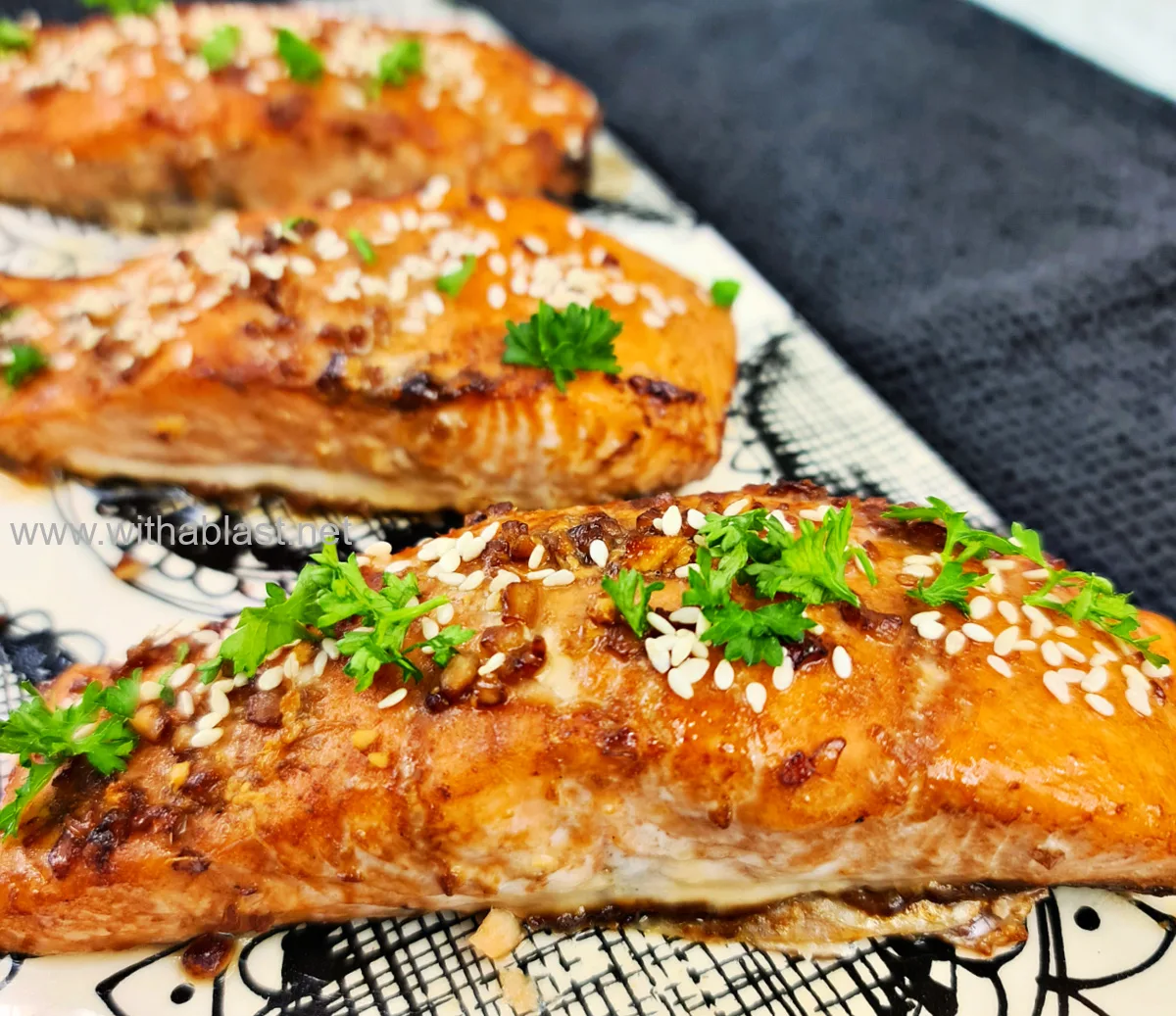 As someone who loves trying out new recipes, using some of my older recipes in a new way, I have found that Teriyaki Salmon is a delicious and easy-to-make dish that never fails to impress.
The dish is perfect for a quick weeknight dinner or a weekend meal with friends and family. The combination of sweet and savory flavors in the teriyaki sauce, along with the tender and flaky salmon, makes for a mouthwatering meal that everyone will enjoy.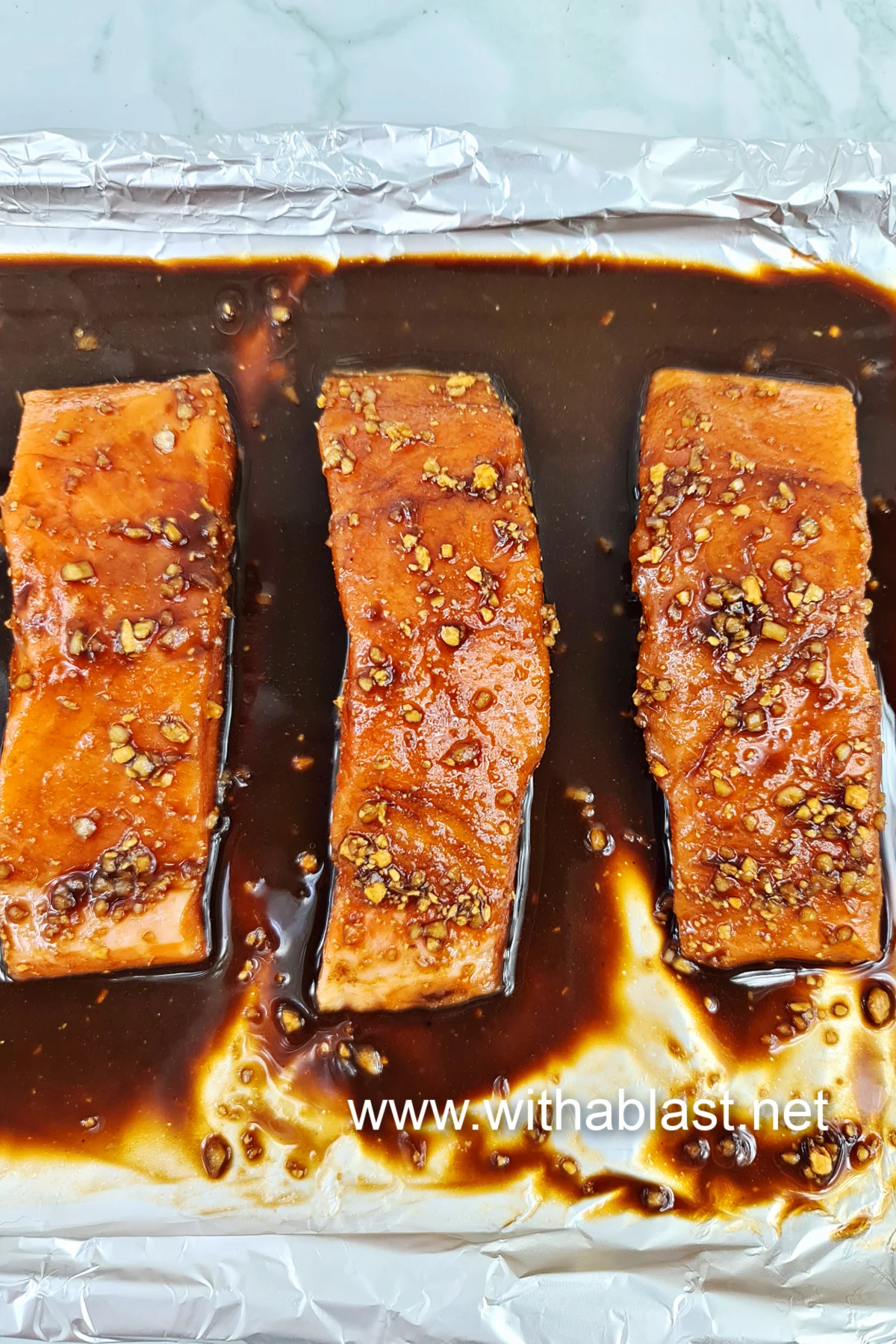 Introduction to Salmon
Whether you are a seasoned cook or a beginner, this recipe is easy to follow and will leave you with a delicious and satisfying meal.
I absolutely love salmon, and this baked Teriyaki Salmon recipe is one of my favorites. It is so easy to make, and the result is a dish that is packed with flavor and never dry.
One of the keys to making sure the salmon stays moist and never dry is to brush it with the retained teriyaki marinade about 2 minutes before it is done baking. This adds an extra layer of flavor and helps seal in the moisture.
I like to garnish my baked Teriyaki Salmon with Sesame Seeds and chopped Parsley for a pop of color and crunch.
This baked Teriyaki Salmon recipe is a winner in my book. It is easy, flavorful, and always turns out perfectly cooked.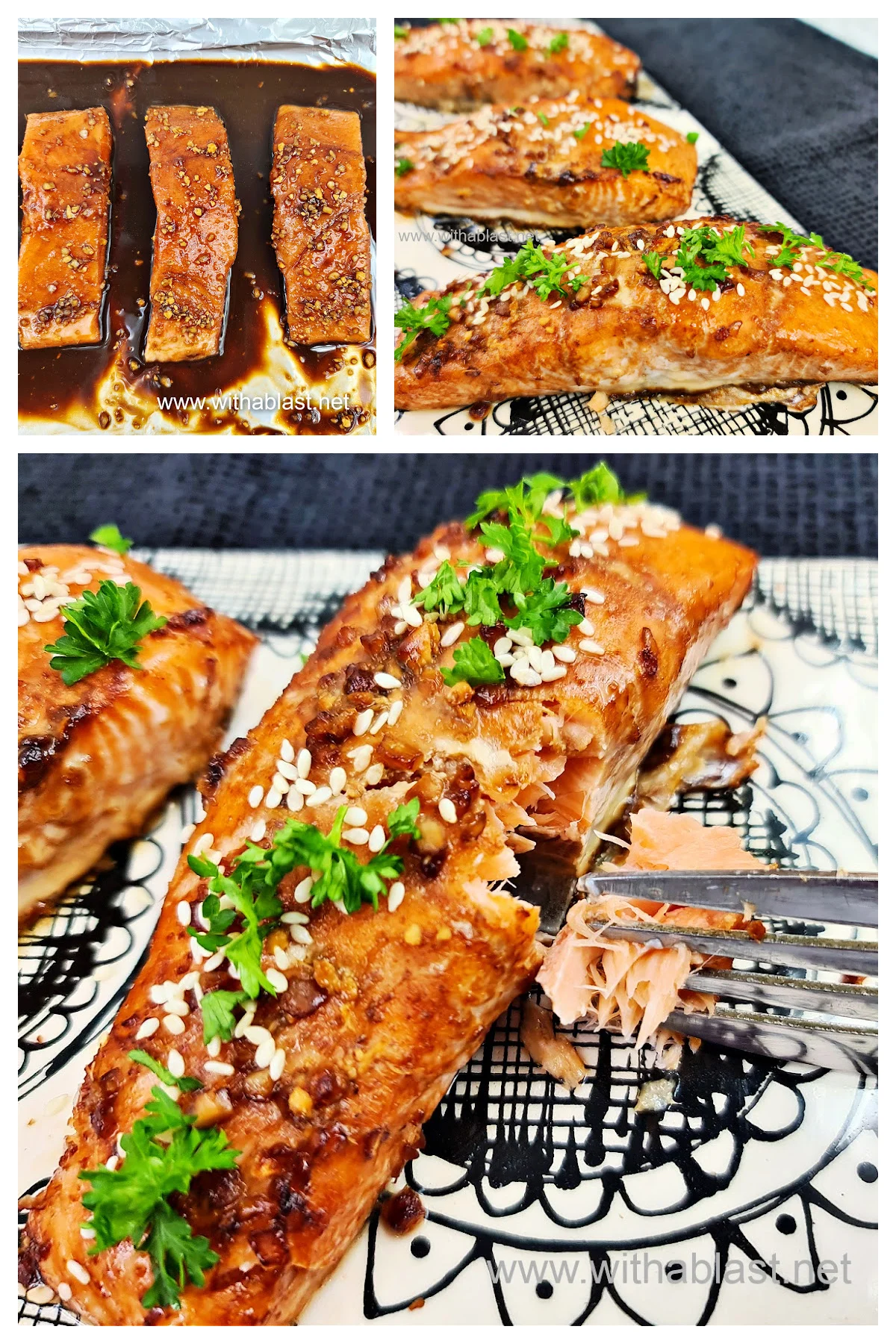 Why Choose Salmon?
Flavor: Salmon has a rich, buttery flavor that compliments the sweet and savory teriyaki sauce perfectly. It also has a mild taste that makes it a versatile ingredient in many dishes.
Nutrition: Salmon is an excellent source of protein, omega-3 fatty acids, and vitamin D. These nutrients are essential for maintaining a healthy body and brain.
Sustainability: When choosing salmon, it is important to look for sustainable options. Wild-caught salmon from well-managed fisheries or farmed salmon that meets strict environmental standards are good choices.
Versatility: Salmon is a versatile ingredient that can be cooked in many different ways, from grilling to baking to pan-searing.
Teriyaki Salmon Marinade Ingredients:
To make the perfect teriyaki salmon marinade, you will need a few key ingredients. Here is a list of the essential components that will give your salmon that sweet and savory flavor:
½ cup Teriyaki Sauce
2 tablespoons Soy Sauce
1 teaspoon Rice Vinegar
2 teaspoons Garlic, crushed
2 teaspoons Ginger, finely grated
1 tablespoon Water
1 teaspoon Sesame Seeds, (optional)
2 teaspoons Parsley, chopped finely, (optional)
The teriyaki sauce is the main ingredient that gives the marinade its signature flavor. It is a sweet and salty sauce made from soy sauce, sugar, and mirin. Soy sauce is also an essential ingredient in the marinade, providing a salty and savory flavor to the salmon.
Rice vinegar adds a slightly acidic taste to the marinade, balancing out the sweetness of the teriyaki sauce. Garlic and ginger add depth and complexity to the marinade, while water helps to thin it out and make it easier to coat the salmon.
Sesame seeds and parsley are optional ingredients that can be added for extra flavor and texture. Sesame seeds add a nutty taste and crunchy texture, while parsley adds a fresh, herbaceous flavor.
Substitution Teriyaki Marinade Ingredients You Might Need:
When making teriyaki salmon marinade, there are a few ingredients that can be substituted if you do not have them on hand. Here are some substitutions you might need:
Teriyaki Sauce: If you do not have teriyaki sauce, you can make a substitute by mixing equal parts of soy sauce and brown sugar. You can also add a splash of rice vinegar and a pinch of garlic powder for extra flavor.
Soy Sauce: If you need a gluten-free option, you can use tamari sauce instead of soy sauce. Coconut aminos can also be used as a soy sauce substitute.
Rice Vinegar: If you do not have rice vinegar, you can use apple cider vinegar or white wine vinegar as a substitute.
Garlic: If you do not have fresh garlic, you can use garlic powder or minced garlic from a jar. Just keep in mind that the flavor won't be as strong as fresh garlic.
Ginger: If you do not have fresh ginger, you can use ground ginger or ginger paste. Just use half the amount of ground ginger as you would fresh ginger.
Water: No substitution necessary.
Sesame Seeds: Sesame seeds are optional, but if you do not have them, you can leave them out.
Parsley: If you do not have parsley, you can use chopped spring onions ( green onions ) as a substitute.
Remember, these substitutions may alter the flavor slightly, but they will still result in a delicious teriyaki salmon dish.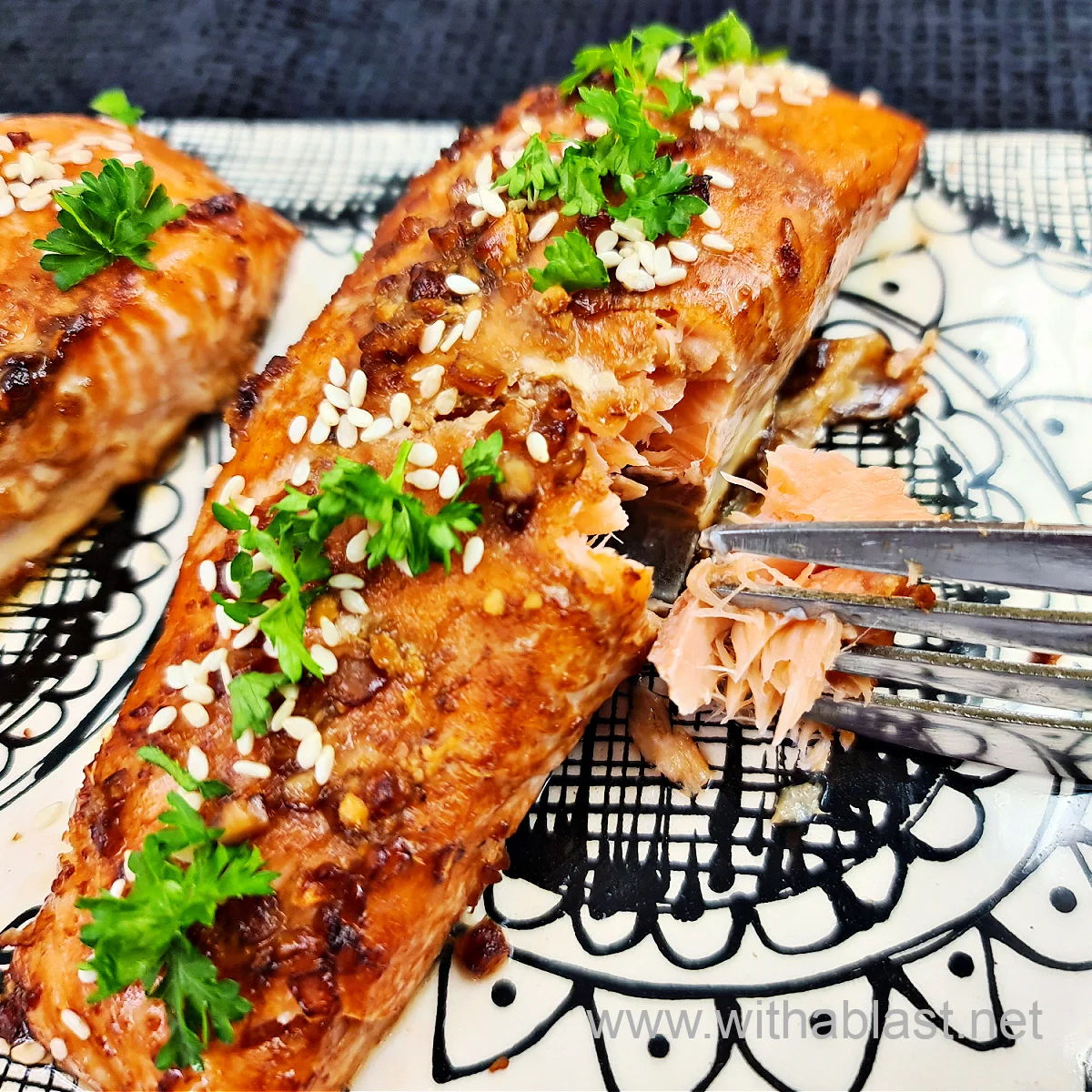 What To Serve with Teriyaki Salmon?
When it comes to serving Teriyaki Salmon, there are a variety of side dishes that can complement its flavors. Here are some options to consider:
Rice
Rice is a classic and simple side dish that pairs well with Teriyaki Salmon. You can use white, brown, jasmine, or sticky Japanese rice. For added flavor, cook the rice in chicken or vegetable broth instead of water.
Vegetables
Steamed vegetables like : broccoli, asparagus, green beans, and mushrooms are healthy and delicious options.
Roasting vegetables like potatoes, carrots, and Brussels sprouts for a heartier side dish.
Noodles
Noodles are another great option to serve with Teriyaki Salmon. Ramen, udon, and soba noodles are all popular choices.
Salad
A fresh and crisp salad can provide a refreshing contrast to the rich and savory flavors of the Teriyaki Salmon.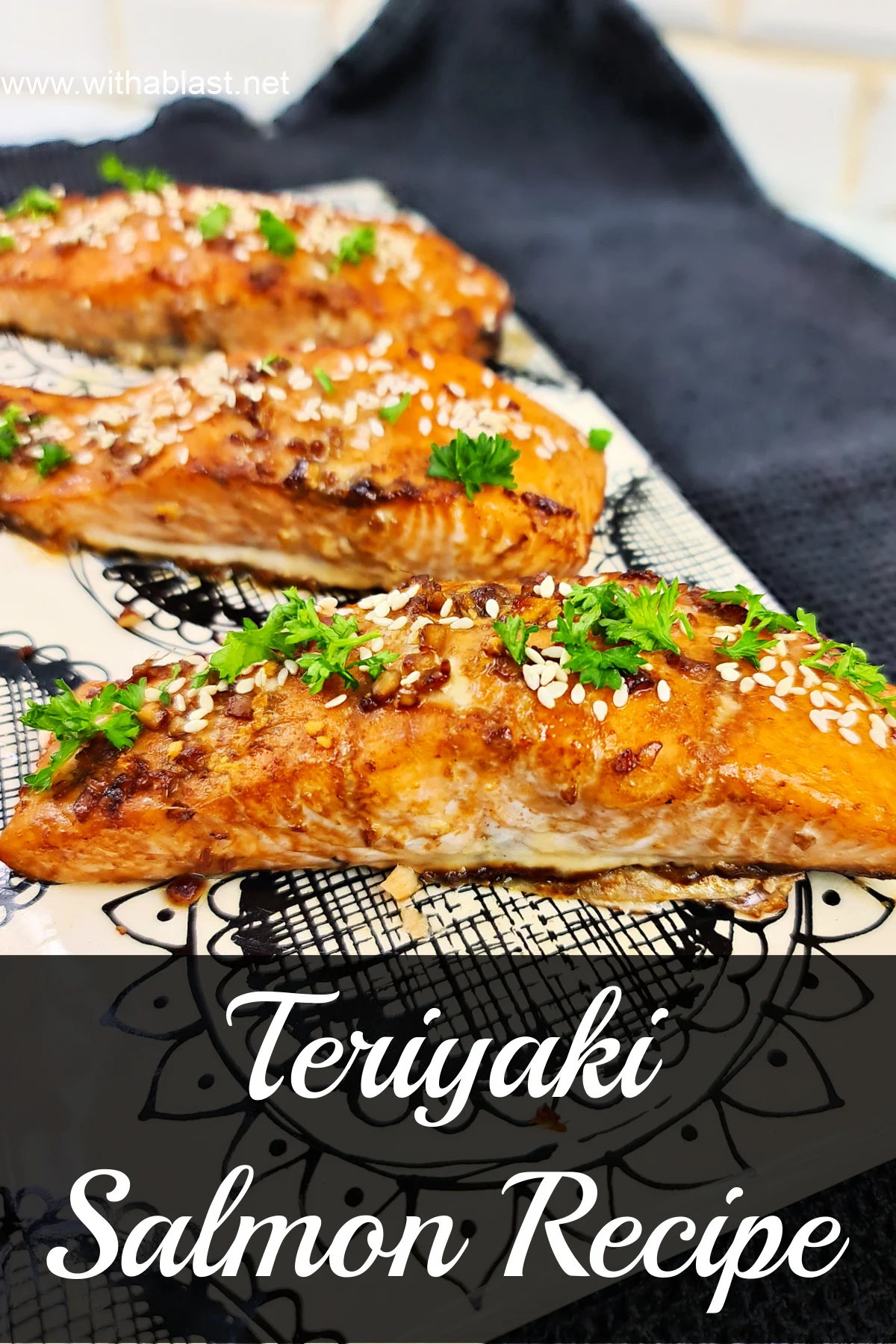 More Fish recipes you might like :
Teriyaki Salmon Recipe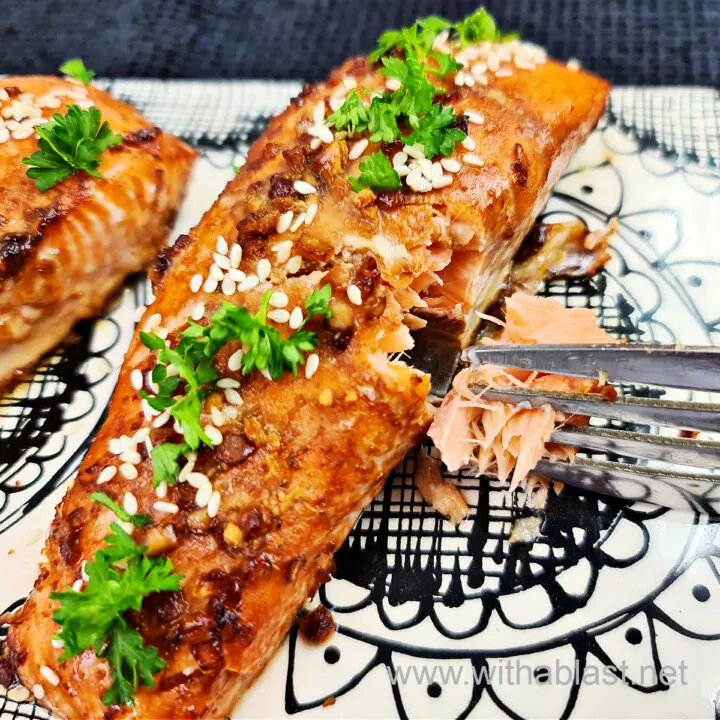 Teriyaki Salmon Recipe
Marinate Time:
30 minutes
Juicy, flavorful baked Teriyaki Salmon is quick to make and healthy too. Marinated in a sweet and savory marinade and baked to perfection.
Ingredients
450 grams Salmon, cut into 4 equal sized pieces ( 1 pound )
½ cup Teriyaki Sauce
2 tablespoons Soy Sauce
1 teaspoon Rice Vinegar
2 teaspoons Garlic, crushed
2 teaspoons Ginger, finely grated
1 tablespoon Water
1 teaspoon Sesame Seeds, (optional)
2 teaspoons Parsley, chopped finely, (optional)
Instructions
Pre-heat the oven to 220 deg C (440 deg F) – line an oven dish with aluminum foil and spray with cooking oil
Place the Salmon portions in a marinating container
In a small bowl combine the Teriyaki Sauce, Soy Sauce, Vinegar, Garlic, Ginger and Water - pour over the Salmon and marinate for 30 minutes
Turn over after 15 minutes
Arrange the Salmon in a single layer in the oven dish - pour over the Teriyaki marinade (retain about 4 tablespoons of the marinade) and bake 12 - 15 minutes or until the Salmon flakes easily
Brush the Salmon with the retained marinade about 2 minutes before baking is done
Serve immediately sprinkled with Sesame seeds and Parsley (if using)
Nutrition Information
Yield

4
Serving Size

1
Amount Per Serving
Calories

288
Total Fat

14g
Saturated Fat

3g
Trans Fat

0g
Unsaturated Fat

10g
Cholesterol

71mg
Sodium

1887mg
Carbohydrates

10g
Fiber

0g
Sugar

8g
Protein

28g
Nutrition value is not always accurate. Please also check your ingredient labels.