Melt-in-the-mouth Sole with Lemon Cream. Quick to cook, juicy Sole recipe and the amazing Lemon Cream is made in the same skillet.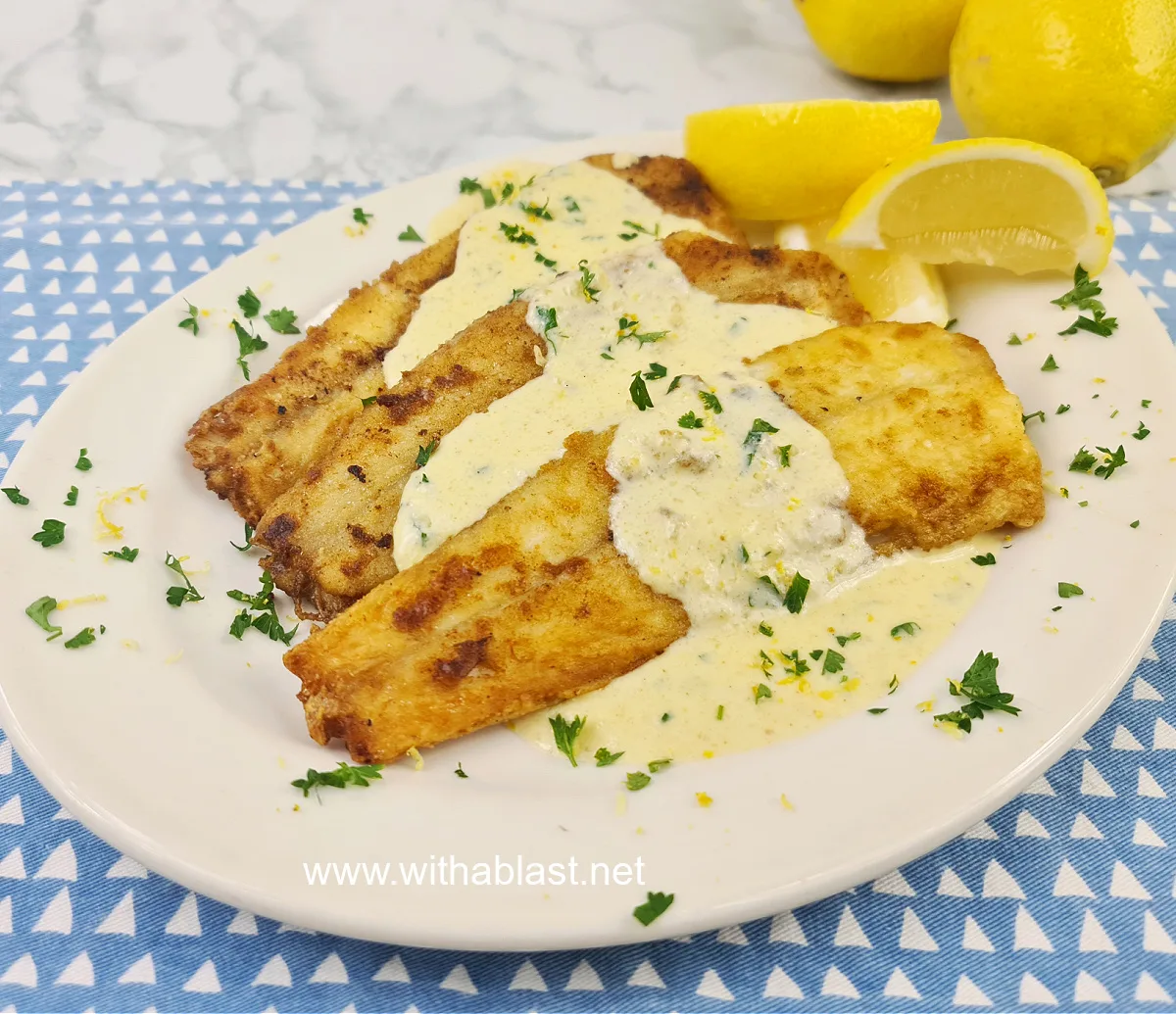 This is by FAR the best Sole recipe I have been making. And also the reason I never order Sole at a Seafood restaurant, simply because I know it will not taste nearly as good as this recipe (simple as it is!)
Together with the Lemon Cream you can serve the Sole to your family or guests. If they love Sole (or fish for that matter), your guests will be blown away with the amazing taste of the Sole with Lemon Cream.
The Lemon Cream is much creamier than my usual Lemon Garlic Butter Sauce, but oh so heavenly with the Sole !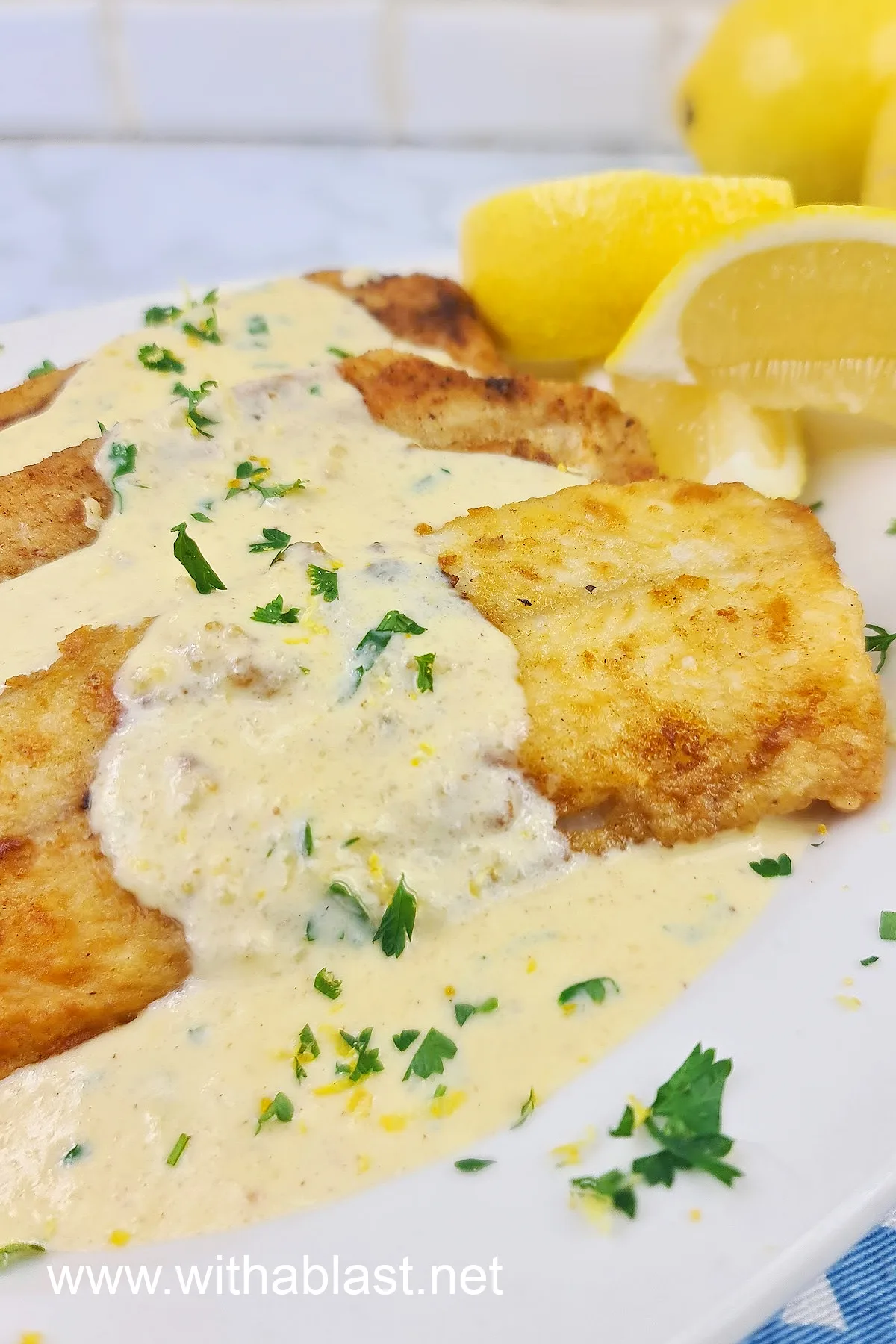 I love to use Canadian Sole that is delicate and sweet, yet mild. The cooked Sole flesh literally falls off the bones which makes it a joy to eat.
You can of course use any Sole you prefer or are available to you. You might even come across Lemon Sole.
Now what is Lemon Sole ??
Lemon Sole is also a flat fish (Flounder really), and for some reason got the French name "Limande-Sole" which literally means flatfish, which in turn became Lemon Sole. It does not taste like Lemon but do have a pale yellow color.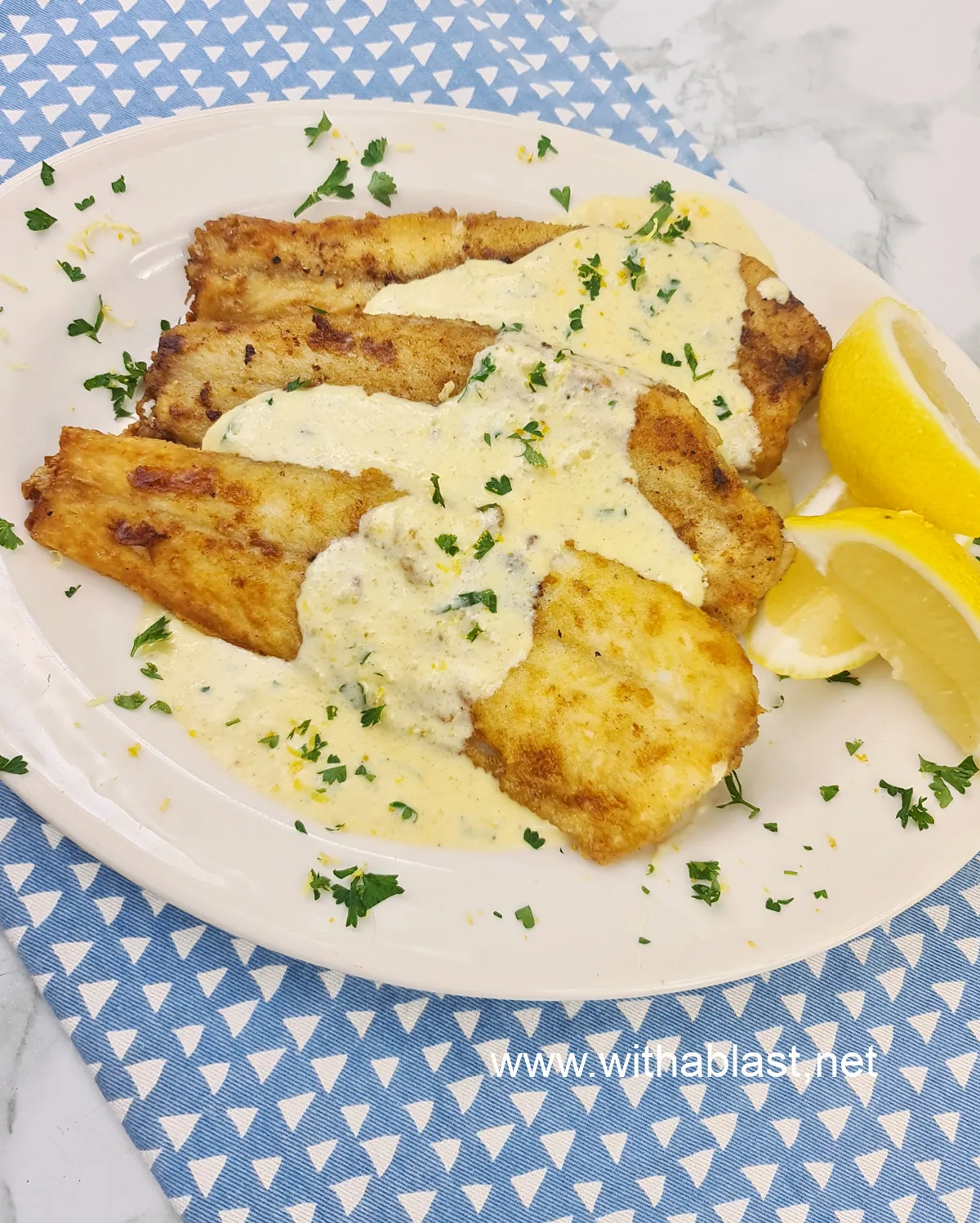 First of all, I would recommend using Canadian Sole.
However if you can not get hold of Canadian Sole, any other Sole would do, i.e. Dover Sole, Lemon Sole or any of the substitutions below.
Substitutions for Sole fish :
Cod
Tilapia
Plaice
Flounder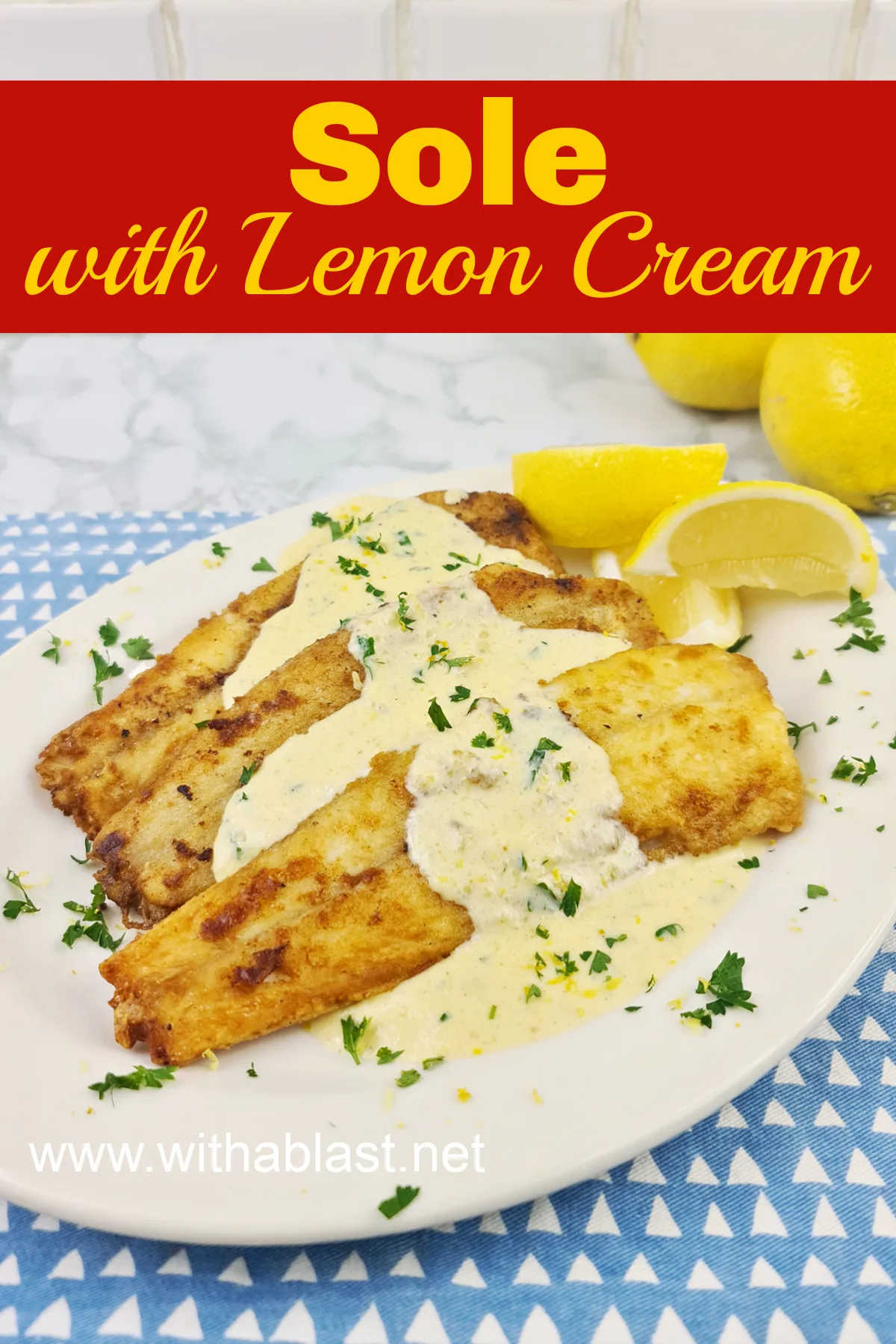 What to serve with Sole with Lemon Sauce :
Mashed potatoes and just about any vegetable side dish (or two)
Fries with a large helping of a crunchy Salad on the side
More Fish and Seafood recipes you might like :
Sole with Lemon Cream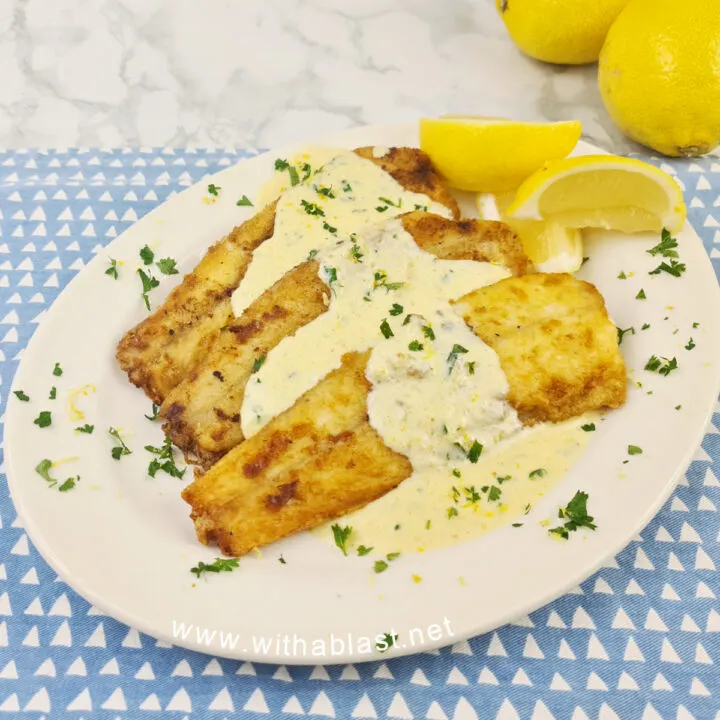 Sole with Lemon Cream
Melt-in-the-mouth Sole with Lemon Cream. Quick to cook, juicy Sole recipe and the amazing Lemon Cream is made in the same skillet
Ingredients
SOLE :
1 tablespoon Olive Oil
1 tablespoon Unsalted Butter
900 grams Sole Fillets, skinless, cut to make 4 portions ( 2 pounds )
1 cup All-Purpose Flour
2 teaspoons Salt
1 teaspoon Black Pepper, freshly milled
LEMON CREAM :
1 cup Fresh Cream, heavy cream/whipping cream
Grated Zest, from one small Lemon
Salt, to taste
1 tablespoon Lemon Juice, freshly squeezed
2 tablespoons Parsley, freshly chopped
Instructions
SOLE:
In a large non-stick skillet melt the Butter over medium heat and add the Olive Oil - stir to combine
Mix the Flour, Salt and Black Pepper and dip each Sole fillet in the seasoned Flour
Place the coated Fillets in the skillet and fry 2 minutes - gently turn over and fry the other side 2 minutes as well - remove the Sole from the skillet and keep aside
LEMON CREAM:
Add the Fresh Cream and Lemon Zest to the skillet - simmer until thickened a little (about 2 minutes) - remove from heat
Stir in the Salt, Lemon Juice and Parsley
Serve immediately over the Sole
Notes
See in post for fish alternatives should you not have Sole available
Nutrition Information
Yield

4
Serving Size

1
Amount Per Serving
Calories

624
Total Fat

39g
Saturated Fat

21g
Trans Fat

1g
Unsaturated Fat

14g
Cholesterol

218mg
Sodium

2043mg
Carbohydrates

29g
Fiber

2g
Sugar

3g
Protein

40g
Nutrition value is not always accurate. Please also check your ingredient labels.
Linked up at:
WEEKEND POTLUCK – The Country Cook