Sage Apple Stuffed Pork Tenderloin in Bacon only has 7 Ingredients in this Main dish ! Juicy, tender and bursting with flavor. The BEST part = all wrapped in Bacon !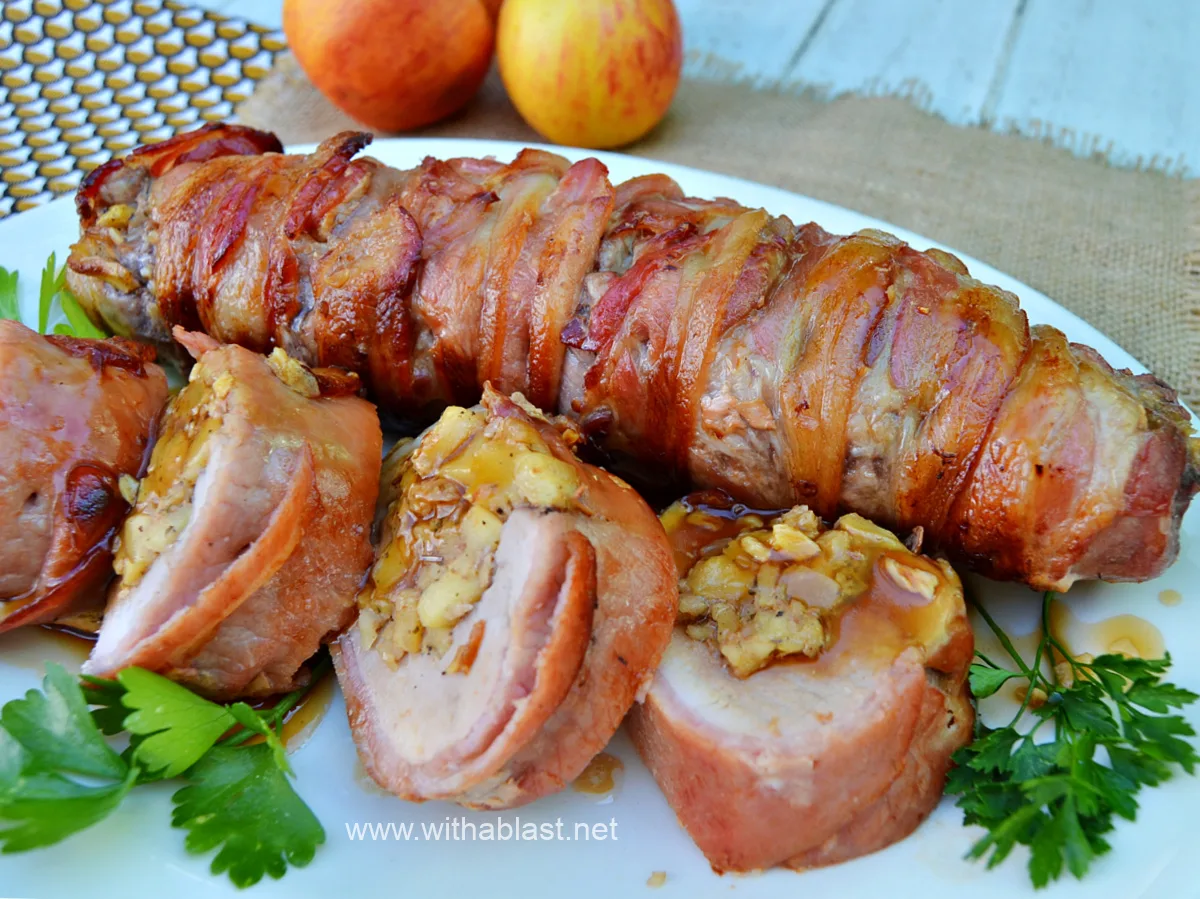 The name is such a mouthful and yet so easy to make. There are no weird ingredients in this Sage Apple stuffed Pork Tenderloin in Bacon and besides maybe the Pork itself, you should have everything else on hand.
The crunch of the nuts adds a nice texture to the dish, and the nuttiness pairs perfectly with the flavors of the pork and apples.
When it comes to pork tenderloin, there are many ways to prepare it. One of our favorite ways is to stuff it with a delicious apple and onion mixture.
The sweetness of the apples pairs perfectly with the savory pork, creating a mouthwatering flavor that is sure to impress.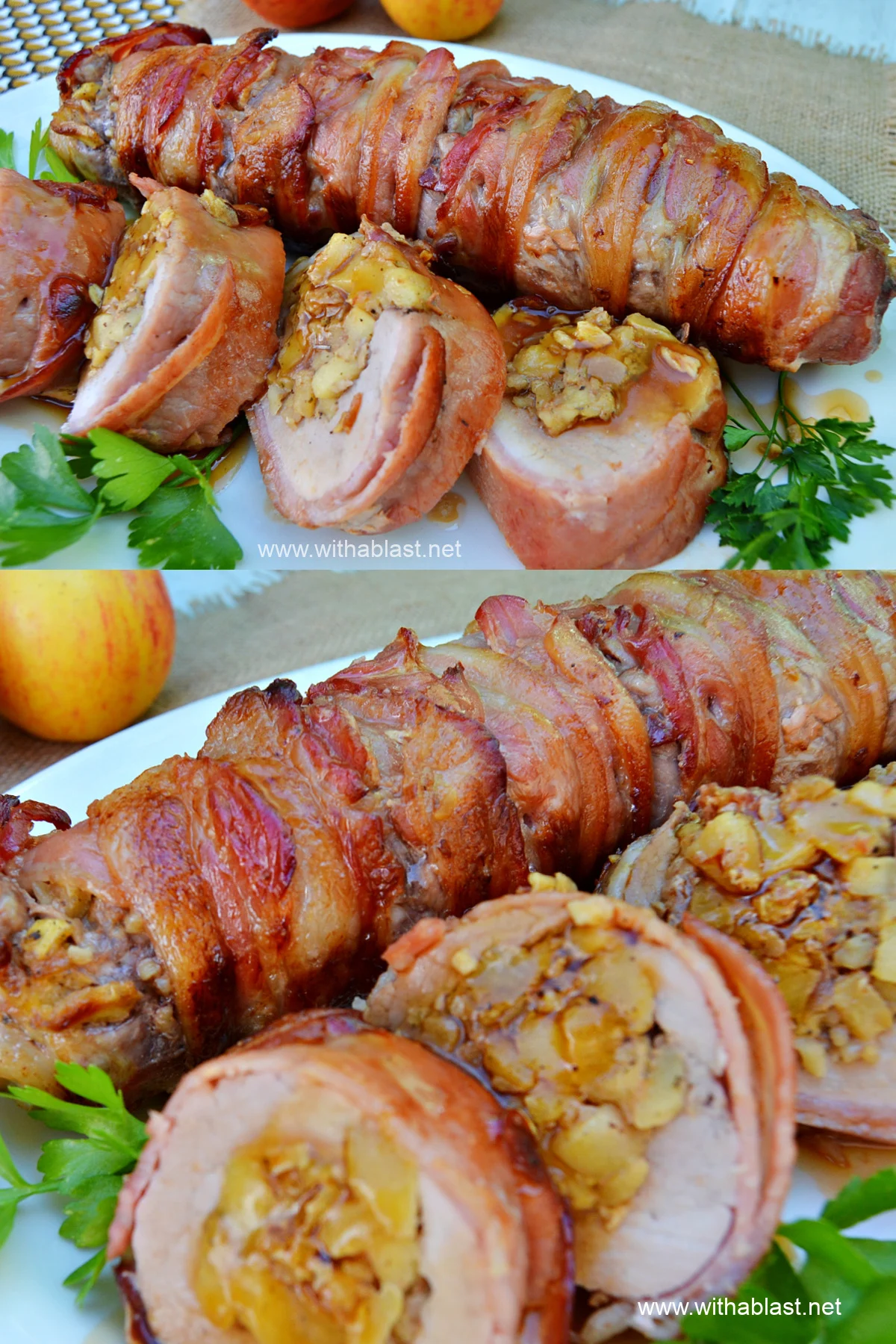 Why Choose Pork Tenderloin
When it comes to cooking meat for dinner, pork tenderloin is an excellent choice for several reasons. First and foremost, pork is generally cheaper than most other meats, making it a budget-friendly option for everyday dinners.
But do not let the affordable price tag fool you, pork tenderloin is a delicious and high-quality meat that can be elevated for dinner parties or special occasions.
It has a mild flavor that pairs well with a variety of seasonings and sauces, making it a versatile ingredient in the kitchen.
One of the best things about pork tenderloin is that it is easy to cook. It is a lean cut of meat that does not require a lot of fuss or preparation, making it perfect for busy weeknights.
With a few simple ingredients and some basic cooking techniques, you can have a delicious and satisfying meal on the table in no time.
My hubby and the kids love this, although my daughter did remove her Apple Stuffing (she does not like warm fruit), so I am not sure whether her vote counts !
The Pork needs no marinating as Tenderloin just about always cook to a juicy, tender deliciousness and in this recipe all the flavoring comes from the inside and the outside of the Pork.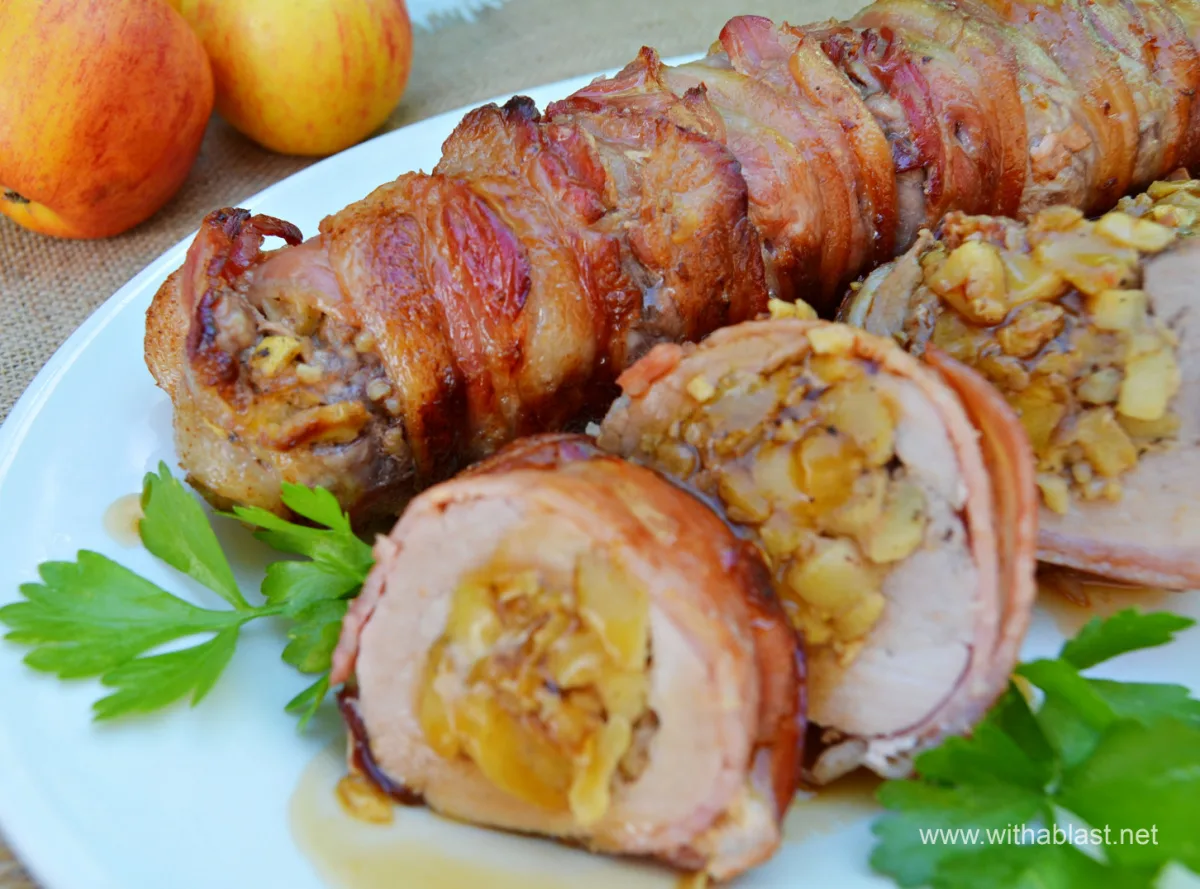 (The full printable recipe card is just a few scrolls away)
Apple Stuffed Pork Tenderloin Ingredients
To make this apple stuffed pork tenderloin recipe, you'll need the following ingredients:
2 tablespoons extra-virgin olive oil
1 red onion, finely chopped
3 red apples, peeled, cored, and chopped
2 teaspoons dried sage
1/3 cup walnuts, chopped
900 grams pork tenderloin, slit open down the length but not through (2 pounds)
16 strips bacon, streaky or back are great
You will also note that I am not using any Salt and Pepper in the recipe, as the Sage flavors the Stuffing (but I recommend you taste the Stuffing and if you like, add a bit of Salt and Pepper).
And Bacon of course is very salty by itself. Therefore no additional Salt and Pepper required.
But as always if you like really salty dishes, add some, but be careful and remember the salty Bacon.
What To Serve with Apple Stuffed Pork Tenderloin
Apple stuffed pork tenderloin is a delicious and satisfying dish that pairs well with a variety of sides. Here are a few ideas to get you started:
Roasted vegetables: Roasting vegetables like carrots, potatoes, and Brussels sprouts is a great way to add some color and flavor to your plate – depending on your oven size, you might be able to roast the vegetables whilst the pork tenderloin is cooking
Mashed potatoes: Creamy mashed potatoes are the perfect complement to the juicy and flavorful pork tenderloin – no need to go with a fancy loaded mashed potato dish ! The Pork already gives so much flavor to your meal
Salad: My all time favorite side – all seasons ! A fresh and crisp salad is a great way to balance out the richness of the pork tenderloin
Rice: A side of white or brown rice can help to soak up any extra juices from the pork tenderloin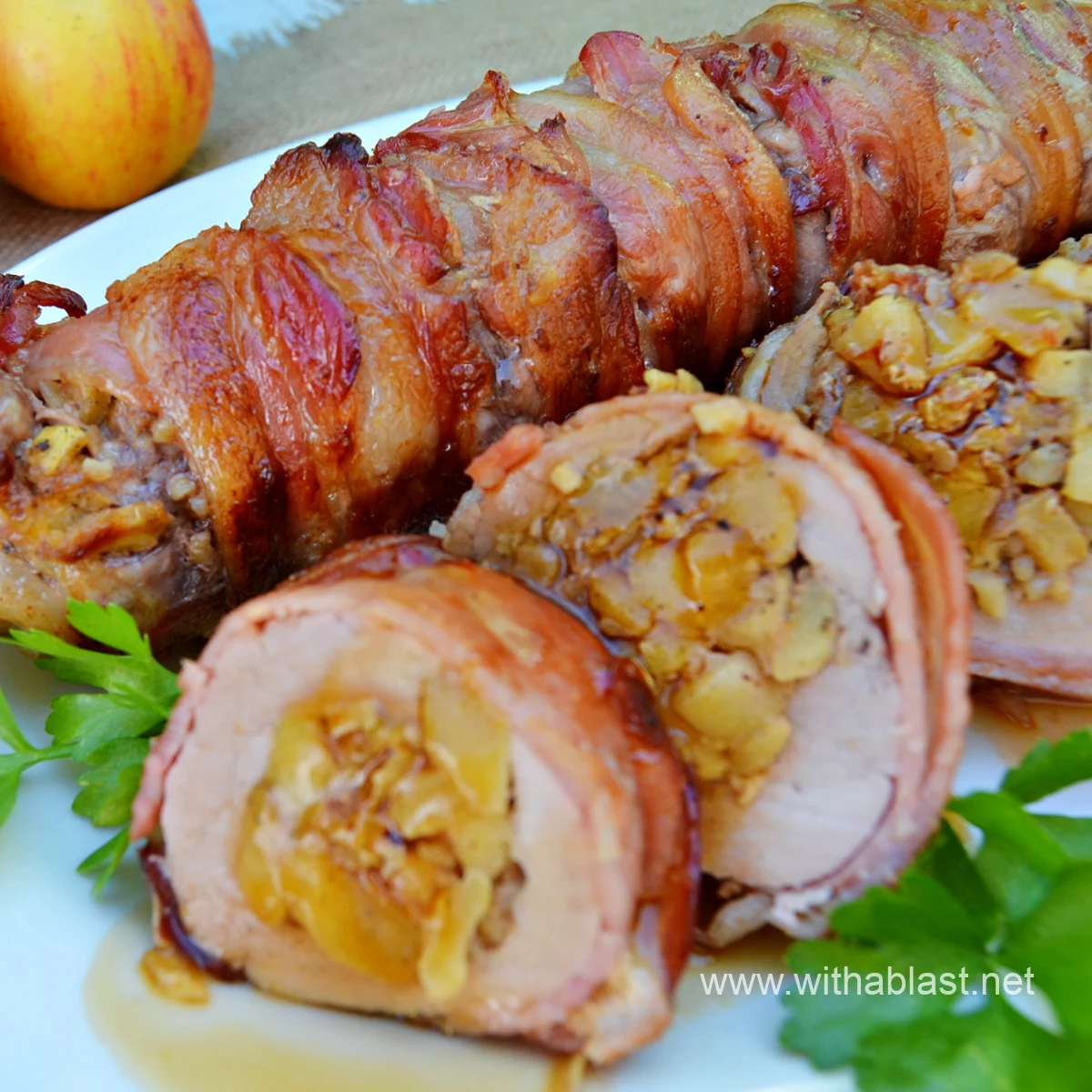 I used 2 fairly large Tenderloins and sliced each into around 3 centimeter (just over an inch) thick slices, and ended up with 16 slices.
No need to slice the Tenderloins into slices though, you can also slice them into bigger one-piece servings – however you prefer.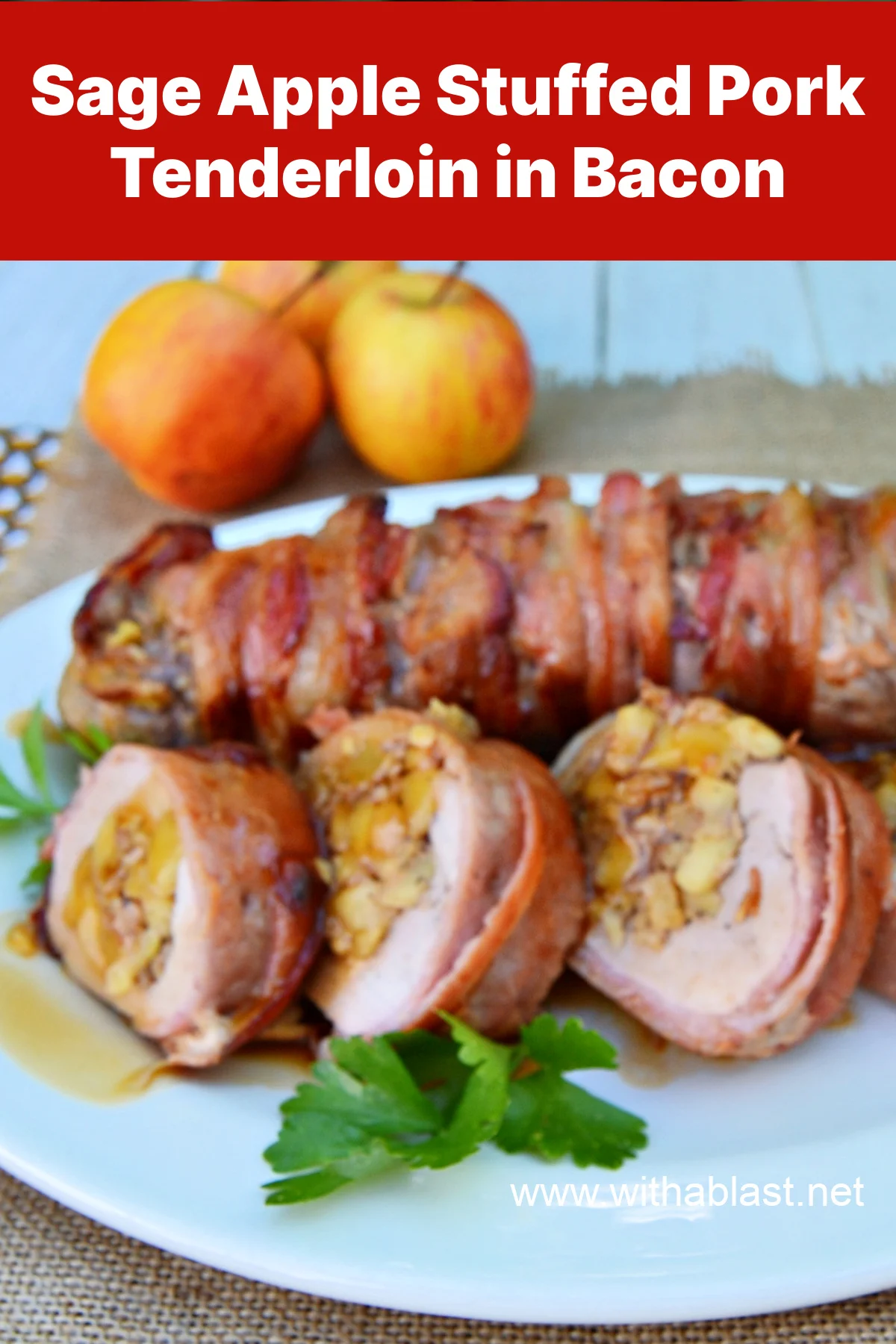 More Pork recipes you might like :
Apple Stuffed Pork Tenderloin Recipe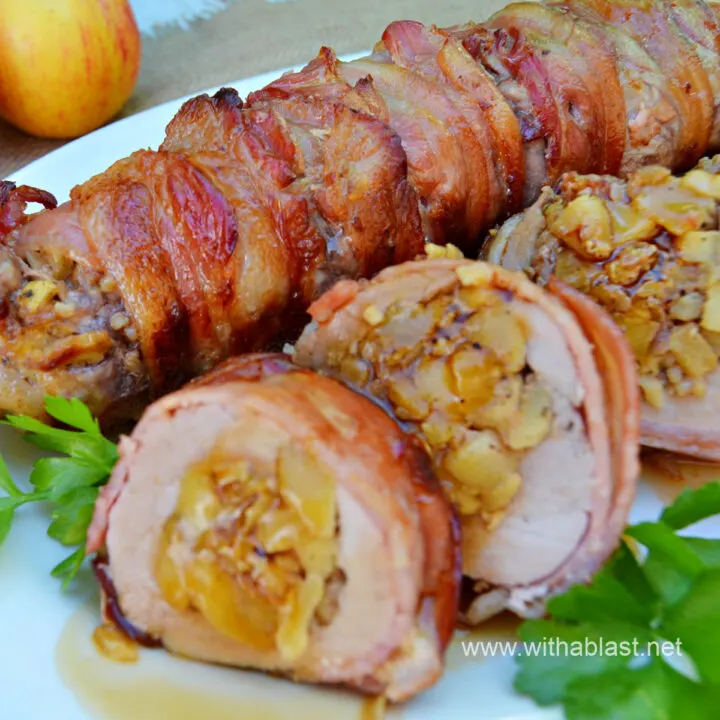 Sage Apple Stuffed Pork Tenderloin in Bacon
Sage Apple Stuffed Pork Tenderloin in Bacon only has 7 Ingredients in this Main dish ! Juicy, tender and bursting with flavor. The BEST part = all wrapped in Bacon ! Perfect everyday stuffed pork dish or serve at Thanksgiving, Christmas or any Sunday lunch or dinner
Ingredients
2 tablespoons extra-virgin Olive Oil
1 Red Onion, finely chopped
3 Red Apples, peeled, cored and chopped
2 teaspoons Dried Sage
1/3 cup Walnuts, chopped
900 grams Pork Tenderloin, slit open down the length but not through ( 2 pounds )
16 Strips Bacon, streaky or back bacon is great
Instructions
Pre-heat the oven to 180 deg C (350 deg F) - spray a 20 x 30cm (9 x 13 inch) oven dish with cooking oil.
Heat the Oil in a medium pan - saute the Onion, Apples and Sage until tender - stir often - remove from heat - stir the Walnuts into the warm Apple mixture and let cool.
Spoon the Apple stuffing into the slits of the Pork Tenderloin - press a little, but make sure not to over stuff the Pork - close the opening and wrap the Bacon around the Tenderloin - secure with toothpicks.
Bake 40 - 45 minutes or until done - remove from oven and let sit for 10 minutes before slicing.
Nutrition Information
Yield

6
Serving Size

1
Amount Per Serving
Calories

512
Total Fat

26g
Saturated Fat

7g
Trans Fat

0g
Unsaturated Fat

18g
Cholesterol

143mg
Sodium

651mg
Carbohydrates

16g
Fiber

3g
Sugar

10g
Protein

52g
Nutrition value is not always accurate