Creamy Skillet Pork Chops are the perfect comfort food and ready within 20 minutes – Pork Chops and sauce made in the same skillet
Have your Pork Chops and a delicious sauce within 20 minutes and you will only use one skillet !
We do love a good Pork Chop and it is a bit healthier than the usual red meats. That is, of course, if you remove any visible fat before cooking.
Now having said that… there is not much more delicious than a piece of fried, even baked, fat on a Pork Chop or Pork Roast !
But, we try to minimize this specific non-healthy bit as much as we can.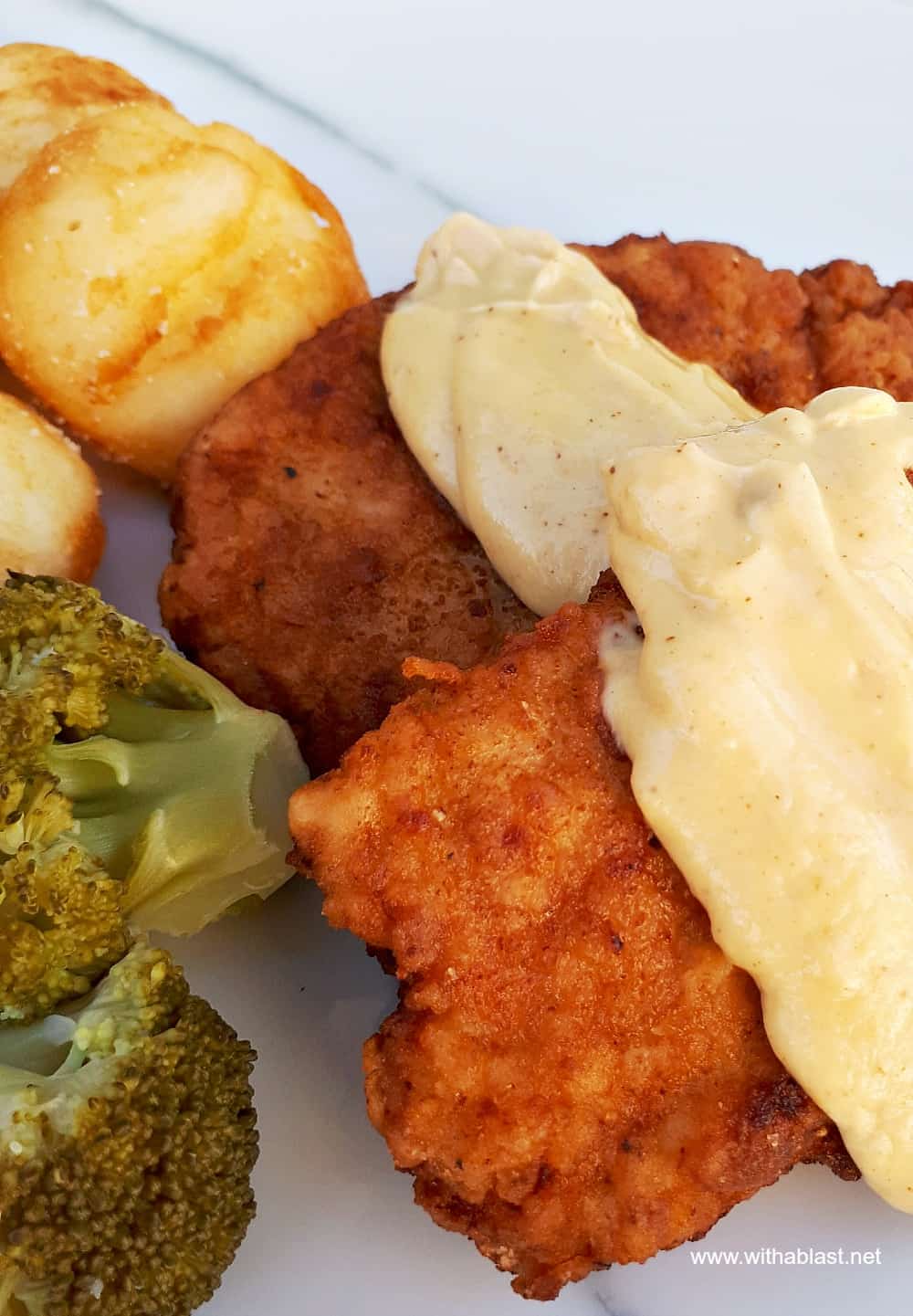 These creamy skillet Pork Chops are so tender and we are loving the sauce that goes along with the meat. And twenty minutes from start to on your plate ? Definitely a winner.
The Pork Chops are only covered in a simple, light flour mixture, but adds so much to the taste after being cooked.
We usually have these Chops with a side or two and most definitely a starch. In today's photos you can see we had roasted baby potatoes and broccoli.
Do you serve an appetizer before your dinner meals ? We do not always, but if we do, I cut down the side dishes, or if it was a starchy appetizer, I might even leave out the potatoes.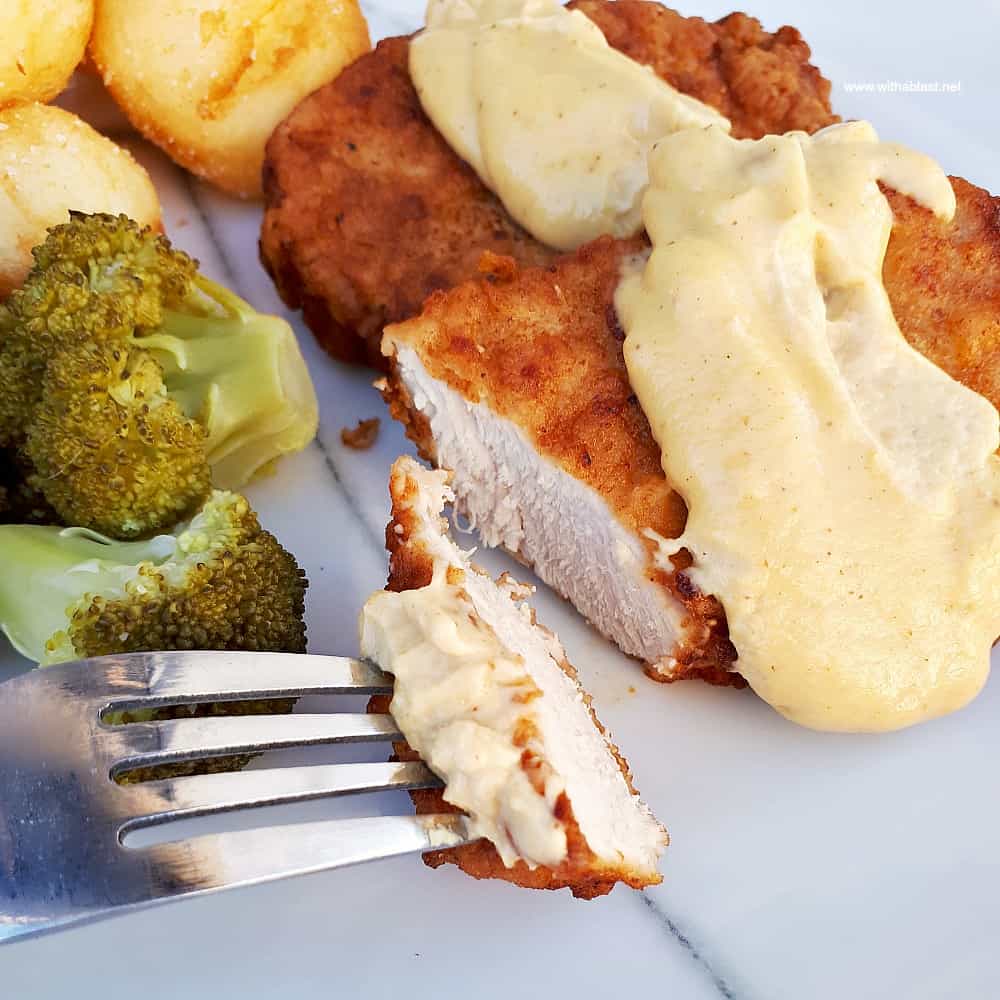 You can really serve these creamy skillet Pork Chops with just about any side dish. This can vary from hot vegetable dishes on a chilly day, to crunchy salads on a hot Summer's day.
Because to me, a good Pork Chop is welcome all year round !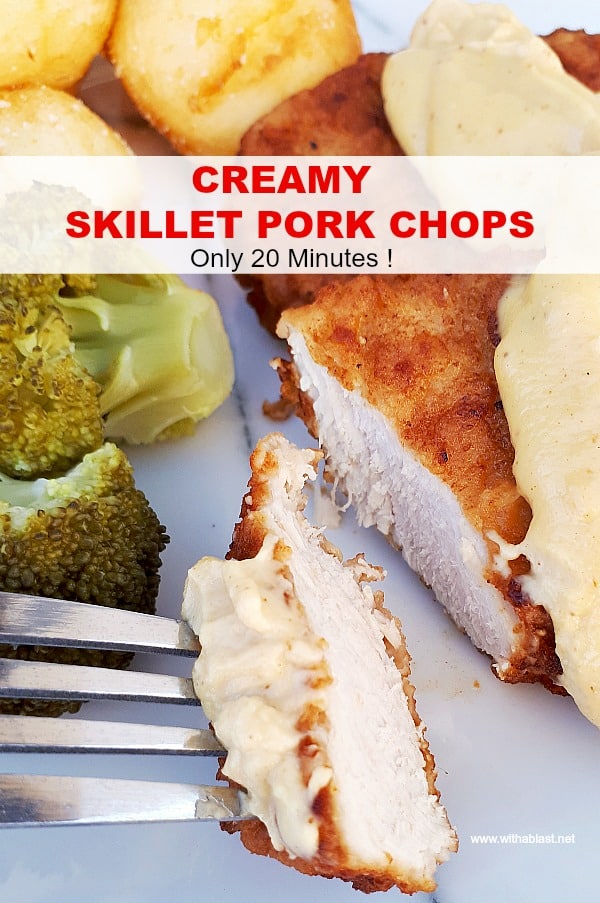 The sauce has quite an interesting, unique taste. Not as sour as one would expect looking at the ingredients, but instead somewhere between a sweet-sour sauce.
I play around with the Salt in the sauce and normally add a little more just before serving.
My son's girlfriend had her first taste of the sauce recently and I have already added additional salt at the end. But, her preference is very light on salt – anything.
My daughter on the other hand, loved the sauce ! Therefore it might be a good idea to serve the sauce on the side and let everyone add their salt as preferred.
Or they could even sprinkle a little more over the sauce once on their dinner plates.
More Pork Chop recipes you might like:
Creamy Skillet Pork Chops
Yield: 6 Servings
Creamy Skillet Pork Chops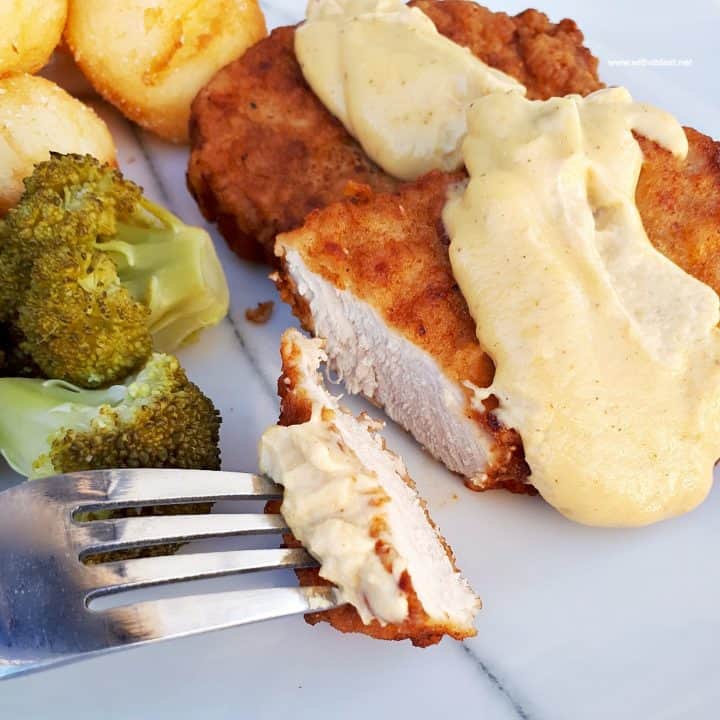 Creamy Skillet Pork Chops are the perfect comfort food and ready within 20 minutes - Pork Chops and sauce made in the same skillet
Ingredients
PORK CHOPS:
6 Pork Chops, boneless, visible fat removed
1 large Egg
1/4 cup Milk
1/2 cup Flour
Salt and Black Pepper, to taste
2 TB Vegetable Oil
SAUCE:
1/3 cup White Vinegar
1/2 t Salt
1 TB Sugar
1/8 t Ground Cloves
1 cup Sour Cream
2 Bay Leaves
Instructions
PORK CHOPS:
Beat together the Egg and Milk in a small bowl
Combine the Flour, Salt and Pepper
Heat the Oil in a large skillet
Dip the Pork Chops in the Egg mixture, then cover in the seasoned Flour - fry 5 minutes per side or until done - remove from skillet (keep warm) and drain excess oil
SAUCE:
Pour the Vinegar in the same skillet - cook 1 - 2 minutes over medium heat
Lower heat to low - add all the remaining Sauce ingredients and stir through - cook 5 minutes stirring continuously
Check seasoning and add more Salt if needed - remove and discard the Bay leaves - serve over the Pork Chops
Nutrition Information
Yield
6
Amount Per Serving
Calories

357.3
Carbohydrates

13.2g
Protein

24.5g
LINDA
Linked up at: WEEKEND POTLUCK – The Country Cook
Don't forget to PIN to your favorite Pinterest board !