Tender, juicy Instant Pot Teriyaki Chicken takes a few minutes to make and is so tasty and flavorful – a definite winner during week nights for dinner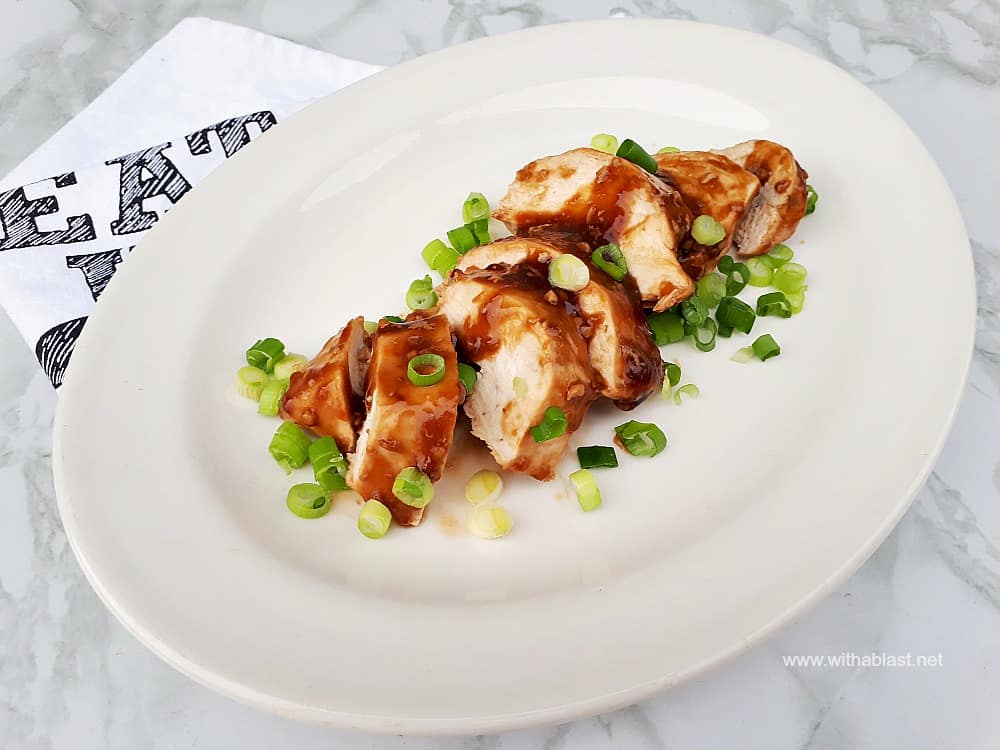 Recently I celebrated my birthday and the kids surprised me with an Instant Pot ! They knew I have been wanting one for months now.
I decided not to cook one of the recipes in the enclosed recipe book as my first attempt. But have rather decided to make up my own recipe for this Instant Pot Teriyaki Chicken.
Whenever I have a new kitchen appliance which seems a bit tricky, I normally first try a recipe from the book which comes with most appliances.
Since I have been cooking with my Pressure Cooker (still the stove top type) for years, I felt confident enough to use my own recipe.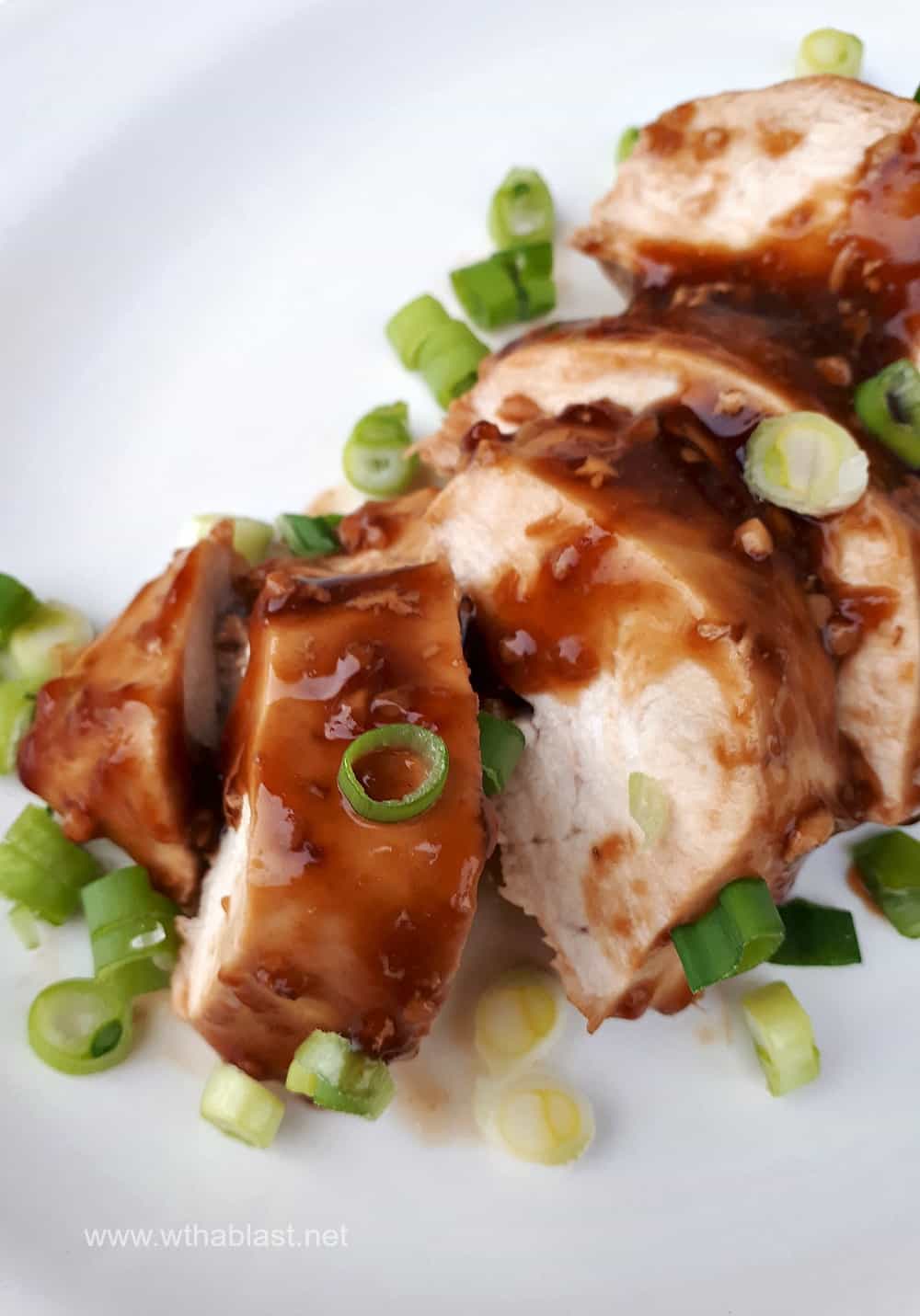 Right, so if you know a thing or two about Pressure Cookers, you also know that after the stove top Pressure Cooker, there is also an electronic Pressure Cooker available.
Looks the same as the Instant Pot, but that is just about it. I personally have never bought the electronic version of a Pressure Cooker only, as my old stove top cooker was still cooking just fine.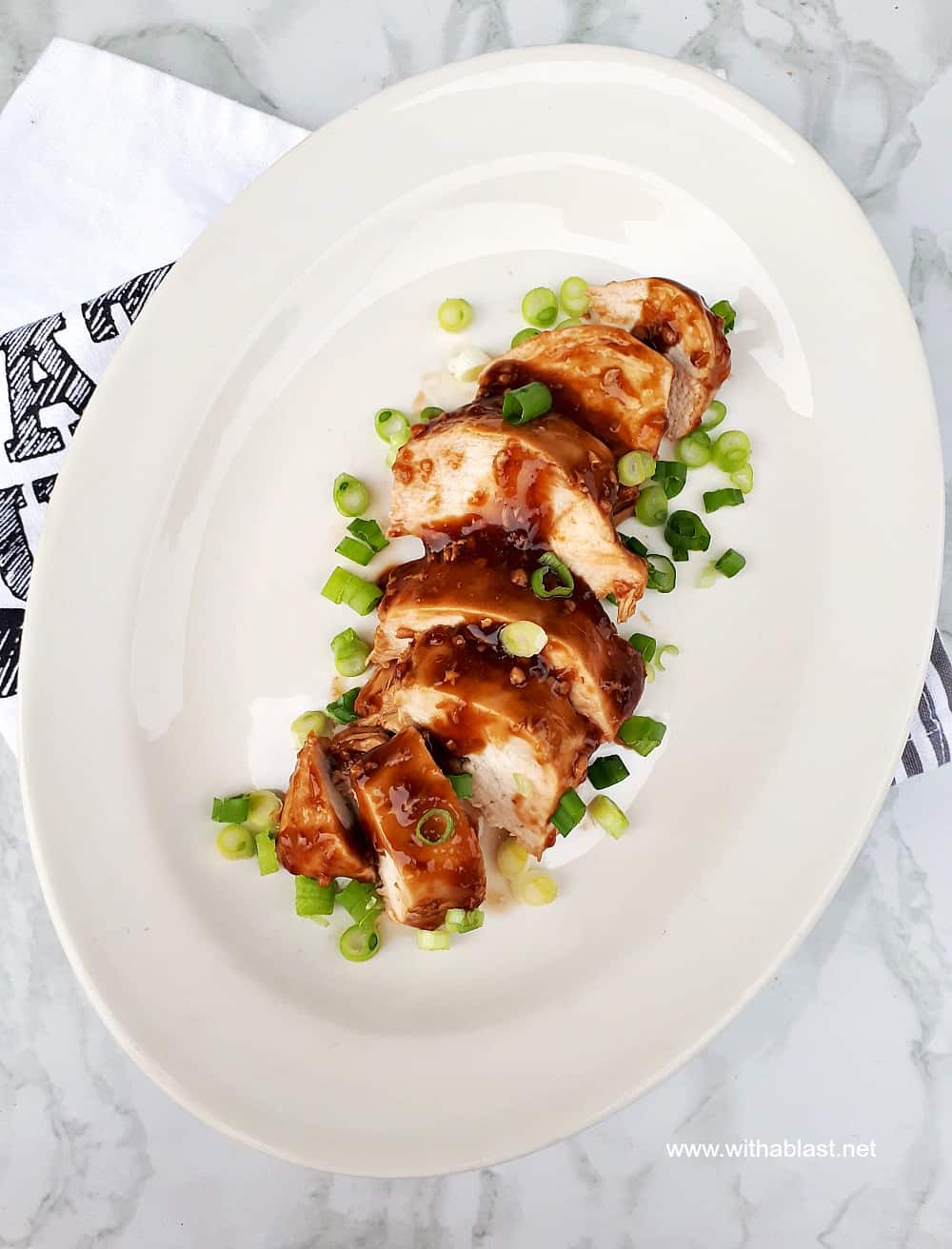 But nothing lasts forever and a couple of months ago, I decided to upgrade my old Pressure Cooker. Just missed the batch which was available in South-Africa as the Instant Pots sold out almost instantly !
Months later and now we have quite a number of stores selling them. But I am so busy with my daughter's wedding (in December 2018) plans, our upcoming 30th wedding anniversary AND my hubby's 50th birthday, I just about forgot about the Instant Pot !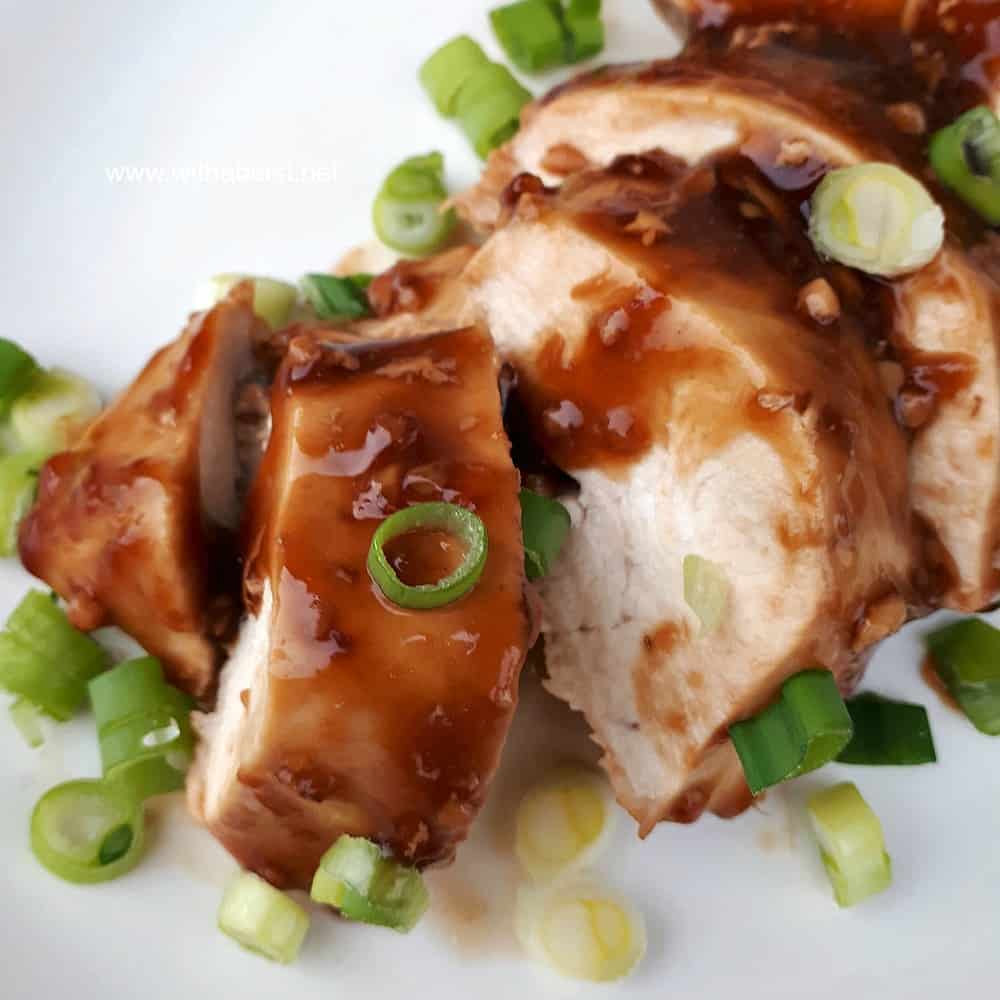 My first impression of the Instant Pot which has everyone talking – it is fast ! Instant is the perfect name for this new cooking appliance of mine.
What did I notice most when using my new Instant Pot ?
The pressure builds up so quickly compared to the stove top version – almost unbelievably quickly!
Only 6 – 8 Minutes to fully steam cook four LARGE chicken fillets – my old cooker takes around 15 minutes
Steam releases (using the Quick Release method) almost instantly, with very little steam escaping
The 6 liter (6 quarts for US) is the medium sized Pot and definitely big enough for us ( cooking for 4 – 6 people )
In the photo lower down you can see 4 chicken fillets (each about 250 grams – 8 ounces) and there is still space for another 6-8 large fillets
Cleaning the inner Pot and lid (with components) is a breeze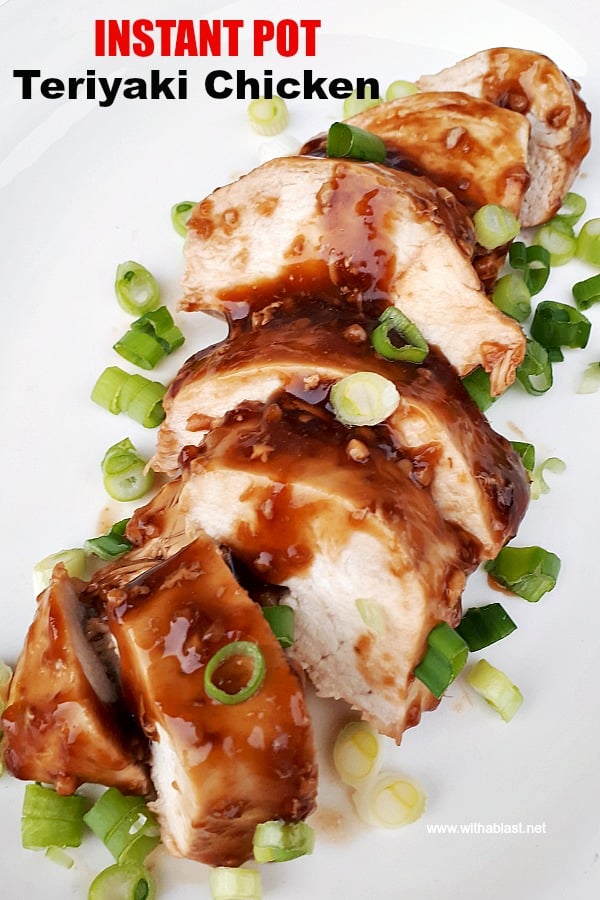 I decided on Teriyaki Chicken as we are total Teriyaki addicts ! As you can see from my Teriyaki Chicken Stir-Fry and Teriyaki Beef Salad recipes.
Another factor which made me decide on making this recipe first, was that I was curious to see how long (as well as juicy and tenderness) the Chicken would take to steam cook, set on the Pressure Cooker function.
We make A LOT of Chicken salads and most recipes calls for cooked chicken. The Instant Pot makes it so quick and easy now.
Cook the Chicken and while it cools, prep the rest of the salad – chop or slice the Chicken, finish the salad in no time at all.
Why Steam Cook Chicken ?
Steaming chicken results in less nutrients loss, preserves more of the flavor and the chicken turns out much jucier and tender.
What to serve with Teriyaki Chicken ?
over pasta or rice (chicken fillets whole or sliced)
on a bed of salad ( or chopped up and mixed into a salad)
with mashed potatoes and side dishes as below
during colder weather I like to add two vegetables as well as a starch
and during warmer weather add two or three salads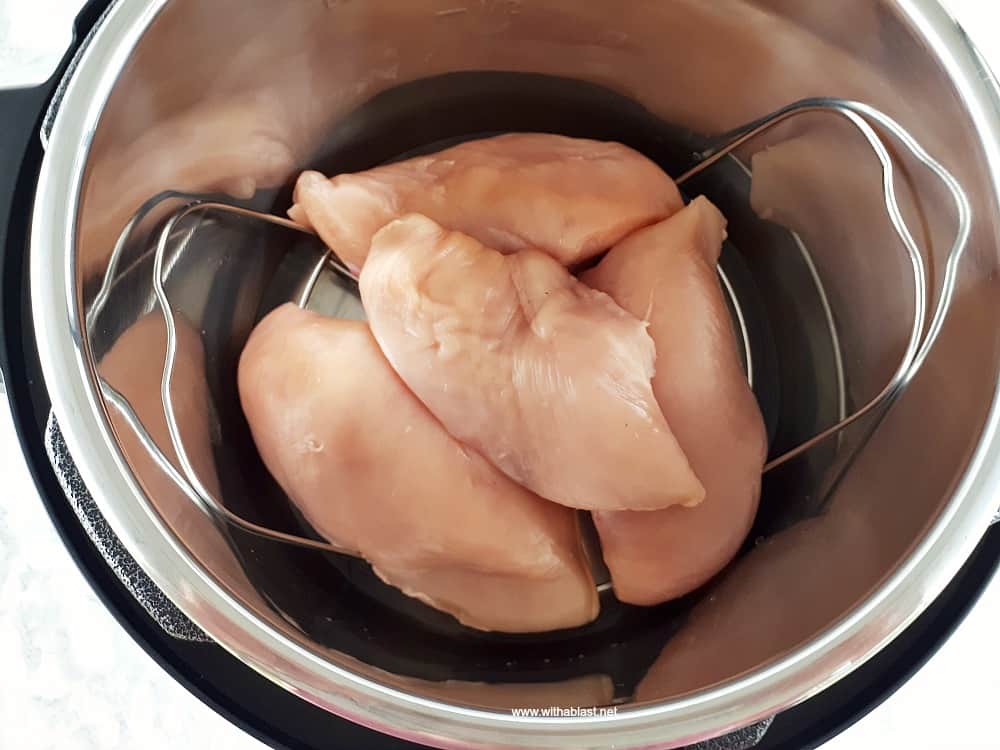 Above – water below the trivet and chicken loosely arranged on top
After steaming the chicken, you can also cube or slice the chicken – then simply add to the thickened sauce and heat through.
One more thing : I love the Keep Warm function and actually used it with this recipe, as the kids were running late for dinner. The sauce did not thicken anymore and the chicken was still as tender and juicy as when the cooking finished.
More Chicken recipes you might like:
Instant Pot Teriyaki Chicken
Yield: 4 Servings
Instant Pot Teriyaki Chicken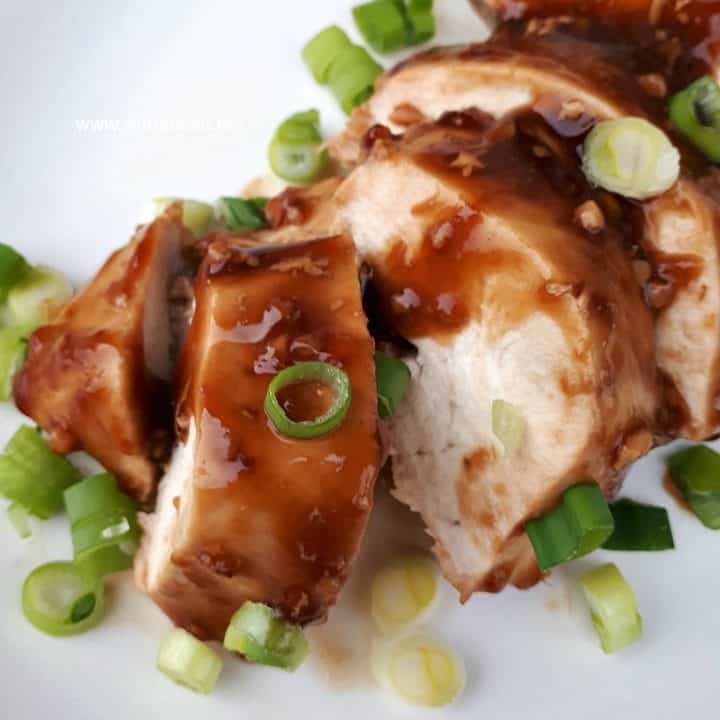 Tender, juicy Instant Pot Teriyaki Chicken takes only a few minutes to make and is so tasty and flavorful - a definite winner during week nights for dinner
Ingredients
4 large Chicken Fillets ( 900 g / 2 pounds )
SAUCE:
1/2 cup Teriyaki Sauce
1/2 cup Water
2 TB Soy Sauce
1 t Rice Wine Vinegar
2 t Garlic, freshly minced
2 t Ginger, freshly grated
2 TB Water
1 TB Cornflour (Cornstarch)
Instructions
Place the trivet in your Instant Pot - add water to just under the trivet
Arrange Chicken on the trivet - close lid securely and position the steam release handle to sealing - set the pressure cooker for 8 Minutes and let cook
Release steam - open and gently remove the cooked Chicken as well as the trivet - pour out the liquid (see notes for uses) - keep Chicken aside
Combine the Teriyaki Sauce, 1/2 cup Water, Soy Sauce, Rice Wine Vinegar, Garlic and Ginger in a small bowl - pour into the Instant Pot (no need to wash out)
Set the Instant Pot to saute for 3 minutes - (do not cover with lid) once the sauce starts cooking - mix the 2 TB Water and the Cornflour - add to the sauce and stir continuously until thickened
Add back the Chicken and heat through, turning 2-3 times for another 1-2 minutes
Remove from Instant Pot and serve with remaining sauce brushed or drizzled over the Chicken
Notes
Uses for liquid from steamed Chicken :
in soups, gravies, stews
to add flavor to rice
my favorite ! - Pour over dry dog food and give them a treat (make sure the liquid has cooled before feeding time though)
Recommended Products
As an Amazon Associate and member of other affiliate programs, I earn from qualifying purchases.
Nutrition Information
Yield
4
Amount Per Serving
Calories

325.7
Total Fat

8g
Saturated Fat

3g
Unsaturated Fat

5g
Carbohydrates

7.3g
Fiber

0.1g
Sugar

4.1g
Protein

52.6g
LINDA