Chicken and Chorizo Skewers are the easiest, most delicious Chicken skewers for your next barbecue (can also make indoors). Tender and ever so juicy ! [ the secret is in the quick marinade ! ]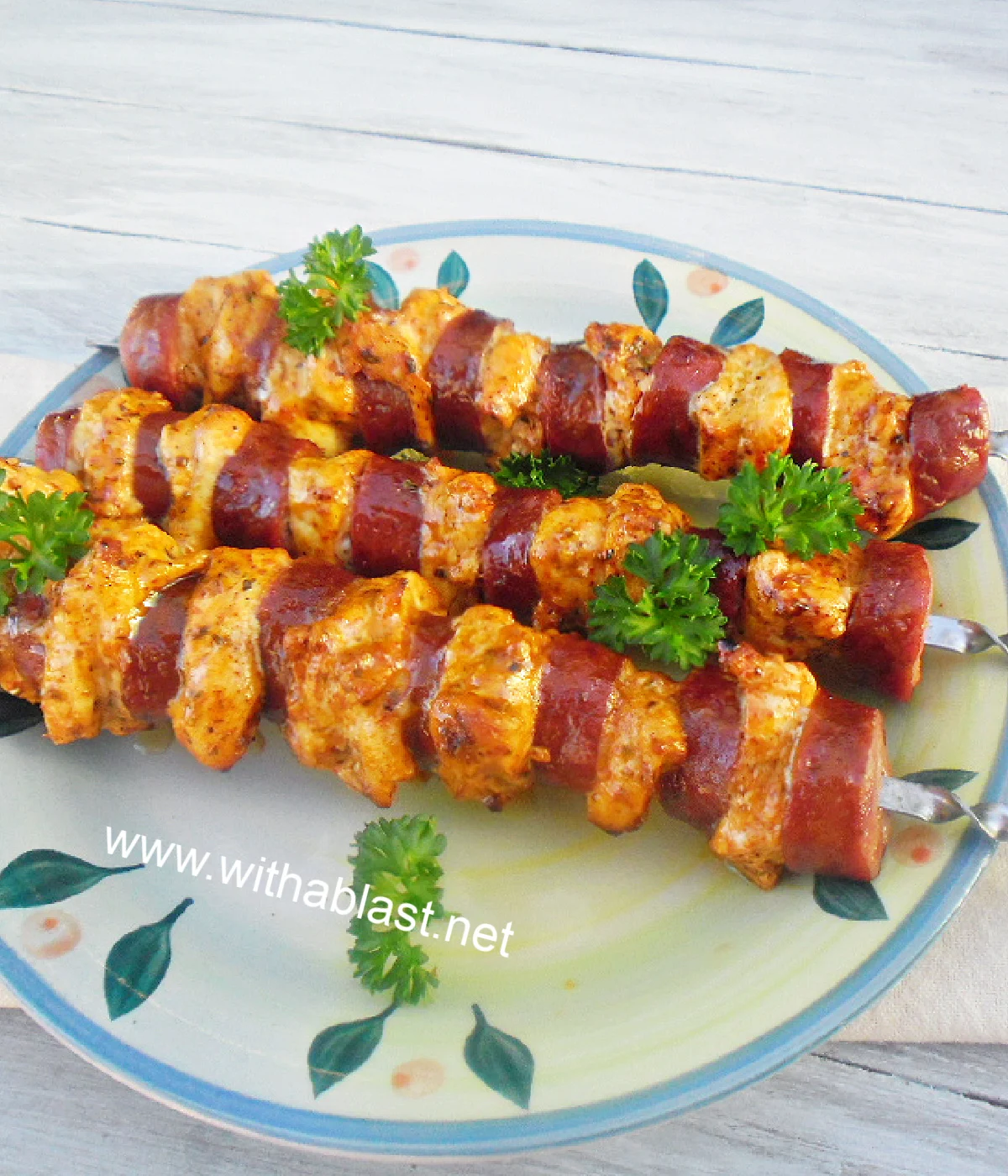 I would not be lying when I tell you this is one of the most delicious kebabs I have ever had !
The Chicken and Chorizo Skewers are tender, juicy and bursting with flavor.
We absolutely love Chicken and Chorizo Skewers! They are the perfect addition to any barbecue and always a crowd-pleaser.
Not only are they delicious, but they are also incredibly easy to make. Whether you are cooking outdoors on the grill or indoors on a healthgriller, these skewers are a breeze to prepare and grill.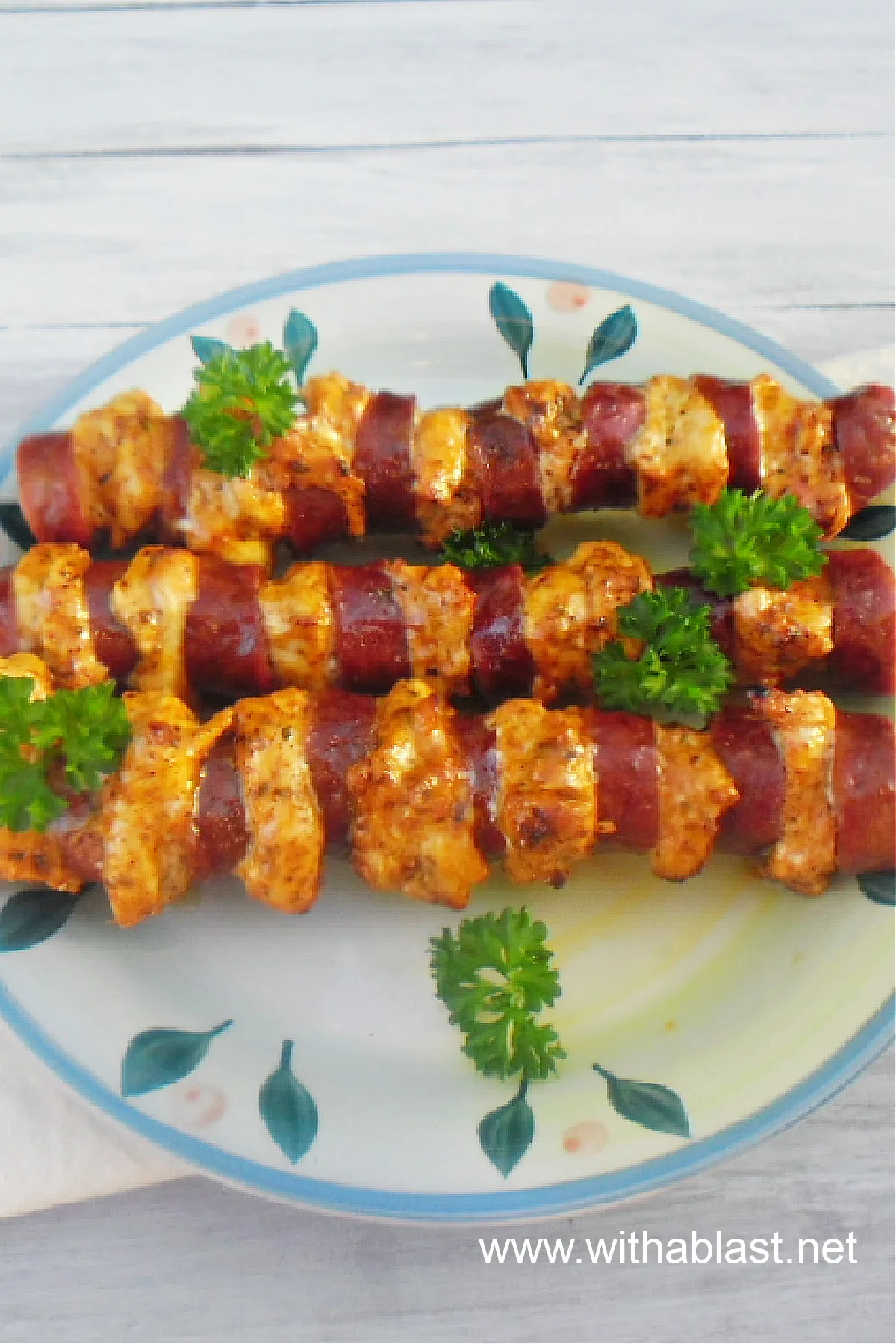 One of the best things about Chicken and Chorizo Skewers is how tender and juicy they turn out. The secret to achieving this perfect texture is in the quick paprika-based marinade.
This marinade not only adds a ton of flavor to the chicken and chorizo but also helps to keep them moist and succulent throughout the cooking process.
And while the recipe does not call for any additional vegetables, you can always add some if you like. Bell peppers, onions, and zucchini are all great options that pair well with the chicken and chorizo.
What Is Chorizo ?
As someone who loves to cook, I always make sure to have a few key ingredients in my kitchen, and one of those is chorizo. Chorizo is a type of sausage that originated in Spain and Portugal, and is now widely used in many cuisines around the world. It is made from pork or beef, seasoned with spices, and is usually sold in a casing.
Chorizo comes in two main types:
Spanish/Purtuguese and Mexican. Spanish chorizo is a cured sausage, which means it is dried and can be eaten without cooking. It has a firm texture and a deep, smoky flavor.
Mexican chorizo, on the other hand, is a fresh sausage that needs to be cooked before eating. The casing is usually removed before cooking. It is softer and has a more crumbly texture than Spanish chorizo, and is often used in dishes like tacos and burritos.
One of the things I like about chorizo is its versatility. It can be used in a variety of dishes, from breakfast to dinner. Here are a few ways I like to use chorizo:
Breakfast burritos or omelettes
Pasta dishes, like spaghetti with chorizo and tomato sauce
Soups, like a spicy chorizo and lentil soup
Paella, a classic Spanish rice dish
On pizza, as a topping with other meats and vegetables
When buying chorizo, it is important to look for high-quality sausage made from good ingredients. Some chorizo can be high in fat and sodium, so it is important to enjoy it in moderation.
Easy Paprika Marinade
I always look for marinades that can elevate the flavor of my dishes. One of my go-to marinades for chicken and chorizo skewers is an easy Paprika Marinade. This marinade is a game-changer for anyone who wants to add a smoky and spicy flavor to their skewers.
Paprika is the star of this marinade, and it gives the chicken and chorizo a beautiful rich color and an appetizing look. The combination of paprika, garlic, oregano, and lemon juice creates a perfect balance of flavors that will make your taste buds dance with joy.
Paprika Marinade Recipe
(This recipe is also in the printable recipe card)
To make this marinade, you will need 1 tablespoon of olive oil, 2 teaspoons of fresh garlic (crushed), 2 teaspoons of dried oregano, 2 teaspoons of paprika, 1 tablespoon of lemon juice, and 2 tablespoons of brown sugar.
Mix all the ingredients in a bowl and coat the chicken and chorizo with the marinade.
Let it marinate for at least 2 hours or overnight for the best results.
One of the best things about this marinade is that it is effortless to make, and you can easily adjust the spices to your liking. The brown sugar in the marinade adds a touch of sweetness that balances out the spiciness of the paprika.
Whenever I make chicken and chorizo skewers with this marinade, I never have any leftovers. The flavors are so delicious that my family and friends always ask for more.
So, if you want to impress your guests with a flavorful and easy-to-make marinade, give the Easy Paprika Marinade a try.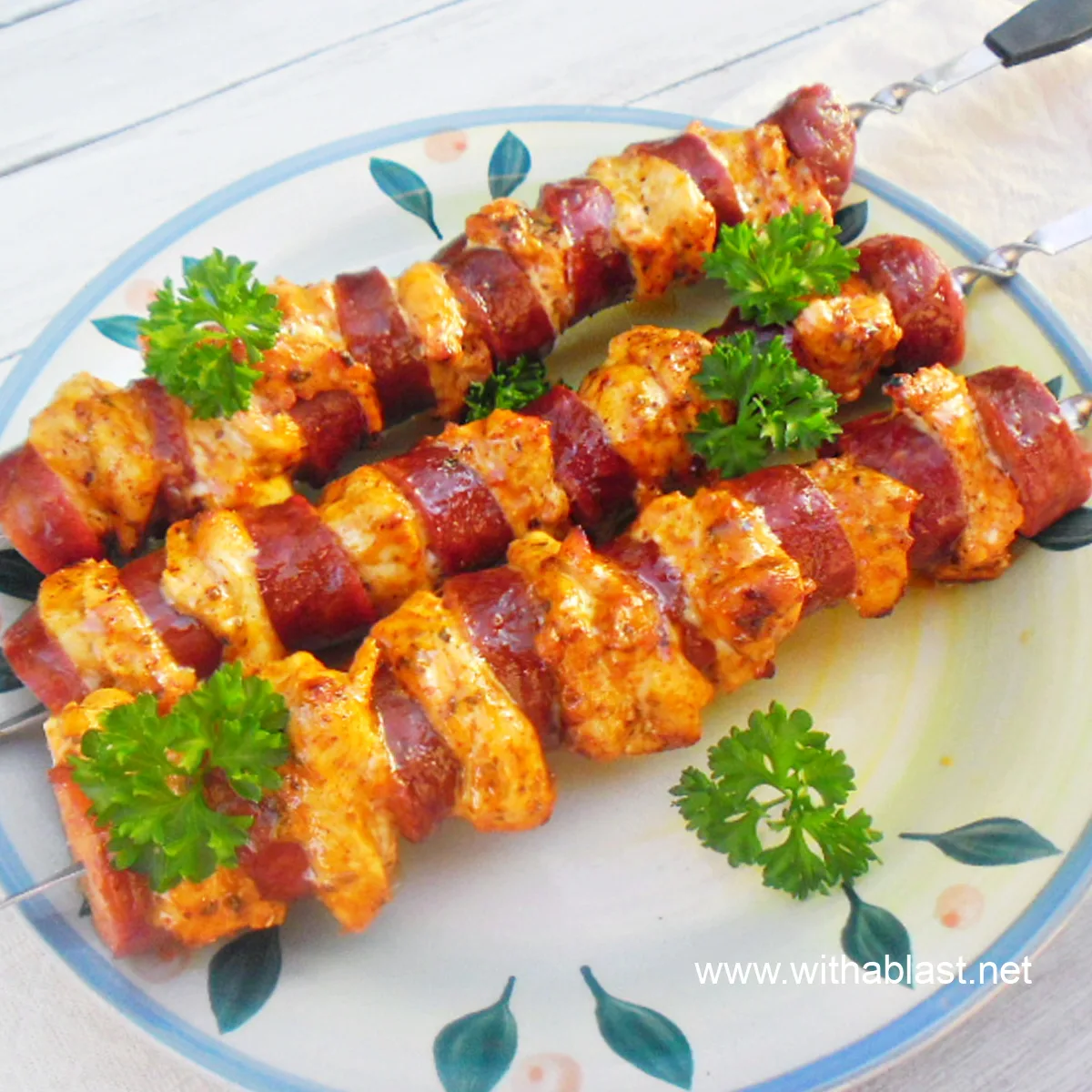 (Scroll down for the full printable recipe)
Ingredients To Make Chicken and Chorizo Skewers
When it comes to making delicious chicken and chorizo skewers, having the right ingredients is key. Here are the ingredients that I use to make my skewers:
750 grams Chicken Fillets, cubed (1 + 3/4 pounds)
1 tablespoon extra-virgin Olive Oil
2 teaspoons Fresh Garlic, crushed
2 teaspoons Dried Oregano
2 teaspoons Paprika
1 tablespoon Lemon Juice
2 tablespoons Brown Sugar
2-3 Chorizo Sausage Links, sliced into 10 mm thick slices
These ingredients come together to create a flavorful and satisfying dish that is perfect for a summer barbecue or a weeknight dinner.
Instructions To Make Chicken and Chorizo Skewers
To make delicious Chicken and Chorizo Skewers, follow these simple steps:
Combine all the ingredients except the Chorizo in a marinating container – marinade the Chicken for 2 hours. You can use a plastic bag or a glass container with a lid.
Thread the Chicken and Chorizo alternatively onto 8 skewers. You can use metal or wooden skewers, but if you use wooden ones, make sure to soak them in water for 30 minutes before using them to prevent them from burning.
Heat up your grill to medium-high heat. Lightly oil the grate to prevent the skewers from sticking.
Grill until Chicken is done, basting frequently with the leftover marinade
Once the chicken is cooked, remove the skewers from the grill and let them rest for a few minutes before serving
Garnish them with fresh herbs, lemon wedges, or your favorite dipping sauce (optional)
Serve these Chicken and Chorizo Skewers for a summer barbecue, a party appetizer, or a quick and easy weeknight dinner. They are packed with protein, flavor, and color, and are sure to impress your guests and family. Enjoy!
Serving Suggestions
When it comes to serving chicken and chorizo skewers, there are many options to choose from. Here are some suggestions for side dishes, drinks, and garnishes that will complement the flavors of the skewers.
Side Dishes
Rice Pilaf: A flavorful rice pilaf with herbs, spices, and vegetables is a great side dish for chicken and chorizo skewers. It provides a neutral base that will balance out the bold flavors of the skewers.
Grilled Vegetables: Grilled vegetables such as zucchini, bell peppers, and onions are a healthy and colorful side dish that will add texture and flavor to the meal.
Corn on the Cob: Grilled corn on the cob is a classic summer side dish that pairs well with chicken and chorizo skewers. It is sweet, juicy, and provides a nice contrast to the savory flavors of the skewers.
Drinks
Sangria: A refreshing pitcher of sangria is a perfect drink to serve with chicken and chorizo skewers. The fruity flavors of the sangria will complement the spicy flavors of the skewers.
Lemonade: A cold glass of lemonade is a simple and refreshing drink that will balance out the bold flavors of the skewers.
Beer: A cold beer is a classic drink to serve with grilled meats. A light beer or a lager will complement the flavors of the skewers without overpowering them.
Garnishes
Lemon Wedges: A squeeze of fresh lemon juice over the skewers will add brightness and acidity to the dish.
Fresh Herbs: Chopped fresh herbs such as parsley, cilantro, or basil will add a pop of color and flavor to the skewers.
There are many ways to serve chicken and chorizo skewers. By pairing them with the right side dishes, drinks, and garnishes, you can create a delicious and well-rounded meal that everyone will enjoy.
Skewers For The Kids
The standard size skewers might be too large for little hands. That is why I recommend using smaller skewers for kids, about half the standard size.
Using smaller skewers not only makes it easier for kids to hold and eat, but it a great way to control portion sizes as well.
The kebabs are also so easy to make with simple, everyday ingredients, therefore you do not go on a hunt for any secret ingredient.
However, speaking of secret ingredients, I think the Paprika in this recipe makes the meal !
Not really a secret ingredient, but most definitely the key ingredient (besides the Chicken and Chorizo).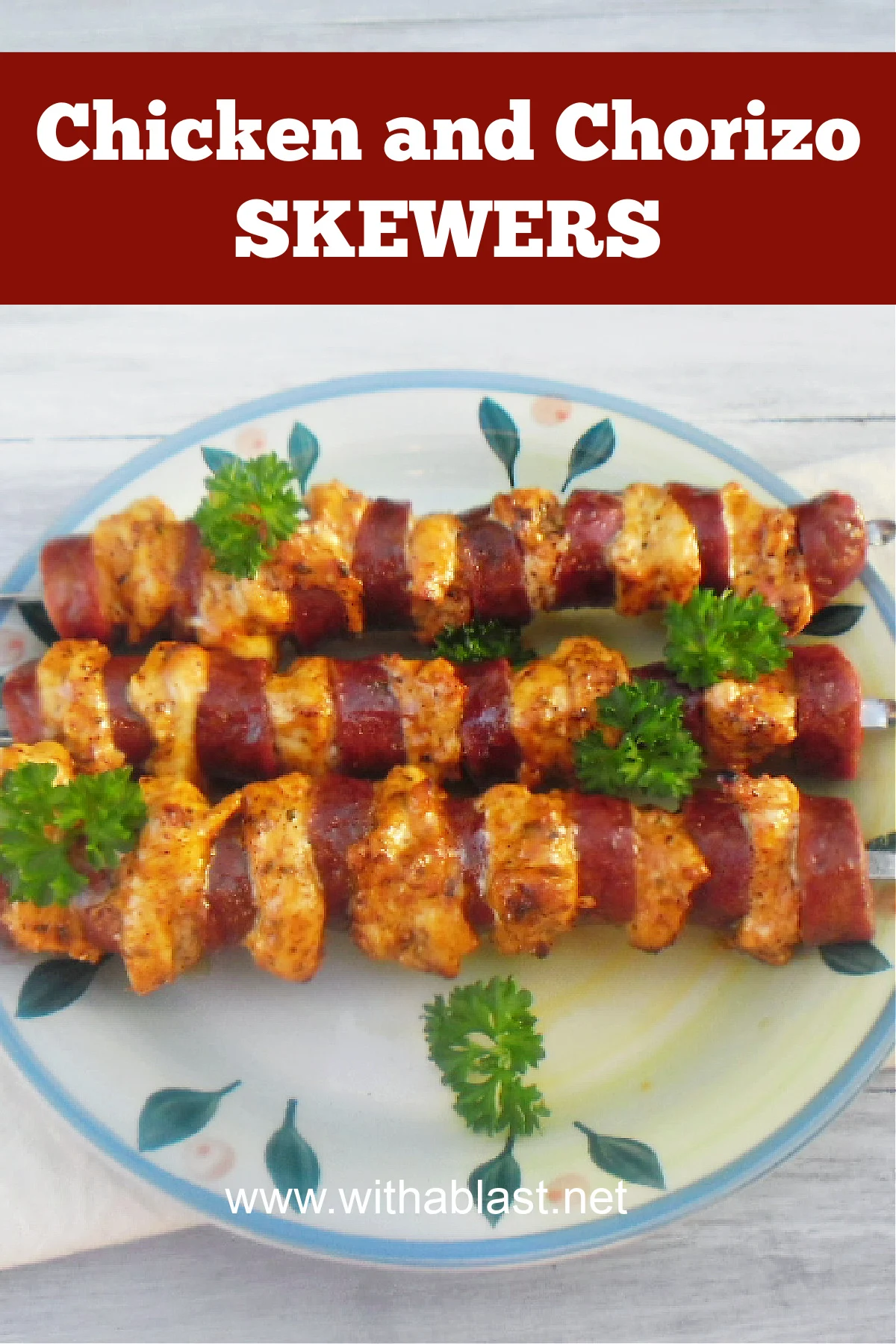 We have had these Chicken and Chorizo Skewers several times already. And it is only because everyone requests it to be included when we have a BBQ, or when I use my Kebaba Griller.
I am secretly thrilled when my family asks for it, as I am totally won over by these kebabs.
More Barbecue recipes you might like:
Chicken And Chorizo Skewers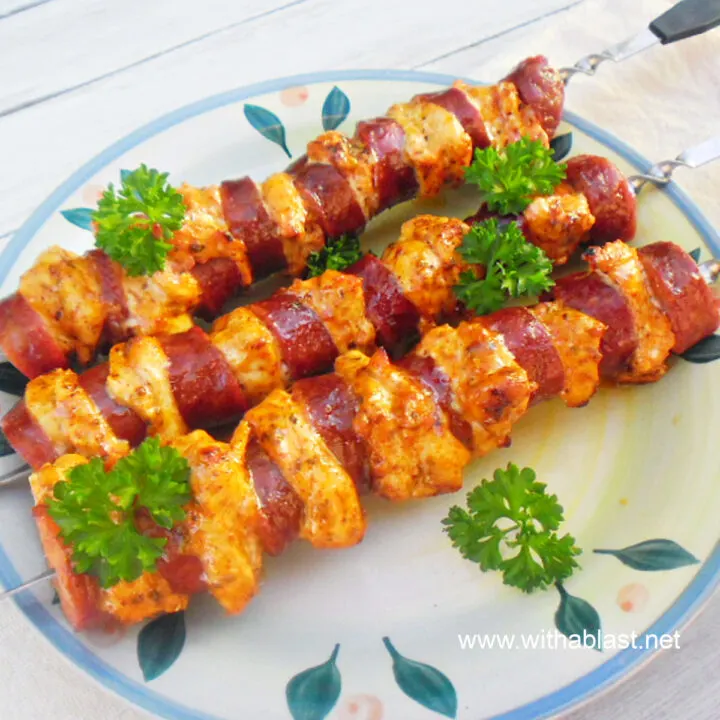 Chicken and Chorizo Skewers
Total Time:
2 hours
20 minutes
Chicken and Chorizo Skewers are the easiest, most delicious Chicken skewers for your next barbecue (can also make indoors). Tender and ever so juicy ! [ the secret is in the quick marinade ! ]
Ingredients
750 grams Chicken Fillets, cubed (1 + 3/4 pounds)
1 tablespoon extra-virgin Olive Oil
2 teaspoons Fresh Garlic, crushed
2 teaspoons Dried Oregano
2 teaspoons Paprika
1 tablespoon Lemon Juice
2 tablespoons Brown Sugar
2-3 Chorizo Sausage Links, sliced into 10 mm thick slices
Instructions
Combine all the ingredients except the Chorizo in a marinating container – marinade the Chicken for 2 hours. You can use a plastic bag or a glass container with a lid.
Thread the Chicken and Chorizo alternatively onto 8 skewers. You can use metal or wooden skewers, but if you use wooden ones, make sure to soak them in water for 30 minutes before using them to prevent them from burning.
Heat up your grill to medium-high heat. Lightly oil the grate to prevent the skewers from sticking.
Grill until Chicken is done, basting frequently with the leftover marinade
Once the chicken is cooked, remove the skewers from the grill and let them rest for a few minutes before serving
Garnish them with fresh herbs, lemon wedges, or your favorite dipping sauce (optional)
Notes
Use smaller skewers for kids - about half the standard size
Nutrition Information
Yield

8 Servings
Serving Size

1 Skewer
Amount Per Serving
Calories

286
Total Fat

14g
Saturated Fat

4g
Trans Fat

0g
Unsaturated Fat

8g
Cholesterol

99mg
Sodium

349mg
Carbohydrates

4g
Fiber

0g
Sugar

3g
Protein

35g
Nutrition value is not always accurate
Linked up at
WEEKEND POTLUCK – Sweet Little Bluebird