Malaysian Chicken and Sticky Rice served with a simple, quick dipping sauce and fresh vegetables make a delicious family friendly and healthy dinner.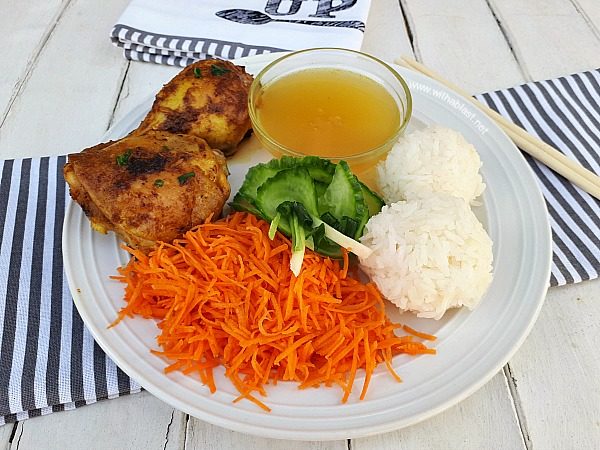 This Malaysian Chicken with Sticky Rice is a most delicious, filling meal, served together with fresh vegetables.
I am trying to add more fresh, non cooked vegetables into our meals and Carrots are always a delicious choice.
English Cucumber, or plain cucumber, if I have no English Cucumber and Spring Onions not only add color to the meal, but it makes the overall meal so much healthier as well.
Cucumbers are rich in multiple Vitamin B varieties and also contains two of the most basic elements needed for healthy digestion, which is water and fiber.
Spring Onions on the other hand are chock full of Vitamin C, Vitamin K as well as Vitamin A. I also prefer to use Spring Onions wherever I can as the taste is not as strong as that of plain Onions.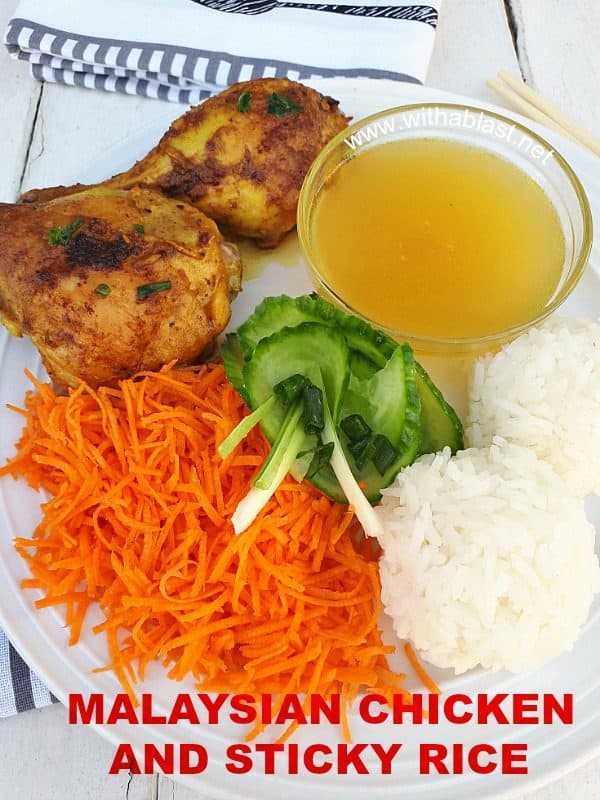 Remove the skin of the Chicken before baking, to make the the Chicken a bit more healthy. Of course there will be no crispy skin, but I believe it is a small sacrifice to make if you really try to eat healthier.
And this coming from a person whom is absolutely addicted to a nice, crisp (even burnt!) skin on piece of chicken !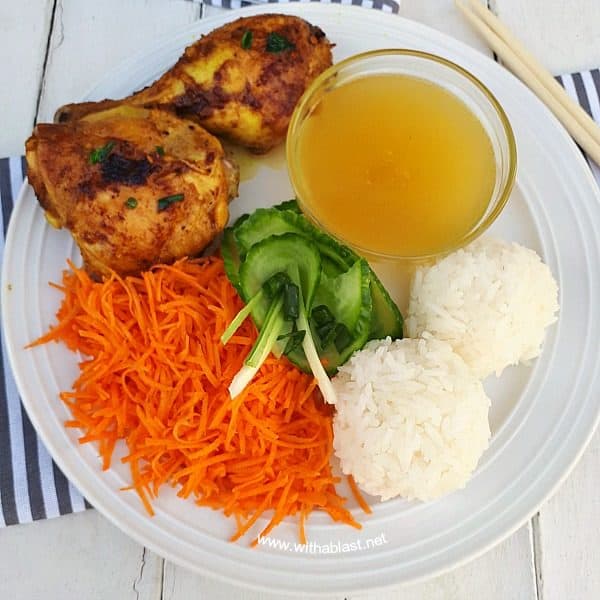 The Malaysian Chicken also turns out so tender and juicy ! My family goes crazy over this chicken each and every time I serve it for dinner.
Do not underestimate the simplicity of the Dipping Sauce ! The sauce makes all the difference in the world. We dip everything from the Chicken to the Fresh Veggies in this easy sauce.
Or rather dip the Chicken and drizzle the Sauce over the Rice and Vegetables.
First of all, I start with the Rice and once that's going, I cook the Chicken. Whilst both are doing their own thing, I have more than enough time to quickly make the Dipping Sauce.
The Fresh Vegetables are also quick to get ready and most are also ready-to-eat available in stores. I, however do still prefer grating, slicing etc my own vegetables.
Due to it being so much cheaper for one, and secondly, I know the vegetables are as fresh as I will get them.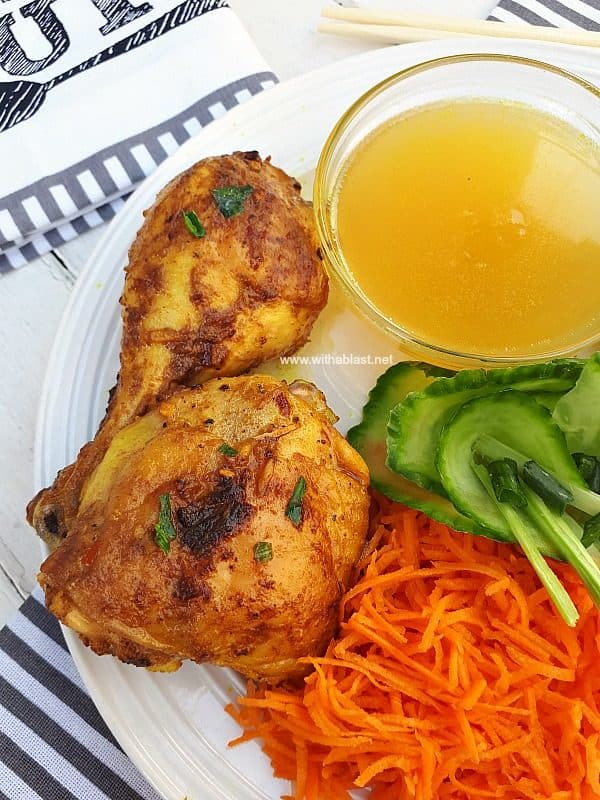 The Malaysian Chicken can of course be served on it's own, which I do now and then, as it makes a wonderful addition to a Chicken variety tray.
Also known as a savory plate, which can be only Chicken, or a variety of savory snacks. This is usually great for a Saturday afternoon late lunch / early dinner and most definitely on Game Day.
One delicious, healthy complete meal, ready in around 35 minutes – perfect for busy week night dinners !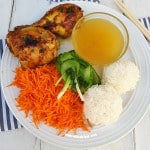 Malaysian Chicken And Sticky Rice
Malaysian Chicken and Sticky Rice served with a simple, quick dipping sauce and fresh vegetables make a delicious family friendly and healthy dinner
Ingredients
STICKY RICE:
2

cups

Jasmine Rice

3

cups

Water

1

stalk

Lemon Grass

bruised (dried or fresh)

1/3

cup

Cilantro

(do not chop)

2

Limes

juice only

1

whole

Red Chili
MALAYSIAN CHICKEN:
8

pieces

Chicken

bone in, skin on (drumsticks, thighs)

1

TB

Vegetable Oil

1

t

Turmeric

Salt and Black Pepper

to taste

2

Limes

juice only

1

t

Dried Chili Flakes

2

TB

Fresh Ginger

finely grated
DIPPING SAUCE:
1

cup

Chicken Stock

homemade or best quality if store-bought

1

TB

Lime Juice

freshly squeezed

1

t

Fresh Ginger

finely grated

Salt

to taste (optional)
TO SERVE:
Carrots

finely grated

English Cucumber

spirals / shaved

Spring Onions

chopped or sliced into sticks
Instructions
STICKY RICE:
Place all the Rice ingredients in a rice cooker or medium saucepan - cook until done - remove Lemon Grass stalk, Cilantro and the Chili - when ready to serve, and cooled a little, form sticky rice into balls (your choice of size - from golf ball size to tennis ball size)
MALAYSIAN CHICKEN:
Pre-heat the oven to 200 deg C (400 deg F) - spray a large roasting pan with cooking oil - arrange the Chicken (skin facing up) in a single layer on the roasting pan (Turn over drumsticks halfway through baking to crisp skin both sides)

Combine all the remaining ingredients for the Malaysian Chicken in a small bowl - pour over the Chicken and bake 25 minutes or until crisp
DIPPING SAUCE:
Place all the ingredients for the dipping sauce in a small saucepan - bring to the boil - remove from heat and transfer to small individual bowls to serve
TO SERVE:
Serve the Sticky Rice, Malaysian Chicken, Dipping Sauce together with the grated Carrots, English Cucumber and Spring Onions
Recipe Notes
The Sticky Rice can also be formed by using a lightly oiled ramekin - press rice into ramekin, tip over onto serving plate
LINDA
You Might Also Like: