Sticky Pork Belly is an Asian inspired recipe, the meat is super tender and the top is the crispiest ever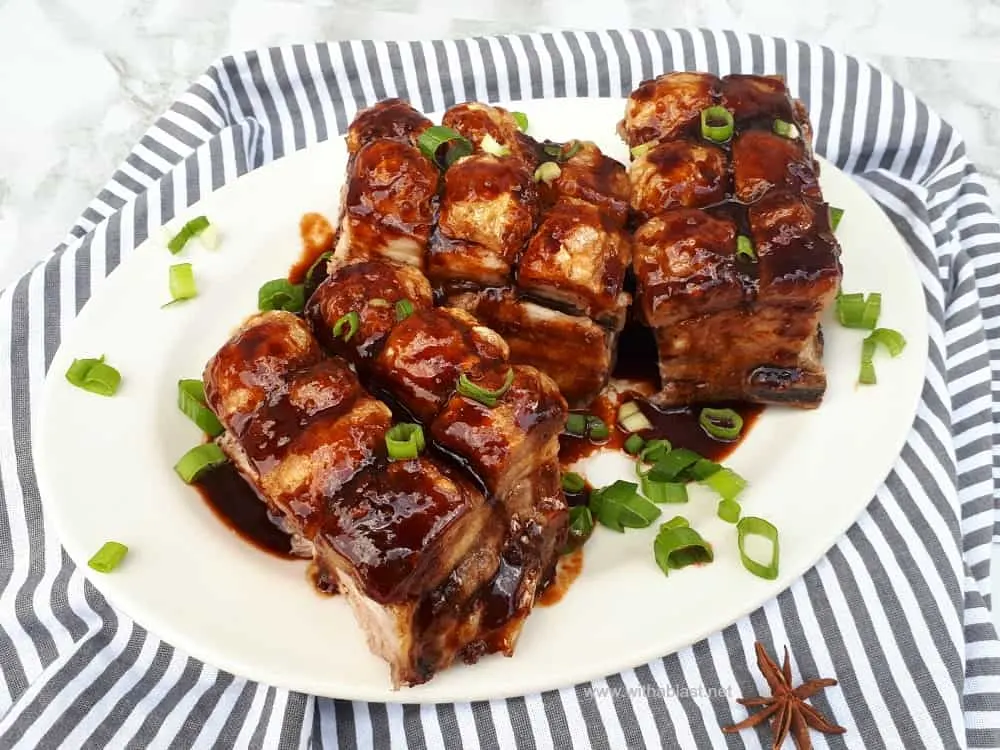 Would you believe I did not touch Pork Belly until a couple of years ago ? My bad, as this is one of the most flavorsome cuts of meat around ! When cooked properly of course.
We especially love this Sticky Pork Belly which is an Asian inspired recipe. As the saying goes .. " sticky delicious !"
I usually get Pork Belly in a thinner cut from our usual supermarket, but the other day I found this massive piece at another store. The meat must have been at least 10 centimeters ( 4 inches ) thick !
It is not all meat of course, meat, fat, meat and a top layer of fat which turns into the most scrumptious crispy (crackling is the correct term here) topping.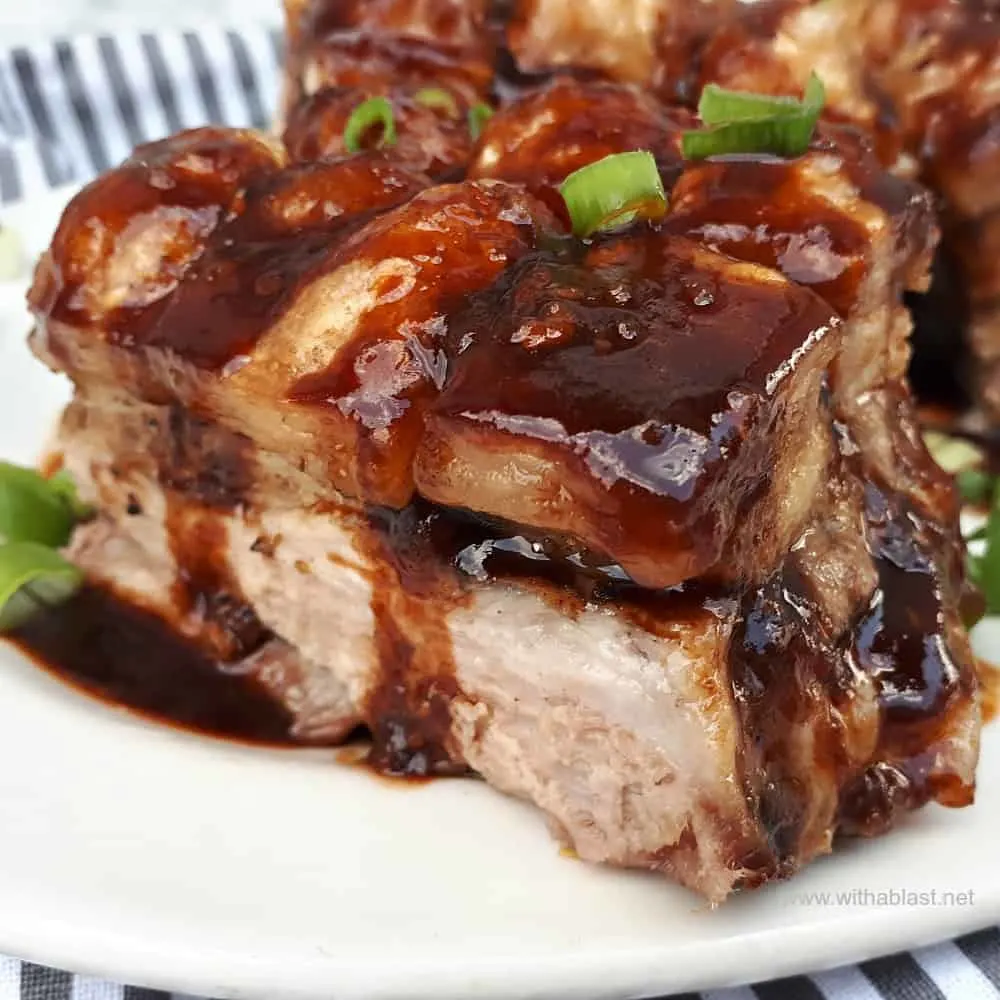 Absolutely mouthwatering delicious ! Tender, juicy meat teamed up with crackling – I say yes ! Pass it on !
We do not really eat all the fat, but a bite here and a bite there is not too bad, right ? Speaking of fat, mmm, yes, this will soon be a total no-no for me as I need to lose a bit of weight for my daughter's wedding in December.
To be honest, not a bit, but quite a lot really. I did the most stupid thing the other day. Weighed myself ! Oh my, what an eye opener !
And this is after I committed myself to first lose a bit, then weigh and see how much is left on the scale to get rid off.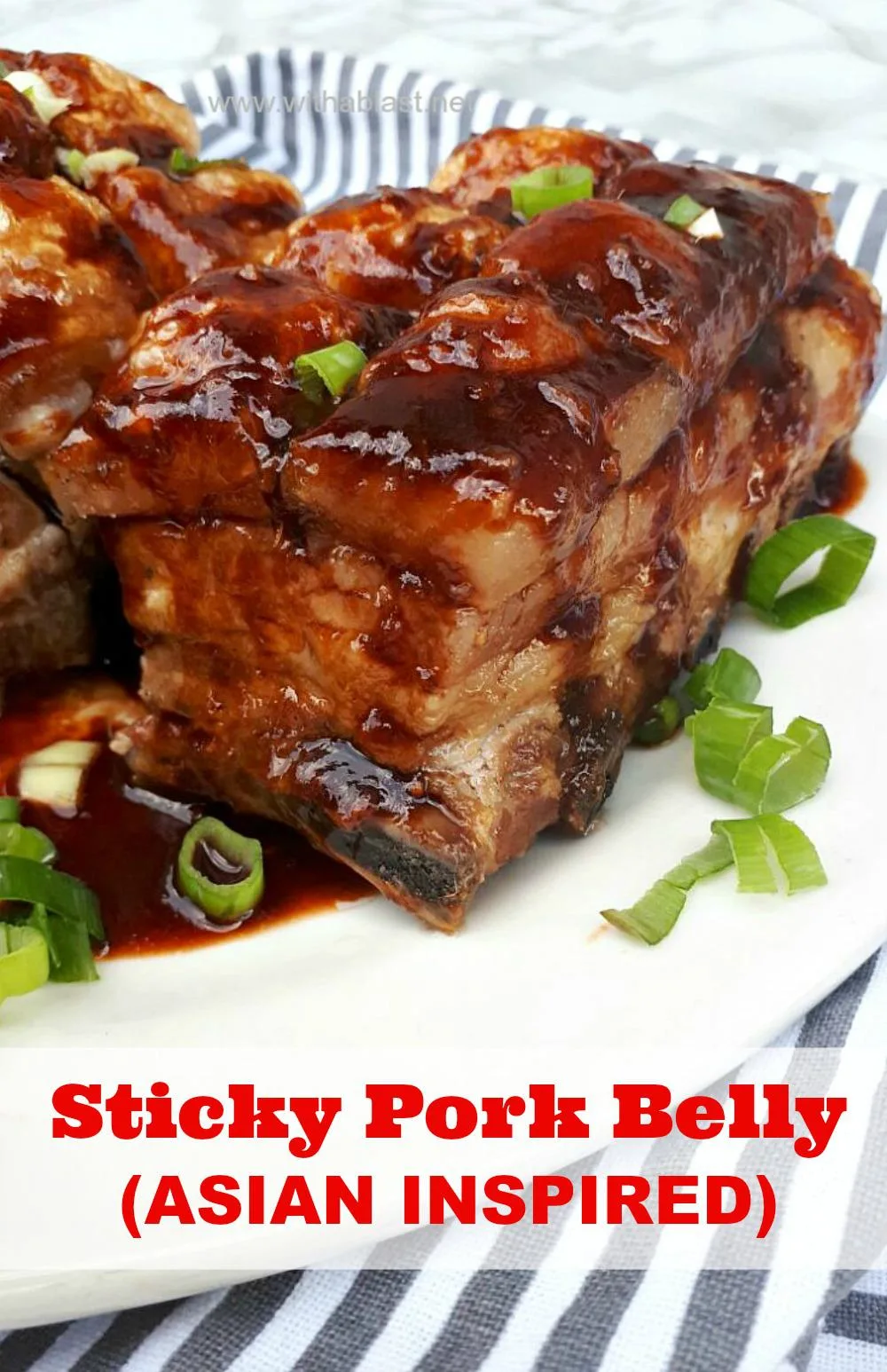 Hope I did not scare you away from the recipe for this amazing sticky Pork Belly with all that weight talk !
All the ingredients work so well together in this recipe, especially the sauce. But do try to pour over the sauce right before serving.
If the sauce is poured over too early, the crisp (crackling) will softened somewhat.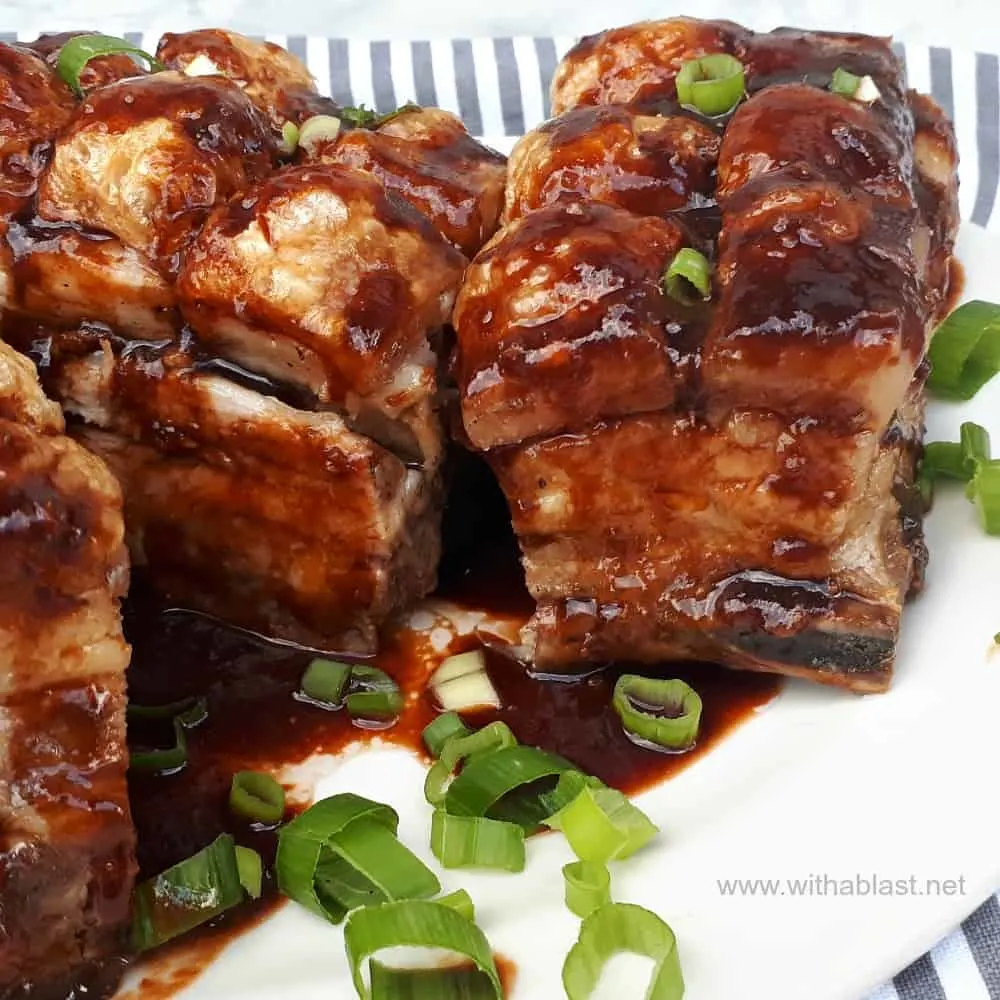 In the photo above you can see exactly how crisp the skin has become. We have bags of Pork crackling sold in just about any grocery / butchery in South-Africa. And I can finish off a bag by myself easily.
Ugh, just another one of my indulgences which will have to to go.
Meanwhile, grab the recipe, print it out and you just might find yourself enjoying this wonderful sticky Pork Belly this Sunday – or whenever !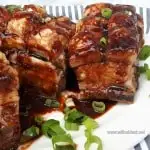 Sticky Pork Belly (Asian Inspired)
Sticky Pork Belly is an Asian inspired recipe, the meat is super tender and the top is the crispiest ever
Ingredients
2

kg

Pork Belly

skin on and scored ( 4.5 pounds )

1 1/2

t

Chinese Five Spice

Salt and Pepper

to taste

1

TB

Coriander Seeds

lightly toasted and roughly ground

1

TB

Fresh Ginger

grated

2

Star Anise

1

TB

Fresh Garlic

crushed or chopped

Extra

Salt
SAUCE:
1

TB

Vegetable Oil

1

TB

Fresh Ginger

finely grated

3

TB

Soy Sauce

5

TB

Tomato Sauce

(thick Ketch-Up)

2

TB

Honey

1/2

cup

Medium Sherry

1/2

t

Sesame Oil
Instructions
Combine the Chinese Five Spice, Salt and Pepper, and Coriander Seeds - rub all over the Pork Belly - roll up and tie with string - place in refrigerator overnight

Fill a large saucepan 2/3 with Water - add the Ginger,Star Anise and Garlic - bring to the boil

Place the Pork in the saucepan and simmer over medium heat for 20 minutes

Remove Pork from the saucepan - untie and roll out on a flat plate - let "dry" about 20 minutes (Meanwhile switch on the oven to 200 deg C ( 400 deg F )

Season Pork with the extra Salt and place (skin up) in a large oven roasting dish - bake 30 minutes

Lower oven temperature to 180 deg C ( 360 deg F ) - and bake a further one hour or until the meat is tender

Turn on your top oven element and roast the Pork until the fat puffs up and is crispy - keep an eye on the Pork as it burns quickly (see note below) - remove from oven, let rest 15 minutes and transfer to a serving plate
SAUCE:
Heat the Oil in a small saucepan - saute the Ginger until soft - add the remaining Sauce ingredients and heat through

Pour over Pork just before serving
Recipe Notes
When roasting the Pork under the top element to crisp the fat layer, I leave the oven door open, just enough to peek in every minute or two. It should only take about 5 - 7 minutes
LINDA
Linking up with: WEEKEND POTLUCK – Sweet Little Bluebird
You Might Also Like: