Butter Chicken Bunny Chow is a South-African meal – tender, saucy, slightly spicy Butter Chicken served in hollowed out bread.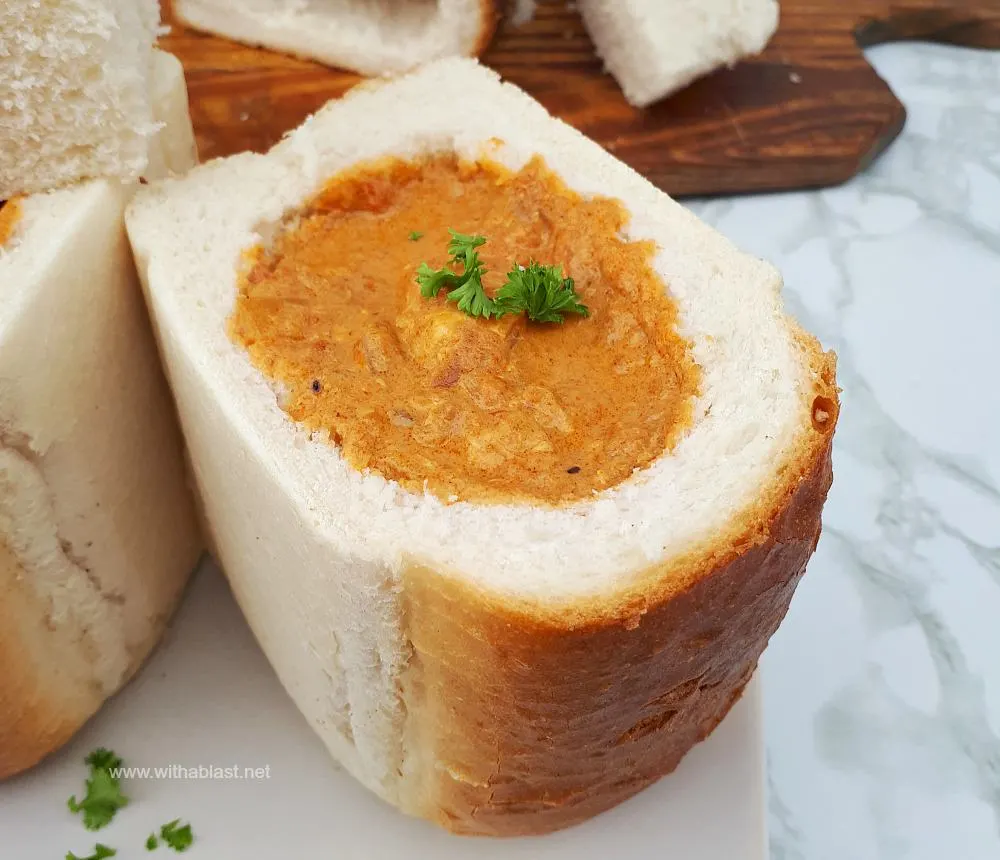 First off, no bunny / rabbit meat in a Bunny Chow ! This is probably one of the most popular Indian take-outs in South-Africa.
Butter Chicken Bunny Chow is one of my versions of a homemade Bunny Chow. There are countless types of fillings which will go well with this, but curry and/or spicy is a must.
Even though Bunny Chows are an Indian dish, it originated, yes by the Indian population, in Kwazulu Natal, South-Africa.
The filling can be served in a quarters (most popular)/thirds and halves of a loaf of bread. My hubby and son can polish off a half, but I can only manage a quarter.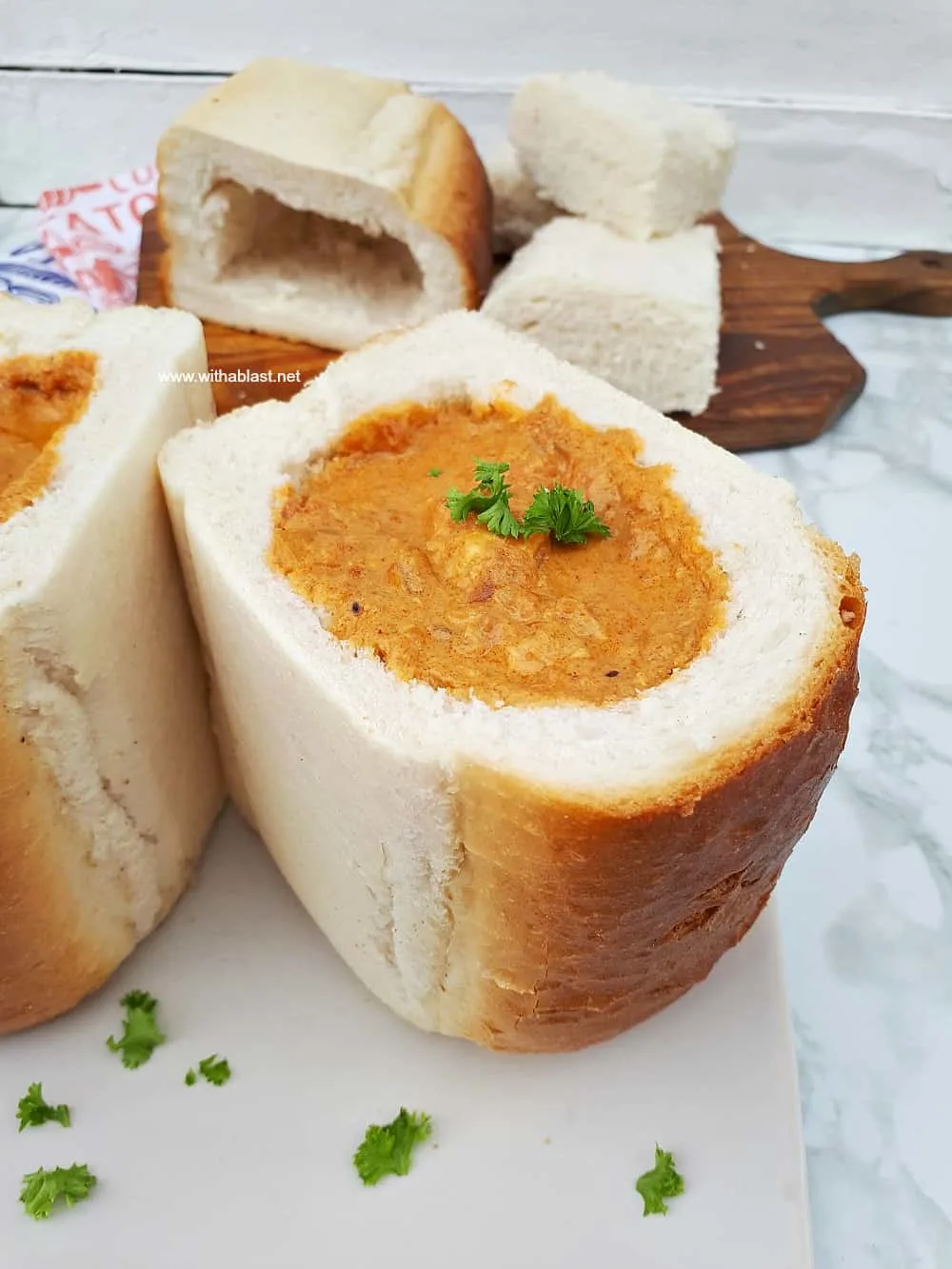 The absolute best Bunny Chows I have ever eaten is in fact in Kwazulu Natal. Up here in Johannesburg, a good one here and there at Indian restaurants, but I prefer making my own.
As I have mentioned a Bunny Chow can have so many different fillings and I know Mutton is always available.
Chicken, Beef and Vegetable fillings are a little less favored, although I prefer a Beef or Chicken filling. Hubby likes his Mutton, but only when we are in Kwazulu Natal !
He is not too fussy when it comes to homemade Bunny Chows.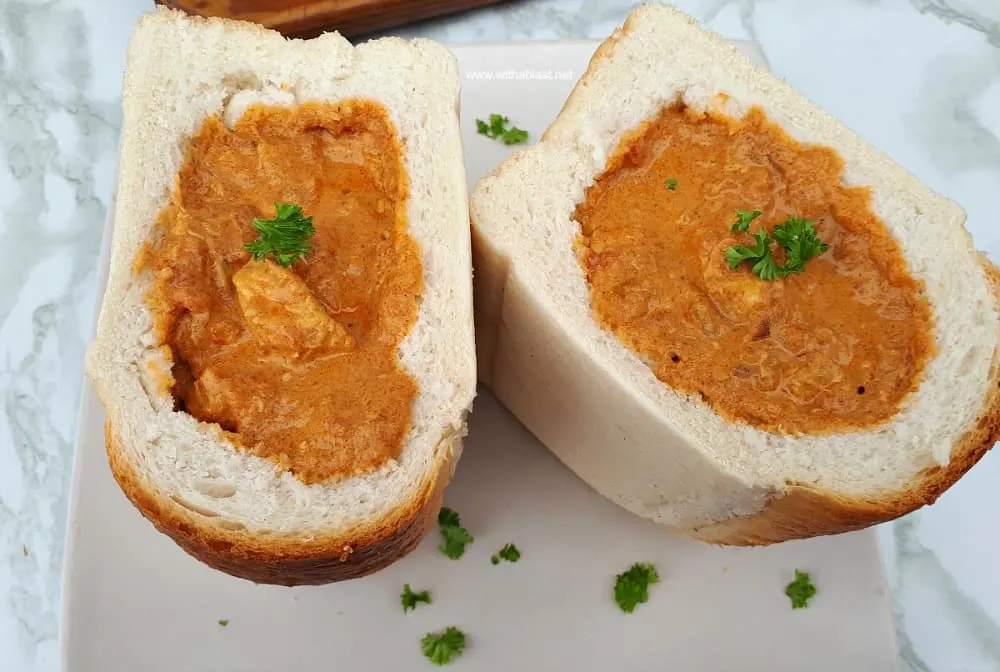 I prefer to hollow out the bread leaving a thicker wall/base as my fillings are always very saucy. And one of the worst things is a Bunny Chow falling apart before you have even started eating.
Right, how does one eat this thing ? My best answer – with your hands ! Break of a piece of bread, scoop up some filling and enjoy.
In Durban, which is in Kwazulu Natal, I have seen many people buying a Bunny Chow (usually wrapped in newspaper) and just eat away. Then this must be a street food as well, one should think.
But here in Johannesburg, it is usually bought as a take-out for dinner, packed in a bag or box and I haven't seen anyone around here munching away on the street !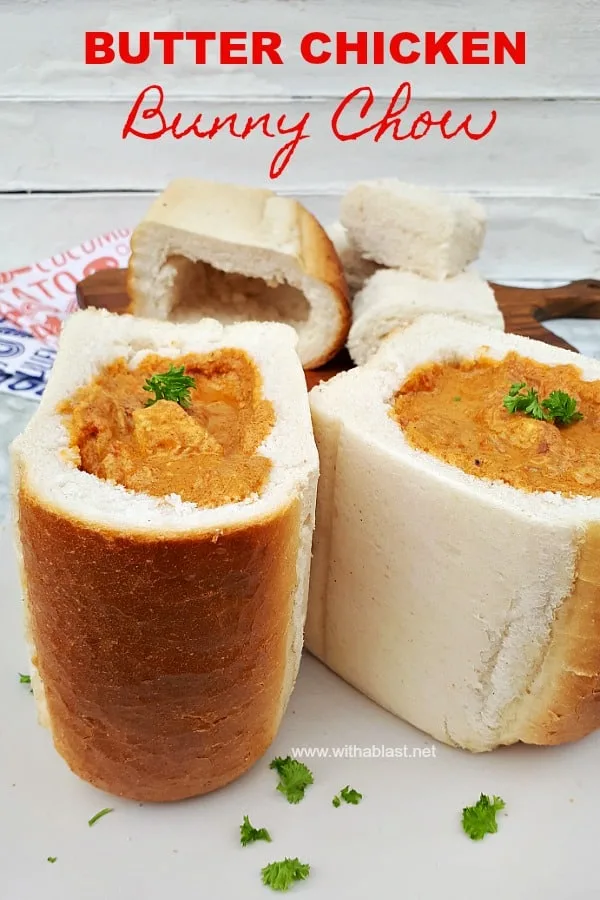 Above is two half sized filled Bunny Chows with a quarter size at the back still to be filled.
Above is a quarter piece, hollowed out. Next to the quarter is the pieces I removed from the two halves as well. This acts as a topping or "cap" once the Bunny Chow has been filled.
Bunny Chows
A Hollowed out piece of bread, filled with a curry and/or spicy filling.
Different popular fillings include – Mutton, Chicken, Beef, Lamb and Vegetables.
Originated in Kwazulu Natal by the Indian population.
A Quarter Bunny Chow is also known as a KOTA.
The name is a little baffling as it has nothing to do with bunnies/rabbits – Some believes the name was derived from eating like a bunny – with your hands ! Another possible is that Bunny comes from the word Banya which was what the earlier Indian population was known as in Durban.
Chow ? Well, that is obvious ! Chow is eat 🙂 more a of a slang word in my opinion !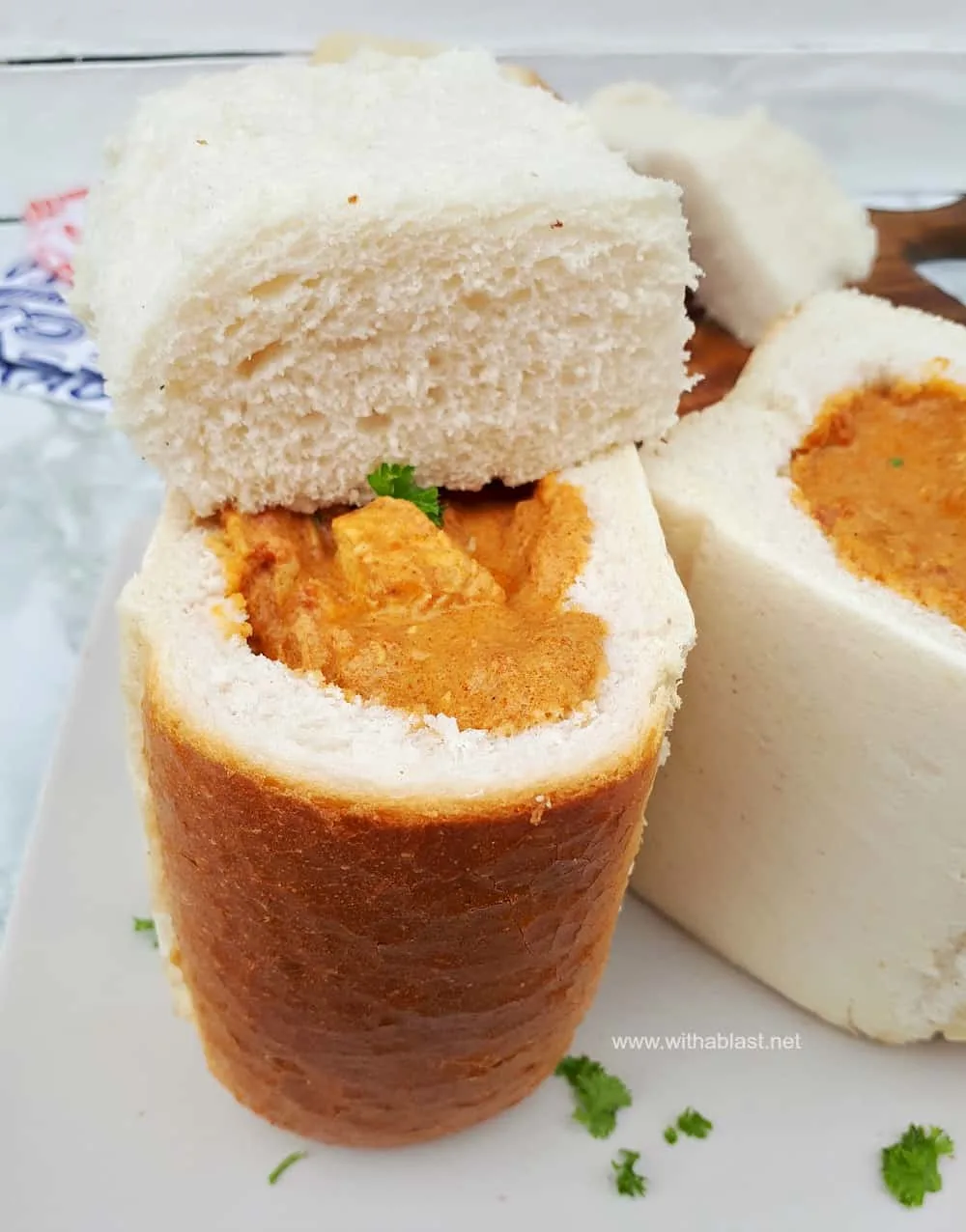 And off we go ! Ready to serve – topped with a sprinkling of Parsley (I prefer Cilantro, but my family is not too crazy for Cilantro) and the bread removed earlier to form the hollow.
Butter Chicken Bunny Chow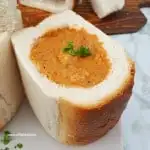 Butter Chicken Bunny Chow
Butter Chicken Bunny Chow is a South-African meal, originated by the Indian community in Kwazulu Natal - tender, saucy, slightly spicy Butter Chicken served in hollowed out bread
Course:
Lunch, Main Course
Ingredients
MARINADE:
1

cup

Greek Yogurt

plain

1

TB

Fresh Garlic

crushed

2

TB

Fresh Ginger

finely grated

2

t

Ground Cumin

1

t

Ground Coriander

1

TB

Curry Powder

mild or strong

675

g

Chicken Fillets

cubed ( 1 1/2 pounds )
1

TB

Oil

1

Onion

roughly chopped

1

can (410g)

Chopped Tomatoes

1

TB

Tomato Paste

1/2

cup

Fresh Cream

(double cream)

Salt

to taste
TO SERVE:
6

Bread Quarters

hollowed out, (or 3 halves for 3 large servings)

Parsley or Cilantro

optional
Instructions
Combine all the ingredients for the marinade - add the Chicken, stir through and transfer to a marinade bowl - chill for at least 2 hours.

Heat the Oil in a medium saucepan - saute the Onion 2 - 3 minutes until soft - add the Chicken (with the marinade) - cook 5 minutes.

Stir in the Chopped Tomatoes and Tomato Paste - bring to the boil - reduce heat and simmer 10 - 12 minutes or until Chicken is fully cooked.

Pour over the Fresh Cream, stir and heat through - remove from heat.

Season to taste with Salt.
TO SERVE:
Scoop Butter Chicken into hollowed out Bread - serve topped with Parsley or Cilantro (if using) and the pieces of bread removed earlier.
Recipe Notes
Total Time excludes marinating time
Filling is enough for 6 quarter sized or 3 half sized Bunny Chows
Recommendations:
Best parts of Bread to use are the ends (with the crust)
1/2 (or even 1/3) a bread is enough for a HUNGRY adult
1/4 bread is a standard serving, but serve a crunchy side salad as well, if serving for dinner
LINDA
Linking up at: WEEKEND POTLUCK – Sweet Little Bluebird
You Might Also Like: