Turmeric Chicken With Barley And Broccoli is a delicious all season dinner dish – add a side salad or vegetable and your dinner is set !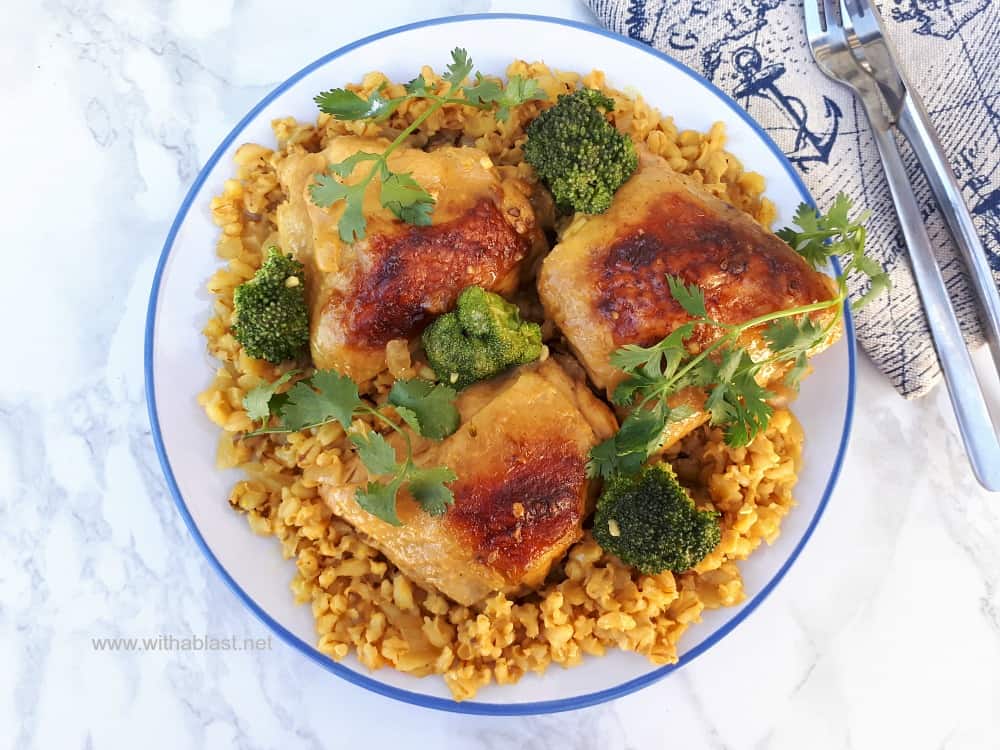 Chicken, chicken and some more chicken ! What would we do without you ? I have to admit that when I am looking for quick and easy dinners, ground Beef and Chicken are always the first to come to mind.
Both are economical, popular with most and you can do so much with these two kinds of meat. This Turmeric Chicken with Barley and Broccoli is an absolute winner !
I would normally serve Turmeric Chicken over, or beside, rice with two vegetables or two salads on the side. But we are loving this combination of Barley and Broccoli all cooked in one oven dish with the Chicken.
The flavors of each ingredient enhances one another wonderfully, and it ends up in a very aromatic, delightful dish.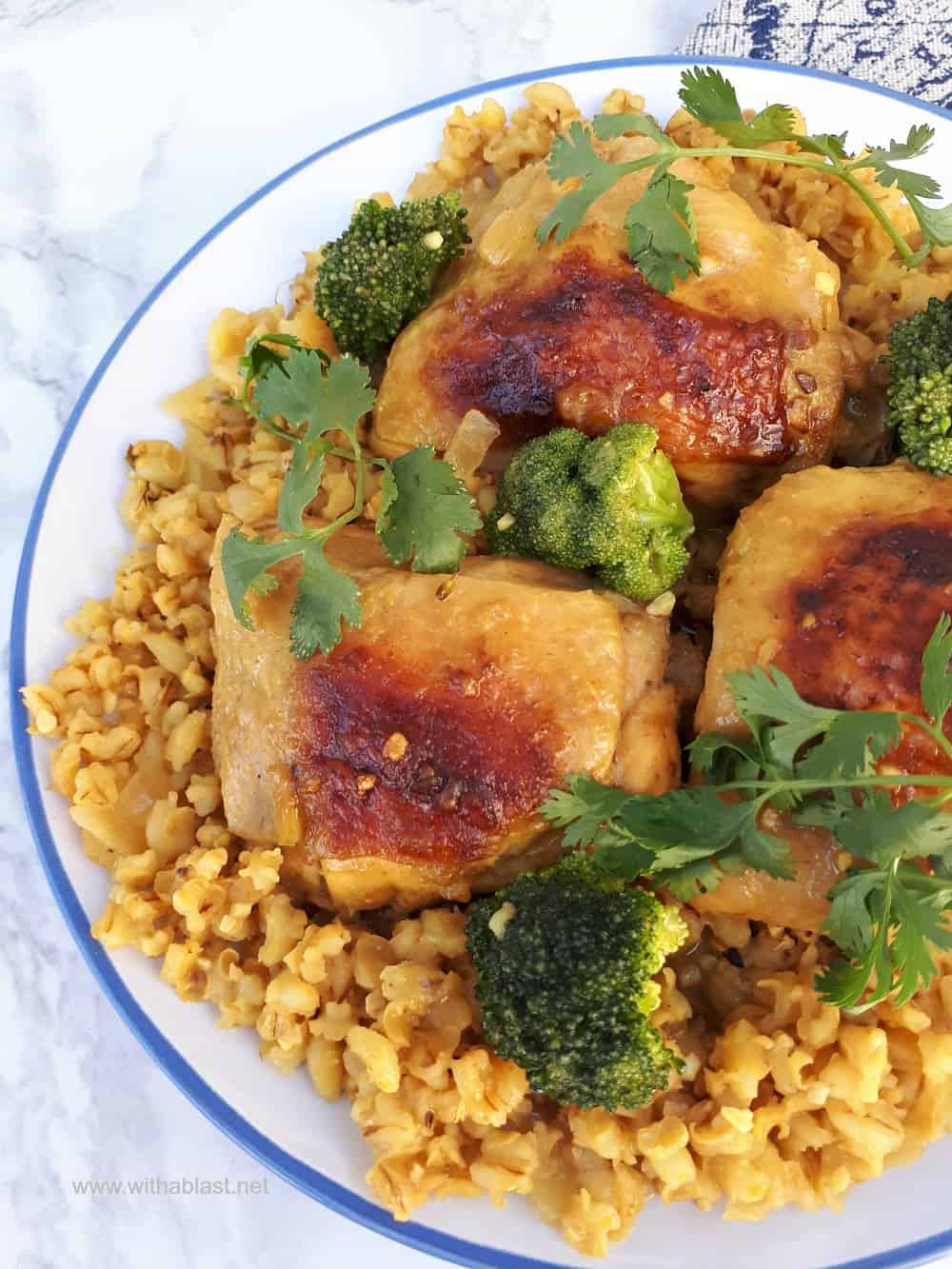 Pre-boiling of the Barley almost goes by without you noticing the (small!) extra step. I simply put the Barley on the stove and carry on with sauteing the first couple of ingredients.
By the time the Barley has cooked 10 minutes, it is ready to be added as per the recipe.
I also do not brown the Chicken beforehand as there is absolutely no need to. The oven takes care of all that.
If you prefer all of the skin to brown and crisp, lift the Chicken a bit higher onto the rest of the ingredients halfway through baking.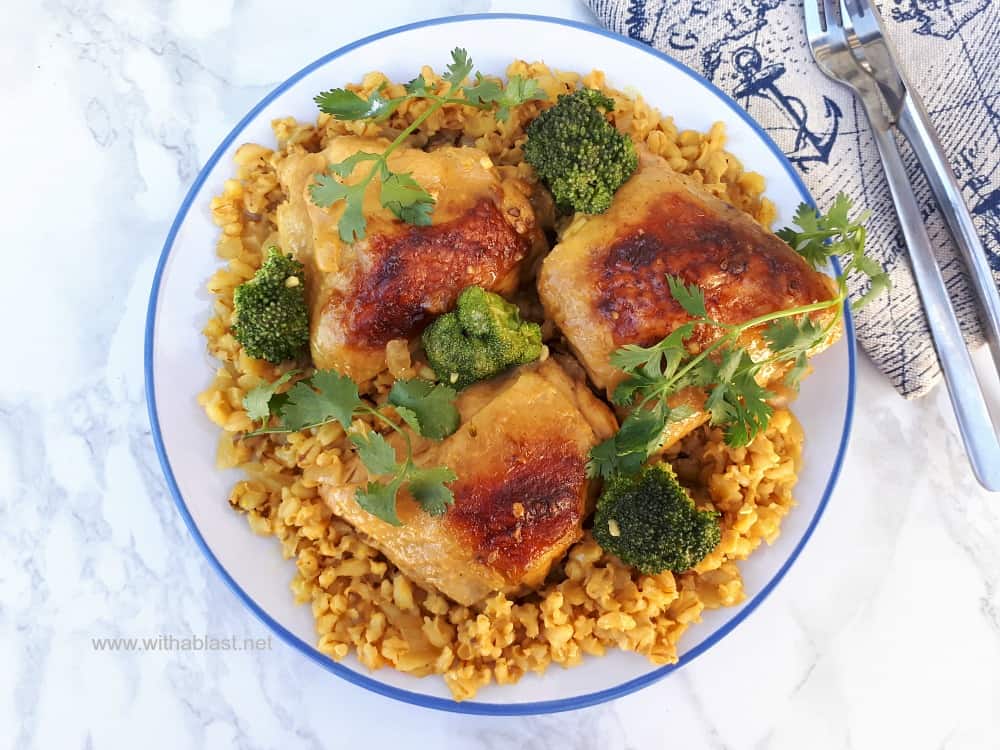 Skinless chicken pieces (thighs are great) can also be used, which makes the dish a little healthier as well. I do like a nice, crispy piece of skin, but also know that it is really not all that good for the waistline !
Of course my family, especially hubby, loves his chicken skin, crispy or not. I prefer using chicken fillets (skinless, boneless chicken breasts) in dishes wherever possible, but in a dish like this Turmeric Chicken the thighs (especially) adds a lot of delicious tastiness.
Which is not the case as when using Chicken Fillets.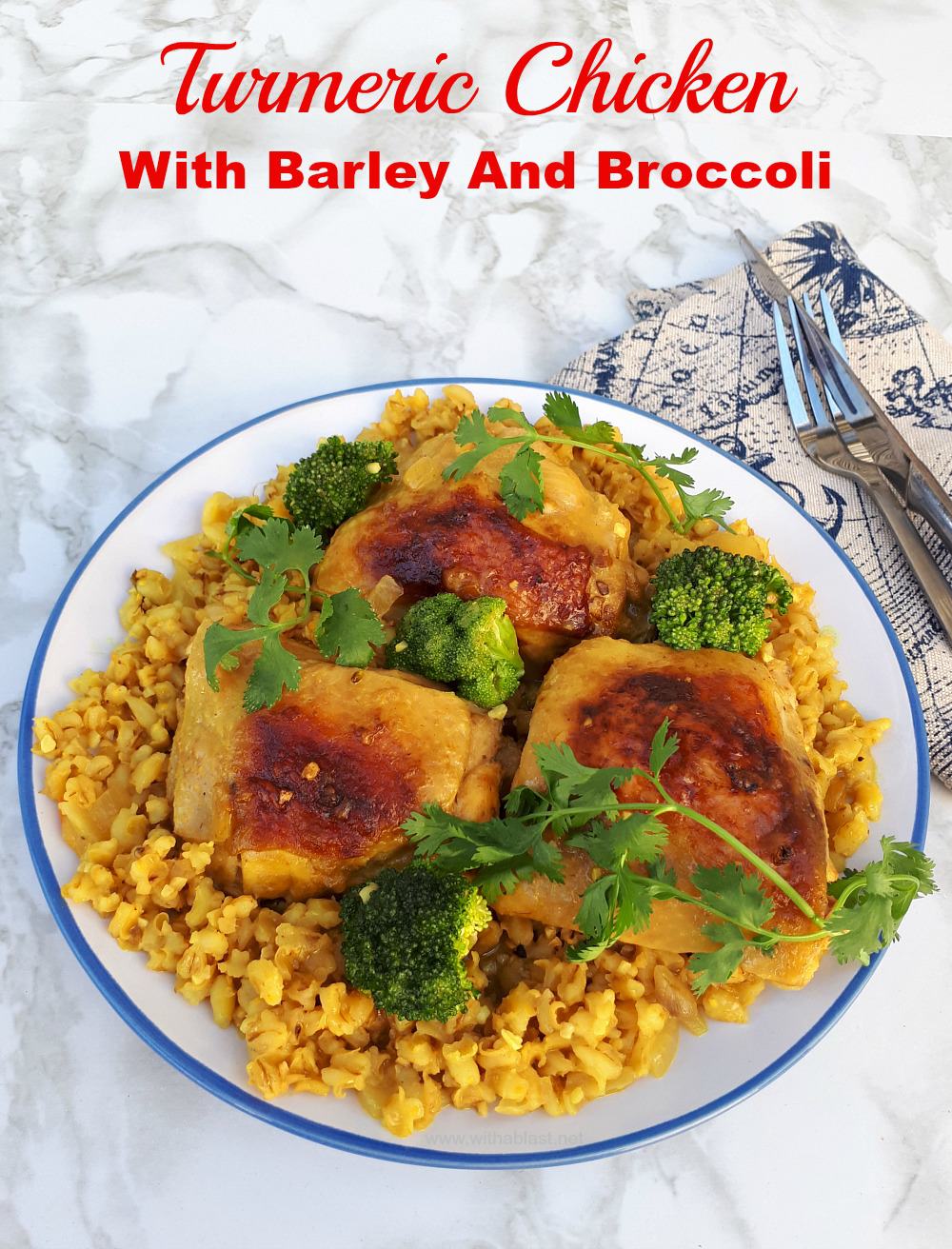 Barley is an excellent substitute for rice, mashed potatoes or most other very starchy sides/ingredients. And this popular grain also have loads of health benefits.
Three Health Benefits of Barley :
Helps lower high Cholesterol
Barley provides antioxidants
It is great in helping with weight loss
There are many more health benefits of using Barley, but to me the three mentioned above are the most important. Mostly as I need help with them all.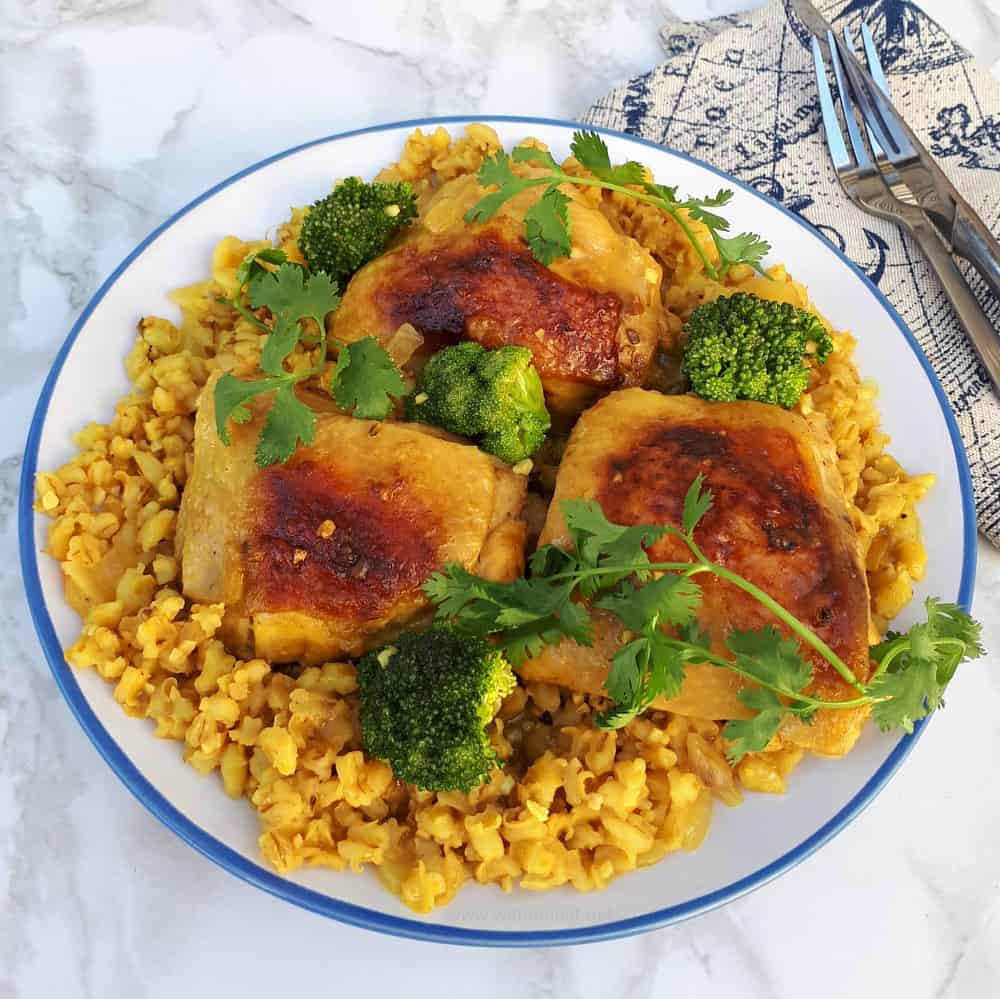 To me Turmeric used to only be a slight flavor addition and of course giving a dish that beautiful yellow color.
But, not too long ago, I started reading up on the health benefits of Turmeric. And I was amazed at the list of benefits ! To date the best list of Turmeric's health benefits, I have found on the Turmeric For Health website.
The website lists 100 health benefits, but as soon as I'd seen number 1 on the list, I was intrigued. Now number one is — Turmeric is an anti-inflammatory agent ! This is music to my ears as I use anti-inflammatory medications on a daily basis.
Since reading the article (as well as many more), I started using Turmeric in a lot more dishes, and even drinks, than I used to.
It has been about two months since I started using more Turmeric and I already use way less of the strong prescription drugs my doctors prescribed.
I am not saying Turmeric will cure you, but it has helped me a lot personally. Try using it more and let me know if you notice any health improvements !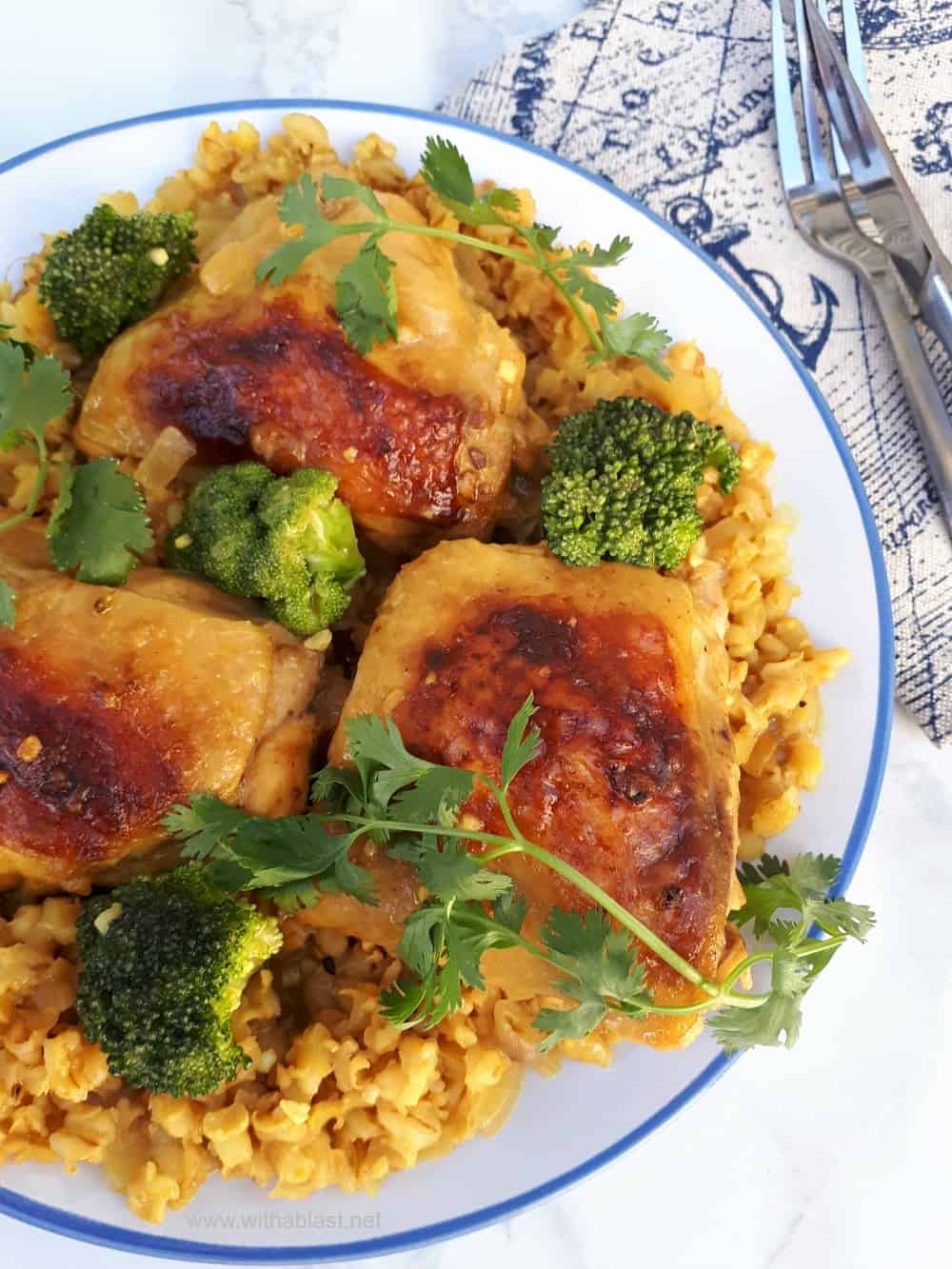 But I am sure you are mainly here for the recipe for this family friendly recipe, right ? From prepping to serving, the Turmeric Chicken with the Barley and Broccoli is on the dinner table in around an hour.
Turmeric Chicken With Barley And Broccoli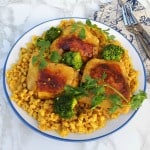 Turmeric Chicken With Barley And Broccoli
Turmeric Chicken With Barley And Broccoli is a delicious all season dinner dish - add a side salad or vegetable and your dinner is set !
Ingredients
1

cup

Pearl Barley

1

t

Vegetable Oil

1

Onion

chopped

1

TB

Fresh Garlic

crushed

2

TB

Fresh Ginger

finely grated

Salt and Black Pepper

to taste

1 1/2

t

Ground Turmeric

1

t

Ground Cumin

2

TB

Tamarind Paste

(see note below for substitution if unavailable)

1/4

cup

Smooth Apricot Jam

not chunky

1

can (400g)

Coconut Milk

1

cup

Chicken Stock

plus more if needed later

8

pieces

Chicken

(thighs/drumsticks)

2

cups

Fresh Broccoli Florets

Fresh Coriander

to serve
Instructions
Pre-heat the oven to 180 deg C (350 deg F) - spray a large oven dish with cooking oil

Boil the Barley on high for 10 minutes - drain and keep aside

Heat the Oil in a large skillet and saute the Onion, Garlic and Ginger until soft

Combine the Turmeric, Cumin, Tamarind, Apricot Jam, Coconut Milk and Chicken Stock - add to the skillet with the Onion mixture

Stir in the partially cooked Barley - season to taste with Salt and Pepper and bring to the boil - transfer to the prepared oven dish

Arrange the Chicken on top, pressing down slightly - bake 30 minutes

Add the fresh Broccoli (use more Chicken stock if needed) and bake another 15 - 20 minutes

Serve with fresh Coriander
Recipe Notes
Substitute for the Tamarind Paste : One tablespoon Rice Vinegar (or Lime juice) mixed with one tablespoon Light Brown Sugar
LINDA
You Might Also Like: