Glazed Chicken With Cherries And Baby Spinach is a quick and easy main dish, and perfect for an everyday meal or entertaining – juicy, tender Chicken glazed with Cherry jelly/jam.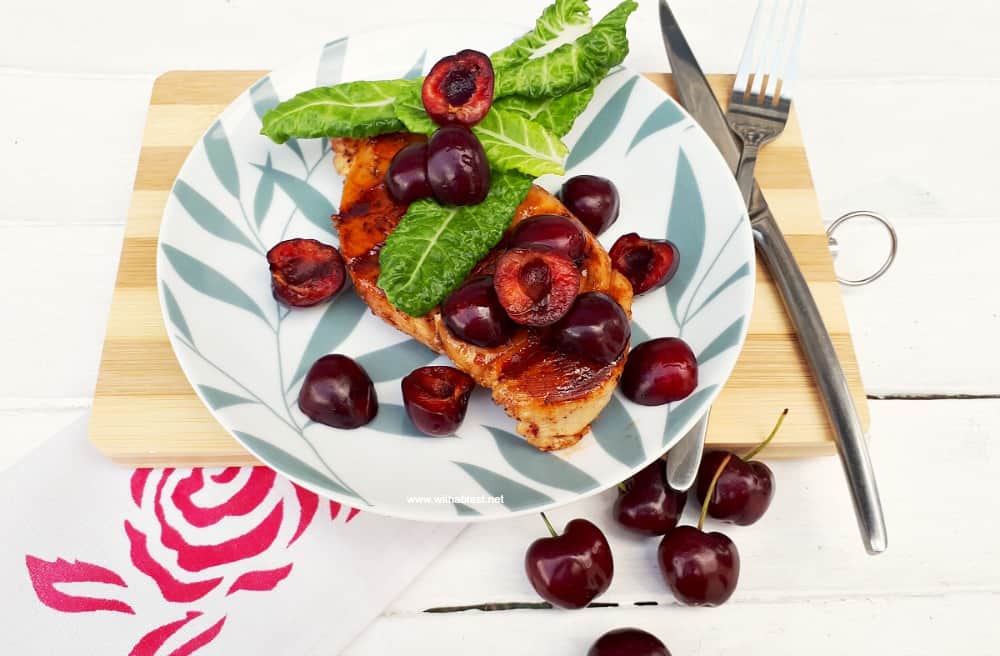 A couple of weeks ago I wanted to make a special dinner for hubby and myself. For the main dish I wanted something quick and easy as we were having a 4 course dinner.
The glazed Chicken with Cherries and Baby Spinach were both, easy and quick. And above all, mouthwatering !
I used my George Foreman grill (the side with the lid) and the Chicken was ready in 10 minutes. Besides brushing the fillets with the glaze mix towards the end, the prepping is minimal.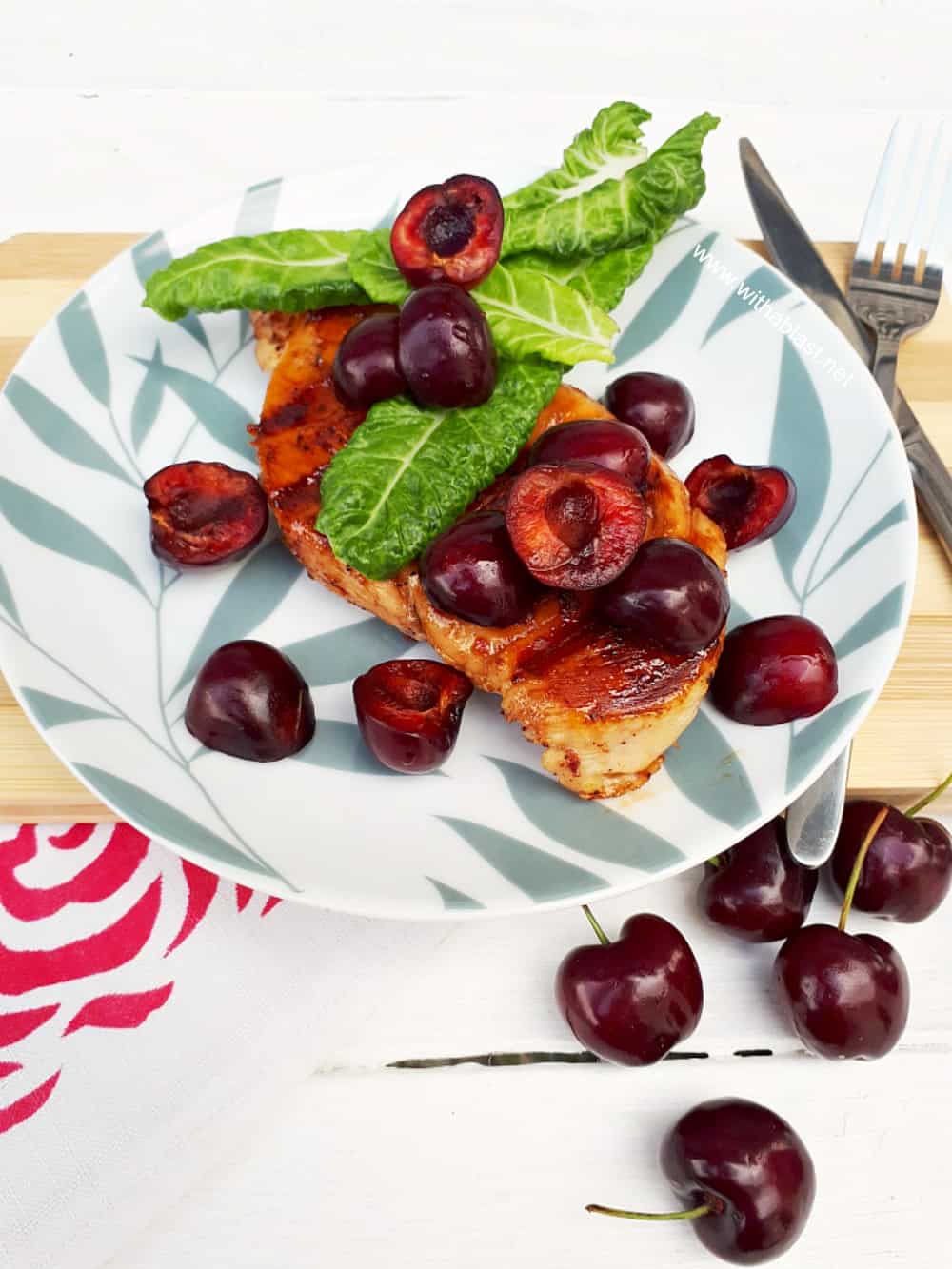 This glazed Chicken with Cherries and Baby Spinach is the perfect meat dish for Valentine's Day and can be served with just about any side dishes.
Think baked potatoes with sour cream, topped with a sprinkle of chopped Chives. And, depending on the weather in your area, a side salad or two, or vegetable sides.
My Creamed Spinach with Mozzarella (as a vegetable side) would also be great to serve with the Chicken.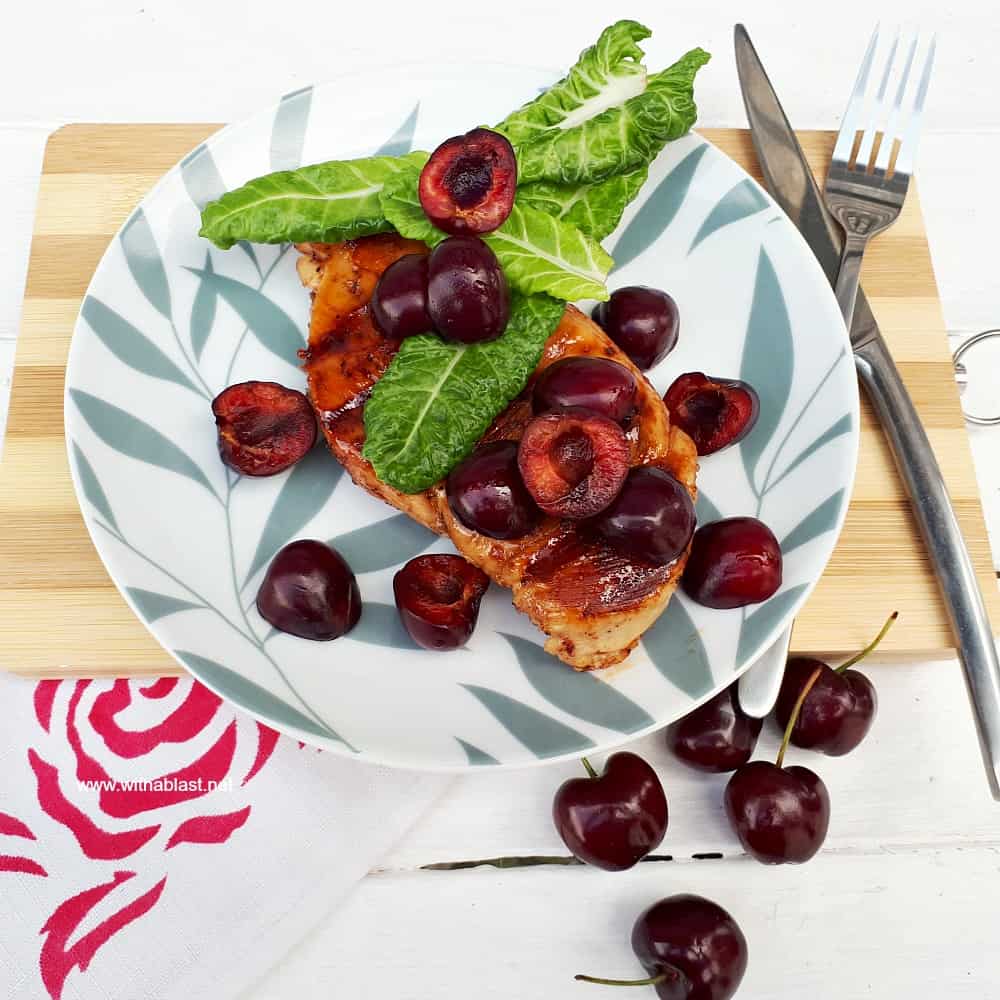 I absolutely love the taste of the simple glaze and it literally takes a minute to prepare. The Chicken is juicy and so tender, a knife is almost not needed.
Of course I am also a huge fan of anything Cherry, especially fresh, sweet, juicy Cherries ! And in my humble opinion, Cherries and Valentine's Day go hand in hand.
We are not sure whether we will celebrate Valentine's Day at home or maybe book at a restaurant. But, if we do stay in, I am definitely making this Chicken dish.
Valentine's Day appetizer ideas :
Valentine's Day dessert ideas :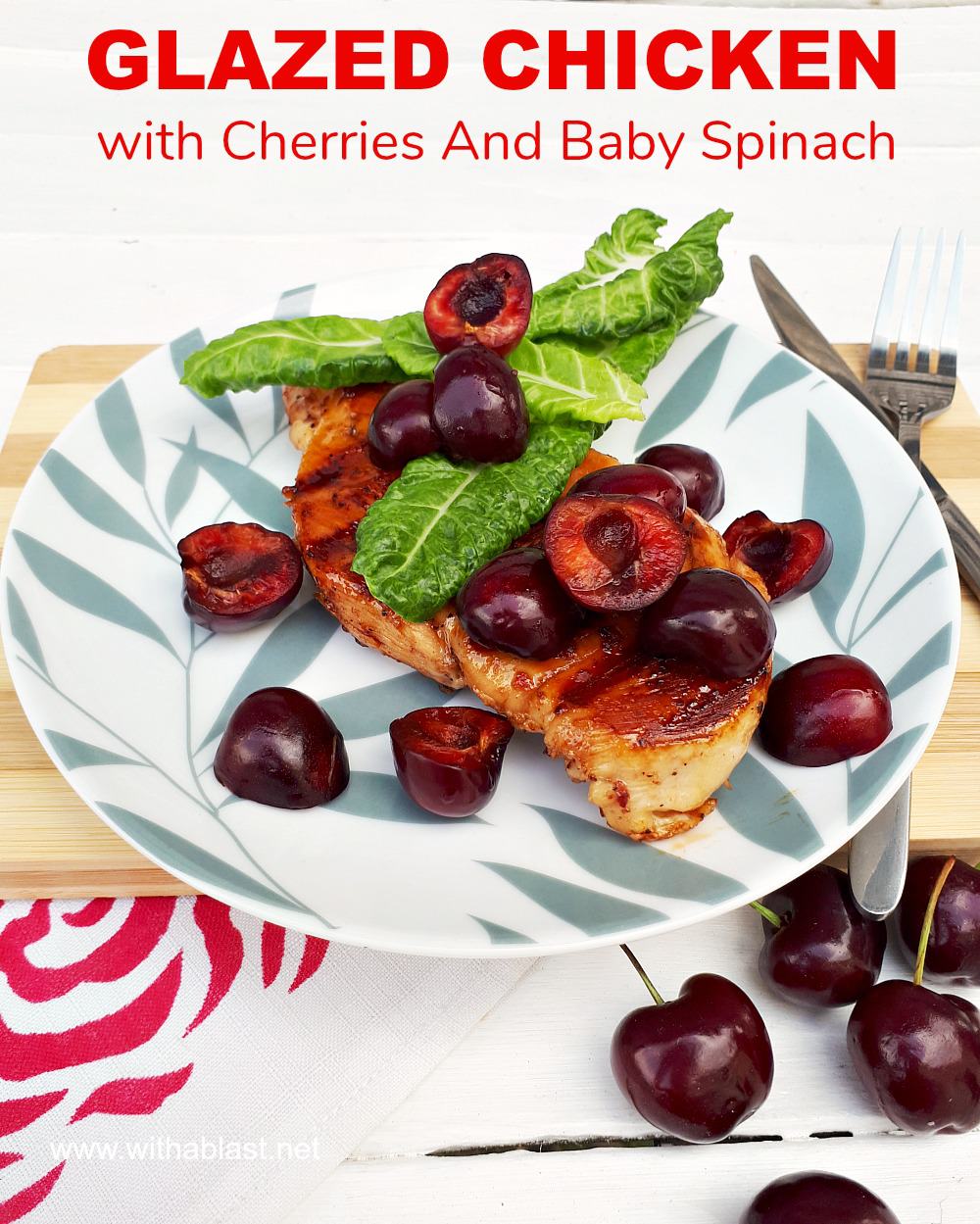 Last but not least, this is a such a healthy recipe (besides the bit of sugar in the jelly/jam) ! So if you are still on your New Year's resolution to eat healthier, this is for you.
If only cooking for two, simply half all the ingredients in the recipe. Or keep any leftover Chicken in a sealed container (once cooled) in the refrigerator and use sliced in a salad for lunch the next day.
Glazed Chicken With Cherries And Baby Spinach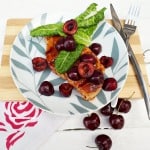 Glazed Chicken With Cherries And Baby Spinach
Glazed Chicken With Cherries And Baby Spinach is a quick and easy main dish, and perfect for an everyday meal or entertaining - juicy, tender Chicken glazed with Cherry jelly
Ingredients
4

large

Chicken Fillets

(skinless, boneless chicken breasts)

Salt and Black Pepper

to taste

2

TB

Olive Oil

divided

3

TB

Sour Cherry Jelly/Jam

1

TB

Balsamic Vinegar

2

cups

Cherries

pitted and halved (Fresh if available)

Handful

Baby Spinach
Instructions
Brush the Chicken Fillets with 1 tablespoon Olive Oil and season with Salt and Black Pepper to taste

Heat a griddle pan, health griller or George Foreman grill - cook the Chicken until done (about 15 minutes, turning over halfway) - If using the George Foreman the Chicken will be ready in around 10 minutes

Meanwhile combine the Cherry Jelly (or Jam), remaining 1 tablespoon Olive Oil and the Balsamic Vinegar in a small bowl - start brushing the Chicken with the glaze about 2 minutes before done and repeat a couple of times

Transfer the cooked, glazed Chicken to serving plates - top with Cherries and arrange the Baby Spinach leaves on top
LINDA