Deliciously marinated Pork Tenderloin (so tender and juicy!), wrapped in Bacon and Rosemary
Melt in the mouth Pork Tenderloin with Bacon and Rosemary is ideal to serve on a busy week night. Yet just as dashing to serve at a dinner party. The Pork turns out super tender and juicy, and it is all thanks to the marinade, which is also used to baste the meat when cooking.

Of course the Bacon adds a lot of flavor ! As well as act like a seal over the Pork Tenderloin, keeping all those scrumptious juices where it should be – in the meat !
I normally serve this dish with small cubed fried potatoes, some roasted small Onions and a side dish of Cinnamon Butternut. Now and then I substitute the Butternut for a crunchy Greek salad instead.
What I love most about this recipe is the variety of cooking methods one can choose from. I have cooked the Pork over the coals, in the oven under the grill, and even on the stove top using a large skillet.
Coals and skillet over mild heat and full grill in the oven in a baking dish on the center rack.
The Pork needs to marinate at least 2 hours before cooking, but if you are short on time in the evenings, start the marinating in the morning or even the night before (keep refrigerated).
Rosemary has to be one of the most fragrant herbs around. I love to use it in various ways – it is even strong enough to be used as a kebab stick !
And if used like that, you get extra flavor as well. Just do not expect to over load the Rosemary sprig. Small cubes of meat with light types of vegetables i.e mushrooms, bell peppers etc do very well on a Rosemary sprig over the coals.
NOTE: Zeal is a meat enhancer / tenderizer and can be found among the spices at the supermarket.
Pork Tenderloin With Bacon And Rosemary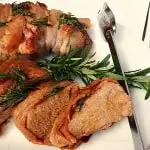 Pork Tenderloin With Bacon And Rosemary
Deliciously marinated Pork Tenderloin (so tender and juicy!), wrapped in Bacon and Rosemary - family dinner and perfect for dinner parties
Ingredients
1

t

Curry Powder

2

t

Mustard Powder

1/2

t

Dried Thyme

1/2

TB

Dried Oregano

2

t

Zeal

optional

2

TB

Brown Sugar

2

t

Salt

1/4

cup

Brown Vinegar

plus 1 tablespoon extra

2

TB

Chutney

1/2

cup

Tomato Sauce

1/2

cup

Worcestershire Sauce

1/2

cup

Olive Oil
MEAT:
900

g

Whole Pork Tenderloins

( 2 pounds )

6-8

sprigs

Rosemary

8-10

rashers

Streaky Bacon

(depending on the Tenderloin size/s)
Instructions
Mix the Curry Powder, Mustard Powder, Thyme, Oregano, Zeal, Brown Sugar and Salt in a small bowl

Mix together the Vinegar, Chutney, Tomato Sauce, Worcestershire Sauce and Olive Oil in a medium mixing bowl – add the dry ingredients in step 1 and mix well

Place the Pork in a marinating container – pour over the marinade – marinate at least 2 hours, turning once or twice
MEAT:
Remove the Pork Tenderloin from the marinating container, brush off most of the liquid (retain the marinade) – wrap the streaky Bacon (add a few sprigs of Rosemary between the Bacon and Pork) – secure with toothpicks

Cook over the coals, basting with the retained marinade, under the oven grill or in a large skillet for about 15 – 20 minutes until done
Remove from heat, season with some Black Pepper (if preferred) – let rest for 10 minutes and cut into slices.
LINDA
You might also like :
SAGE APPLE STUFFED PORK TENDERLOIN IN BACON