South-African Koeksisters are Syrup drenched, deep fried, decadent sweet treats !
South-African Koeksisters are syrup drenched, deep-fried dough sweet treats and loved by young and old. If you live in South-Africa you will know exactly what these little gems are and if you have ever visited the country and have not had a Koeksister, you missed out big time !

I have to admit that I have never made my own traditional Koeksisters (see NOTE below), let's just call it pure laziness.
That is now when I still cooked and baked without any help from the hubby. Whom as you might know is the main cook/chef/baker in the house since my shoulders started acting up.
BUT, a couple of weeks ago my daughter's fiance's granny baked a batch and they brought us a packet – what a treat ! Not store-bought as I usually just grab a packet or three at the supermarket, but real homemade, freshly baked Koeksisters.

Photo Credit : Vincent Viljoen
There is quite a bit of work into making these South-African Koeksisters. Therefore I will suggest you make the full recipe which yields around 4 – 6 dozen of these decadent treats.
You can twist/roll them into any size you wish but the sizes given in the directions are the most popular.
When I was little, I used to watch my own granny make these and even then I knew the most important part is — HOT fried dough, dumped quickly into the ICE-COLD syrup is key to the success of a perfect Koeksister.
Over the years I have seen Koeksisters being called Koesisters as well (with the 2nd K dropped) but it is the same thing. Although some people calls Cape Malay Koeksisters, Koesisters and not Koeksisters with the 2nd K.
Please just never call them Cake Sisters ! It is pronounced the same as you would say COOKSISTER.
NOTE: I have made two varieties of Koeksisters and you can find the recipes by clicking on the names below :
South-African Koeksisters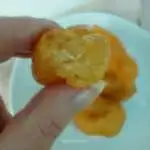 South-African Koeksisters
South-African Koeksisters are Syrup drenched, deep fried, decadent sweet treats !
Ingredients
4

cups

Sugar

1 1/2

cups

Boiling Water

1/2

t

Cream of Tartar

1/2

t

Ground Ginger

2

sticks

Cinnamon

1

t

Edible Glycerin

(optional)
DOUGH:
4

cups

Flour

1/2

t

Salt

2

TB

Baking Powder

2

TB

Butter

cubed

1

Egg

1

cup

Milk

Oil

for deep-fry
Instructions
Syrup: Dissolve the Sugar in the Water in a large saucepan – add the Cream of Tartar, Ginger and Cinnamon and let boil over high heat for 5 minutes – remove from heat and stir in the Glycerin, if using (Glycerin adds a little more shine to the Koeksisters) – leave syrup to cool completely then refrigerate for at least 6 hours or overnight (the syrup must be ice-cold)
DOUGH:
Sift together the Flour, Salt and Baking Powder in a large mixing bowl – rub Butter into the dry mixture until crumbly

Whisk together the Egg and Milk – add to the Flour mixture and knead until a dough forms (at least 5 minutes) – the dough must be soft but still firm enough to roll out – cover and let stand 2 hours

Roll out the dough on a floured board – 1 cm (1/4 – 1/2 inch) thick – cut into same size strips (you can do long or short strips – 20 cm (8 inch) strips are usually preferable – plaid or simply rolled (see picture below)

Deep-fry in small batches at 190 deg C (375 deg F) 1 – 2 minutes or until light brown – remove using a slotted spoon and quickly drain on paper towel

Place the bowl of chilled syrup over a bowl with ice – this will prevent the syrup from warming too quickly once the dipping starts

Dip each fried hot Koeksister quickly in the ice-cold syrup – remove using a slotted spoon, shake excess syrup off gently and place on a wire rack over a baking sheet to dry a little
Recipe Notes
Recipe Credit: Alida Viljoen
Serve cold – keep leftovers in a sealed container in the refrigerator.
LINDA