Oxtail Slow-Cooker is a rich, hearty and loaded with vegetables Oxtail dish and so easy to make too ! This IS the best recipe and I have been making it for years.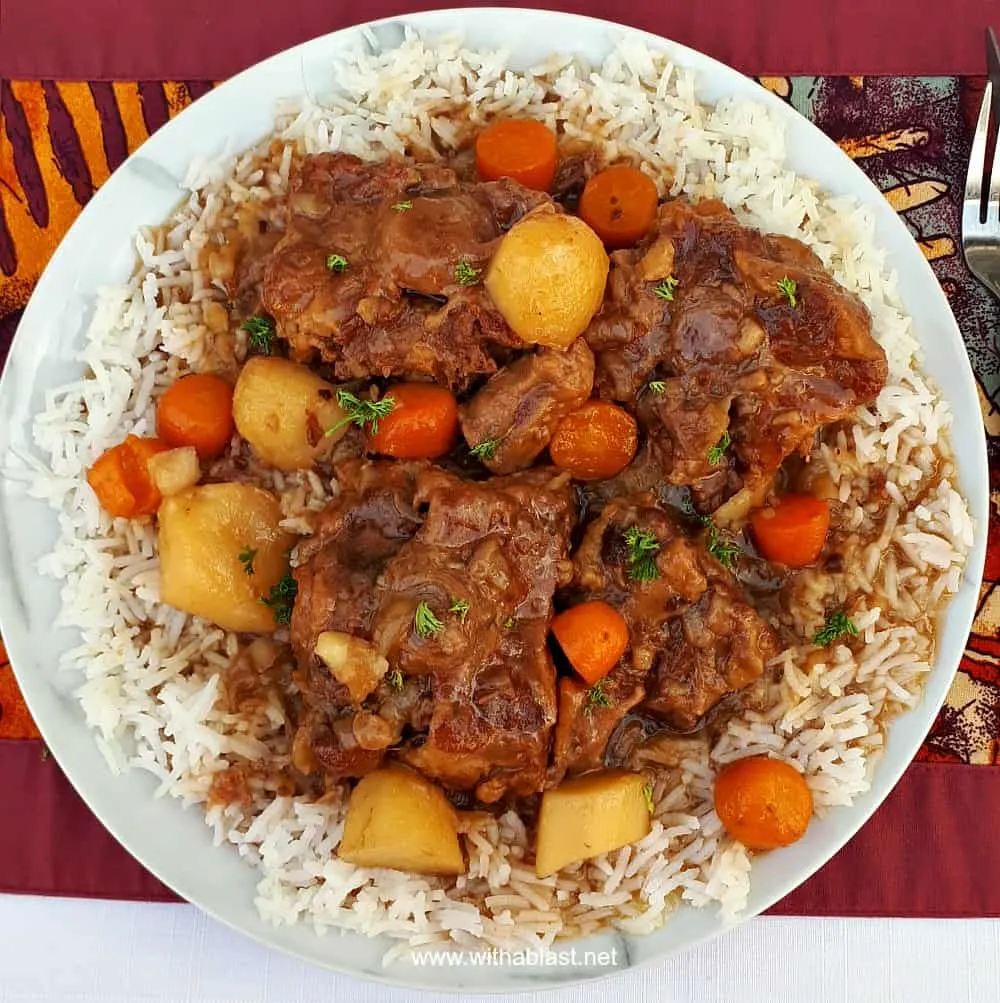 Hubby's all-time favorite dish – Slow-Cooker OXTAIL ! I never even change the vegetables in this recipe, as the carrots and potatoes just works so well.
I do not make this a lot, as it is a very rich dish, red meat and all that. But there was never a question what would be the main dish on Father's Day.
He never actually asked for it, but after 35 years together, I think we can read one another's mind ! Really, I do believe that.
One thing they (anyway, who is this "they" everybody, me included, always mention ..? mmm) say, which I absolutely do not believe is the fact that the longer two people are together, the more they look like one another .. no, no, no waayy!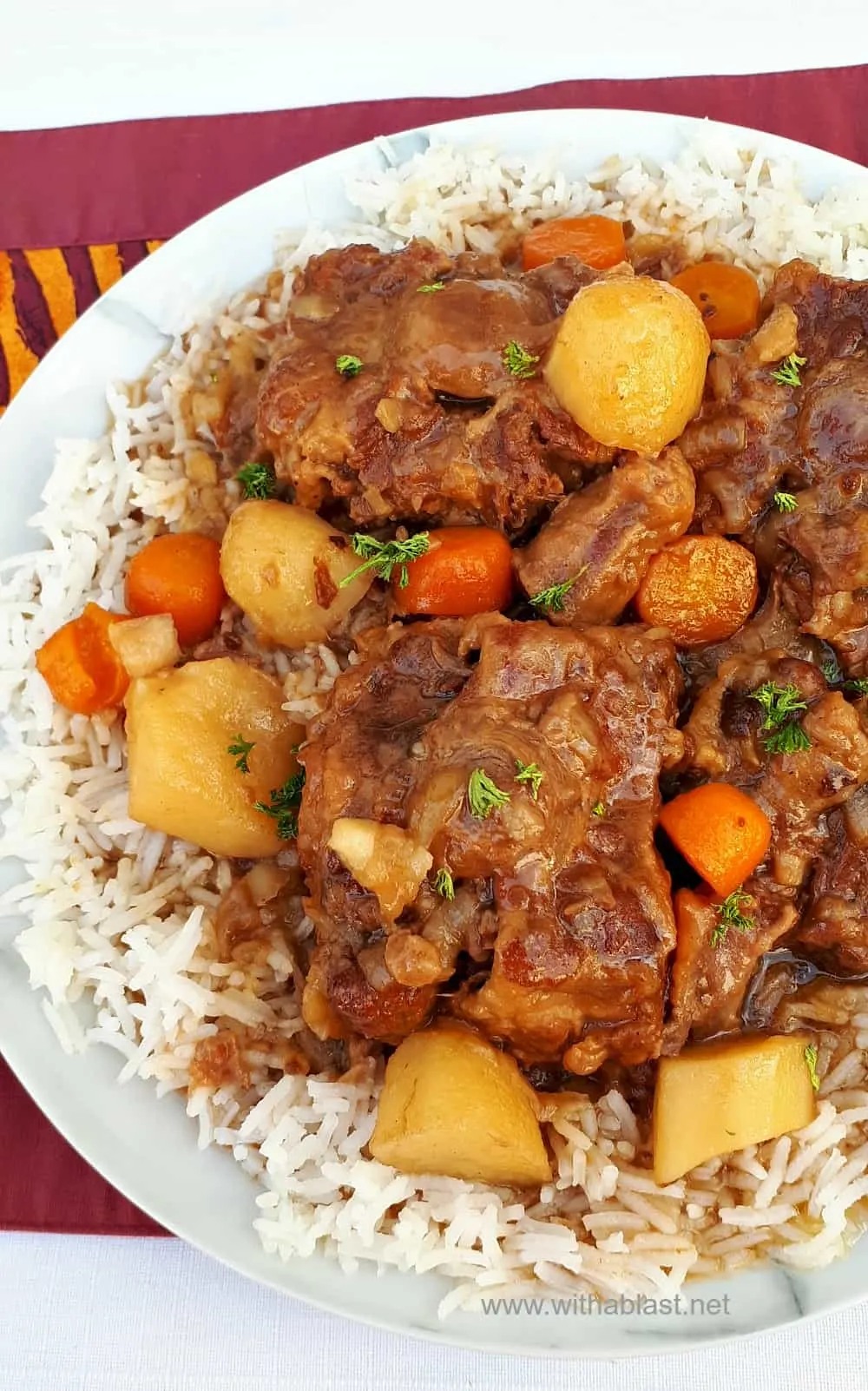 My late father-in-law could cook up a storm, without having to go out to the grocery store first – he just used whatever was on hand.
He was the one who introduced me to mussels .. yeah, mussels ! I did not grow up eating "foreign" stuff like that, .. and Oxtail ? Never, even heard of it before my father-in-law made it.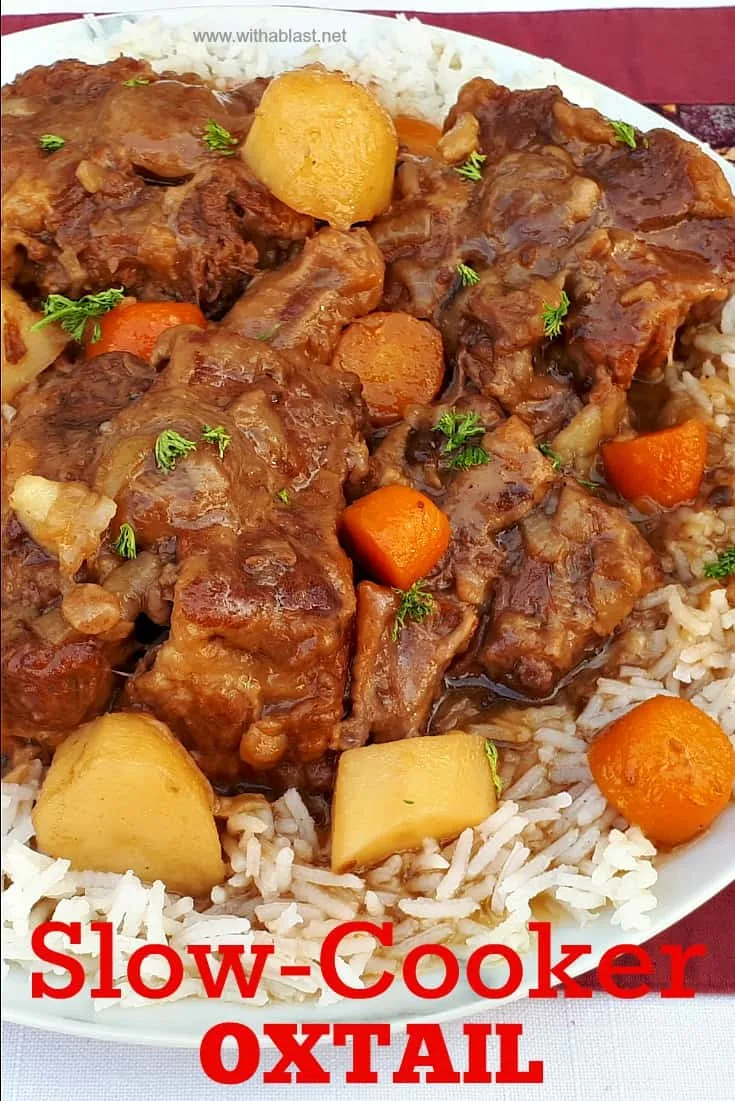 Ate the mussels – now love it ! Do try my recipe for Mussels in Lemon Garlic-Butter Sauce ! But it was still a few years until I finally made my first oxtail dish.
The recipe I am sharing today was the first one I used (have it written down on a piece of paper – no idea where it came from at first, but it is from a readers compilation of recipes in a magazine's cook book).
Over the years I tried other recipes as well, but this is still the best. It is very saucy, and literally finger-lickin' good.
More Slow-Cooker recipes you might like: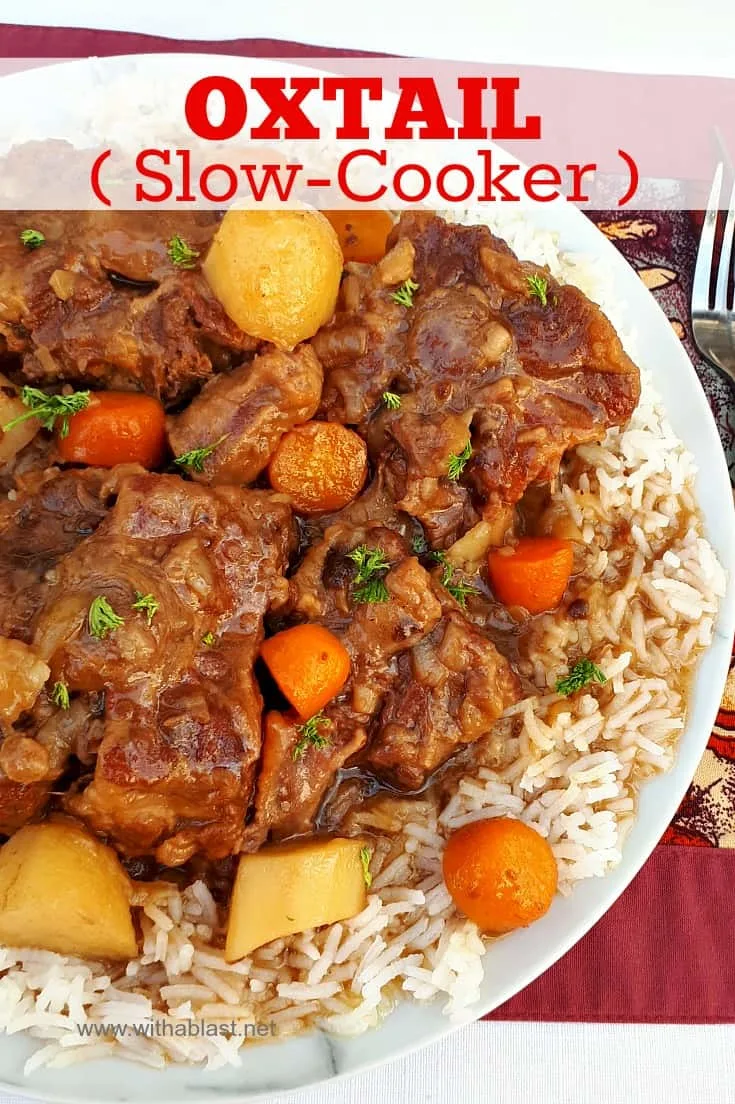 Oxtail Slow-Cooker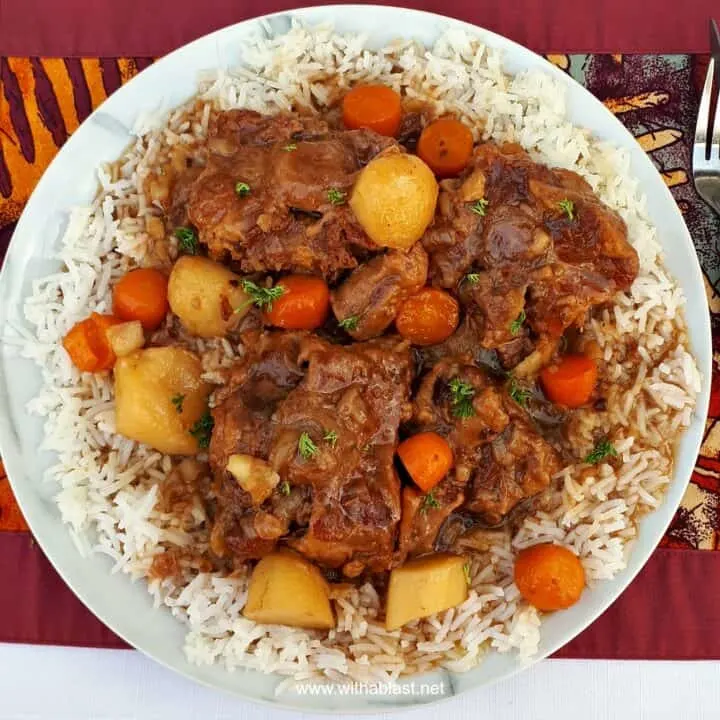 Oxtail Slow-Cooker
Cook Time:
7 hours
40 minutes
This Oxtail cooked in the Slow-Cooker turns out so tender and fall-off-bone - with a delicious rich sauce
Ingredients
2 large Onions, cut into rings
1 tablespoon Vegetable Oil, for frying
1/2 cup Flour, seasoned with Salt and Pepper
1.8 kilogram Oxtail, cut into 5cm (2″) pieces ( 4 pounds )
2 cups Boiling Water, (approximately)
1/3 cup White Vinegar
1/3 cup Brown Sugar
6 Carrots, peeled and cut into rings
450 grams Baby Potatoes, peeled or not ( 1 pound )
1/2 packet Oxtail Soup Powder, (use Beef if Oxtail is not available)
Instructions
Saute the Onions in a little oil until soft and slightly brown, remove from pan and keep aside.
Roll the Oxtail pieces in the Seasoned Flour and fry all sides until just browned.
Place the Oxtail, together with the sauteed Onions in the slow-cooker, cover with Boiling water, add the Vinegar and Brown sugar, cover with lid and cook on HIGH for 4 hours.
Add the Carrots and Potatoes to the slow-cooker and cook on high for another 2 – 3 hours until the veggies are soft.
Add the Oxtail soup powder to thicken (1/2 pack should do – but check after another 5 minutes) and cook until thickened 5 – 10 minutes.
Nutrition Information
Yield

6
Serving Size

1 Serving
Amount Per Serving
Calories

950
Total Fat

46g
Saturated Fat

17g
Trans Fat

0g
Unsaturated Fat

22g
Cholesterol

278mg
Sodium

288mg
Carbohydrates

43g
Fiber

4g
Sugar

15g
Protein

86g
Nutrition information isn't always 100% accurate
Serve over lots of rice or mashed potatoes – very saucy indeed!
Linked up at: WEEKEND POTLUCK – The Country Cook