Beef Carbonnade (so tender!) in a rich sauce – Loaded with flavor and easily cooked to perfection in the Slow-Cooker
Slow-Cooker Beef Carbonnade is the perfect dinner main dish for cooler evenings. Even though we are in our second month of Spring in South-Africa a cold front hit us a couple of days ago. This Beef Carbonnade recipe came in very handy.

It is a VERY saucy dish, which of course is always popular with my family. Any leftover sauce were quickly devoured by dunking fresh, crusty pieces of bread into the sauce and after that we had none left.
I would suggest if you normally serve dinner rolls with your main meal, wait till after everyone enjoyed their dinner. Then surprise them with the leftover sauce and dinner rolls – a bit backwards, but soooo worth it !
The meat turns out so tender, yet still juicy, you literally do not need a knife as the meat falls apart as soon as a fork is stuck into a piece. Take care when stirring, especially towards the end of cooking, to prevent too much breaking up.
If the sauce is not thick enough to your preference, (check about an hour before the cooking time ends) add one or two tablespoons of Cornstarch (mixed with a little cold water until smooth) to the cooking dish. Stir through gently and finish cooking.
Another favorite Slow-Cooker recipe we enjoy regularly is my Slow-Cooker Beef Ravioli – totally delicious !
Beef Carbonnade (Slow-Cooker)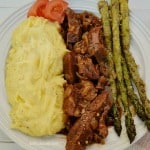 Beef Carbonnade (Slow-Cooker)
Beef Carbonnade (so tender!) in a rich sauce - Loaded with flavor and easily cooked to perfection in the Slow-Cooker
Ingredients
3

TB

Butter

2

Onions

chopped

4

t

Fresh Garlic

crushed

1

TB

Caster Sugar

675

g

Rump Steak

( 1 1/2 pounds )

Salt and Black Pepper

to taste

1

TB

Vegetable Oil

2

TB

Flour

1

cup

Hot Beef Stock

1

can (330ml)

Ale or Lager Beer

3

sprigs

Fresh Thyme

1

Bay Leaf

1

TB

Cocoa Powder
Instructions
Switch on the Slow-Cooker on HIGH – place the Butter in the Slow-Cooker and cover – leave to pre-heat for 20 minutes

Add the Onions, Garlic and Caster Sugar to the melted Butter in the Slow-Cooker – stir, cover and cook for 1 hour until softened

Meanwhile, remove all visible fat from the Rump Steak – cut into 1 centimeter ( 1/2 inch) thick pieces – season well with Salt and Black Pepper

Heat the Oil in a skillet – brown the meat on all sides – add to the Onion mixture in the Slow-Cooker (reserving the juices in the skillet) – gently mix the meat with the Onions, cover the Slow-Cooker

Off the heat – add the Flour to the skillet and stir until a paste has formed – gradually add the Beef Stock and Ale / Lager – stir through – place skillet on low heat and warm through the sauce ( 1 – 2 minutes only) – pour the sauce over the meat mixture in the Slow-Cooker – add the Thyme and Bay Leaf, mix the Cocoa Powder with a little cold water until smooth and stir into the meat mixture – cover and reduce heat to LOW – cook 6 hours until tender – discard the herbs
Serve with mashed potatoes, rice or pasta and vegetable sides
LINDA