Easy recipe for this popular Chicken Cordon Bleu served as a a Hand Pie (Hot Pocket). Gooey Cheese, Ham and Chicken all enveloped in flaky Puff-Pastry.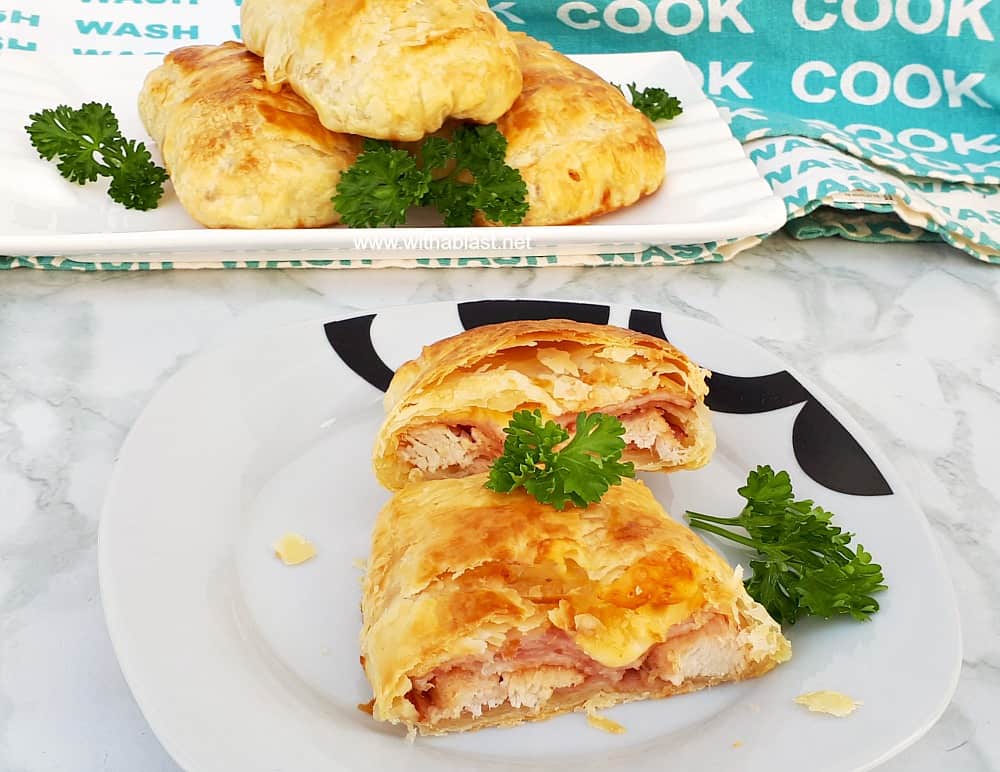 Hand pies are so convenient and most kinds freeze very well too. These Chicken Cordon Bleu hand pies are perfect for not only dinner or lunch, but delicious to pack into a picnic basket as well.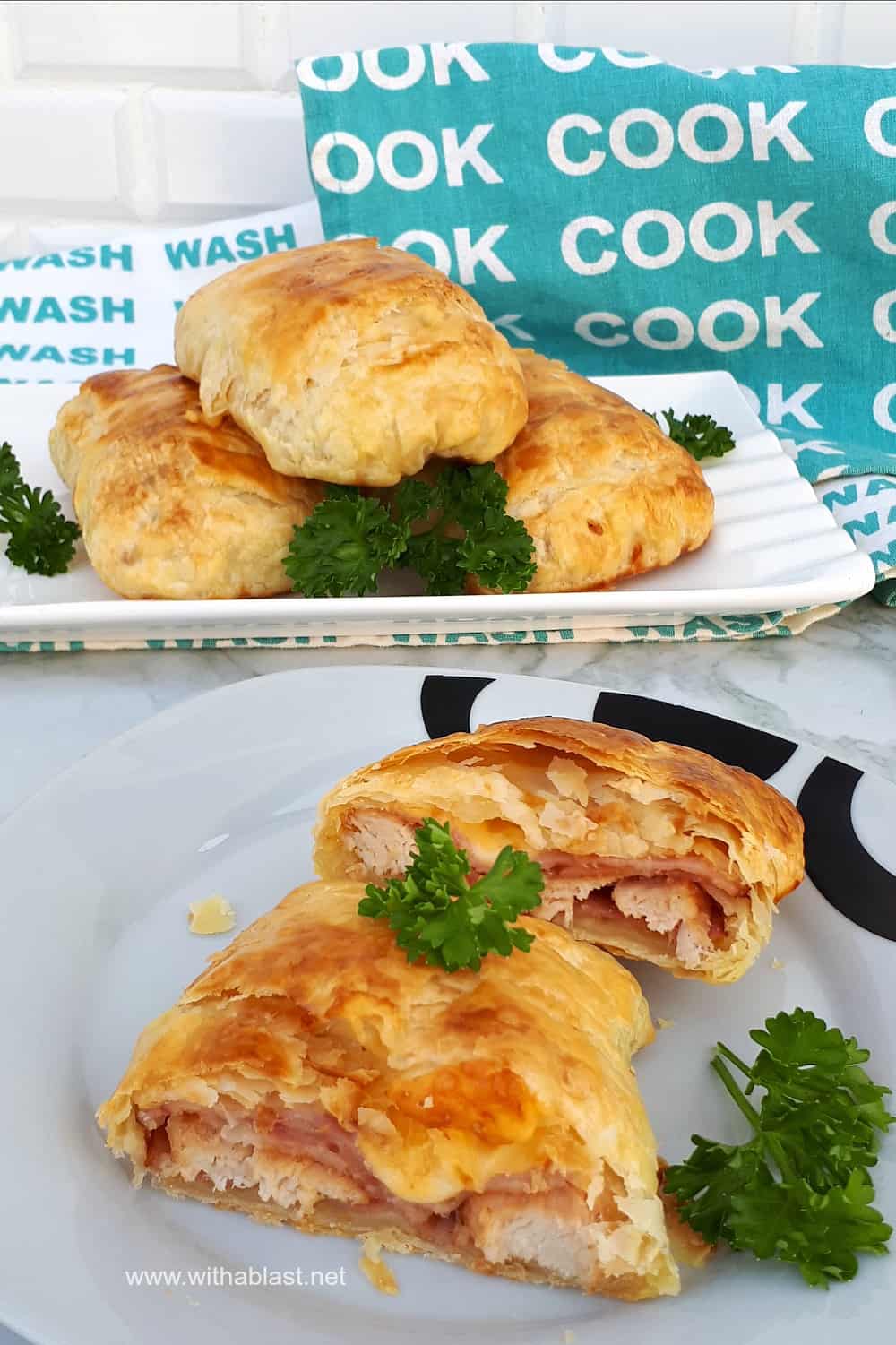 If we have them for dinner, any leftovers go straight into the lunch box for the next day. Gooey, just melted cheese is definitely always popular, but these pies are equally delicious served cold.
Depending on the cut of Chicken Fillets I have on hand, I would either slice each Fillet in half (to have 2 large, but flatter pieces). Or I would slice the Fillets into thick strips to easily fill the pastry.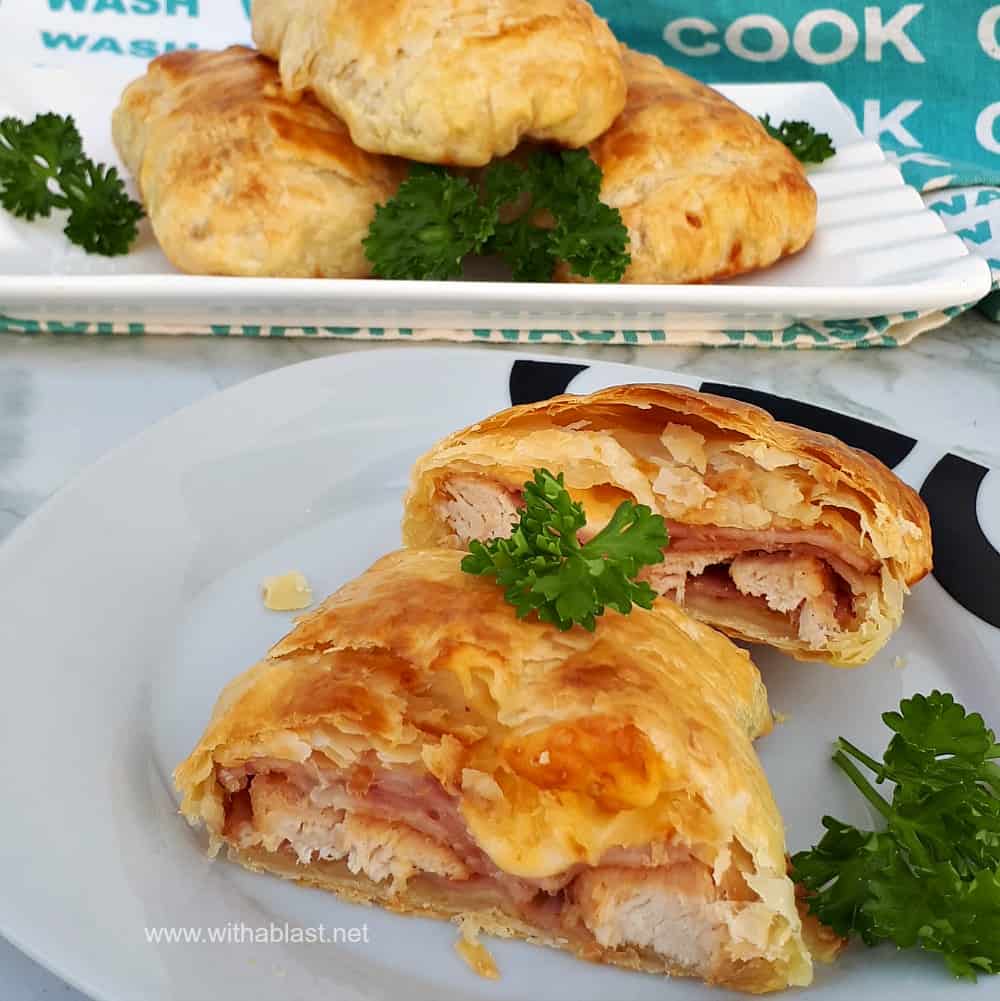 Only a side salad is needed with these Chicken Cordon Bleu hand pies, therefore another quick and easy dinner idea.
One pie each, is normally enough for my daughter and I, but hubby and my son usually have two.
Which Cheese to use in a Cordon Bleu ?
Swiss Cheese ! Always my first choice, however I do not always have on hand.
Other Cheeses to use is Mozzarella, Cheddar, Gouda, Emmenthaler, Gruyere, Jarlsberg or a combination of Mozzarella and Gouda. The latter combo is what I use mostly when I am out of Swiss Cheese.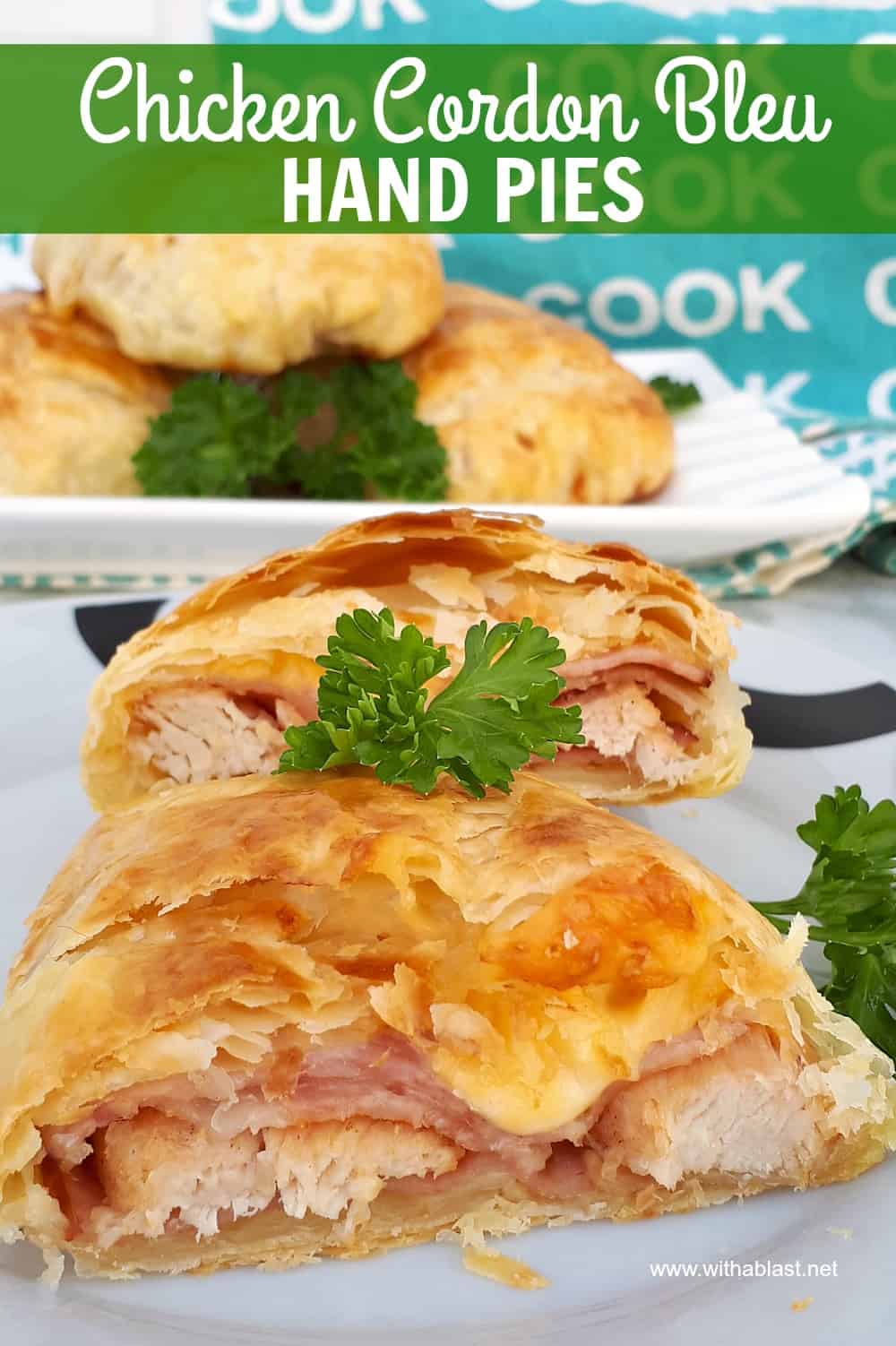 More Chicken recipes you might like:
Connect with us :
PINTEREST TWITTER FACEBOOK INSTAGRAM
Chicken Cordon Bleu Hand Pies
Yield: 8 Servings
Chicken Cordon Bleu Hand Pies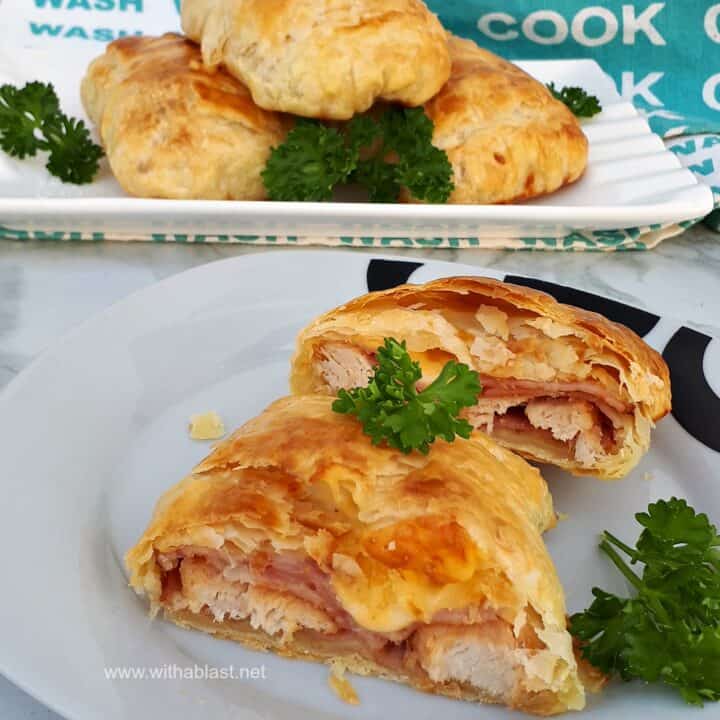 Easy recipe for this popular Chicken Cordon Bleu served as a a Hand Pie (Hot Pocket). Gooey Cheese, Ham and Chicken all enveloped in flaky Puff-Pastry
Ingredients
4 Chicken Fillets,large, cut into halves or strips
Salt and Black Pepper, to taste
2 TB extra-virgin Olive Oil
2 Rolls Frozen Puff-Pastry, defrosted
8 Slices Swiss Cheese, see in post for alternatives
16 Slices Deli Ham
1 Egg
1 TB Water
Instructions
Pre-heat the oven to 200 deg C (400 deg F) Spray 2 baking sheets with cooking oil
Season the Chicken to taste with the Salt and Pepper – heat the Oil and fry until fully cooked – remove, drain and cool for at least 10 minutes
Cut each roll of Puff-Pastry into 8 rectangles – place a slice of Cheese in the center of 1 cut sheet, leaving a small border all round – top with a slice of Deli Ham
Arrange the Chicken on the Ham (you might need to cut the Chicken to size) – top with another slice of Deli ham
Beat together the Egg and Water – brush the exposed borders of the Puff Pastry with the Egg – do the same to the 2nd roll of Puff Pastry (brush the borders)
Fit the 2nd roll of Puff Pastry rectangles over the last slice of Deli Ham – Egg-brushed side facing down – pull together the two pieces of Puff Pastry and pinch to seal
Flip over each Pie (in order for the Cheese to be on top and the seams folded under the pies) – Arrange the Pies on the prepared baking sheets – brush the tops with the remaining Egg and bake 20 – 25 minutes or until the Pastry is puffed and golden
Nutrition Information
Yield
8 Servings
Serving Size
1 Pie
Amount Per Serving
Calories

319
Total Fat

21g
Saturated Fat

8g
Trans Fat

0g
Unsaturated Fat

11g
Cholesterol

104mg
Sodium

683mg
Carbohydrates

6g
Fiber

0g
Sugar

0g
Protein

26g
Nutrition value is not always accurate
Serve immediately with a salad or two. (Leftovers are delicious for lunch!)