Salad Dressing Sticky Chicken is not only sticky delicious, but crispy as well and the meat is tender and juicy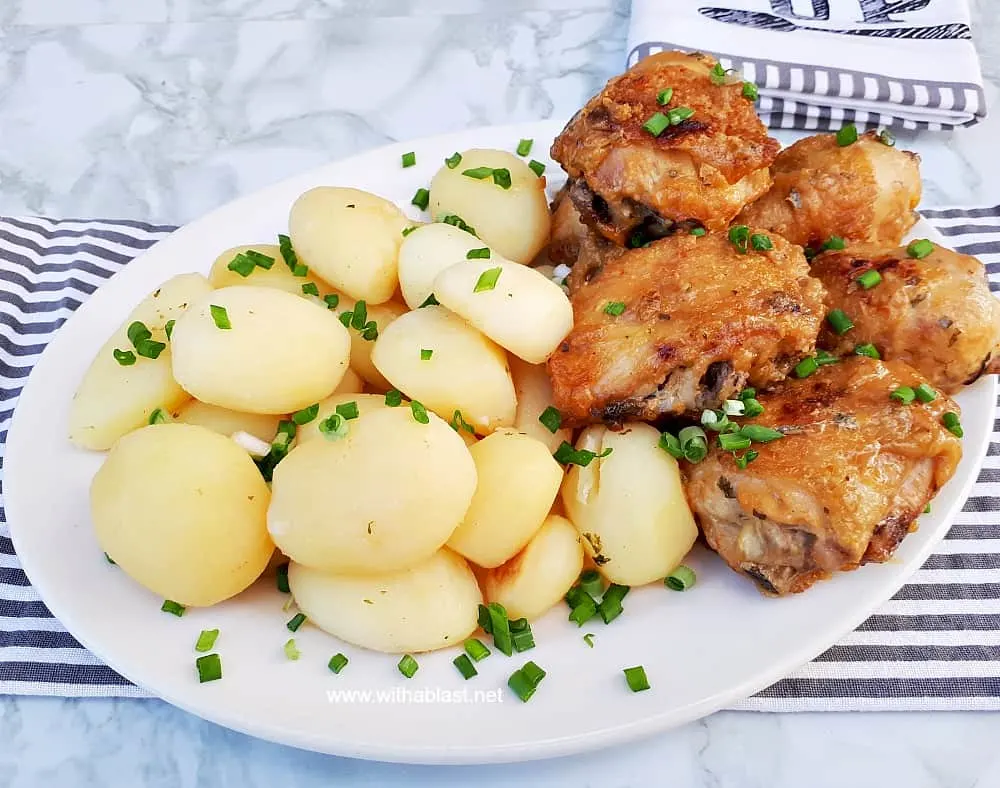 One of our favorite chicken recipes which I have been making for years and it is still on request regularly ! Somehow I thought I already had the recipe on the blog, but it seemed not.
Salad Dressing Sticky Chicken is so delicious. You can give me a sticky, yet crispy as well, piece of Chicken any day.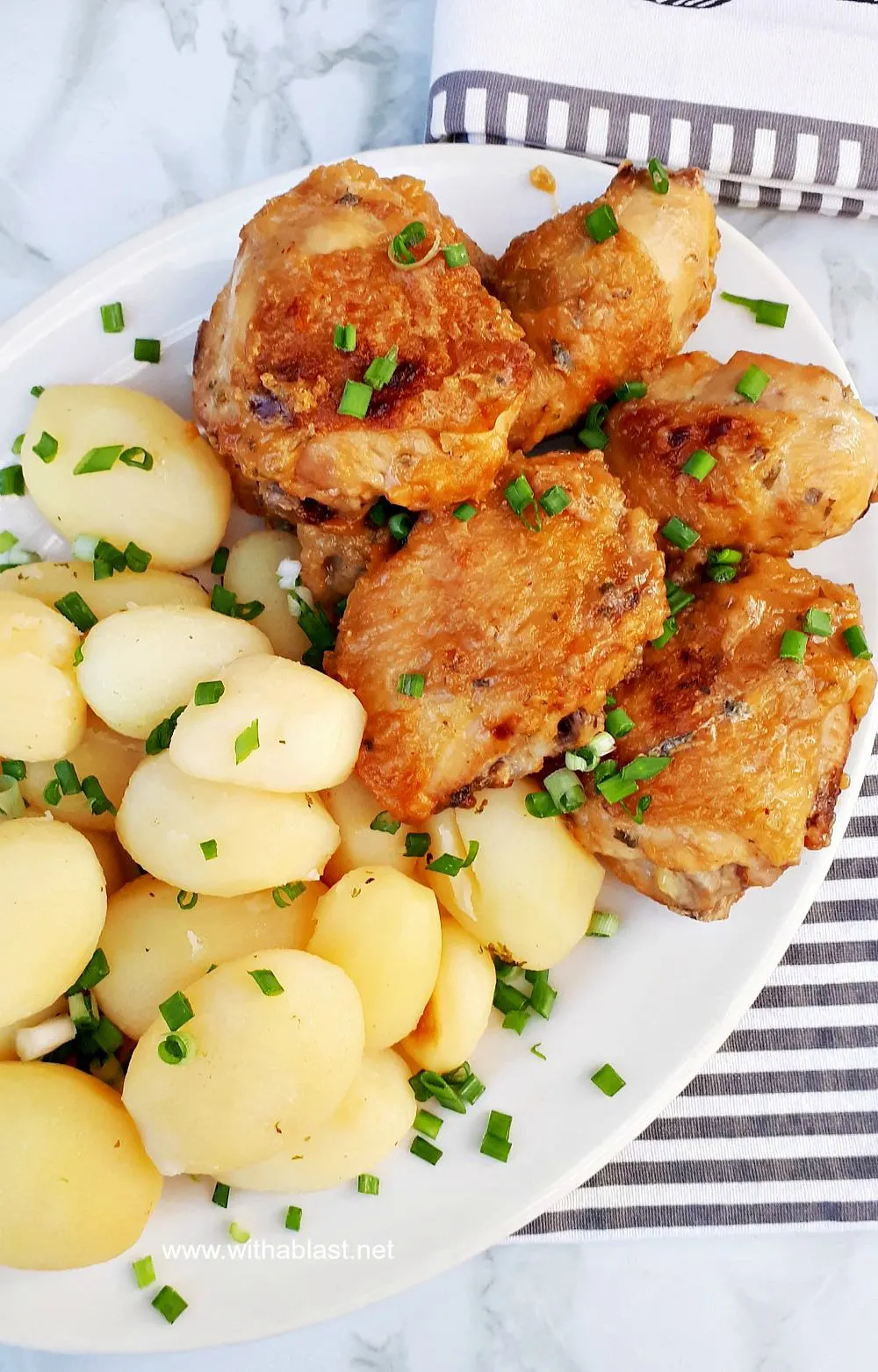 My daughter would text me often asking for a link to a certain dish on the blog and usually I do have it, but things can get confusing as With A Blast now have over 1000 recipes.
The confusing part comes in when she describes a recipe, but I have many which are more or less the same.
Well, then digging starts, and 90% of the time, I find the recipe, but when she asked about this particular recipe, I could not find it.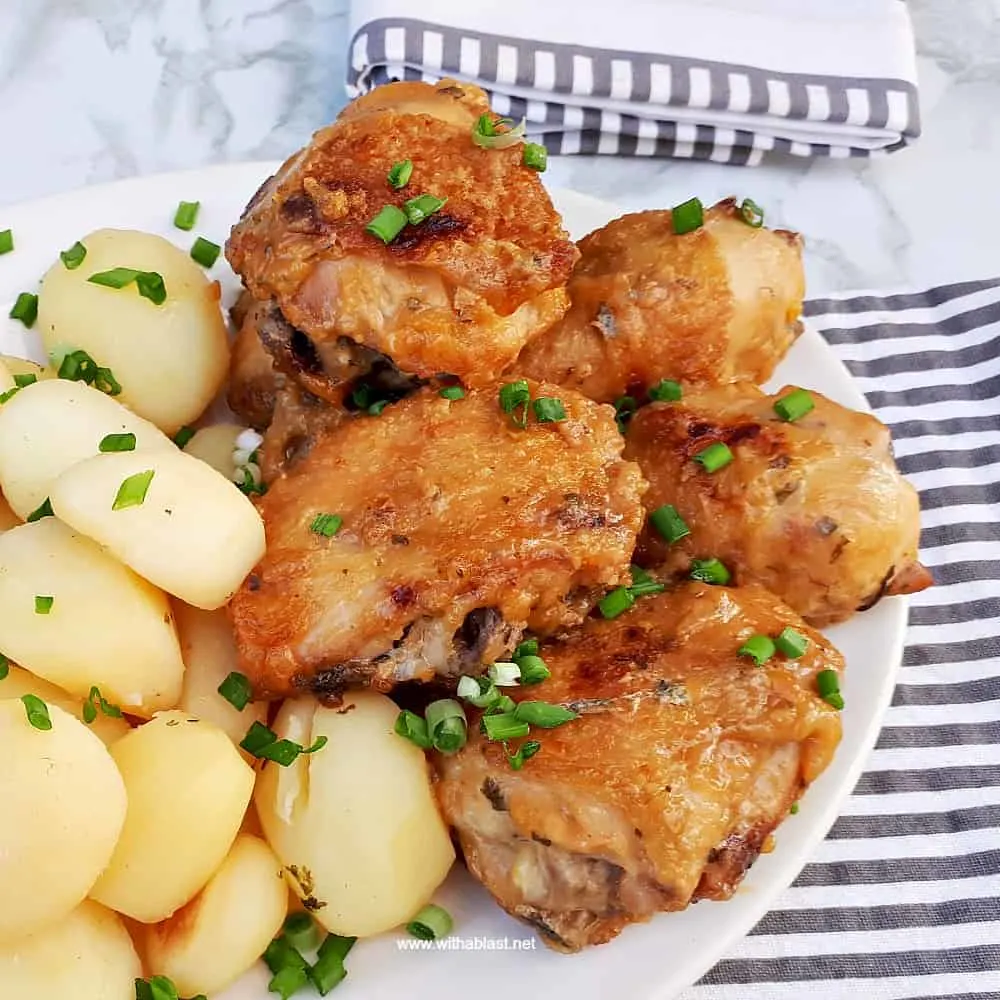 Even though I normally serve this Chicken for dinner with sides (vegetable or salad sides), we also love them on game day.
I simply make a double batch, or even triple, depending on how many people we have over to watch the game with us.
1000 Island Salad Dressing uses includes:
as a sauce on seafood burgers or rolls

filling for canapes

as a chip dip (fries)

and it's intended use – in salads !
However, I have to admit I rarely use the 1000 Island Salad dressing in a salad. Most commonly used in our kitchen: This Salad Dressing Sticky Chicken and the 1000 Island Pork Chops.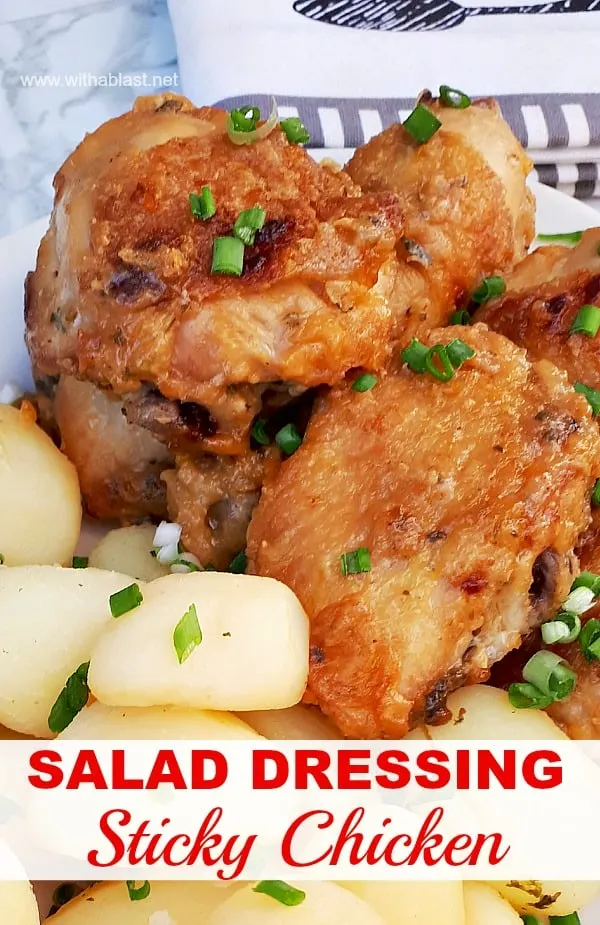 No matter whether you serve the Chicken for dinner or as an addition to your savory platter on game day, your family and guests will soon love this !
In general I am a huge fan of sticky chicken, but sweet and savory combinations as well. This recipe is ideal in both instances.
You might also like these Chicken recipes :
Salad Dressing Sticky Chicken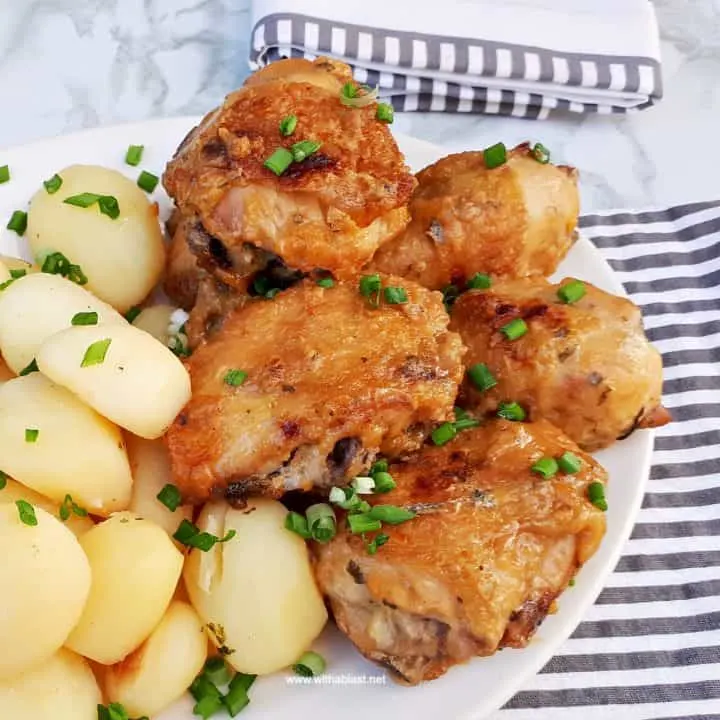 Salad Dressing Sticky Chicken
Bake Time:
1 hour
30 minutes
Total Time:
1 hour
40 minutes
Salad Dressing Sticky Chicken is not only sticky delicious, but crispy as well and the meat is tender and juicy
Ingredients
CHICKEN:
1 TB Vegetable Oil
6 Chicken Pieces
SALAD DRESSING SAUCE:
1/2 cup 1000 Island Salad Dressing
1/2 cup Smooth Apricot Jam (Jelly)
3 TB White Onion Soup Powder
1 t Garlic Flakes
1 t Mustard Powder
Instructions
CHICKEN:
Pre-heat the oven to 180 deg C ( 350 deg F ) - spray a large oven dish with cooking oil
Heat the Vegetable Oil in a large skillet and brown the Chicken on all sides - remove and arrange in a single layer in the prepared oven dish
SALAD DRESSING SAUCE:
Combine all the remaining ingredients and pour over the Chicken - cover and bake 1 1/2 hours or until done
Nutrition Information
Yield

4
Amount Per Serving
Calories

784.5
Total Fat

43.4g
Saturated Fat

12.2g
Unsaturated Fat

31.2g
Cholesterol

195.6mg
Sodium

1092.7mg
Carbohydrates

35.8g
Fiber

0.1g
Sugar

29.8g
Protein

61.4g
LINDA
Linking up at: WEEKEND POTLUCK – Sweet Little Bluebird