Bacon Tomato Pasta Salad with Blue Cheese Dressing is so flavorful and always a winner to serve as an appetizer or light dinner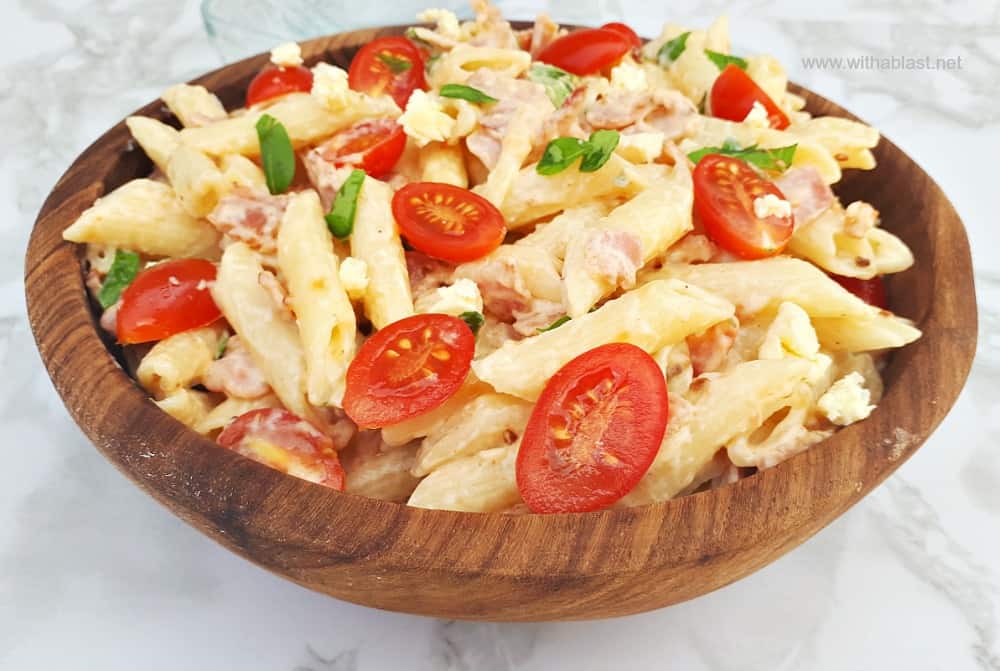 An Appetizer does not have to be small canapes or really complicated to taste amazing without spoiling your guests' appetites.
This Bacon Tomato Pasta Salad with Blue Cheese Dressing is just perfect. And it can be served as a light dinner as well !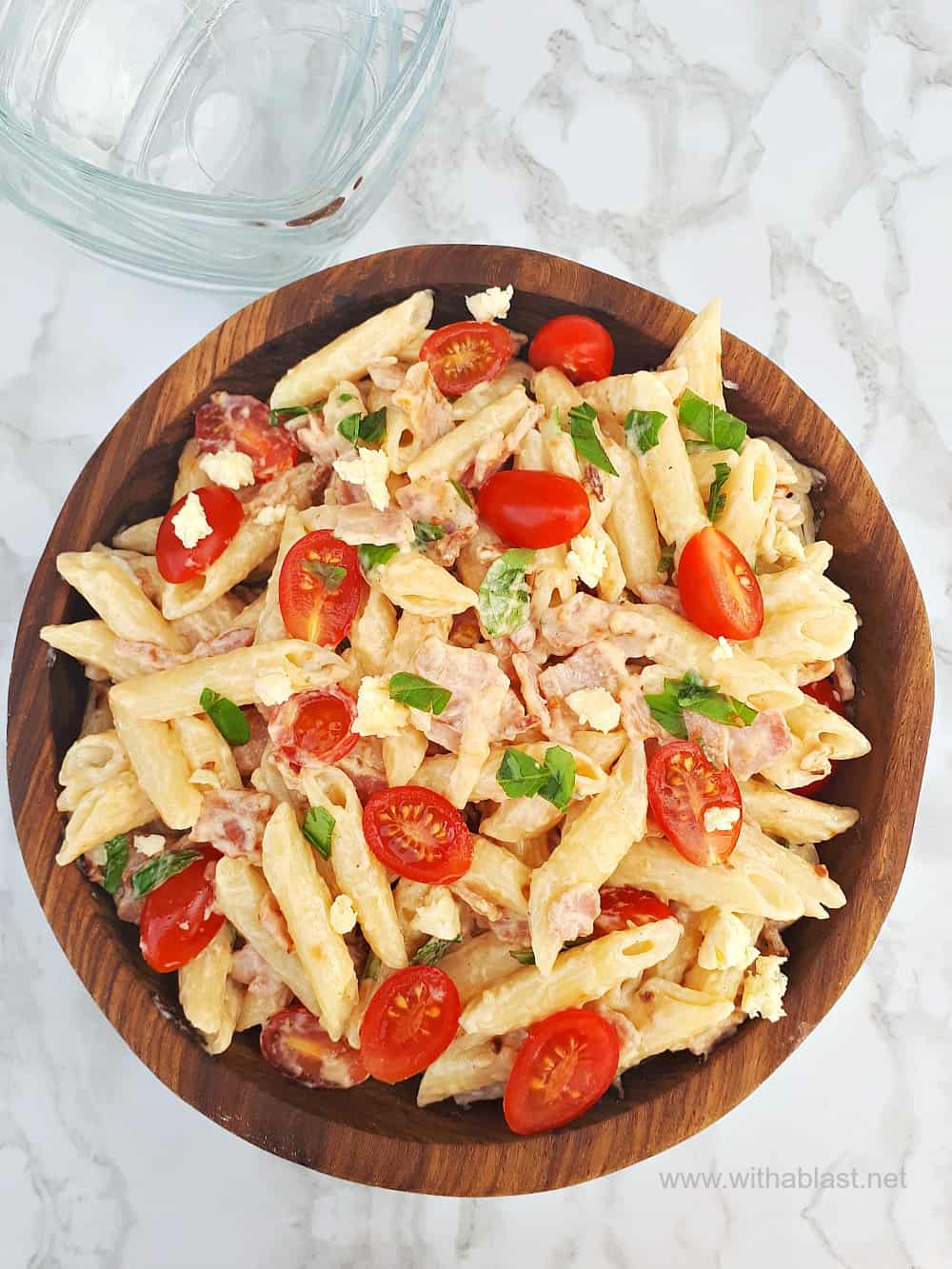 With the great weather we have in South-Africa we mostly have light dinners, especially during Spring and Summer. Even Fall is quite warm and this salad is always welcome.
During Winter it is actually the only time our family really digs into comforting, rich foods or a huge home cooked meal.
This is now with meat, starch (we even serve potatoes and rice together on the odd occasion!), as well as at least two vegetables.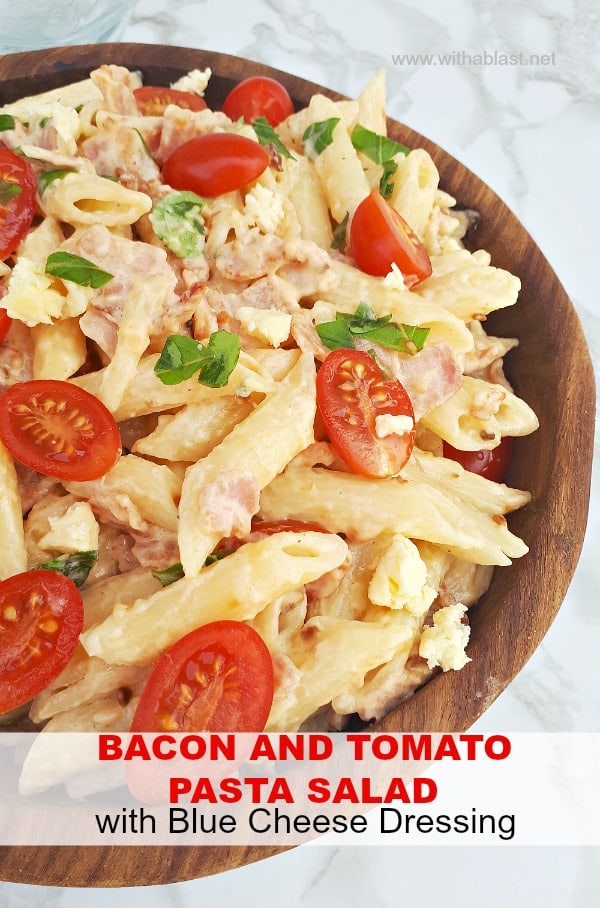 Great for an Al Fresco addition !
I do however prefer lighter foods as it is usually (not always!) healthier and so much quicker to make. But, then again, warmer weather calls for al fresco-style eating !
Al fresco is eating outside (for us, always) and we normally start somewhere just after lunch time, all gathered around the pool.
Obviously mostly over weekends though. It is slow eating, starting with an appetizer, a little later a more substantial meal and of course dessert.
This is the type of eating (al fresco) which I think takes a little longer to prepare the courses than when serving a simple light dinner during the week.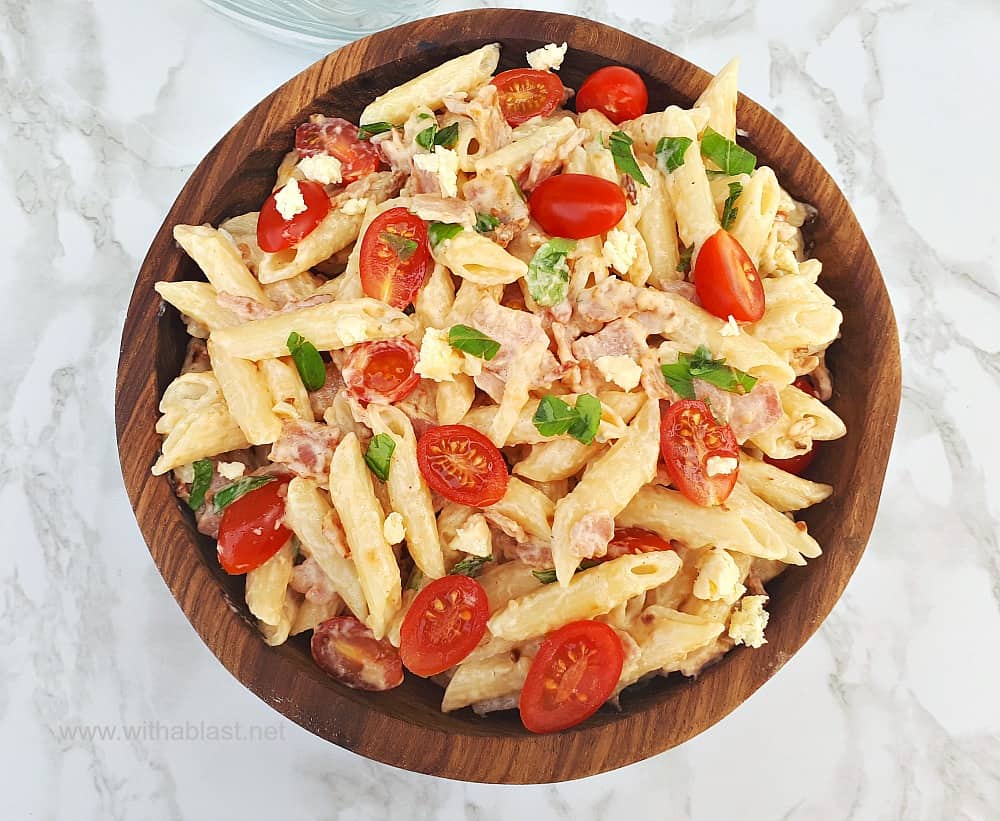 Whichever way, appetizer or light dinner, you choose to serve this Bacon Tomato Pasta Salad, it will most definitely become a family favorite !
And it all comes down to a great combination of ingredients which already works so well together.
Add the Blue Cheese Dressing and you are in for a taste sensation, which might be unexpected by your guests, but will surely be an awesome surprise to them.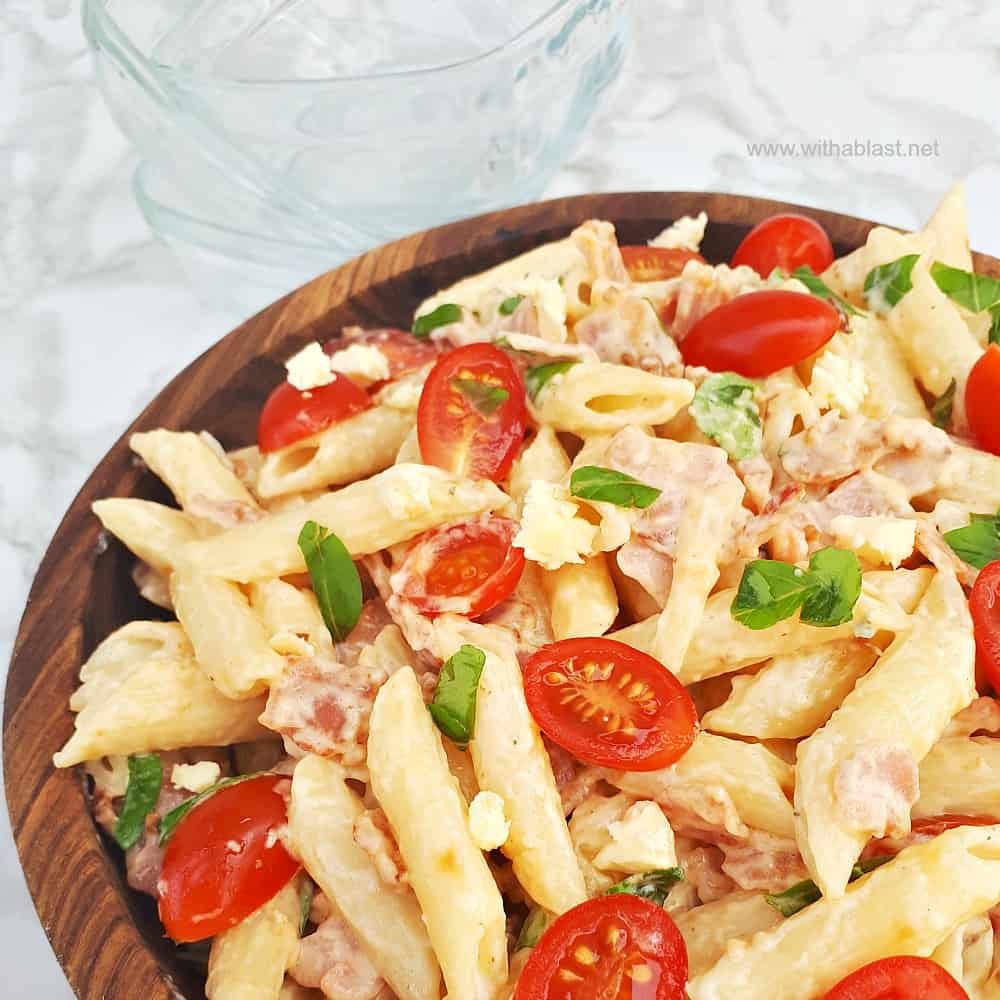 You might also like these Pasta Salads :
Bacon Tomato Pasta Salad with Blue Cheese Dressing
Yield: 4 Servings
Bacon Tomato Pasta Salad With Blue Cheese Dressing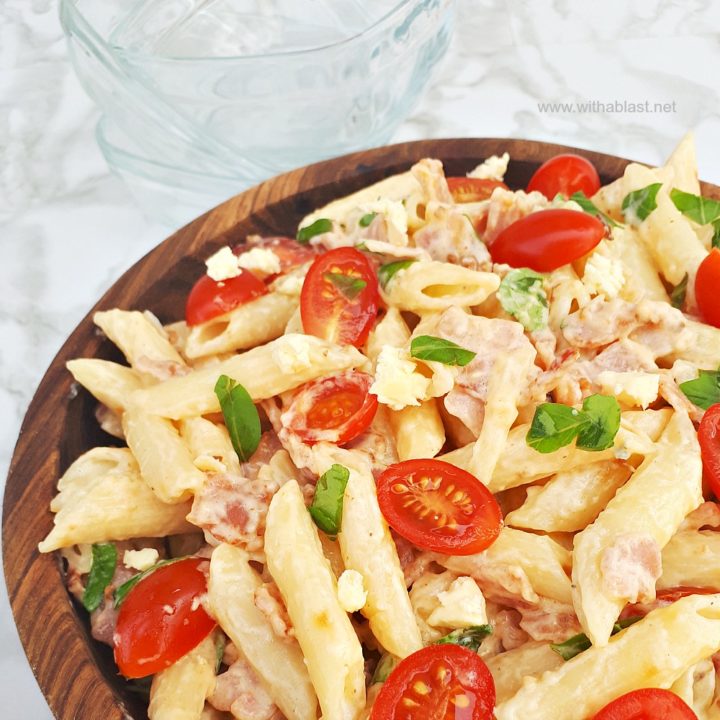 Bacon Tomato Pasta Salad with Blue Cheese Dressing is so flavorful and always a winner to serve as an appetizer or light dinner
Ingredients
250 g Penne Pasta ( 8 oz )
2 t Olive Oil
1 t Fresh Garlic, crushed
125 g Bacon Bits ( 4 oz )
1 cup White Sauce, warm (store-bought or homemade)
1/2 cup Blue Cheese, crumbled
2 t Mayonnaise
Salt and Black Pepper, to taste
1 cup Cherry Tomatoes, halved
1 cup Basil Leaves, torn
Instructions
1.) Cook the Pasta until al dente, drain and keep aside
2.) Heat the Olive Oil and cook the Garlic and Bacon until the Bacon is crispy - remove and keep aside
3.) Add the Blue Cheese and Mayonnaise to the warm White Sauce and stir until the Cheese has melted - stir in the cooked Bacon - season to taste with Salt and Black Pepper
4.) Toss together the cooked Pasta and the Blue Cheese Sauce in a large mixing bowl
5.) Add the Cherry Tomatoes and Basil - gently stir through
Notes
Serve the Pasta Salad at room temperature or chill until ready to serve
Recipe Yields: 4 Light Dinner Servings OR 6 - 8 Appetizer Servings
Nutrition Information
Yield
4
Amount Per Serving
Calories

475.7
Total Fat

19.9g
Saturated Fat

7.8g
Unsaturated Fat

12.9g
Cholesterol

30.3mg
Sodium

821.7mg
Carbohydrates

54.3g
Fiber

2.9g
Sugar

1.4g
Protein

20.3g
LINDA
Linking up at : WEEKEND POTLUCK – Sweet Little Bluebird