A Candy Charcuterie Board is very popular for Valentine's Day. By changing some candy, this Charcuterie board can be used whenever you need a sweet, candy loaded board !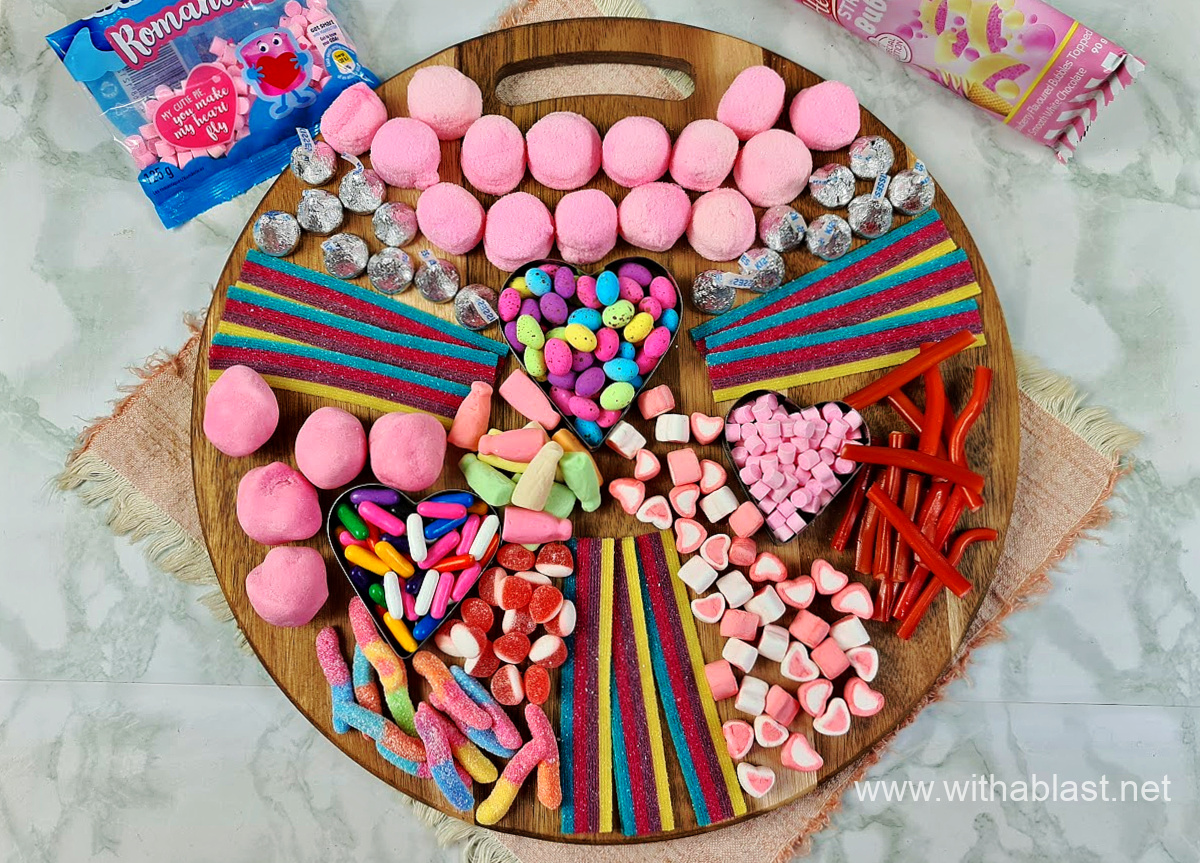 I absolutely love making Charcuterie boards ! A Charcutierie board is really open to your imagination and you can add just about anything to the board.
My Easy Charcuterie board is more traditional (meaning cold meats, crackers and fruit) but is also great to serve on Valentine's Day !
You can make Charcuterie Boards as big or small as you prefer.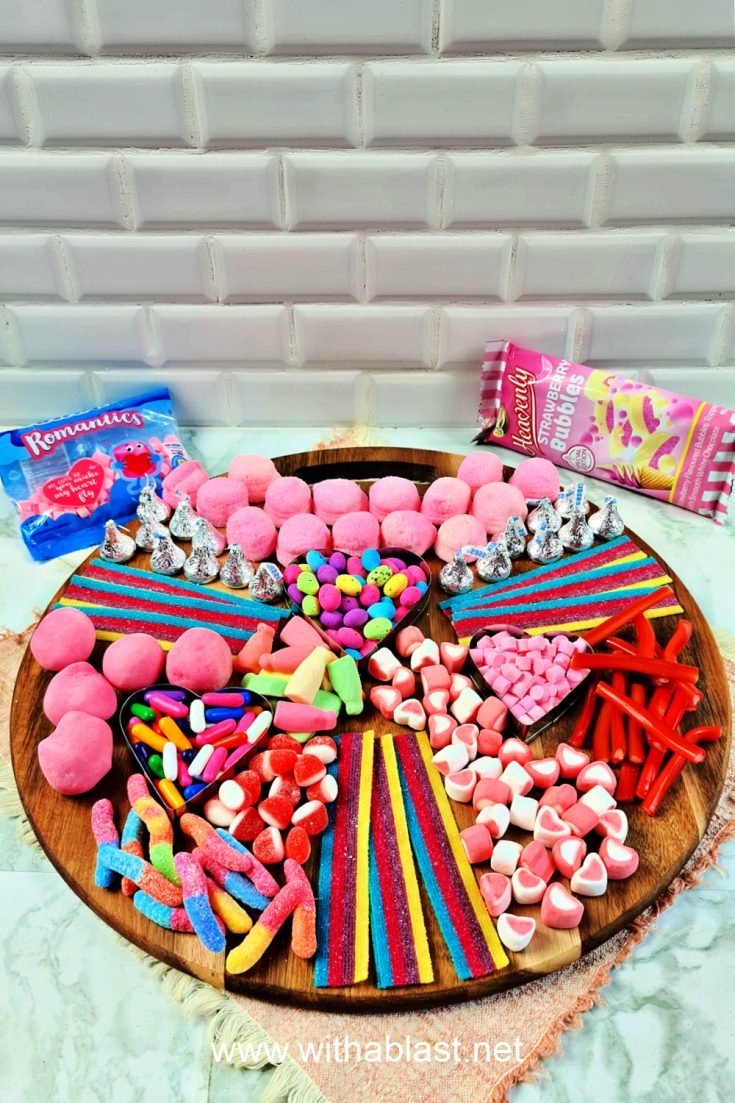 In this specific board, I used candy which I already had in the pantry. However, I did get some Valentine's Day shaped and flavored (strawberry is always great!) candies as well.
Now, there is not an actual recipe for a Charcuterie Board unless you and I use exactly the same candies and quantities.
This is obviously not always possible as candies differ from country to country and also these type of party snacks are what the creator prefers.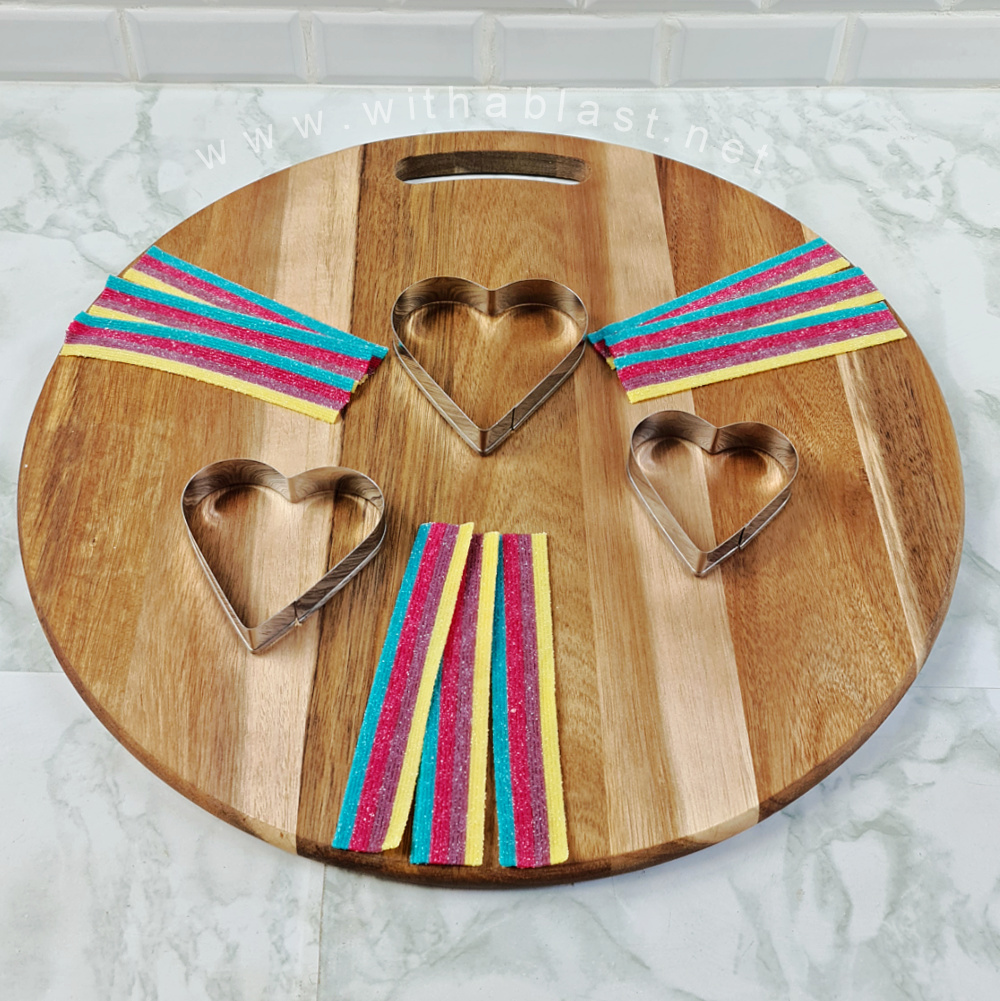 This Candy Charcuterie Board I started out by using heart shaped cooking cutters. Yep, cookie cutters !
It is a great way to start your layout and can be moved easily. By using heart shaped cookie cutters, the flow looks more natural, but still gives the heart / love effect.
I then placed some Brats candy strips as you can see in the above image. After that it was easy to add more candies in various openings.
Hershey's Kisses had to be added, even though they are chocolate and not as the rest of the candy used.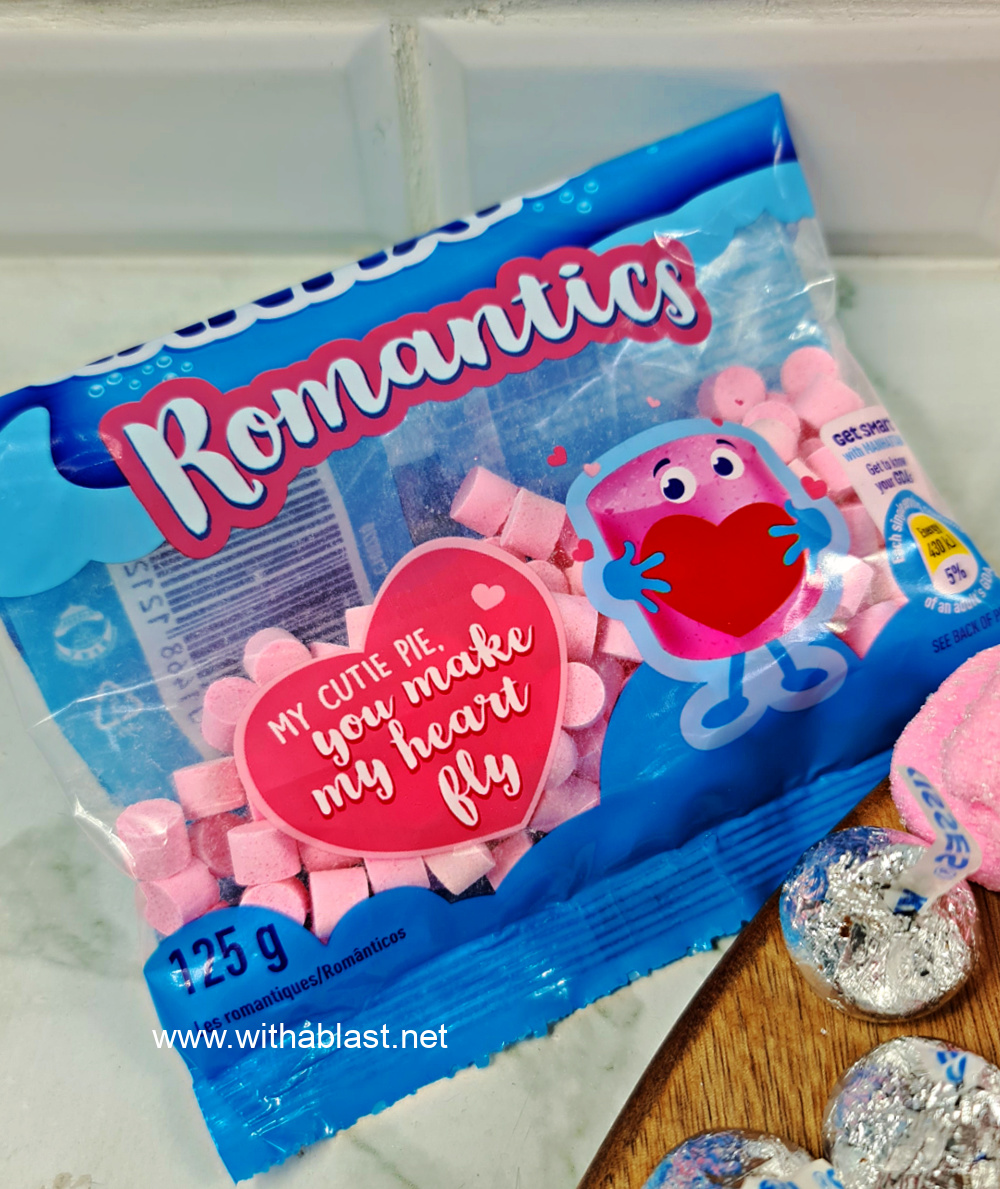 Above is one of my all time favorites ! The name says it all "Romantics" !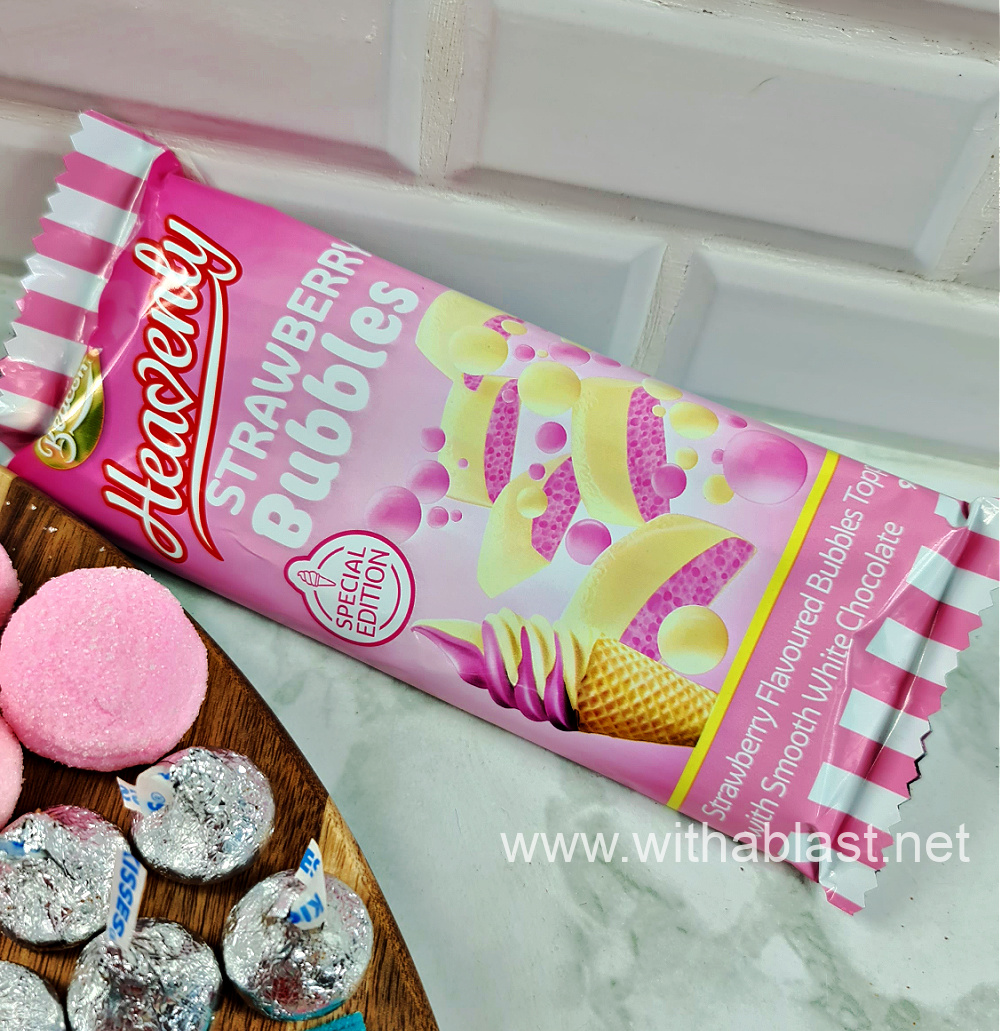 For some more chocolate indulgence I left a Strawberry flavored bubbles chocolate on the side as well. Never know when you need more chocolate !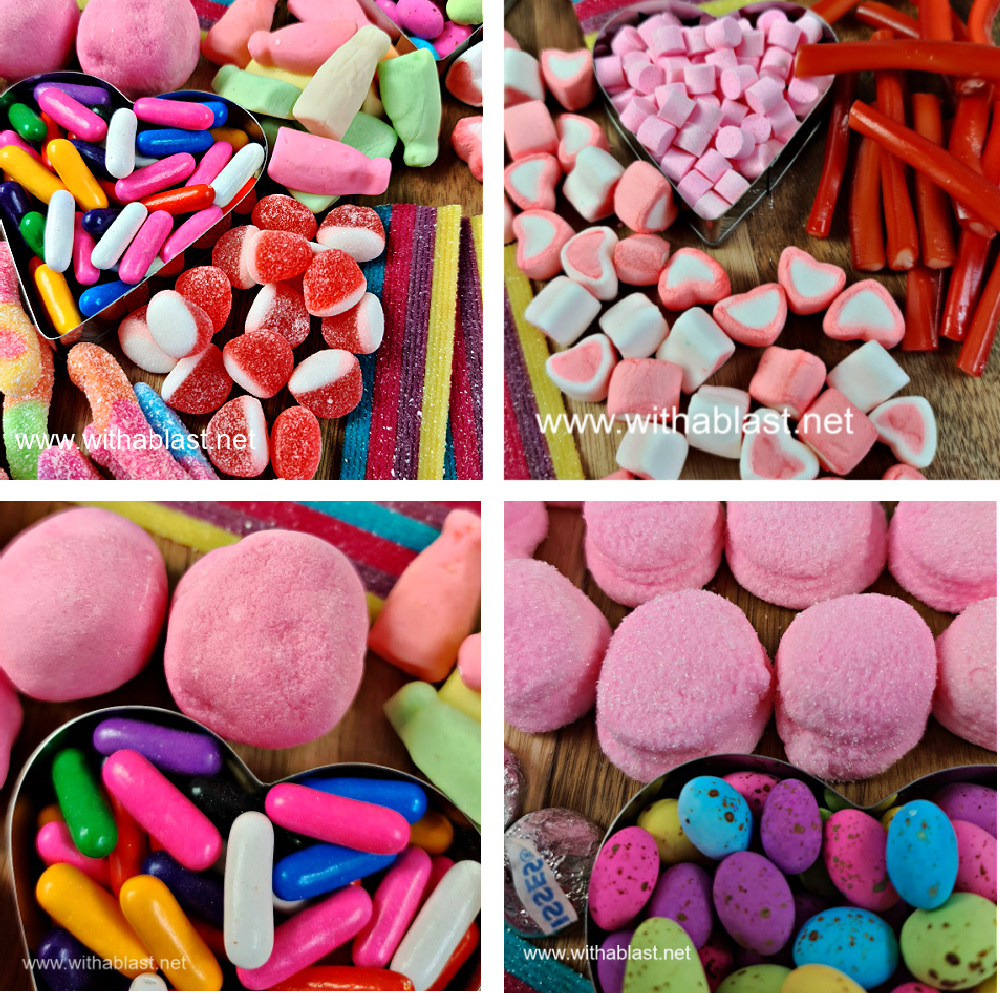 Which Candies to use making a Candy Charcuterie Board ?
In the up-and-close image above, you can get an idea of candies used. Some are soft, hard, chewy, melty and so the list go on.
Try to add different textures as well as shapes. The pink candy balls above left, are hard (soft center though) strawberry flavored candy. Whereas the pink balls on the right (also strawberry flavored) are all soft and chewy.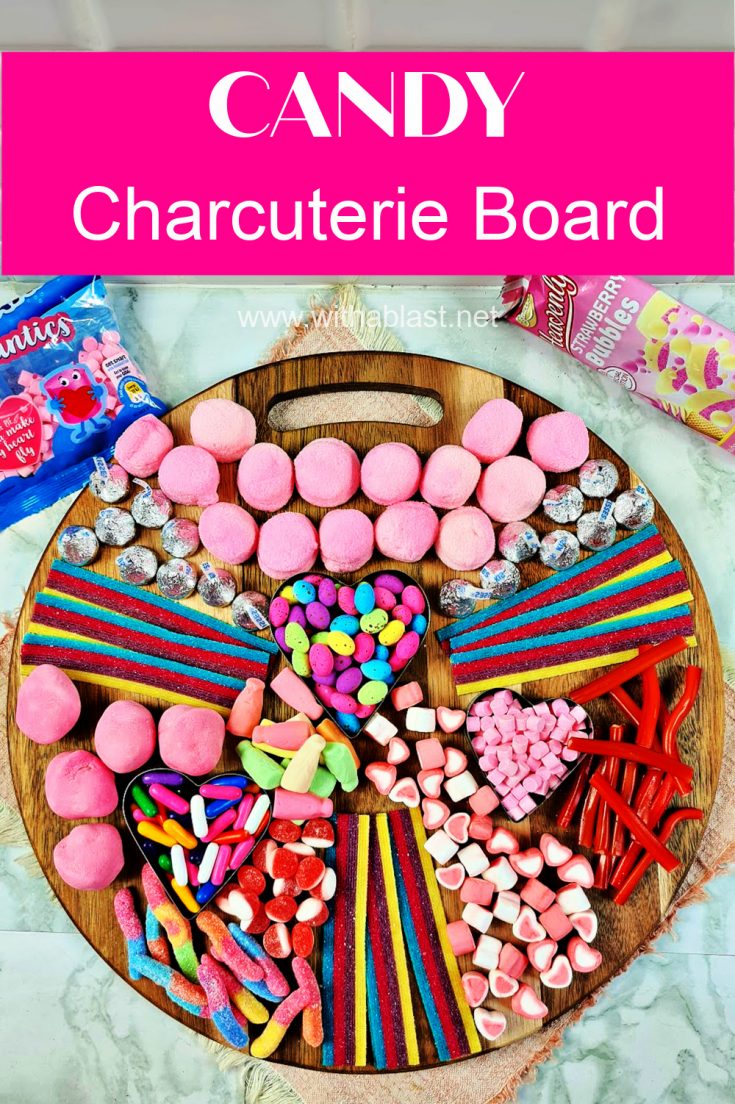 More Valentine's Day sweet treats you might like:
Candy Charcuterie Board
Yield: Creator's decision
Candy Charcuterie Board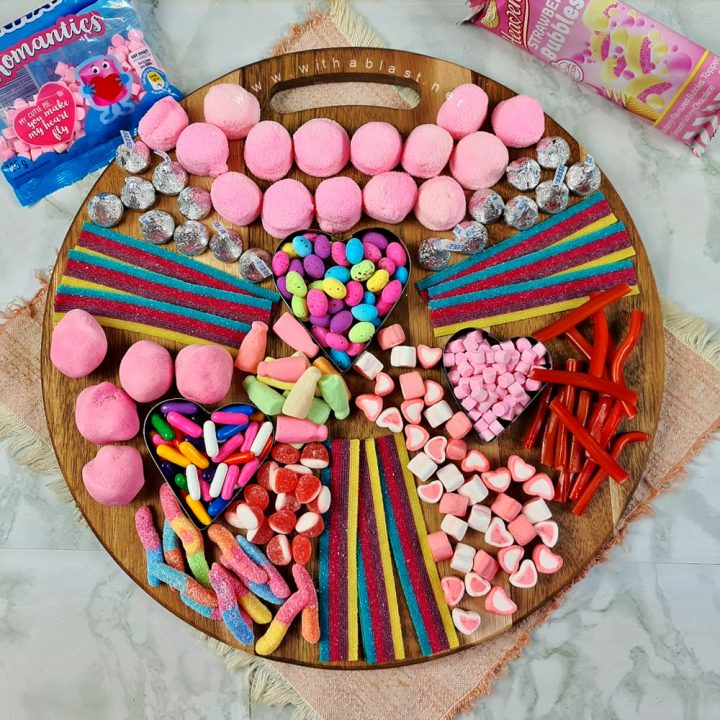 How to make a Valentine's Day Candy Charcuterie Board quickly and easily. Flavors, textures and shapes - all perfect candies to place on a romantic Valentine's Day sweet platter !
Materials
1.) Variety of Hard Candies, different shapes, textures and flavors (Strawberry is great for Valentine's Day !)
2.) Variety of Soft Candies, (as above)
Tools
1.) Serving Board
2.) Cookie Cutters, Heart Shaped bowls or any small bowls (to add a bit of dimension
Instructions
Place your heart shaped Cookie Cutters (bowls ets) strategically on the serving board
Start with 3 - 4 rows of eye catching candies - i.e. Brats strips
Continue to add different candies to the serving board until full
Notes
Any Candy flavor is great but Strawberry is always a winner for Valentine's Day
Different sizes, shapes and colors will make this a center piece on your dssert table
Use Candies you like/prefer - no need to use only certain flavors !
Make the Candy Charcuterie board as big or small to suit your needs