Valentine Dessert is an easy, inexpensive dessert which can be made ahead of time and finished off just before serving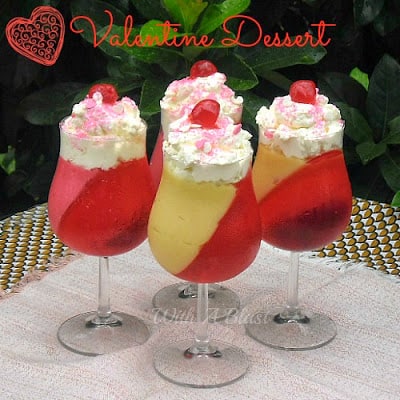 This is one of the easiest dessert recipes to make and I think it looks rather impressive, especially since it is decorated for, and to serve as a Valentine Dessert .
I made some about two years ago as part of a dessert table for a birthday party, but have not made it again since. It is an inexpensive, all pantry ingredients recipe.
Soooo, if you make this, you won't only have a very pretty and romantic looking dessert, but also have some extra cash to spend on a gift for your Valentine.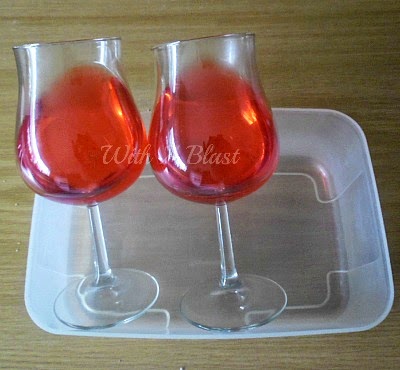 **This is the only tricky part and it really is not even that difficult.
Prepare the Jello, let it cool a few minutes if you are not using heat proof serving glasses.
Pour some Jello into the glass and place it tilted in a suitable container – chill until set.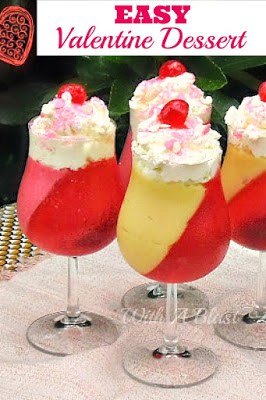 Valentine Dessert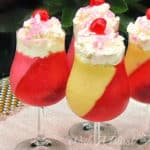 Valentine Dessert
Valentine Dessert is an easy, inexpensive dessert which can be made ahead of time and finished off just before serving
Ingredients
1

box

Strawberry Jello

( 4 servings size )

1

box

Instant Strawberry Pudding

( 4 servings size ) - I used Strawberry in half the glasses and Vanilla in the other glasses

Boiling Water

as per Jello box

Milk

as per Pudding box

Whipped Cream

lightly sweetened

Pink Sprinkles/Sugar

to decorate

Red Glace Cherries

one per glass
Instructions
Prepare the Jello as per the instructions on the box – let cool a few minutes and pour some into serving glasses – place the glasses in a container, tilted as above**chill until set

Once the Jello has set, prepare the Instant Pudding as per the instructions on the box – chill 2 – 3 minutes and spoon into the serving glasses

Spoon or pipe over Whipped Cream, decorate with Sprinkles and/or Pink Sugar and top with a Red Glace Cherry

Keep chilled until ready to serve
Recipe Notes
Total time does not include setting/chilling times
Serving quantities depend on your glass size
LINDA