White Chocolate Dip is a quick, easy and divine treat served with skewered fruit, cookies, marshmallows and more .. perfect for Valentines Day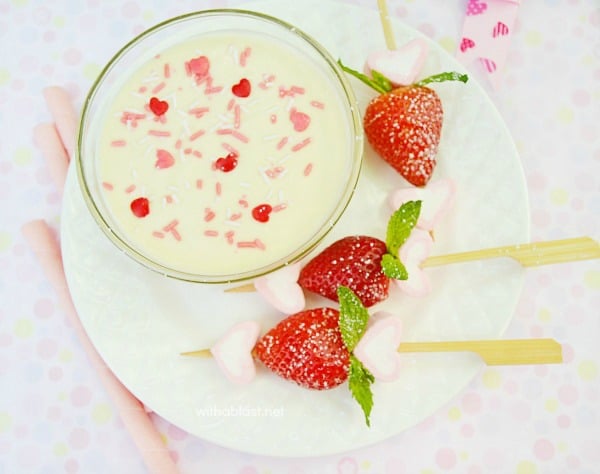 Our family is huge dip lovers. Whether it is a savory dip, or a sweet dip like this White Chocolate Dip , you can count us in. Ultra creamy, sweet and it tastes like heaven !
There are so many cookies, fruit, marshmallows and other candies which you can serve this dip with, the possibilities are endless.
I do prefer white chocolate above darker chocolates. But it also depends whether it is served warm or cold – cold – definitely white.
And warm, both in beverages, but used in brownies or other baked goods, mostly the darker kind chocolates.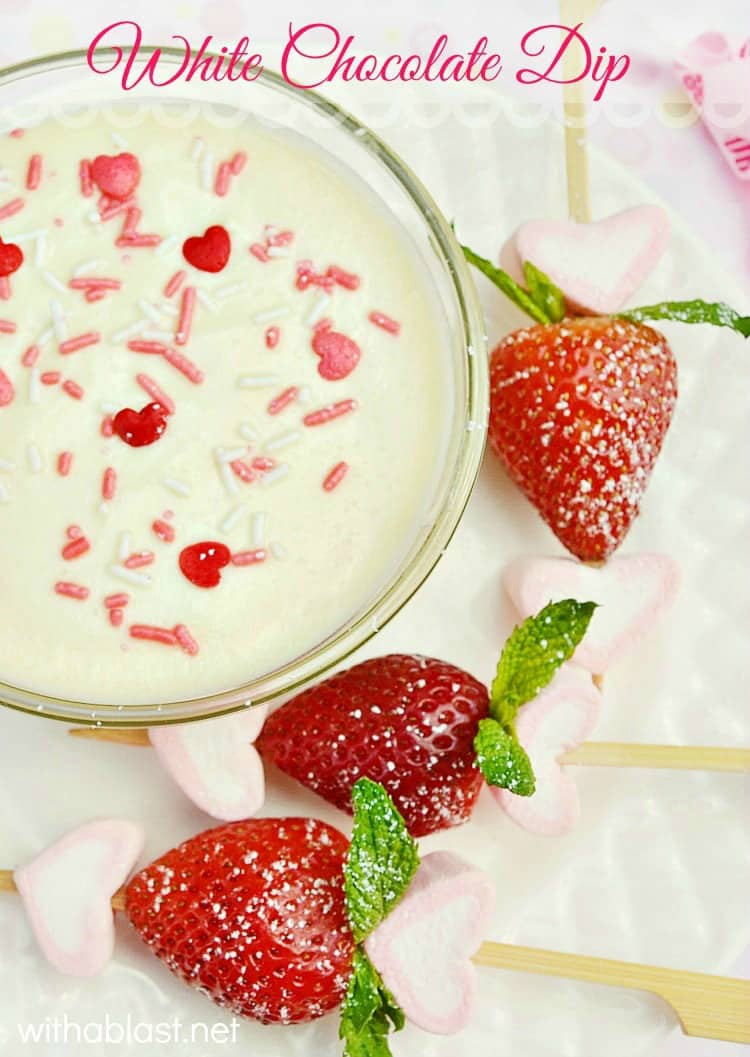 I am totally in love with this White Chocolate Dip and would even drink it, was it not that sweet ! Suppose one could mix some of the Dip with hot or cold Milk and enjoy it as a drink. However, we never have any leftover for me to try out the idea.
If you do happen to have some of this leftover Dip, you will have to keep it sealed in the refrigerator and it will harden.
BUT, that is not the end of the Dip (well, the Dipping part, yes), remove it from the refrigerator for a little while and it will soften a bit – then use it as a spread on sweet biscuits.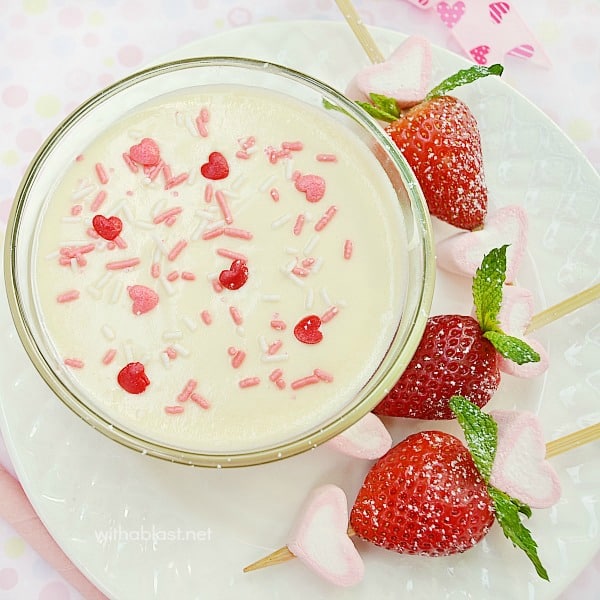 This is a very quick and easy recipe for White Chocolate Dip ! Therefore you can make it right before serving as it only needs a chilling time of around 3- 5 minutes to firm up slightly.
If you are happy with the texture of the Dip after mixing, go right ahead and serve it as is, without any chilling.
More Valentine's Day treats you might like:
Connect with us :
PINTEREST TWITTER FACEBOOK INSTAGRAM
White Chocolate Dip
Yield: 6 Servings
White Chocolate Dip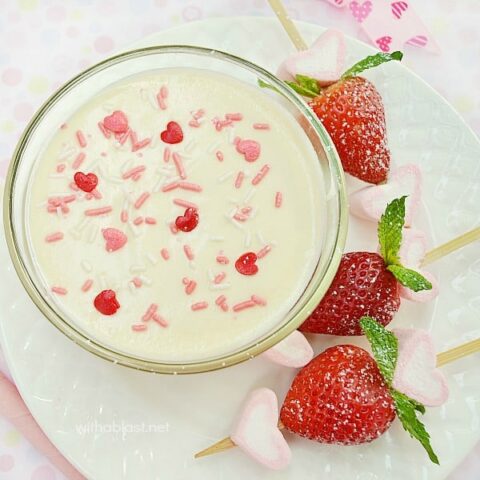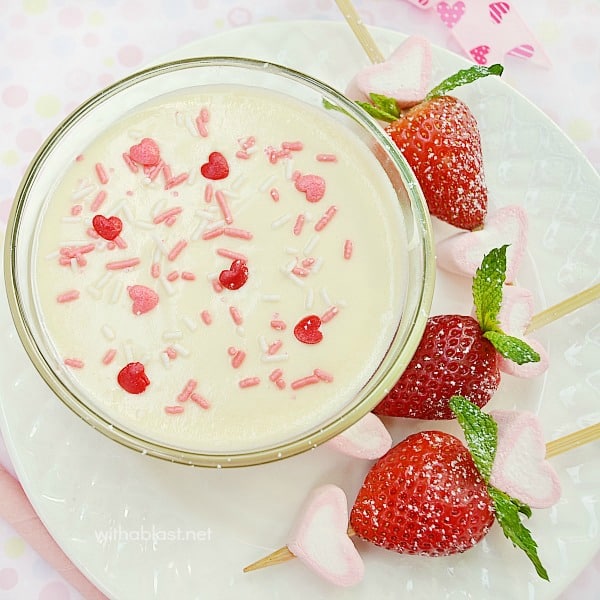 White Chocolate Dip is quick, easy and divine ! Perfect to use with skewered fruit, cookies, marshmallows and more .. perfect for Valentines Day
Ingredients
1 cup Fresh Cream, ( whipping cream )
1/2 t Vanilla Essence
1/2 cup White Chocolate, good eating quality, melted
1/2 cup Icing Sugar
Sprinkles, optional
TO SERVE:
Instructions
Beat the Cream until stiff peaks form – add the Vanilla and give another quick whisk
While beating, add the melted Chocolate – beat until smooth
Add the Icing Sugar and beat until smooth
Chill for a maximum of 5 minutes, stir and transfer to a serving bowl
Decorate with Sprinkles (if using) and serve immediately with Strawberries, Marshmallows and Cigar Biscuits
Notes
TO SERVE:
Skewered Fruit, Marshmallows, Cigar Biscuits

Nutrition Information
Yield
6 Servings
Amount Per Serving
Unsaturated Fat

0g