Moist mini Candy Cane Brownie Bites with a White Chocolate Cream Cheese Frosting and sprinkled with crushed Candy Cane
If you follow With A Blast you should know by now that I love anything, especially food, in miniature size !
These Candy Cane Brownie Bites are just that, about 2 bites and it's gone. A very good reason to have another one or five ..
A few days ago, I spotted some candy cane at our local Woolworths store and quickly grabbed a couple of containers.
Hardly any of our usual stores we go to, keep candy cane in stock at Christmas time. Therefore when I find them, I grab them as if there is no tomorrow !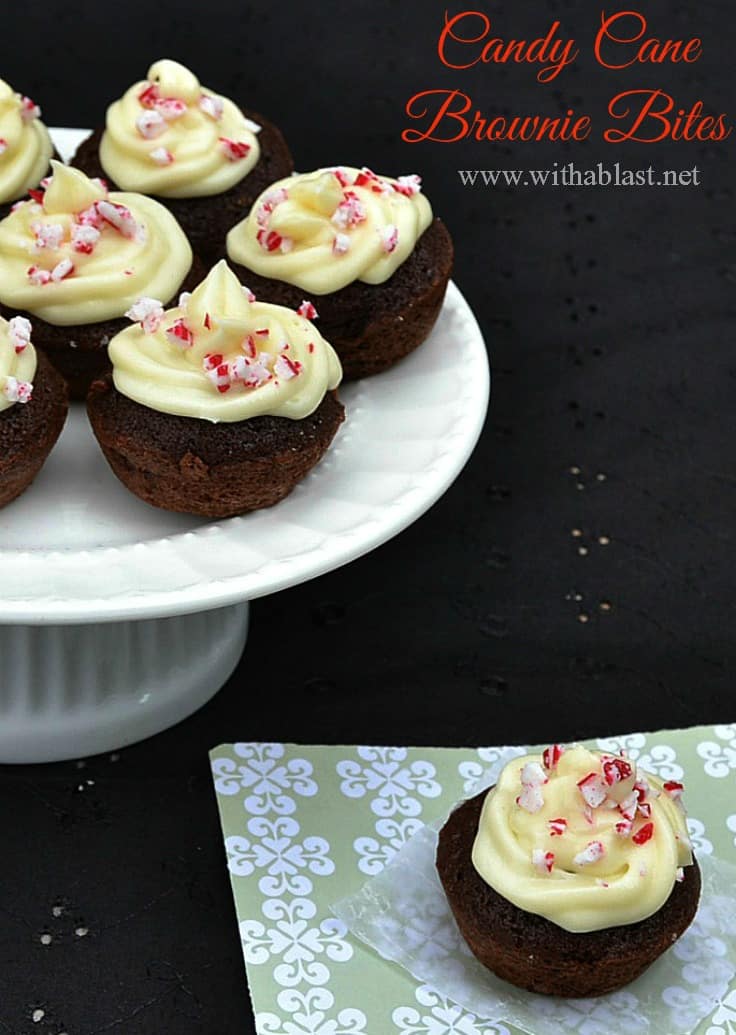 You would not find me eating a candy cane as is. I like them crushed (fine, medium or rough) sprinkled over an actual treat.
However, I do like to use whole candy canes as a decoration. Or to stir a hot chocolate drink, and then also the kids like to eat them whole (by kids I really mean, my daughter !).
This is a very basic Brownie recipe, moist, very soft and so very chocolatey. You can also make them in a standard cupcake size – but adjust the baking time to around 18 – 20 minutes.
The added White Chocolate to the Frosting makes it not only holding up better and longer, but it also adds a very creamy, chocolate taste, which is wonderful with the slightly sourness of the Cream Cheese.
More Christmas treats you might like:
Candy Cane Brownie Bites
Yield: 24 Brownie Bites
Candy Cane Brownie Bites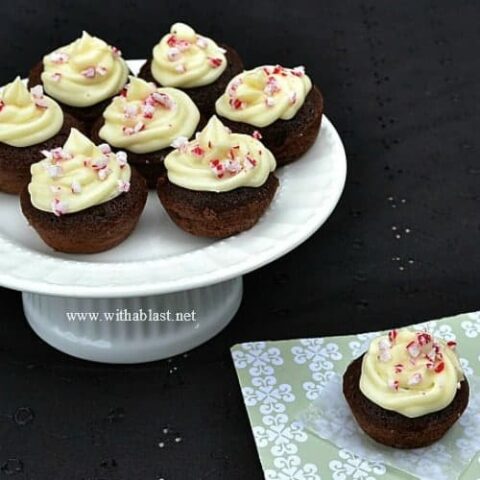 Moist mini Candy Cane Brownie Bites with a White Chocolate Cream Cheese Frosting and sprinkled with crushed Candy Cane
Ingredients
BROWNIE BITES:
2 Eggs
1/2 cup Cocoa Powder
1/4 t Salt
1 t Baking Powder
1 t Vanilla Essence
1 cup Sugar
1/2 cup Unsalted Butter, melted
1/2 cup Flour, plus an extra 2 Tablespoons
1/2 cup Chocolate Chips
FROSTING:
250 g Cream Cheese, softened ( 8 oz )
1/2 t Vanilla Essence
100 g White Chocolate, broken ( 3.5 oz )
3 1/2 cups Icing Sugar
1/4 cup Candy Cane, crushed
Instructions
Pre-heat the oven to 180 deg C (350 deg F) – line or spray 2 x 12 hole mini muffin pans with cooking oil
Beat together the Eggs, Cocoa, Salt, Baking Powder and Vanilla until well mixed
Stir in the Sugar and Butter – mix well
Add the Flour – stir to mix – add the Chocolate Chips and stir until combined
Divide the batter between the 2 mini muffin pans – bake 12 minutes or until a tester comes out clean – remove from oven – let sit for 5 minutes – transfer baked brownie bites to a cooling rack to cool completely
FROSTING:
Meanwhile, prepare the Frosting – beat together the Cream Cheese and Vanilla until smooth – melt the White Chocolate and whilst beating the Cream Cheese add the Chocolate – beat until well combined
Add the Icing Sugar by the cupful – beat well after each addition
Notes
Pipe or spoon the Frosting over the cooled Brownie Bites and sprinkle with crushed Candy Cane – chill for 15 – 20 minutes before serving
Nutrition Information
Yield
24
Serving Size
1 Brownie Bite
Amount Per Serving
Calories

237
Total Fat

10g
Saturated Fat

6g
Trans Fat

0g
Unsaturated Fat

3g
Cholesterol

37mg
Sodium

89mg
Carbohydrates

35g
Fiber

1g
Sugar

30g
Protein

2g
Nutrition value is not always accurate
ps: Any leftover Frosting will keep well in a sealed container in the refrigerator for up to 3 days (maybe longer, but mine have never lasted that long!)