Make-Ahead Savory Bread Pudding Breakfast takes less than 20 minutes to prepare, cover up overnight (or at least 30 minutes!) and bake in the morning
A Weekend or two ago, the kids were all home for the weekend. And I had been spending just about all of the Friday baking them some sweet treats and a variety of desserts. (This does not happen often ! in case you were wondering).
Anyhow, I had already lined up the following day's late lunch/early dinner and knew I had to make something quick and easy.
This make-ahead Savory Bread Pudding Breakfast was just perfect for them as I also had other plans for the Saturday morning.
I am sure you also get those days where you think you might have a lot – or at least enough – time for everything, but then time just seems to run away.
This was one of those weekends.. the more I did, the less got done, or that's how it felt anyway.
So far it seems hubby and I will spend Christmas by ourselves as both the kids have plans and my sweet mother-in-law (whom I invited along with my sister-in-law) will be visiting her first great grandchild !
I think it will be their first face to face, as that side of the family lives in another Province.
Getting back to today's recipe ! I am trying different kinds of light-ish breakfasts for us to enjoy on Christmas morning.
Ideal breakfast when you do not have lunch or have a late lunch !
It seems more than likely that we will go to our usual Restaurant for a late lunch and this make-ahead Savory Bread Pudding Breakfast might just do the trick.
I do still have some other recipes to try out, but we really like this one. It bakes the same way as a Bread Pudding would (the dessert kind!), with crusty sides and crusty spots on top.
But when you dig in, it is all soft, meaty, cheesy and it is just a lovely dish to have on hand.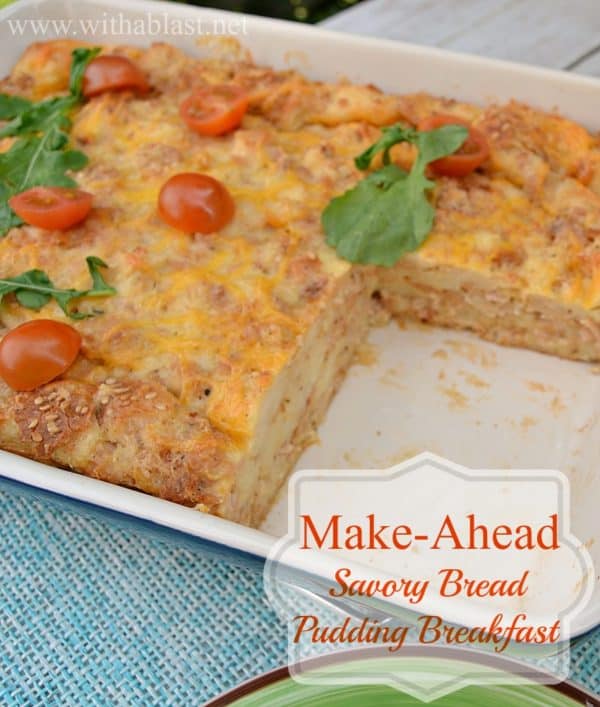 And I think this is the only recipe, of this kind, I have which contains Pork Sausage meat.
Which also, if you already have a favorite brand of Pork Sausage, is already seasoned and all. The bit of Sage, Salt and Pepper round things of deliciously.
More Breakfast recipes you might like:
Make-Ahead Savory Bread Pudding Breakfast
Yield: 8 Servings
Make-Ahead Savory Bread Pudding Breakfast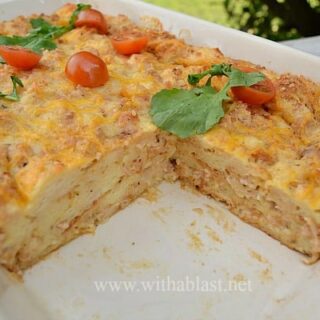 Make-Ahead Savory Bread Pudding Breakfast ~ Less than 20 minutes to prepare, cover up overnight (or at least 30 minutes) and bake in the morning
Make-Ahead Standing Time
30 minutes
Total Time
1 hour
25 minutes
Ingredients
1 TB Olive Oil,, extra-virgin
8 Pork Sausages, meat removed from casings
1 large Onion, chopped
8 cups French Bread, cubed crust and all (I use the Sesame Seed topped kind)
1 1/2 cups Mature Cheddar Cheese, grated, divided
4 large Eggs
3 1/4 cups Milk
2 TB Fresh Sage, chopped (or 1 teaspoon Dried Sage)
1/2 t Salt
1/2 t Black Pepper
OPTIONAL:
Cherry Tomatoes and Arugula, to serve
Instructions
Heat the Oil in a large skillet – stir-fry the Sausage Meat and Onions until cooked – transfer to a large mixing bowl and let cool a few minutes

Add the Bread and 1 cup Cheddar Cheese to the Meat mixture – stir well to combine

Beat together the Eggs, Milk, Sage, Salt and Black Pepper – pour over the mixture in the mixing bowl and stir until mixed – cover and refrigerate at least 30 minutes, or overnight

Pre-heat the oven to 190 deg C (375 deg F) when ready to bake – spray a 20 x 30cm ( 9 x 13 inch ) casserole dish with cooking oil

Transfer the Bread Pudding mixture to the prepared casserole dish – bake 40 – 45 minutes until puffed and set in the center



Remove from the oven – sprinkle over the remaining 1/2 cup Cheddar Cheese and bake a further 5 minutes or until the Cheese has melted
Notes
Make-Ahead Standing time only if you do not prep the night before
Nutrition Information
Yield
8
Amount Per Serving
Calories

480.3
Total Fat

20.2g
Saturated Fat

9.2g
Unsaturated Fat

7.5g
Carbohydrates

52.3g
Fiber

1.9g
Protein

22g
Let sit for 5 minutes, slice into portions and serve with Cherry Tomatoes and Arugula (if using).
ps: Fresh fruit on the side goes very well with this Breakfast !
LINDA