Balsamic Roasted Pork And Berry Salad is a healthy lunch or light dinner – NO dressing is required as all the ingredients are so juicy !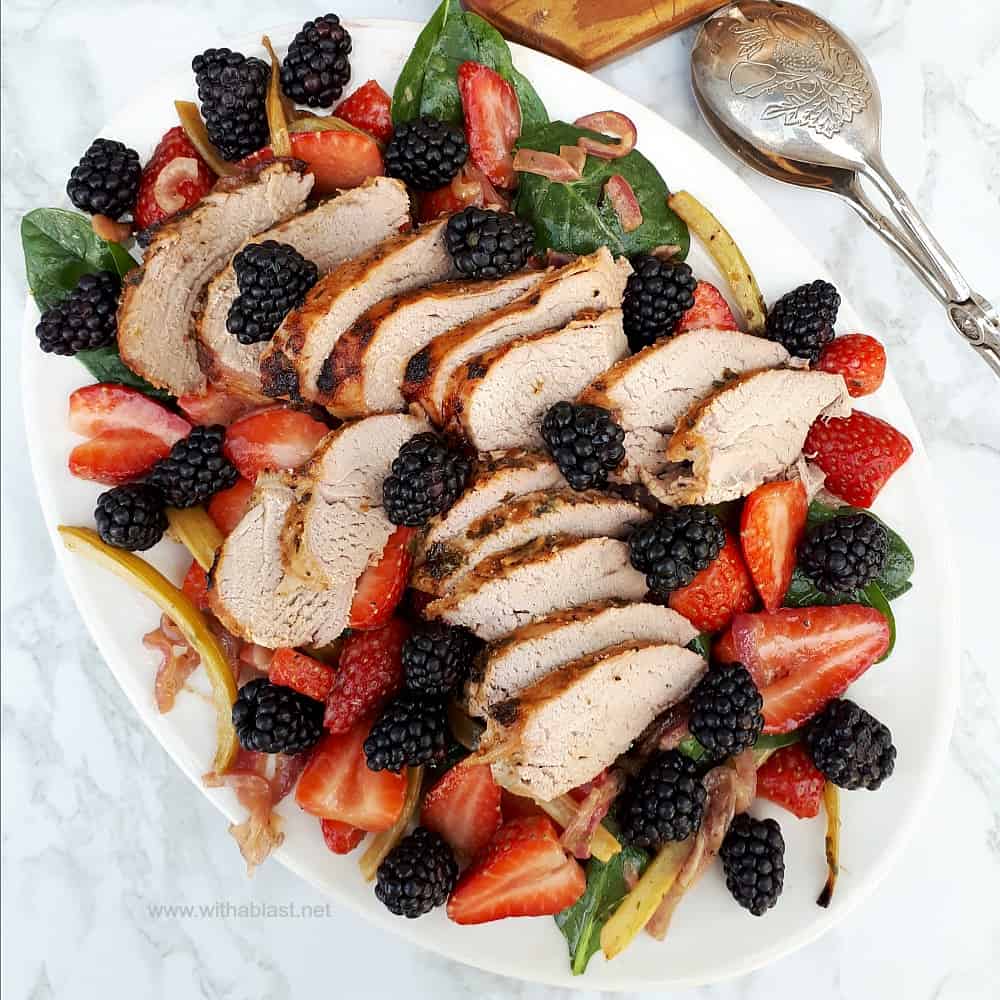 Last week we still had the odd day or two when it was bitterly cold. Our Spring started on the 1st of September, and after the cold days last week, we now have a heatwave in Gauteng !
That is when recipes like this Balsamic Roasted Pork and Berry Salad comes in very handy. Quick to make, and perfect for the in between season weather.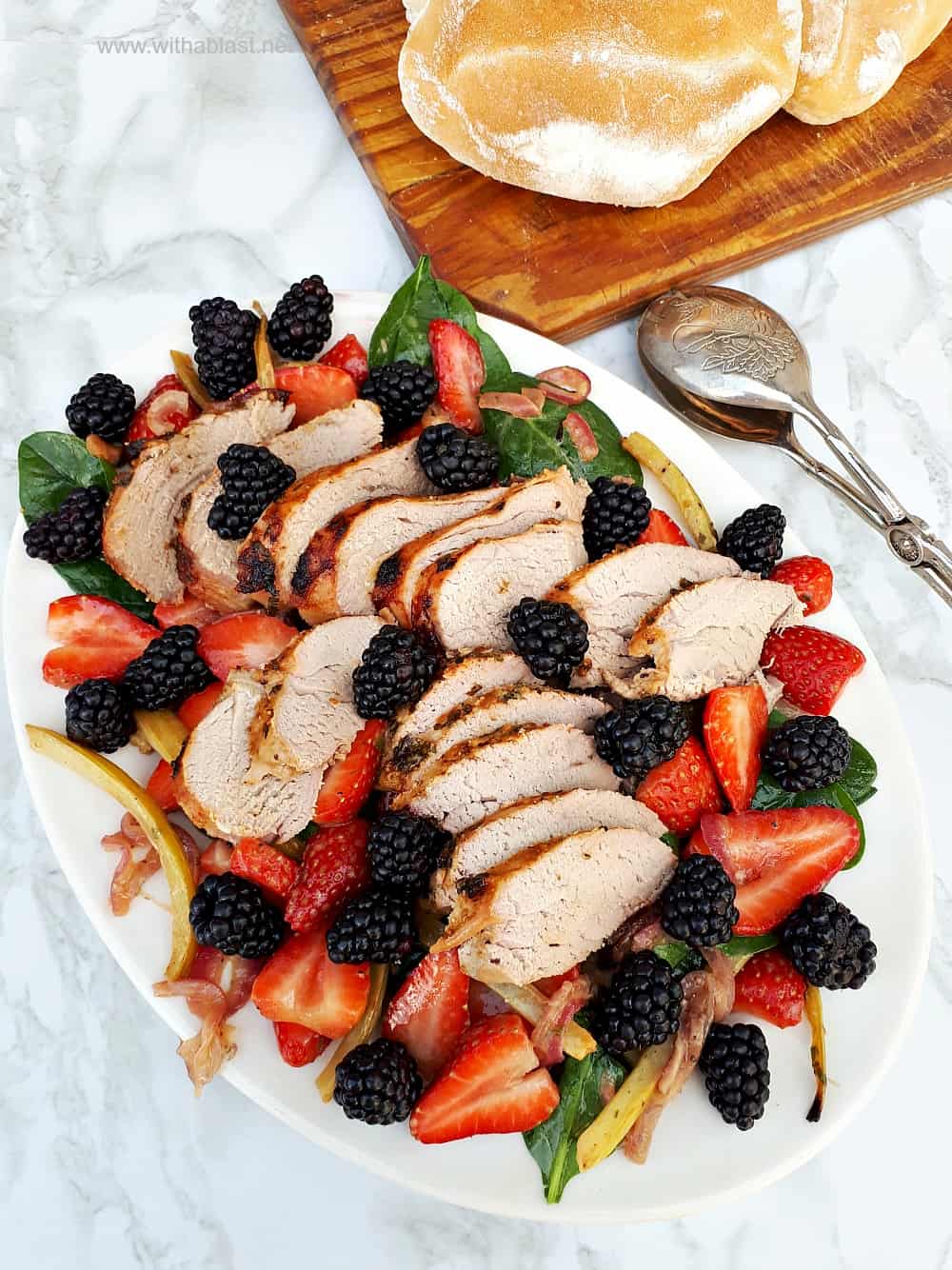 Speaking of cold weather – we had a snowfall once (yes, only once!) in Gauteng in 1981. It lasted about two to three days, but the weirdest part was that it happened in September !
And as I have already mentioned, September is the start of our Spring season in South-Africa.
Usually our weather is very predictable, only a couple of weeks of real cold during Winter, with Spring and Summer being just nice warm weather.
Don't get me wrong, we do have some days that I want to pack up and move to Alaska, but in general South-Africa's weather is great.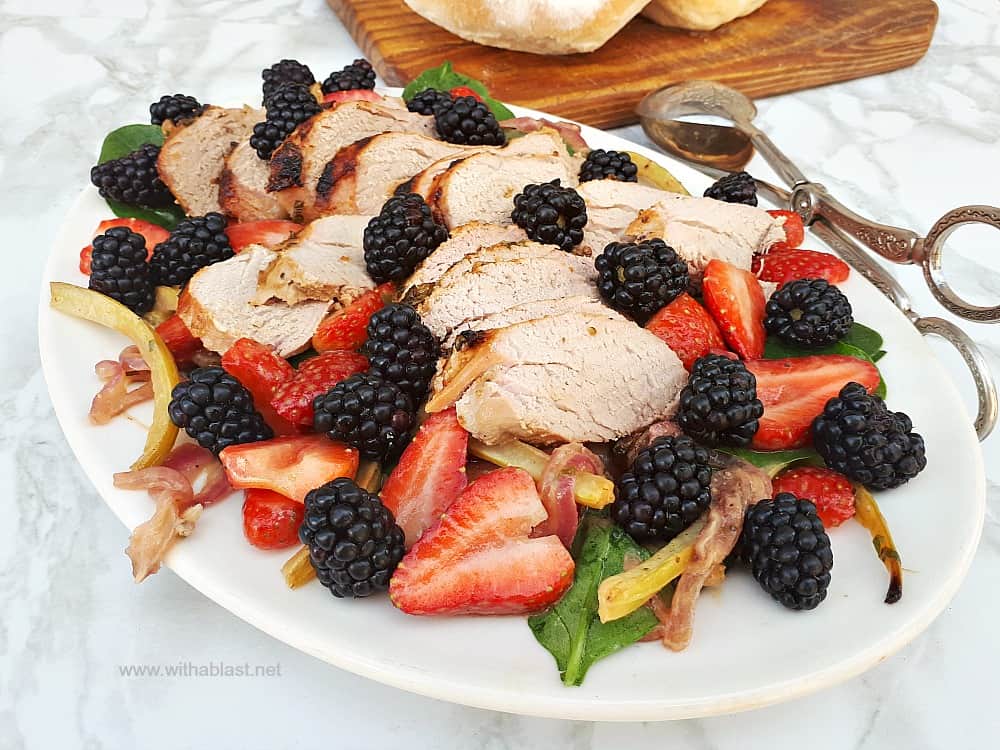 I have mentioned numerous times over the years, that our family can just about live on salads. especially meaty, healthy salads.
This Balsamic Roasted Pork and Berry Salad is one of those ! Serve the Salad slightly warm during cooler weather, or cold on a hot day.
I make a small side dressing (recipe in the notes on the recipe card) to serve with the salad. Each person can then help themselves to as much (or none!) according to their preference.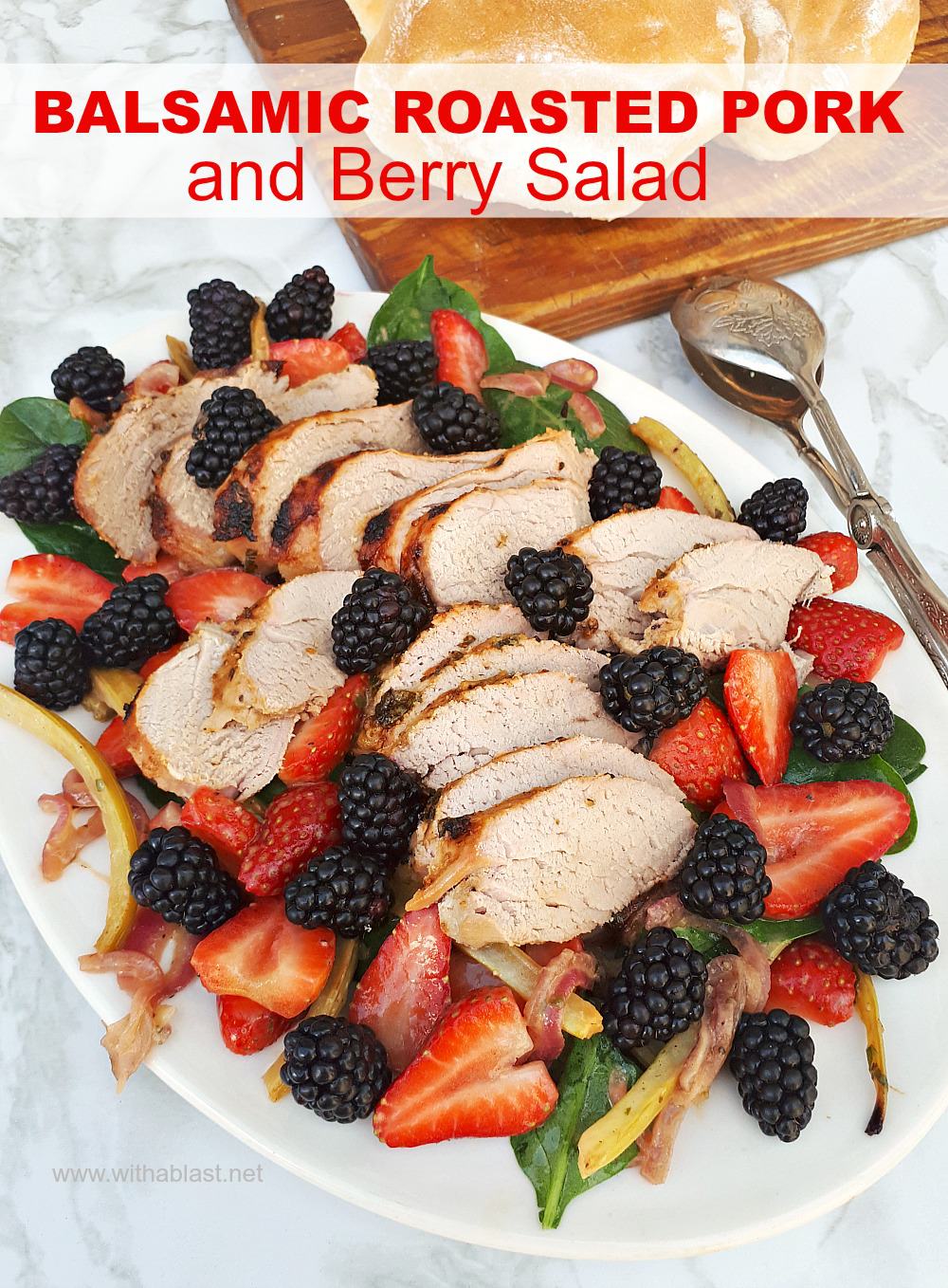 The roasted Pork is tender and juicy, add the Onion, Celery and the Berries and you do not really need a dressing as well.
But, even myself, want that little bit of extra taste (if not for the sauciness alone) every now and then. Although, to be honest, I normally enjoy the salad as is, no dressing.
My son and hubby… well, they are somewhere in between. Sometimes with a little dressing, other days, no dressing.
The Dressing is so quick to make, therefore if you notice your family prefers the dressing, a second batch can be whipped up in a minute or two.
More filling Salad recipes you might like:
Balsamic Roasted Pork And Berry Salad
Yield: 4 People
Balsamic Roasted Pork and Berry Salad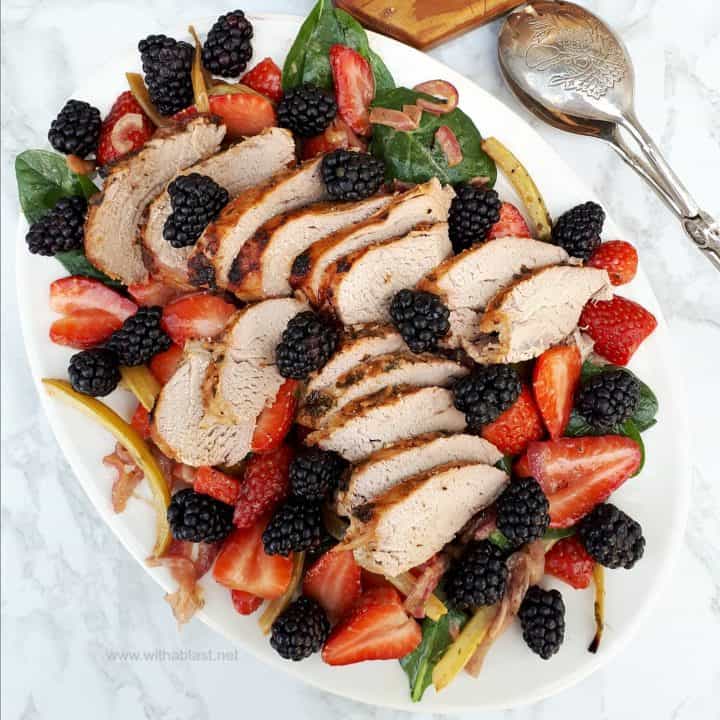 Balsamic Roasted Pork And Berry Salad is a healthy lunch or light dinner - NO dressing is required as all the ingredients are so juicy
Ingredients
1 Red Onion, thinly sliced
450 g Pork Tenderloin, ( 1 pound )
250 g Celery Ribs, sliced smaller lengthwise ( 8 oz )
3 TB Balsamic Vinegar
1 TB Olive Oil
2 t Dijon Mustard
2 t Oregano Leaves, chopped
Salt and Pepper, to taste
1 handful Baby Spinach
1 1/2 cups Strawberries, hulled and sliced into thirds
1 cup Blackberries
Instructions
Pre-heat the oven to 220 deg C ( 440 deg F ) - spray a sheetpan with cooking oil
Arrange the Onion in the center of the sheetpan - place the Pork on top of the Onion - scatter the Celery all around the Pork and Onion
Combine the Balsamic Vinegar, Olive Oil, Dijon Mustard and chopped Oregano leaves - pour over the Pork and Celery - season to taste with Salt and Pepper - roast 15 - 20 minutes or until done - remove from the oven and let the Pork rest 15 minutes before slicing
Toss together the Baby Spinach, roasted Celery and Onions and the Strawberries - transfer to a serving plate / dish
Top with thinly sliced Pork and Blackberries and serve
Notes
If you do prefer a light dressing, try this one:
Whisk together
1 TB Olive Oil (extra virgin)
1 TB Vinegar
1 t Dijon Mustard
1/4 cup Basil Leaves (finely chopped)
Salt, to taste
Drizzle over the Salad before serving or serve in small individual dressing bowls
Nutrition Information
Yield
4
Amount Per Serving
Calories

327.0
Total Fat

13.3g
Saturated Fat

2.9g
Unsaturated Fat

6.9g
Cholesterol

88.9mg
Carbohydrates

15.8g
Fiber

5.4g
Sugar

6.7g
Protein

34.9g
LINDA