Bacon Butternut and Sweet Potato Casserole is perfect to serve for lunch or dinner – leave out the Bacon and you have a delicious, healthy side dish
We had a lazy kind of the day a couple of weeks ago and were not really in the mood to go shopping, especially since we were due our weekend grocery shopping the next day.
So, we had to eat, but no fresh meat, lots of Bacon though – we always have Bacon and this Bacon Butternut and Sweet Potato Casserole was made in a jiffy.
A bit of peeling, chopping and dumping most of the ingredients into the oven dish and into the oven.
Whilst the casserole was doing it's thing in the oven, I whipped up a coleslaw and some slices of papaya to serve along with the casserole.
In between I added the Spinach and Bacon to the casserole, which took me about 3 minutes.
You can sprinkle the Cheese over at this point as well. But I like my cheese to only melt and not bake to a crisp, if you know what I mean.
Fortunately we still had some fresh, crusty dinner rolls left and that completed our dinner. Quick, easy and delicious, just the way I prefer making dinner and healthy as well !
Stretch the meal !
Now, do not let the ingredients throw you, this is a very filling dinner by itself for 4 adults, add the salad, fruit and rolls and I easily stretched the casserole to feed 6 hungry adult mouths.
You can definitely taste each ingredient with only a tiny hint of sweetness from the Butternut and the Sweet Potatoes.
All in all, this is a winning flavor combination which I made again for lunch. But I halved the recipe as it was only hubby and myself home for lunch and we had some leftover carrot-pineapple salad with the casserole this time round.
Leave out the Bacon and voila ! you have one tasty side dish to serve with any meat, or take it along to a family gathering.
More Bacon recipes you might like:
Bacon Butternut and Sweet Potato Casserole
Yield: 4 Servings
Bacon Butternut and Sweet Potato Casserole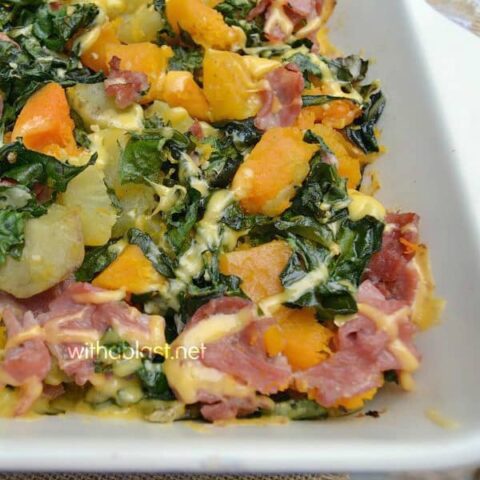 Bacon Butternut and Sweet Potato Casserole is perfect to serve for lunch or dinner - leave out the Bacon and you have a delicious, healthy side dish
Total Time
1 hour
10 minutes
Ingredients
4 Sweet Potatoes, peeled, cubed
1 Medium Butternut Squash, peeled, cubed
4 t Fresh Garlic, crushed
3 TB Olive Oil
Salt and Black Pepper, to taste
6 cups Spinach, chopped
250 g Lean Bacon, roughly chopped ( 8 oz )
1/2 cup Cheddar Cheese, grated
Instructions
) Pre-heat the oven to 180 deg C (350 deg F) – spray a large, deep, 20 x 30cm oven casserole dish with cooking oil
) Combine the Sweet Potatoes and Butternut – transfer to the prepared casserole dish – sprinkle with the Garlic and drizzle over the Olive Oil – season to taste with Salt and Pepper – stir through
) Cover dish with aluminum foil and bake 45 – 60 minutes or until the vegetables are tender – remove from the oven
) Add the Spinach to the casserole and stir through – sprinkle the chopped Bacon over – cover and bake another 10 minutes until the Bacon is fully cooked
) Stir through (or you can leave all the Bacon on top) – sprinkle with the Cheese and return to the oven for 5 – 10 minutes or until the Cheese has melted
Nutrition Information
Yield
4
Amount Per Serving
Calories

437.2
Total Fat

23.4g
Saturated Fat

7.4g
Unsaturated Fat

10.8g
Cholesterol

14.9mg
Carbohydrates

42.6g
Fiber

7.6g
Sugar

7.2g
Protein

24.5g
Serve with a side salad or two and a crusty dinner roll.
LINDA