Amarula Chocolate Caramel Cake with layers of moist (Amarula drenched) cake, caramel and whipped cream, topped with flaked chocolate.
I had a request put in a couple of weeks ago, to please make this Amarula Chocolate Caramel Cake as a birthday cake.
The request had come from my dear daughter, but I have half an idea that she was asked to make this cake originally !
Well, I am not one to say no to anything Amarula ! Combine that with chocolate and caramel in a cake and you have one heavenly treat.
Amarula Liqueur is very popular in South-Africa and I know it is available in other countries as well. Some in stores and others only online.
Oh, and by the way, do try the Amarula Gold (non cream based) as well in a drink ! On the rocks, with sparkling Apple Juice or as is.
Wherever you are, do try to get hold of a bottle. Because the Amarula is really something special ! Nothing else (which I know of) comes even close to the fantastic taste.
Alternative liqueurs for Amarula Liqueur:
If you really can not find any, you can use just about any kind of Cream based Liqueur – think Baileys, Cape Velvet or Kahlua.
This Amarula Chocolate Caramel Cake is very similar to how we also make our traditional, and equally popular, Malva Pudding (which can be made using Amarula too!).
By lightly pricking the baked cake with a fork, might make you think of a poke cake. However, it is not a poke cake in the full sense as there is quite a big difference in pricking and poking.
I have found the original recipe in one of our best known cook books, Kook En Geniet, many years ago. And have tweaked it just a tiny bit over time.
The Amarula Cake is not a high rise cake (although it rises high whilst baking. Therefore be sure to use a deep enough baking tin).
It is more of a bar height, but after you add the Caramel and whipped Cream, it is a fair serving size. As the cake is already rich, you also do not have to cut the cake into the usual cake sized slices, but rather into bars.
When I baked the cake a couple of days ago, my daughter's fiance's birthday was on February 1st, I doubled the recipe and baked two cakes. One Amarula Cake for them to take home, and one for us !
I used a round loose bottom pan for the one cake and a fully lined (baking paper extending over the edges for easy removal after baking) square baking pan for the other cake.
Also, I just about always make my own whipped cream. And in this recipe, I only sweetened the cream lightly, as the Caramel is so very sweet.
Speaking of Caramel – we have ready-made Caramel Condensed Milk available in cans. But I know it is not available everywhere.
Just Google how to make your own Caramel by cooking a can of sweetened condensed milk in either water or in the slow-cooker. Which is how I made it in the 80's, before we had the luxury of the canned Caramel.
More Cake recipes you might like:
Do also check out our Amarula Coffee Dalgona Cocktail !
Connect with us :
PINTEREST TWITTER FACEBOOK INSTAGRAM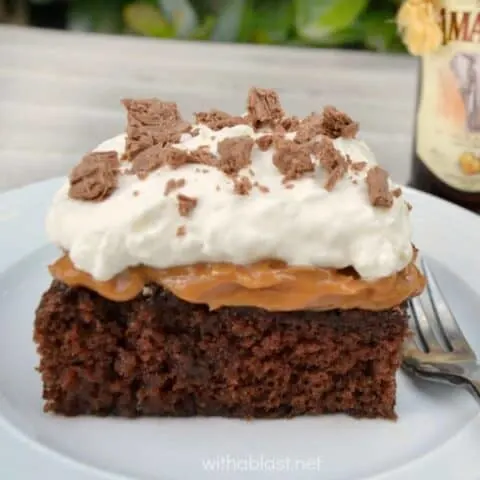 Amarula Chocolate Caramel Cake
Amarula Chocolate Caramel Cake with layers of moist (Amarula drenched) cake, caramel and whipped cream, topped with flaked chocolate
Ingredients
CAKE:
1/3 cup Cocoa Powder
1/2 cup Boiling Water
3 Extra-Large Eggs
1 cup (minus 2 tablespoons) Sugar
1/4 cup Vegetable Oil
1 1/4 cup Flour
2 t Baking Powder
1/2 t Salt
AMARULA SYRUP:
3/4 cup Sugar
3/4 cup Water
1/4 cup Amarula Liqueur
TOPPING:
1 can (397g) Caramel Condensed Milk
2 cups Whipped Cream, (homemade or store-bought)
1 bar Flake Chocolate, crumbled (or similar)
Instructions
Pre-heat the oven to 180 deg C (350 deg F) – spray and line a 24 cm (9 inch) cake pan (see post for suggestions)
Combine the Cocoa and the Boiling Water – stir until the Cocoa has dissolved and the mixture is smooth – set aside to cool
Beat the Eggs, Sugar and Oil until thick and creamy – add the cooled Cocoa mixture and beat another minute
Sift the Flour, Baking Powder and Salt – add to the Egg mixture and beat until well combined – pour into the prepared cake pan and bake 20 – 25 minutes or until a tester comes out clean
AMARULA SYRUP:
Make the Syrup 5 minutes before the end of the baking time – boil the Sugar and Water together for 4 – 5 minutes, stirring regularly – remove from the heat and stir in the Amarula
As soon as the cake is done baking, prick several times with a fork – pour over the hot Amarula syrup and let cool completely in the pan
Remove the cake from the pan and transfer to a serving plate
TOPPING:
Scoop over the Caramel, top with the Whipped Cream and sprinkle over the Flake Chocolate
Notes
All images and text are copyrighted ©With A Blast by ©Linda Nortje
If you want to share my recipe anywhere, please re-write the recipe in your own words or simply link back to this post for the recipe
No content may be shared in violation of our Terms of Service without prior written consent
Nutrition Information
Yield

12
Serving Size

1 Slice
Amount Per Serving
Calories

225
Total Fat

9g
Saturated Fat

3g
Trans Fat

0g
Unsaturated Fat

6g
Cholesterol

56mg
Sodium

204mg
Carbohydrates

29g
Fiber

1g
Sugar

17g
Protein

4g
Nutrition value is not always accurate
Serve and enjoy !