Caramelized Onion and Blue Cheese Quiche – This Quiche makes a wonderful meatless main dish, light dinner, lunch or a side dish served with just about any kind of Meat/Poultry.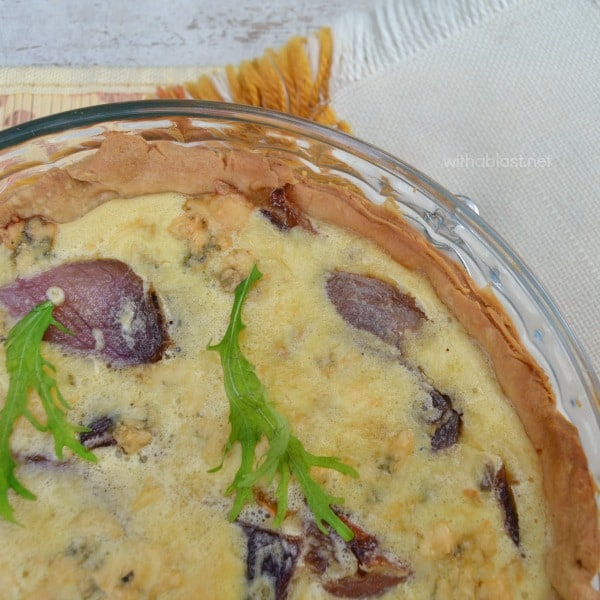 This Caramelized Onion and Blue Cheese Quiche is an absolute winner ! You can either serve it as a meatless Monday meal with a salad or two, or you can enjoy the Quiche as a side dish.

I have made the Quiche several times over the last month or two and we just enjoy it more and more each time.
Around three or four weeks ago, I made one specifically to share on the blog, but had an unfortunate kitchen mishap before I could even take a photo of the baked Quiche !
The mishap, happened to be me (having the Quiche in hand) by meeting the tiled kitchen floor on hands and knees !
To make a long story short (well, it really is a short story) – I tripped over my grand-dog, Nahla !  Quiche flying with the glass dish shattering into a thousand pieces, me with a busted knee, two thumbs out of their sockets and a nice, deep, bleeding cut on my hand.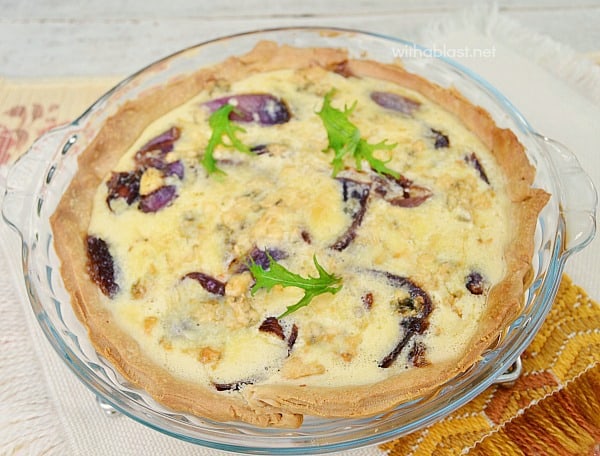 I was so upset – did not really worry about my cuts and bruises at the time, but my dish and the Quiche ! Right, by the next morning I had pains and aches in places I did not even know could hurt. And that's the end of the story ..
This Caramelized Onion and Blue Cheese Quiche is so creamy and tasty.  I could almost have it every second day – either as a main dish, or a side dish, I am not picky.
Now and then I add in some cooked, shredded Bacon, which gives the Quiche a little more taste and makes it a bit richer as well.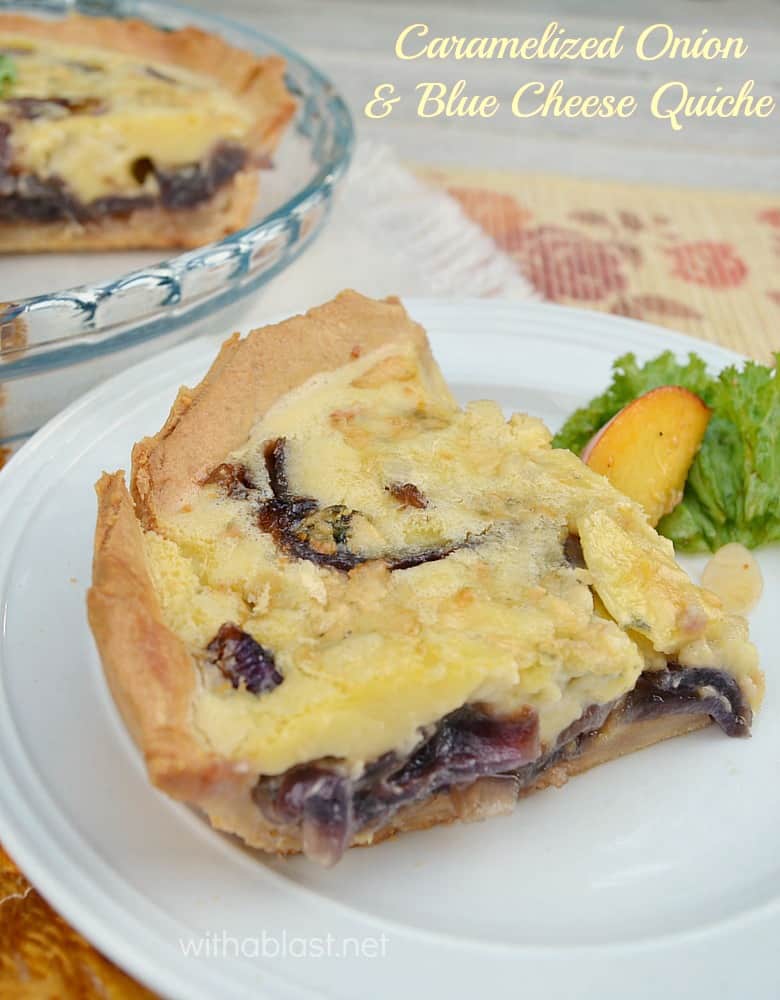 I am adding a photo below of the KNORR packet which I used in this recipe, in case it is not available, or known, to you. At least you will have an idea of what to look for to substitute the packet with.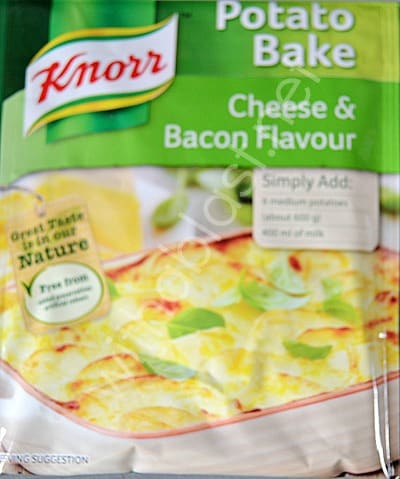 Although the Quiche should be served warm, it is delicious when cold as well. On hot Summer days, I actually prefer to serve the Quiche cold with a crunchy side salad for lunch or even an early light dinner – which we so love here in SA.
Caramelized Onion and Blue Cheese Quiche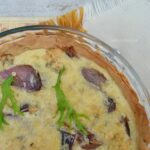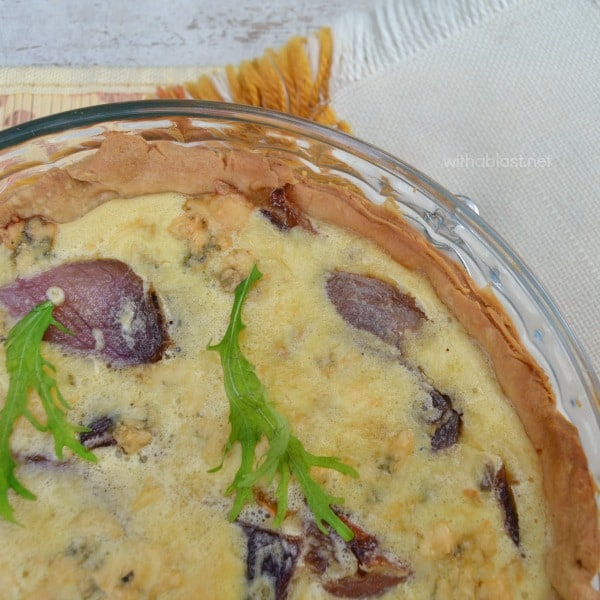 Caramelized Onion and Blue Cheese Quiche
Caramelized Onion and Blue Cheese Quiche - This Quiche makes a wonderful meatless main dish, light dinner, lunch or a side dish served with just about any kind of Meat/Poultry
Course:
Light Dinner, Lunch, Side Dish
Ingredients
1

roll

Frozen Short Crust Pastry

defrosted

2

TB

Olive Oil

extra virgin

4

Red Onions

quartered

1

TB

Brown Sugar

2

extra-large

Eggs

3/4

cup

Fresh Cream

( double cream )

1/2

cup

Milk

1

packet

KNORR Cheese and Bacon Potato Bake

( or sub for similar )

1/3

cup

Blue Cheese

crumbled
Instructions
Pre-heat the oven to 180 deg C (350 deg F) – spray a 24cm ( 10 inch ) quiche or pie dish with cooking oil

Roll out the Pastry and roll a little bigger to fit into your dish – position on the base and up the walls of the dish – cut away any excess pastry – prick the Pastry several times with a fork – bake 15 minutes

Heat the Oil over medium heat – saute the Onions until loose and soft – stir in the Sugar and cook until caramelized (2 – 3 minutes) – remove from heat.

Remove the half baked Pastry from the oven – arrange the Onions on the base

Beat together the Eggs, Cream, Milk and sachet of KNORR Potato Bake in a medium bowl – pour over the Onions in the dish

Sprinkle over the Blue Cheese – bake a further 30 – 35 minutes or until the center of the Quiche has set

Remove from the oven – let stand at least 10 minutes before slicing into servings
LINDA
You Might Also Like: