BEST Avocado Muffins are ideal for breakfast, brunch, lunch or a tea-time treat ! All that's needed is a bit of Butter and you are set !
I am such a huge avocado lover! If I had to choose only a couple of fruits or vegetables to live on for the rest of my life, avocados will most definitely be number one.
These muffins are honestly the Best Avocado Muffins I have had as in ever !

Not only do they taste fantastic, the muffins also look scrumptious with a light greenish color. Not that off-putting green which the kids hate so much, this is more like a pastel color.
I like the Avocado Muffins best warm, with only butter spread (slathered!) over, but a thin slice of Gouda cheese is also nice to enjoy with the muffins.
If you are wondering whether it is a savory or sweet muffin, I would definitely tell you a sweet muffin. But not in the sense of a dessert muffin, like a chocolate chip or strawberry muffin.
These Avocado Muffins are more suited for breakfast, brunch, the lunch box or as a treat at tea-time. Oh, yes, now that I think of it, 100% a must have treat at tea-time !
The best Avocados to use, are the ones just ready to eat. Not still hard and tasting like water, but also not over-ripe. Over-ripe Avocados will give the muffins more of a bitter taste and the color is also not very appetizing.
These are now the really over-ripe, already blackened flesh inside, ripe. Any ripe Avocado, which you can easily mash would be just fine.
*The recipe yields 12 – 18 muffins, 18 regular sized, but I prefer to make them a little larger, sort of fill the muffin holes to almost the top and let them bake a little over the muffin hole edges – be sure to spray the top of the muffin pan also with cooking oil if you decide to make the huge ones.
BEST Avocado Muffins
Yield: 18 Muffins
Best Avocado Muffins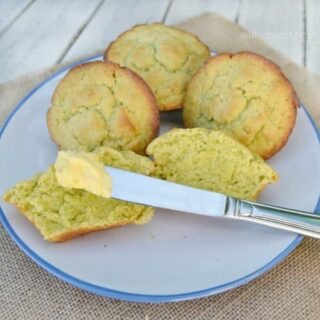 BEST Avocado Muffins are ideal for breakfast, brunch, lunch or a tea-time treat ! All that's needed is a bit of Butter and you are set !

Prep Time 10 minutes

Bake Time 30 minutes

Total Time 40 minutes
Ingredients
3 cups Flour
1 t Salt
1 TB Baking Powder
1 cup Sugar
1/2 cup Unsalted Butter, softened
2 ripe Avocados, peeled and roughly chopped
2 Eggs
1 cup Milk
2 TB Lemon Juice
Instructions
Pre-heat the oven to 200 deg C (400 deg F) – spray 1 or 2 muffin pans with cooking oil (12 – 18 holes, depending on the size you want baked)
In a medium mixing bowl, sift together the Flour, Salt, Baking Powder and Sugar
Add the Butter to the dry mixture and rub in until it resembles crumbles
Place the Avocados, Eggs, Milk and Lemon Juice in a blender – blend until creamy and smooth – stir into the Flour mixture until just mixed
Fill the muffin holes either 2/3 or almost to the full mark – bake 25 – 30 minutes or until done and golden brown
Remove from the oven – let cool in the muffin pan/s for 10 minutes
Recommended Products
As an Amazon Associate and member of other affiliate programs, I earn from qualifying purchases.
Nutrition Information
Yield
18

Amount Per Serving

Calories 202.6 Total Fat 9g Saturated Fat 4g Trans Fat 0g Unsaturated Fat 5g Cholesterol 35.8mg Sodium 226mg Carbohydrates 28.5g Fiber 2g Sugar 11.9g Protein 3.6g

Nutrition value is not always accurate

Serve immediately with butter. Unlike most muffins, these Avocado Muffins keep well in a sealed container for up to 36 hours after baking.
LINDA