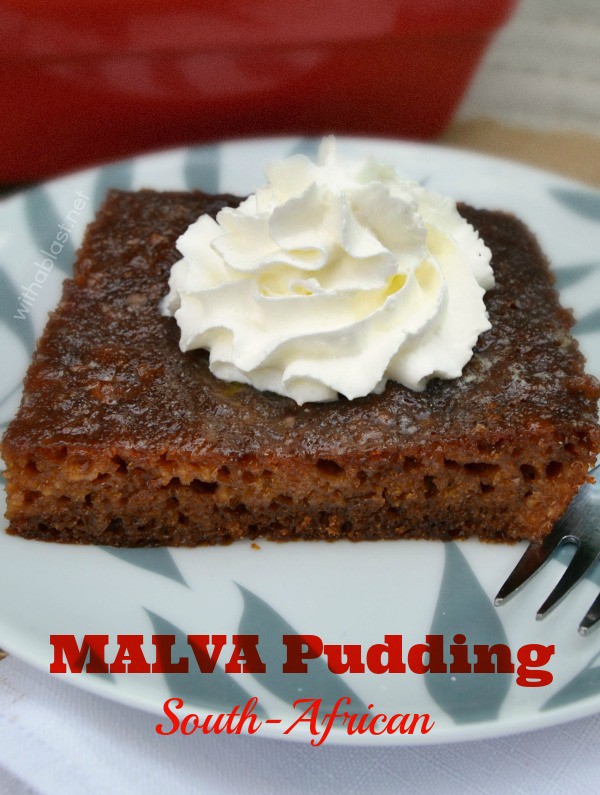 Malva Pudding is as South-African as you can get ! I grew up on this, usually as a Sunday dessert at my Granny's house. Absolutely love it and it is hands down the best pudding ever.

The pudding is a dark, shiny, sticky, sweet dessert, which is best enjoyed hot with whipped cream, custard or ice-cream. But, if there happens to be a leftover piece the next morning – enjoy cold – it will be toffee-ish and pure delight. You can slice it into small cubes, fingers or any shape and add a small piece to the kids, and your own, lunch.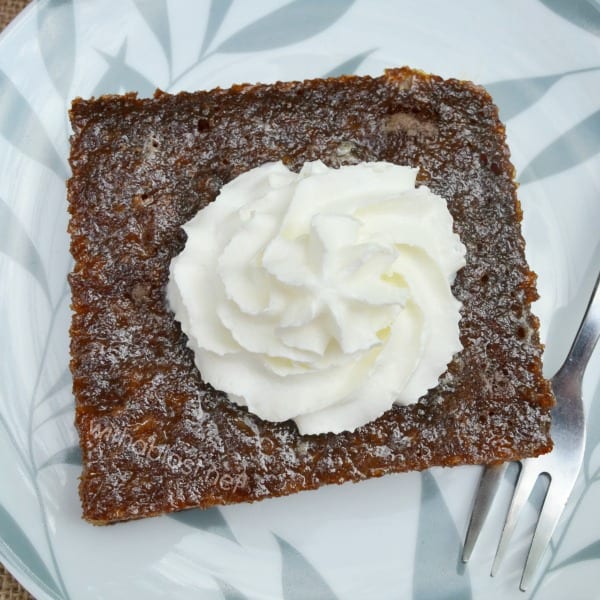 If you see a supposed-to-be Malva Pudding and it does not have this distinct, dark color and is sticky to the touch, it is not a true traditional Malva Pudding !
Looking at the simple, everyday ingredients, you would never think this dessert would turn out the way it does, or be so high in demand. It is all standard pantry ingredients, with not even one weird ingredient, therefore this dessert can be enjoyed world wide and you can have a taste of Africa wherever you are.
I have to stress out that the single most important ingredient in a Malva Pudding, is the addition of the Apricot Jam – the finest, smoothest you can get. Without this, it will not brown as much, not be that sticky and definitely not taste the way it should.
This is also the only dessert Roy orders at any restaurant who have it on their menu – with whipped cream! Lightly sweetened or unsweetened cream is best as the dessert is sweet.
Malva Pudding (South-African)
Slightly adapted from: Springbok Kitchen
6 – 8 Servings
INGREDIENTS:
1 cup Caster Sugar
2 Extra-Large Eggs
1 1/2 TB Smooth Apricot Jam
1 1/4 cup Flour
1 t Baking Soda
Pinch Salt
2 TB Butter
1 t Vinegar
1/2 cup Milk
Sauce:
1 cup Fresh Cream (whipping cream – but do not whip)
1/2 cup Butter
1/2 cup Sugar
1/2 cup Water
DIRECTIONS:
1.) Pre-heat the oven to 180 deg C (350 deg F) – Spray a 20 x 30cm ( 9 x 13 inch ) oven dish with cooking oil.
2.) Beat the Caster Sugar and Eggs together until fluffy – add the Apricot Jam and beat until smooth.
3.) Sift together the Flour, Baking Soda and Salt in a separate bowl.
4.) Melt the Butter and add the Vinegar and Milk – stir to combine.
5.) Add the Milk and Flour mixtures alternately to the Egg mixture – beat until just smooth.
6.) Pour batter into the prepared oven dish and bake 40 – 45 minutes (it will go quite dark when done)
7.) Just before the pudding finish baking – heat the Cream, Butter, Sugar and Water over medium heat until the Butter is melted and the Sugar has dissolved.
8.) As soon as the pudding is out of the oven – pour the sauce over the hot pudding and let stand 5 – 10 minutes before serving.
I really hope you enjoy this pudding ! The dessert slices perfectly and glides out easily from the oven dish and will keep it's shape well.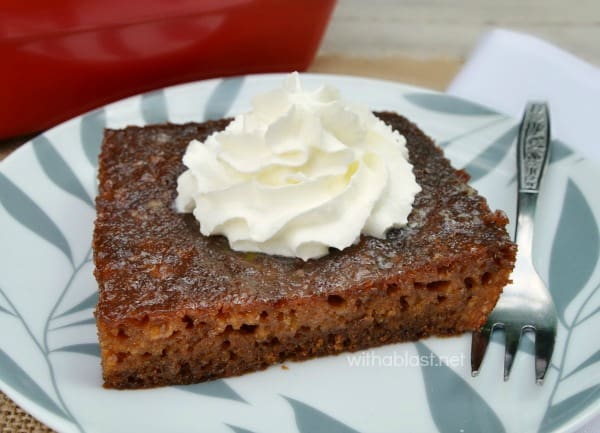 LINDA