Most amazing filling in these Vietnamese Chicken Filled Pancakes (more like a crepe) and can be used as a filling in wraps, rolls etc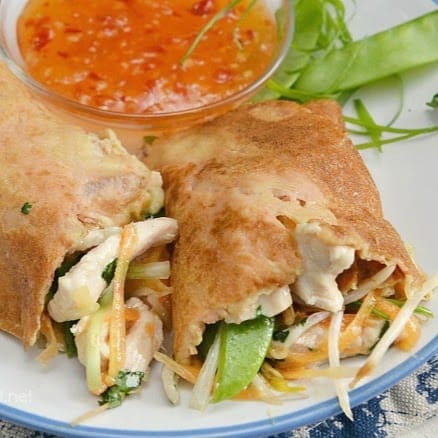 These Vietnamese Chicken Filled Pancakes (or rather crepes) are to die-for-delicious ! The filling is absolutely outstanding and the pancakes are definitely something else.
A note before we dig in deeper : In SA our pancakes are more of a crepe as we usually have them filled, rolled up, with either a sweet or savory filling.
The filling on it's own is just as delicious and we have had it several times, with the Coconut Pancakes, in a Tortilla and in a wholewheat roll.
Leftovers (which only happened once !) make an instant Chicken salad, especially if you add a handful or two of lettuce leaves.
I will be honest, Pancakes are a problem every time we make them ! Yes, we, as hubby has to do the cooking of the Pancakes.
I have never had the patience to properly learn how to cook pancakes to perfection. And truthfully, hubby is not much better at it (no, he won't mind me telling you !).
Now, the Pancake recipe we used here, is very, very fragile, but so delicious ! I was not sure whether to post the full recipe or only the filling – the filling is really amazing.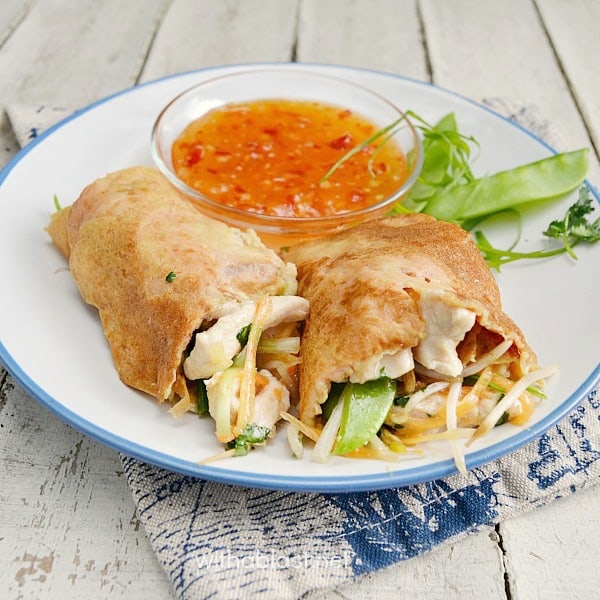 But, after running it through my very busy mind a couple of times, I thought I'll share the Pancake recipe anyway.
Because it tastes wonderful, the only drawback is that the Coconut/Turmeric Pancakes break easily.
Now, I already admitted that we are real bad with cooking Pancakes, and that might be the whole problem and not the recipe itself.
With the pancakes or not ?
Therefore, I will leave it up to you to decide whether you want to try the recipe for the Pancakes or only the Vietnamese Chicken filling.
And, please, if you are great at cooking Pancakes and you see something which might cause the Pancakes to break, let me know, because it is very tasty, fragile or not.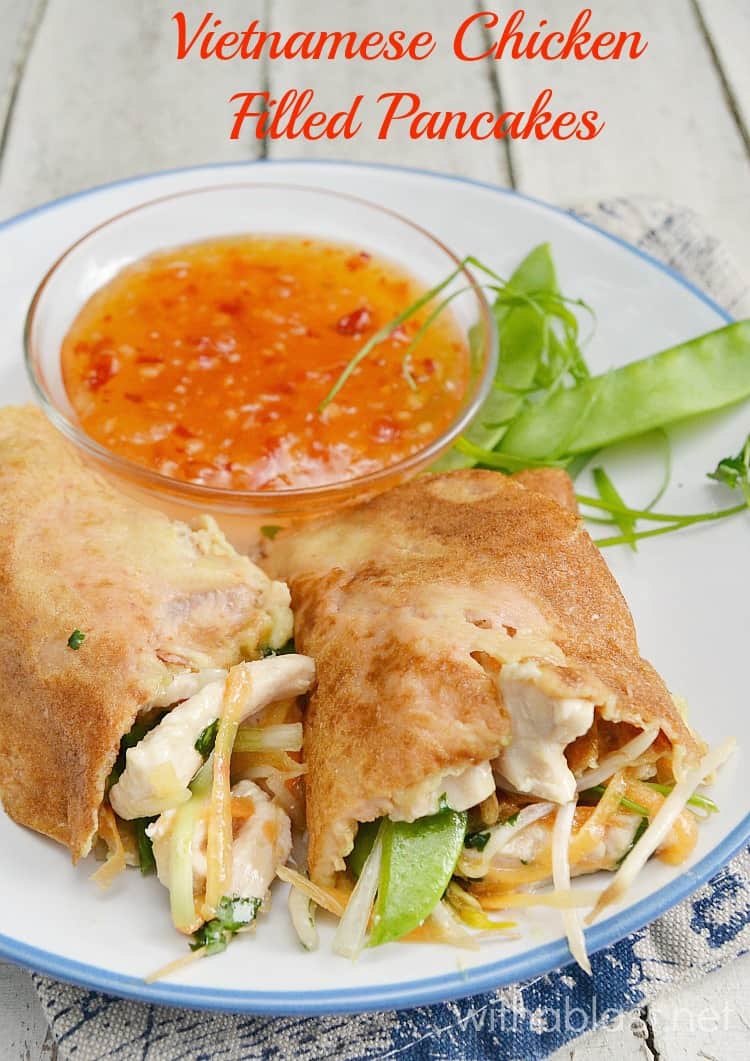 Right, I hope I have not talked you right out of trying the Pancake recipe. However, whichever way you decide, do try the filling, I can not begin to tell you how amazing it really is.
More Chicken recipes you might like:
Connect with us :
PINTEREST TWITTER FACEBOOK INSTAGRAM
Vietnamese Chicken Filled Pancakes
Yield: 6 Servings
Vietnamese Chicken Filled Pancakes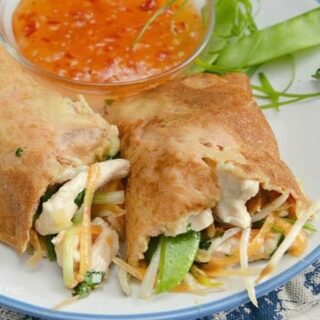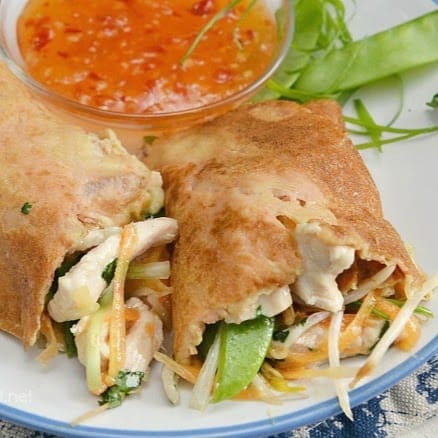 Most amazing filling in these Vietnamese Chicken Filled Pancakes (more like a crepe) and can be used as a filling in wraps, rolls etc
Batter Standing Time
20 minutes
Ingredients
PANCAKES (Crepes):
1 cup Flour
1/4 t Turmeric
1/2 t Baking Soda
1 t Salt
1 can (400 g) Coconut Milk
1/2 cup Milk
1 Large Egg
Oil, for frying
FILLING:
1 TB Vegetable Oil
3 Chicken Fillets, sliced into strips
2 TB Oyster Sauce
2 TB Sweet Chili Sauce
1 Carrot, peeled and grated
4 Spring Onions, chopped or julienned
1 cup Snow Peas (Sugar Snap Peas/Mangetout)
1/2 cup Chinese Bean Sprouts
1/2 cup Fresh Cilantro or Parsley, chopped
Instructions
Pancakes:

Combine the Flour, Turmeric, Baking Soda and Salt in a bowl

Beat together the Coconut Milk, Milk and Egg – beat into the Flour mixture and leave to stand 20 minutes

Filling:

Heat the Oil in a large pan – cook the Chicken until done – add the Oyster Sauce and the Sweet Chili sauce – season with Salt and Pepper if necessary

Transfer the Chicken to a large mixing bowl – add all the remaining ingredients and mix well

Heat a little Oil in a non-stick pan and add a ladle of

Pancake

mixture – cook both sides – repeat until all batter has been used (you should have 12 pancakes)



Fill each Pancake with Chicken filling and gently roll-up
Nutrition Information
Yield
6
Serving Size
2 Filled Pancakes
Amount Per Serving
Calories

262.4
Total Fat

9.4g
Saturated Fat

5.7g
Unsaturated Fat

1.9g
Carbohydrates

23.4g
Fiber

1.9g
Sugar

5.1g
Protein

22.3g
Nutrition value is not always accurate
Serve warm or cold with extra Sweet Chili Sauce on the side for dipping.
LINDA