Strawberry Cream Pastries are so easy to make, and they are perfect to serve as a Valentine's Day treat, Mother's Day or as an everyday dessert.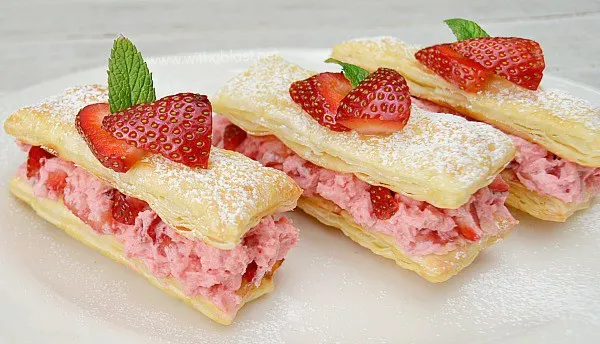 These dreamy looking Strawberry Cream Pastries are so quick and easy to make. Not to mention the delicious, and very popular, cream filling.
This is perfect to serve on Valentines Day ! And the golden, flaky Pastry with the simple, yet divine, Strawberry Cream Filling, work together fantastically.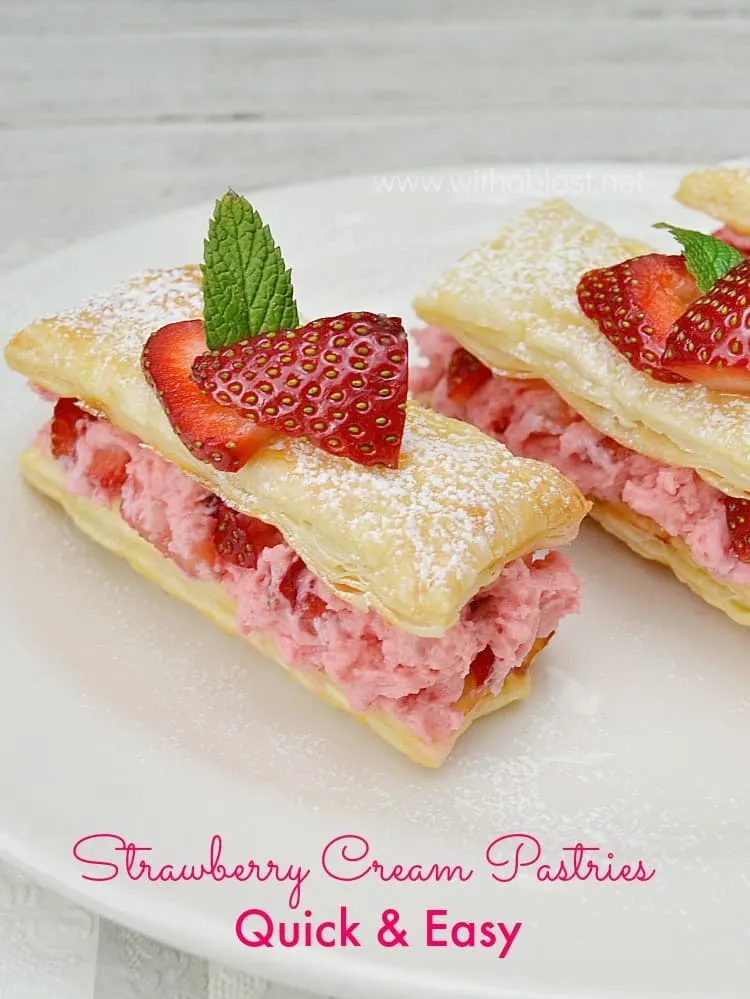 You can bake the Pastry in advance and keep in a sealed container until close to serving time.
The Filling for these Strawberry Cream Pastries, is also very quick to make. But keep in mind that the mixture sets, or rather thickens, quite quickly.
Have your baked Pastries ready when you start with the filling. Because by the time the fresh Strawberries are stirred into the creamy pudding mixture, it will already start to set.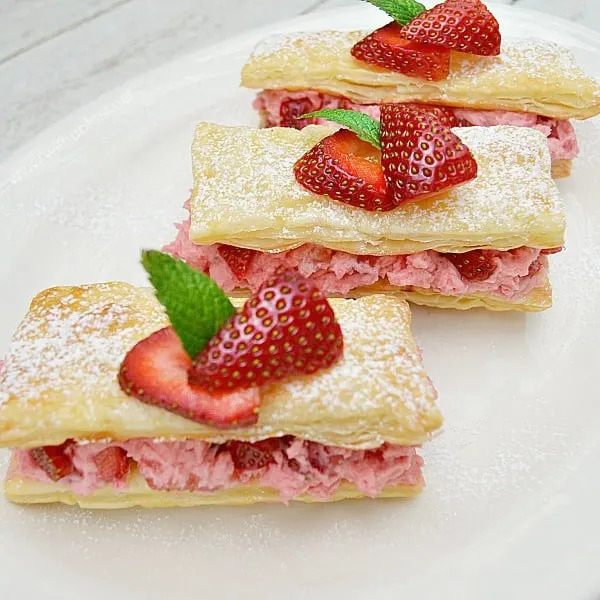 Fortunately, because of the quick setting, the baked Pastries will not get soggy and if kept in the refrigerator.
They will keep well for 2 – 3 hours (maybe longer, but I have never made them that far in advance).
The final touches can be left for last as it only takes an extra 3 – 4 minutes to dust with Icing Sugar, arrange some Strawberry slices and a Mint leaf or 2 on top of the Strawberry Cream Pastries.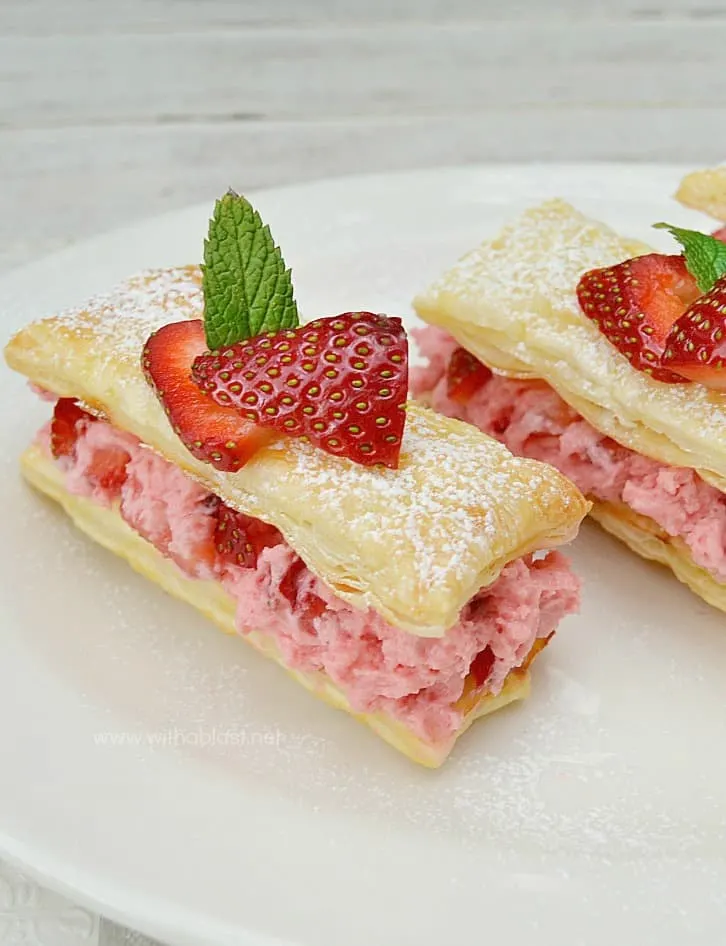 More Sweet Treat recipes you might like:
Connect with us :
PINTEREST TWITTER FACEBOOK INSTAGRAM
Strawberry Cream Pastries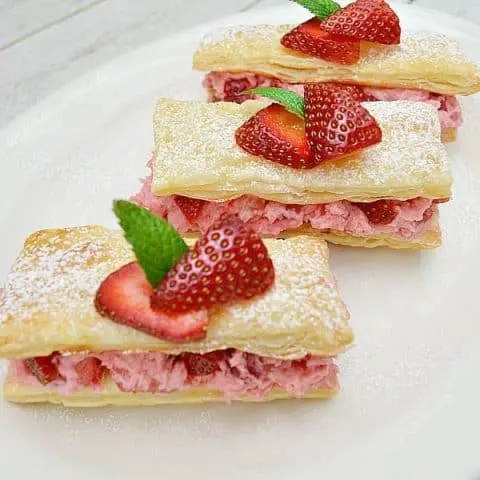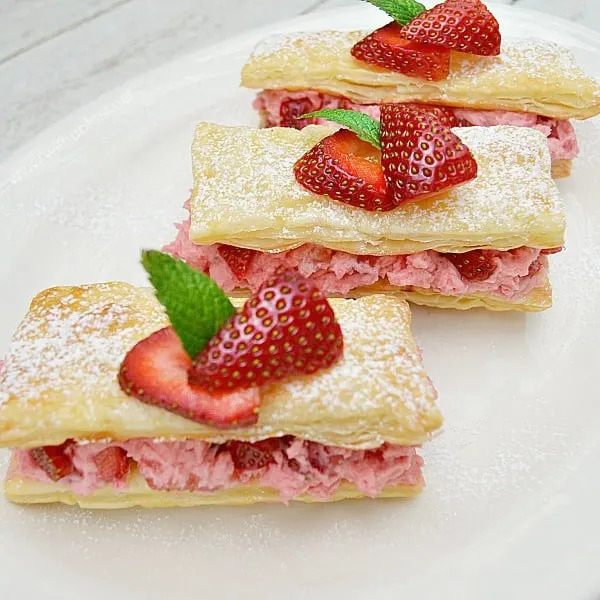 Strawberry Cream Pastries
Strawberry Cream Pastries are so easy to make, and they are perfect to serve as a Valentine's Day treat, Mother's Day or as an everyday dessert.
Ingredients
PASTRIES:
1 roll Frozen Puff-Pastry, defrosted
1 Egg
2 TB Milk
1 TB Caster Sugar (Superfine Sugar)
FILLING:
1 box Strawberry Instant Pudding, ( 4 servings size )
1/4 of the Milk, required as per the Pudding box
1 cup Fresh Cream, ( whipping cream )
1 cup Fresh Strawberries, chopped
TO DECORATE:
Icing Sugar, for dusting (Powdered Sugar )
Fresh Strawberries, sliced ( optional )
Mint Leaves, ( optional )
Instructions
PASTRIES:
Pre-heat the oven to 200 deg C (400 deg F) line a baking sheet with baking paper
Unroll the Pastry – slice lengthwise in half – slice each half in 2.5cm (1 inch) slices and place on the baking sheet
Whisk together the Egg and Milk – brush over the Pastry slices – sprinkle with Caster Sugar and bake 12 – 15 minutes or until puffed and golden – remove from oven – transfer to a cooling rack and cool completely
FILLING:
Prepare the Pudding with the Milk in a small bowl
Beat the Cream until stiff peaks form – fold in the Pudding Mixture and mix until combined
Stir in the chopped Strawberries – immediately scoop onto half of the baked Pastries – top with the remaining Pastries
TO DECORATE:
Dust with Icing Sugar and decorate with Strawberry slices and Mint (if using)
Nutrition Information
Yield

8
Serving Size

1 Pastry
Amount Per Serving
Calories

320
Total Fat

15g
Saturated Fat

9g
Unsaturated Fat

6g
Carbohydrates

31.2g
Fiber

1.2g
Sugar

5g
Protein

5.8g
Nutrition value is not always accurate
Best served immediately after filled.
LINDA
Don't forget to PIN to your favorite Desserts Pinterest board !