Waffle S'mores For Dessert (open-face style) ! Gooey, sweet, syrupy and so easy to make with only a few standard pantry ingredients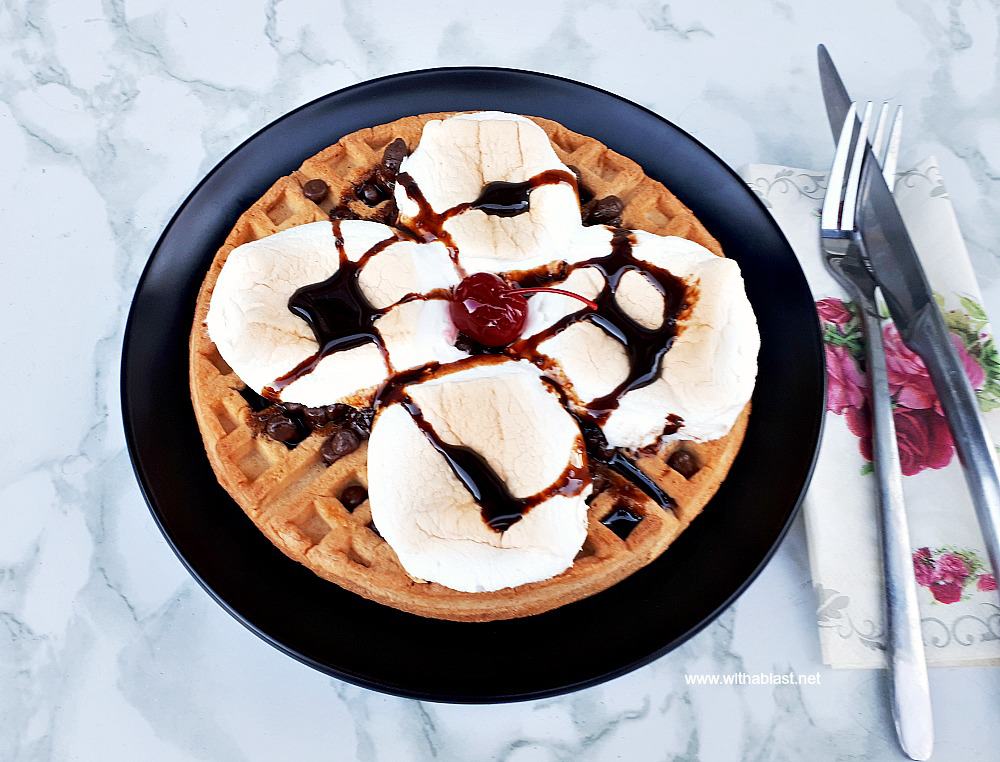 A Couple of weeks ago, I was seriously craving a sweet treat. And the sweeter, the better ! These Waffle S'mores For Dessert did the trick and everyone loved them.
As I am still on my diet, I waited to see if the craving would disappear. No luck, so I decided it is time for a break-out treat !
Which, believe me, I do not let happen very often, or even often, I should say. Also, I only had half of mine but the rest of my family polished theirs off in no time !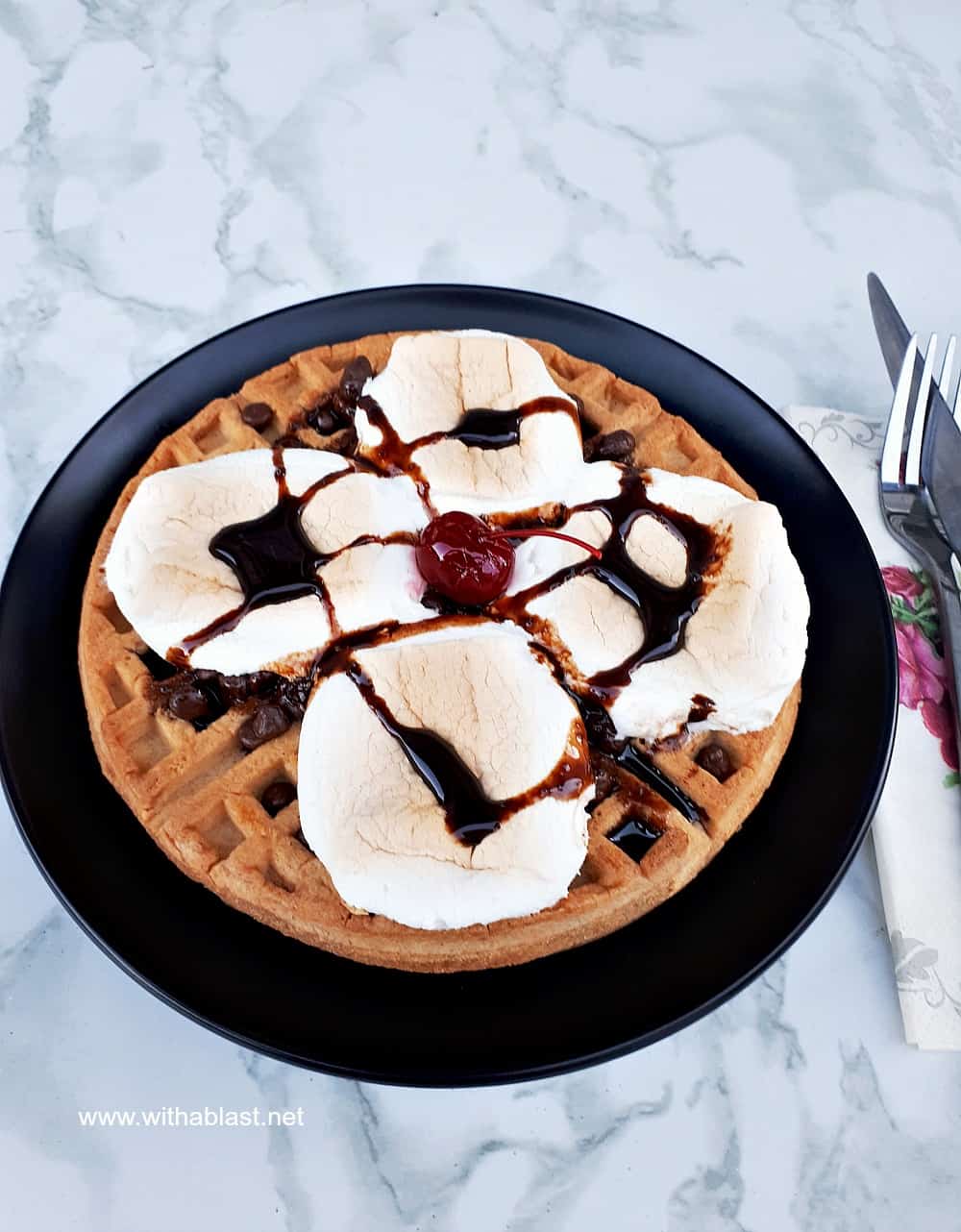 The Chocolate Chips melted, but some of the pieces kept it's shape. Once touched the pieces burst open. At first I though maybe I am using too little Chocolate Chips, but it is more than enough as per the recipe.
Marshmallows is a sweet thing by itself, combine them with Chocolate Chips and Chocolate Syrup and you are in for an overload of sweetness.
If you feel that 4 Marshmallows are too much, use less, or use the mini Marshmallows. But only add them then to the Waffles during the last 3-4 minutes as the minis puff much quicker.
And besides you do not want burnt "s'mores" !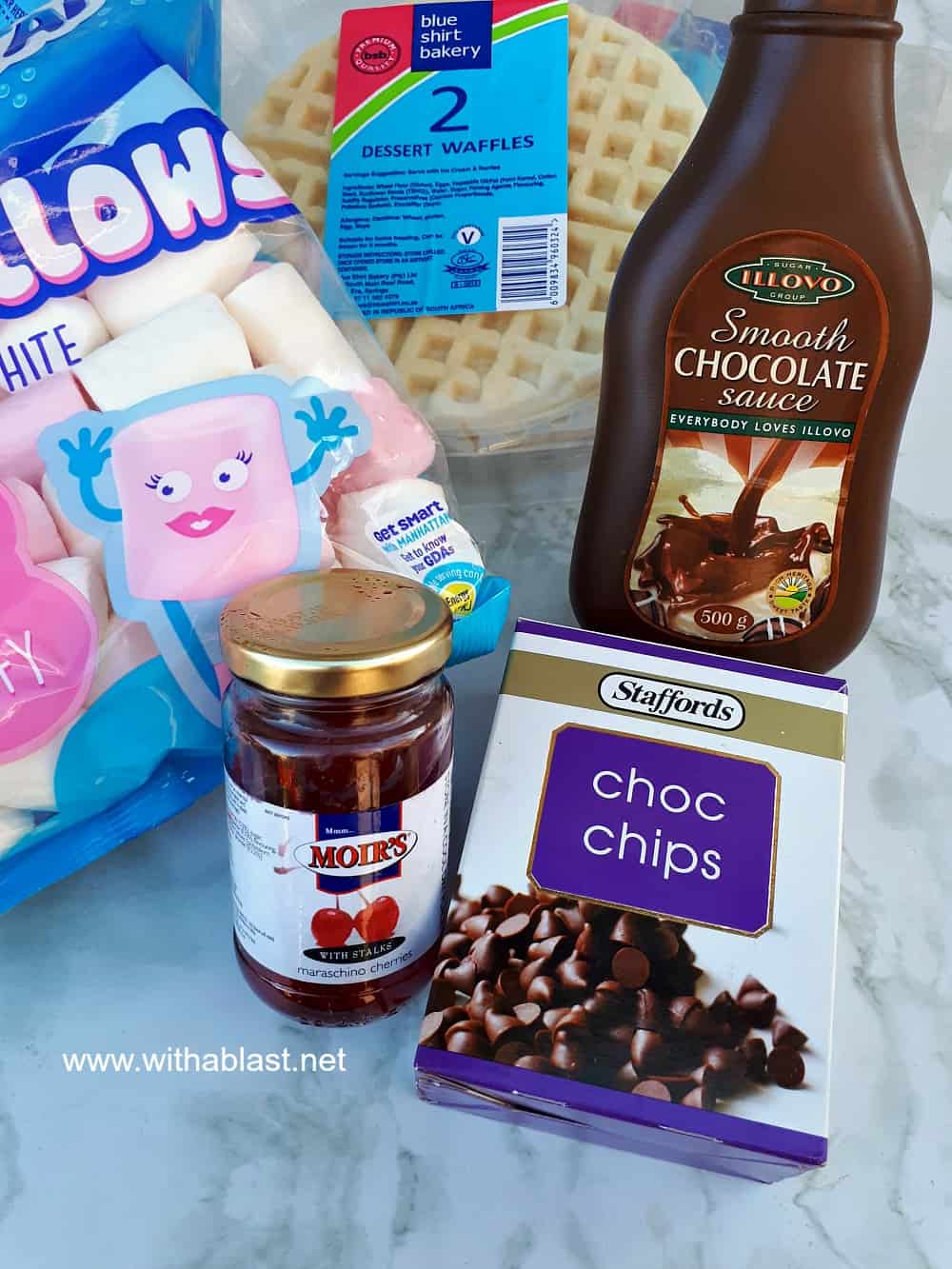 What do you need to make Waffle S'mores ?
Defrosted, cooked Waffles
Chocolate Chips
Marshmallows
Chocolate Syrup
Maraschino Cherries
The Maraschino Cherries can be substituted with any kind of fresh fruit in season. I prefer Maraschino Cherries as I am totally in love with them !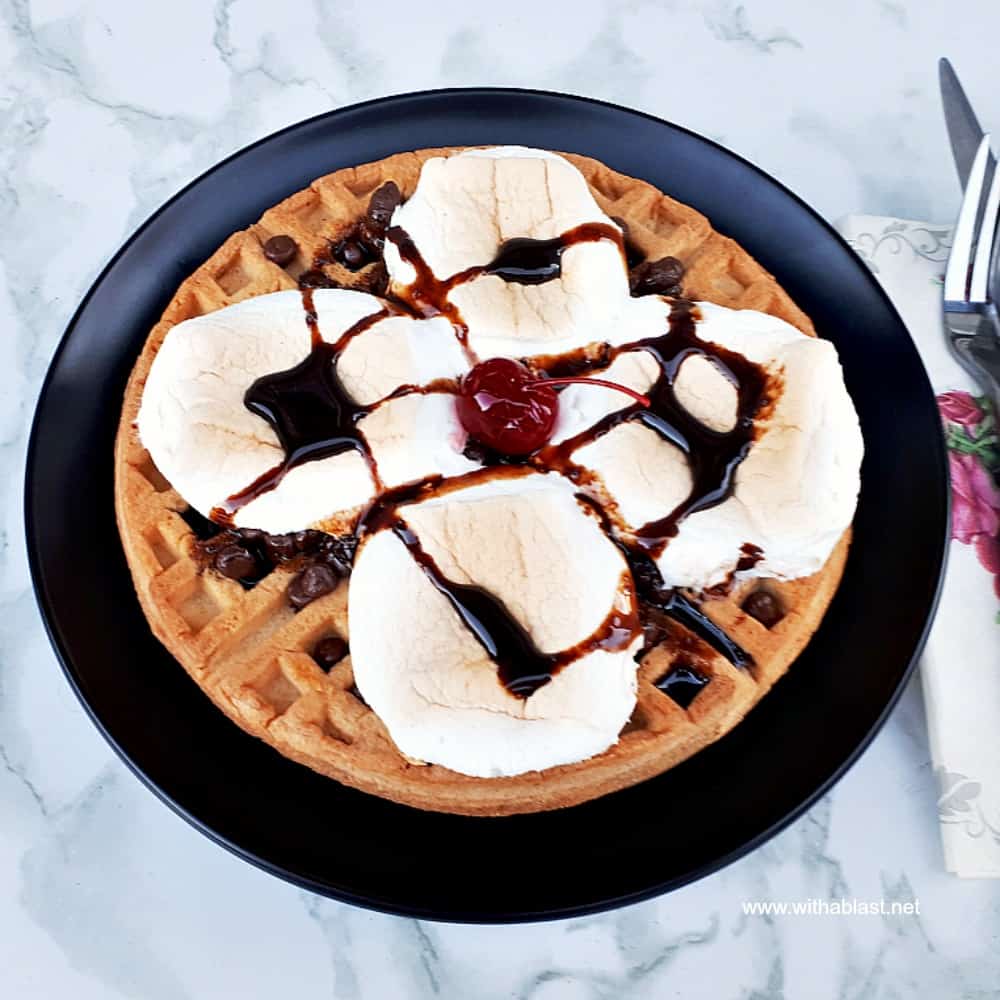 These Waffle S'mores for dessert reminded me of the first time I had been to a Dessert only restaurant when vacationing in Kwazulu Natal.
At the time, waffles for dessert was quite new to me. This was just after we got married, so yes, a long time ago.
I was amazed at the toppings one could choose, never mind all the different flavored syrups which were on the dining tables. Like with a normal restaurant where they have mustard and ketch-up etc. Well, here it was just sweet syrups instead.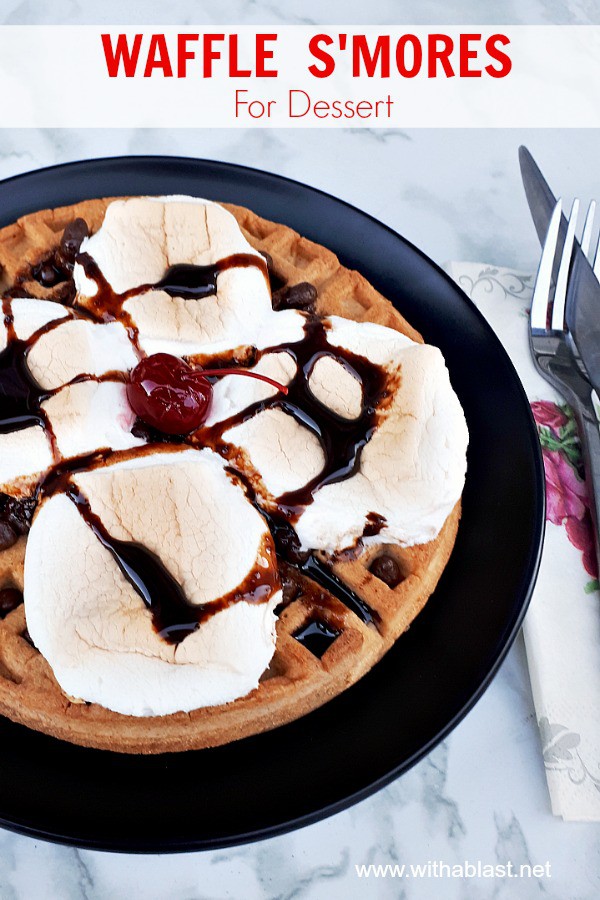 After that first experience, I started to stock up on sweet syrups, different types of toppings and of course, ice-cream ! Waffles with ice-cream is and will always be my favorite type of waffle.
This was the first time I made Waffle S'mores, but seeing as how much my family loved them, I will definitely make them more often. And besides, S'mores, served in any way, is an all seasons dessert, right ?
As you can see from the video, we are very new in making videos. But, as they say, with practice comes perfection !
More Sweet Treat recipes you might like:
Waffle S'mores For Dessert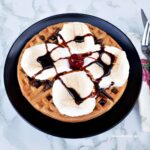 Waffle S'mores For Dessert
Waffle S'mores For Dessert (open-face style) ! Gooey, sweet, syrupy and so easy to make with only a few standard pantry ingredients
Keyword:
dessert-waffles, smores, smores-waffles
Ingredients
4

Frozen Dessert Waffles

defrosted ( the already cooked type )

1/2

cup

Chocolate Chips

16

Marshmallows
TO SERVE:
1/4

cup

Chocolate Sauce

( homemade or store-bought )

4

Maraschino Cherries
Instructions
Pre-heat the oven to 190 C (375 F) - line 2 baking sheets with baking paper and place the Waffles on the baking sheets

Divide the Chocolate Chips between the Waffles - arrange 4 Marshmallows (per Waffle) over the Chocolate Chips - bake 5 - 8 minutes or until the Marshmallows are puffed

Remove from the oven and slightly press down on the puffed Marshmallows
TO SERVE:
Drizzle with Chocolate Syrup and top with a Maraschino Cherry
Recipe Notes
As frozen Waffle brands differ, you might need to pre-bake the Waffles a couple of minutes
One Dessert Waffle is more than enough for an adult, but you can half or even quarter the Waffles for younger kids
LINDA
Linking Up at: WEEKEND POTLUCK – Sweet Little Blue Bird