Lemon Cream Puffs are light and flaky, filled with a divine Lemon Cream. Can be as zesty as you prefer ~ another quick, easy but scrumptious dessert Pastry !
Light, flaky with a light, zesty cream filling ! These Lemon Cream Puffs are right up my taste buds and they are so easy to make.

Obviously the delicious cream filling is not supposed to leak out as in the photo, but me showing you these pics actually serve two points I am trying to make.
One being, can you see that Lemon Cream ? Yes, you can now… Two : once the pastry has baked, cooled and you are ready to add the cream, all you do is use a sharp knife and gently slid in between the baked layers (more or less in the center).
Ever so lightly push the two sides a little towards each other – a little pocket will open up and now you can use an icing tube/bag/bottle or even a teaspoon to add your filling and push it to the center.
Then simple close the opening and Voila ! All done.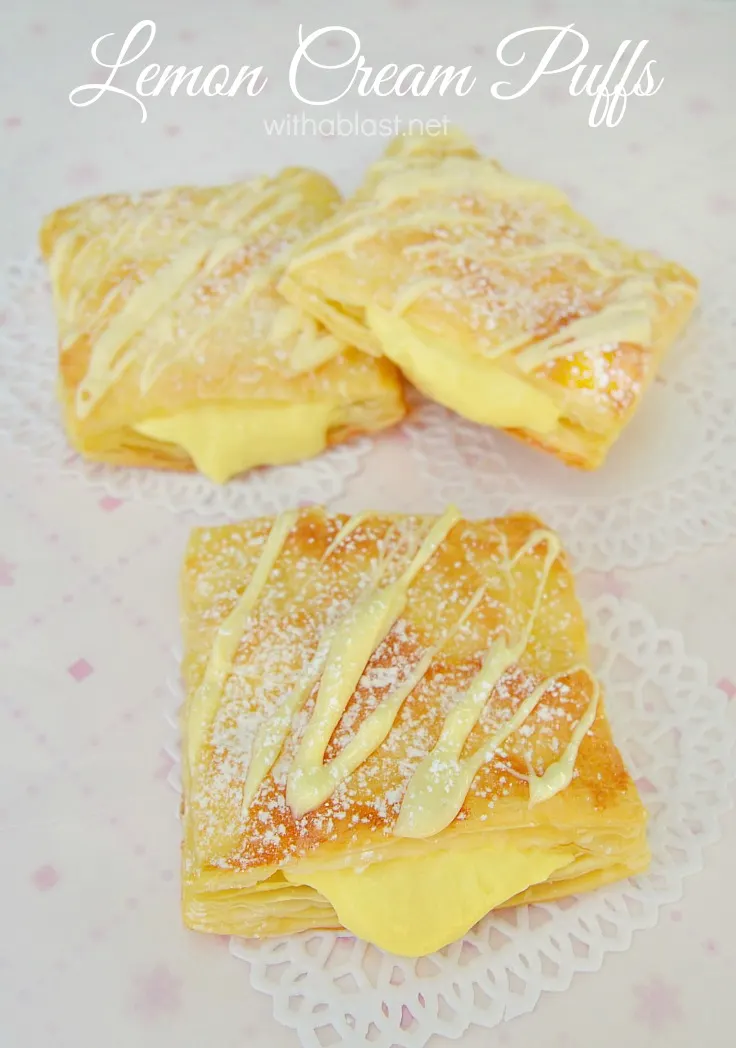 These Lemon Cream Puffs are exactly as light, flaky and airy as seen on the above photo. And the creamy filling is just to die for !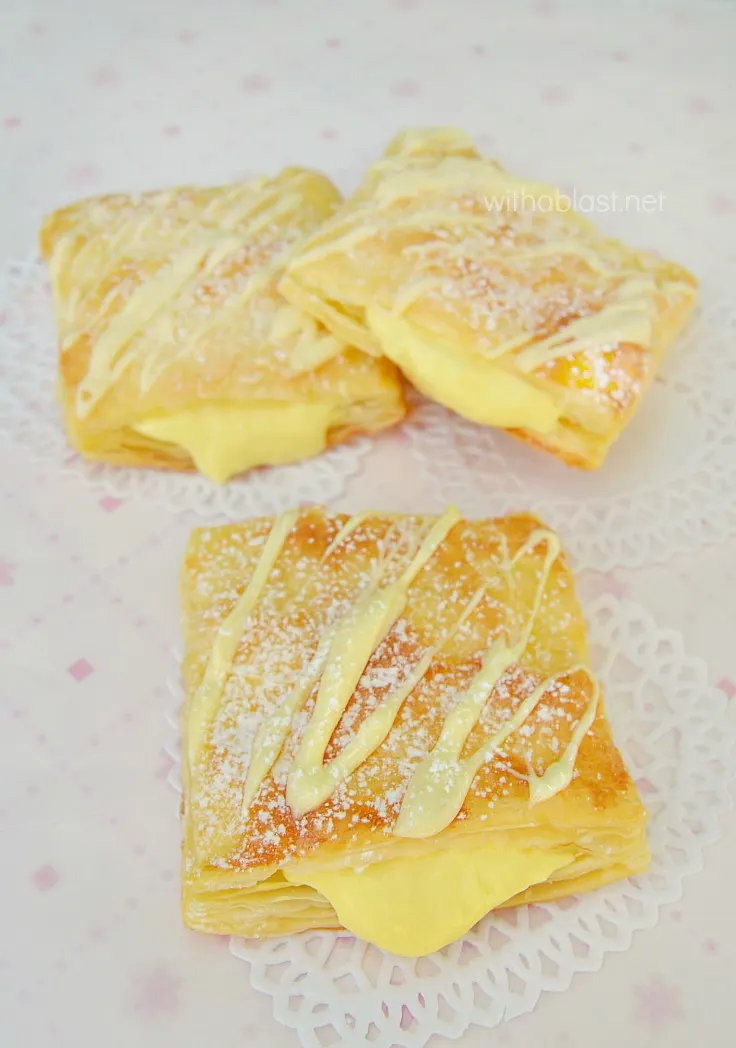 When it comes to Lemony treats, either sweet or in savory dishes, my family are on the less zesty side, whereas I absolutely love the extra bite.
Zesty Lemon Cream Puffs or not too zesty ?
You can add the Lemon Juice (which I have in the recipe as an optional) or you can simply leave it out.
I say, do the taste thing ! You know what your family prefers, and just how much zesty-ness to add.
Therefore, after folding in the Curd into the Cream, taste, and if you want more Lemon, add a little Lemon Juice at a time, tasting after each addition, until you are happy.
Remember, push your filling back into the center of the open baked pastry if you do not want it as open and leaky as the three I have posted.
More sweet treat recipes you might like:
Lemon Cream Puffs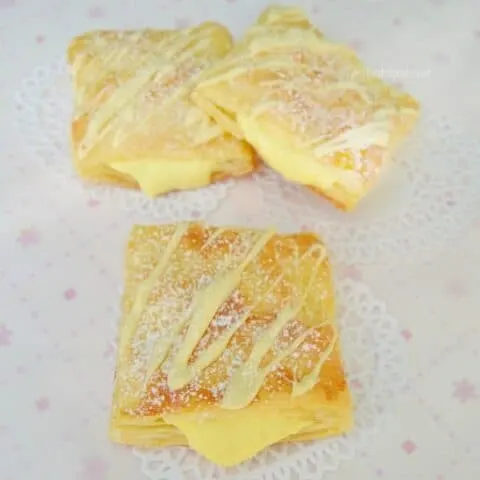 Lemon Cream Puffs
Lemon Cream Puffs are light and flaky, filled with a divine Lemon Cream, which can be as zesty as you prefer ~ another quick, easy but scrumptious dessert Pastry !
Ingredients
1 roll Frozen Puff-Pastry, defrosted
1 Egg
1 tablespoon Water
2 tablespoon Caster Sugar, (Superfine Sugar)
1/2 cup Fresh Cream, (heavy cream/whipping cream)
1/4 cup Lemon Curd, (Store bought or homemade)
1 - 2 teaspoon/s Lemon Juice, optional
White Chocolate, to drizzle
Icing Sugar, to dust
Instructions
Pre-heat the oven to 200 deg C (400 deg F) – line 2 baking sheets with baking paper
Roll out the Puff Pastry, but do not roll any thinner – cut into 12 x 5cm (2 inch) squares
Whisk together the Egg and Water – brush the Pastry – sprinkle the Caster Sugar over and transfer the squares to the prepared baking sheets, leaving small spaces between each square – bake 12 – 15 minutes or until puffed and golden – remove from the oven and cool completely on a wire rack
Beat the Cream until stiff peaks form – fold in the Lemon Curd and Lemon Juice (if using) – chill for 10 minutes before use
Gently open up a small piece in the center of one of the sides of each baked pastry square, lifting the upper part carefully (only enough for the nozzle to fit through)
Pipe the Lemon Cream into the pastry opening (about 1 – 1 1/2 tablespoonfuls per pastry)
Melt a few cubes of White Chocolate and drizzle over the Puffs – let stand a few minutes to set
Nutrition Information
Yield

12
Serving Size

1 Puff
Amount Per Serving
Calories

160
Total Fat

8g
Saturated Fat

4g
Trans Fat

0g
Unsaturated Fat

3g
Cholesterol

35mg
Sodium

43mg
Carbohydrates

21g
Fiber

0g
Sugar

19g
Protein

2g
Nutrition value is not always accurate.
Dust with Icing Sugar and serve. Leftovers should be kept in a sealed container in the refrigerator.