Make these worldwide popular Ferrero Rocher treats at home using only FOUR ingredients – quick and easy !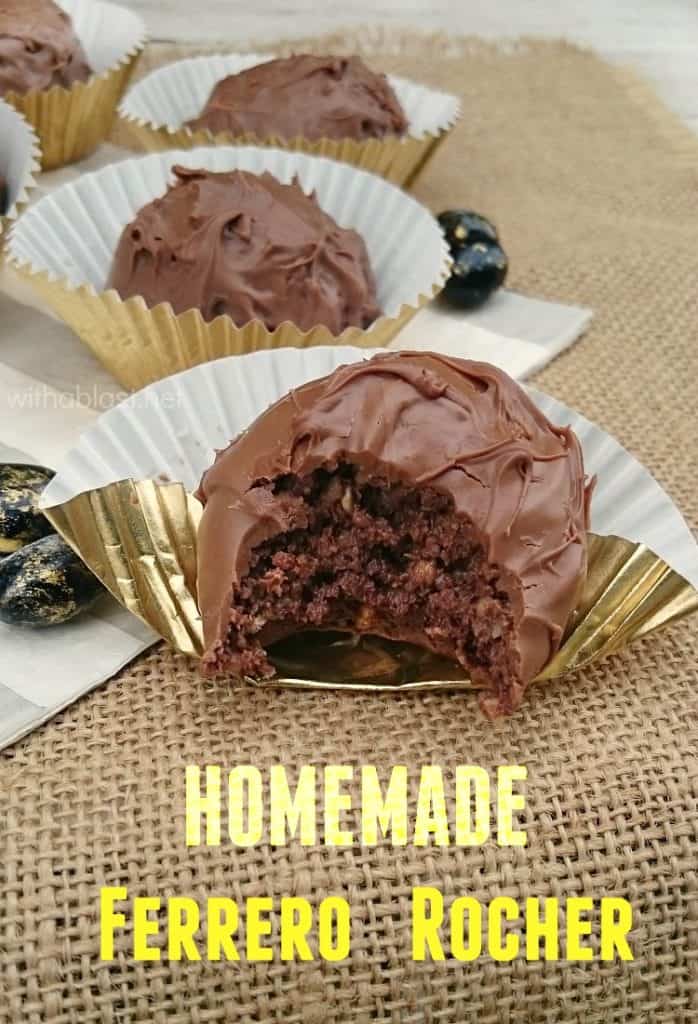 With only four ingredients, who can say no to these Homemade Ferrero Rocher ? Certainly not me ! This is such an easy recipe and it tastes just like the real thing.

Ferrero Rocher must be one of the most loved chocolate treats in the world and I am not sure how many boxes/containers I have devoured over the years – many, many – that I can tell you.
Birthdays, Anniversaries, Christmas, Easter, you name the occasion and I can safely tell you that I received some – usually as a small side gift to a larger one, but my Ferrero Rocher is always included.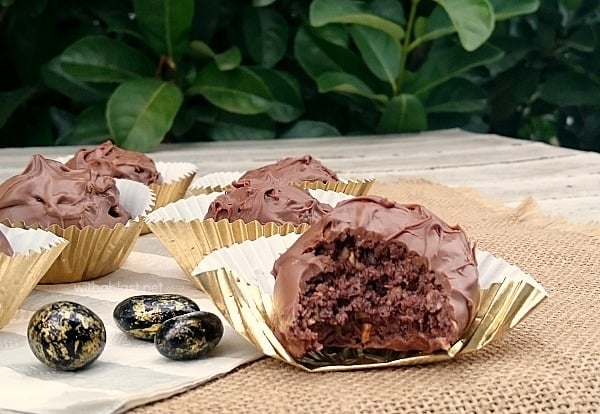 What I do not like about them, and this is also the only reason why not, is the price ! Have you noticed how expensive they can get ?
But, in all honesty, if you want to buy quality, you have to be prepared to pay the price.
I would not lie to you and say these Homemade Ferrero Rocher worked out at half the price than the ones in the stores. It is slightly cheaper to make at home, BUT, you can make it any time you have a craving for these – which usually happens around 10pm at night for me.
Seeing as there are only 4 ingredients to make these divine sweet treats, you should think about keeping them in stock in the pantry for those just-in-case evenings I just mentioned.
It literally takes minutes to make, chill a couple of minutes, roll into balls (maybe another few minutes of chilling) and then coat in melted chocolate.
I rolled my balls into about one and a third size of the real Ferrero Rochers, and got 12 nicely sized serving treats. You can make them any size you prefer.
Homemade Ferrero Rocher
Make these worldwide popular Ferrero Rocher treats at home using only FOUR ingredients - Quick and easy !
Ingredients
100

g

Wafer Hazelnut Biscuits

crushed ( 3.5 oz )

150

g

Hazelnuts

roasted for 8 minutes, cooled and peeled, finely chopped ( 5.2 oz )

200

g

Nutella

( 7 oz )

150 - 250

g

Milk or Dark Chocolate

for coating ( 5.2 - 7 oz )
Instructions
Mix the Wafers, Nuts and Nutella in a medium mixing bowl – roll into balls (sized according to your preference) – if the mixture is not firm enough to form into balls, place in the refrigerator for a few minutes to firm up – place the balls on a wax paper lined baking sheet and chill for 10 minutes.

Melt the Chocolate and dip the balls until coated all over – place back on the wax paper and chill another 2 – 3 minutes until the Chocolate is set.
Enjoy !
Linda
Linking up at: Weekend Potluck – Sweet Little Bluebird