Spaghetti Carbonara is a traditional pasta, which is quick, easy and delicious, with Parmesan and Pecorino Cheese adding lots of flavor
Spaghetti Carbonara is one of my family's favorite meals. Sharp Cheeses to add that amazing taste and of course there is the Bacon ! And who does not love Bacon ?
As a child and right into the time I left home, Bacon was reserved for breakfast. And breakfast only.
No pastas with Bacon, no sandwiches, I mean really, Bacon was served for breakfast only.
Could be because in those years, red meat, like Lamb and even Beef, were quite affordable and that is what we had for dinner.
Pork was thrown in every now and then, not so much Chicken though, come to think of it !
I think as time passed, food prices started to skyrocket and most every household began looking for cheaper, more affordable cuts of meat.
Not that I am saying Bacon is cheap, no not at all. The prices for Bacon has also gone through the roof lately.
An economical dinner recipe !
But a packet of Bacon ( 250 grams / 8 ounces ) can go a long way towards stretching a meal. Add a Cheese or two, even vegetables in some pasta recipes, and your dinner is much more economical and filling.
Pasta has to be one of the most versatile starches around. Looking at the amount of pasta recipes, in recipe books as well as all over the internet, we have a lot of pasta lovers all over the world.
Think Macaroni and Cheese. Every family has their favorite (or three !) recipe. We love all sorts of pastas, and try to use them in many different ways, from known recipes to the unknown to the accidentally discovered dishes.
Just think, how many times have you found a packet of Tagliatelle, Spaghetti, Screw Noodles or any of the others, in your pantry – had a look around what else is on hand and voila!
You come up with a new dish ? Yes, sometimes a thrown together dinner works, and other times not even the dogs want it!
I stuck to a known dish this time ( we have Spaghetti Carbonara at least once a month ), which is a no fail recipe – best of all, and my favorite kind – quick, easy and delicious.
More Pasta recipes you might like:
Spaghetti Carbonara
Yield: 6 Servings
Spaghetti Carbonara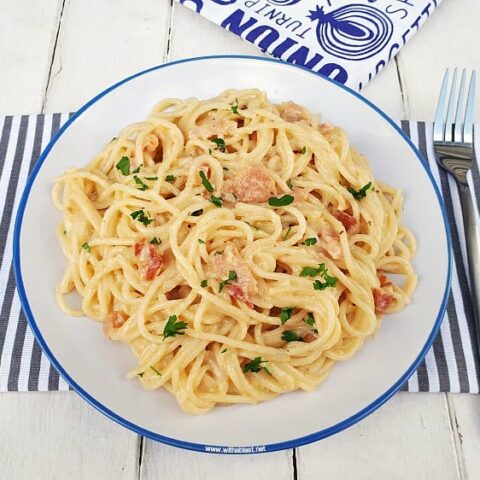 Spaghetti Carbonara is a traditional pasta, which is quick, easy and delicious, with Parmesan and Pecorino Cheese adding lots of flavor
Ingredients
500 g Spaghetti, ( 16 oz )
250 g Bacon, ( 8 oz )
2 t Fresh Garlic, crushed
3 TB Butter, unsalted
3 Extra-Large Eggs, beaten lightly
1/2 cup Pecorino Romano Cheese, finely grated
1/2 cup Parmesan Cheese, finely grated
Salt and Black Pepper, to taste
Instructions
Cook the Spaghetti as per the instructions on the pack – (when done, retain 1/3 cup of the liquid).
Meanwhile, fry the Bacon in a large skillet until crispy – break or cut into pieces – add the Butter and Garlic, cook over low heat for a few minutes.
Add both the Cheeses to the beaten Eggs, stir to mix and add Salt and Black Pepper to taste.
Drain the Spaghetti when done (remember to keep 1/3 cup of the hot liquid aside) and add the pasta to the Bacon in the skillet.
Spoon a little of the hot retained pasta liquid into the Egg mixture, mix and repeat until you have a thick glossy sauce – add the Egg mixture to the hot Pasta/Bacon and mix well to combine (the heat of the Pasta will "cook" the Egg mixture).
Nutrition Information
Yield
6 Servings
Amount Per Serving
Calories

470
Total Fat

27g
Saturated Fat

12g
Trans Fat

0g
Unsaturated Fat

14g
Cholesterol

164mg
Sodium

1085mg
Carbohydrates

28g
Fiber

1g
Sugar

1g
Protein

26g
Nutrition value is not always accurate
Season with more Salt and Pepper if needed and serve immediately.