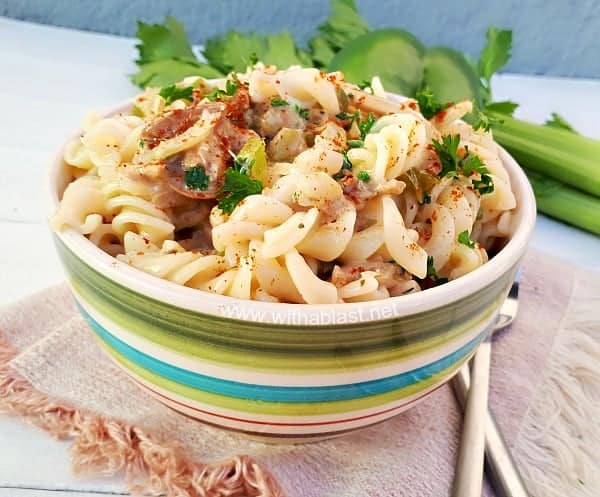 I am all for quick and easy dishes, as long as they are delicious! I have been craving Tuna for some time now and decided it is about time to stop that craving.
Usually a good Tuna Sandwich will do it for me, but I wanted a more filling dish and this Quick Tuna Pasta is always a hit anyway …. dinner sorted.
I usually also have all the ingredients on hand, except for the Celery, which we got on our daily run to the supermarket.
A Bit of chopping and slicing, cooking the Pasta (cook the Sauce whilst the Pasta is on the stove) and dinner is ready in under 20 minutes.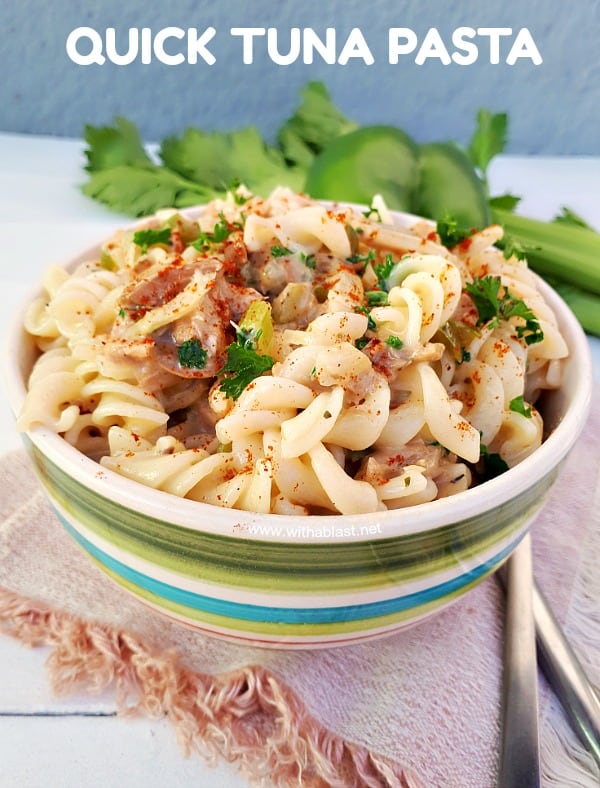 Now this is really a quick and easy dinner recipe, packed with vegetables and if your family is anything like mine, this will become a favorite dish too. (Even non-Tuna eaters loves this !)
Filling, creamy on the table in no time at all – serve a light crunchy salad on the side and you are set for dinner.
Quick Tuna Pasta
4 Servings
INGREDIENTS:
2 cups Pasta (your favorite)
1 can (170g) Tuna in Oil
2 TB Butter
1 t Dried Italian Herbs
2 Celery sticks, chopped
1 Green Bell Pepper, chopped
2 Onions, halved and thinly sliced
1 can Condensed Mushroom Soup
1 cup Milk
1 1/2 cups Cheddar Cheese, grated
1/4 cup Parsley, chopped
Salt and Black Pepper
Parsley, chopped – to garnish, optional
Paprika, optional
DIRECTIONS:
1.) Boil the Pasta, in a large pot, until al dente in lightly salted water.
2.) Meanwhile, drain the Oil of the Tuna in a pan and add the Butter – add the Italian Herbs, Celery, Green Bell Pepper and Onions – saute until soft.
3.) Add the can of Mushroom Soup and Milk to the pan – stir continuously until thick.
4.) Drain the Pasta and place back in the pot – add the sauce mixture, the can of Tuna, Cheddar and Parsley – stir to combine – season to taste with Salt and Black Pepper.
Sprinkle extra Parsley and Paprika over and serve !