These No Yeast Hot Cross Buns are the perfect Easter treat and is mixed, baked and ready to serve in under an hour. Perfect Easter treat !
This No Yeast Hot Cross Buns recipe are right up my ally ! I do not like working with yeast and I always seem to make a mess of whatever I am trying to bake.
Hot Cross Buns are however one of my favorite morning snacks, not only around Easter time, but all year round.
Now, it is convenient to pick up a packet or three at the supermarket. But what if I am craving a Hot Cross Bun in say, the evening, or on a morning when I am home alone ?
Really, I am not going to start messing about with yeast, kneading, rising, kneading again or whatever it takes to bake my own.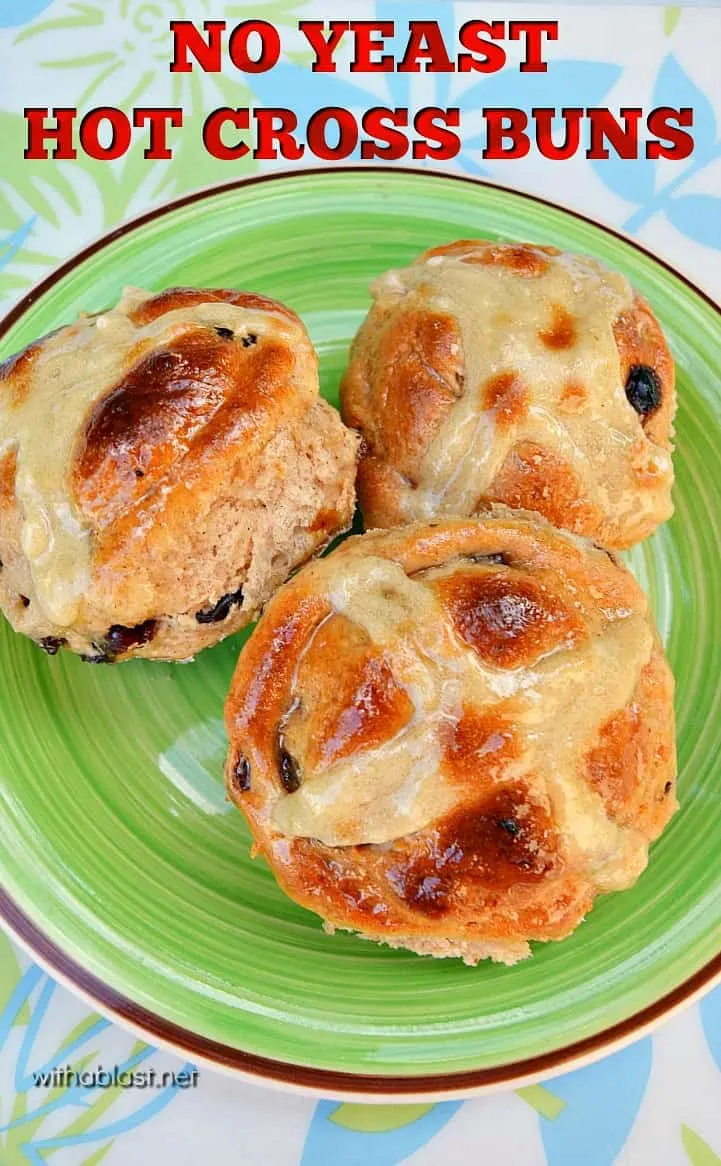 The mixing and baking of these Buns are quick and easy, as most recipes are on With A Blast.
Texture of No Yeast Hot Cross Buns
I will be totally honest, it is not 100% the same texture as the Buns made with yeast.
The buns also do not rise all that high. The final height is about 5 centimeters (2 inches) which is not that bad at all.
This is more a recipe which reminds me of scones. Or biscuits as some would call it. But with a softer and more moist texture if you get what I mean.
Now, for a quick fix to your craving for Hot Cross Buns, this is the recipe for you !
Substitutions for raisins in Hot Cross Buns :
The Raisins can be substituted with Sultanas or even Chocolate Chips – now that's a great idea (and delicious too!).
Heat up the oven. Start mixing and by the time the oven temperature is ready, your dough would be rolled out and all, ready to go into the oven.
Forgot about dessert ? Bake a batch of these Hot Cross Buns and serve piping hot straight from the oven – serve with ice-cream !
You might also like these Easter recipes:
No Yeast Hot Cross Buns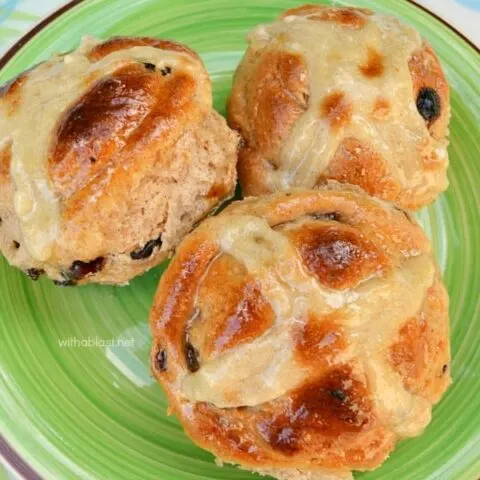 No Yeast Hot Cross Buns
No Yeast Hot Cross Buns are the perfect Easter treat and is mixed, baked and ready to serve in under an hour !
Ingredients
BUNS:
3 1/2 cups Self-Raising Flour
1/2 t Salt
1/2 t Mixed Spice
1/2 t Ground Cinnamon
1/4 cup Unsalted Butter, softened
1/4 cup Sugar
1/2 cup Raisins
1 Egg, lightly beaten
1 cup Milk, (approximately)
CROSSES:
1/2 cup Flour
1/3 cup Water
GLAZE:
1 TB Sugar
1 t Gelatin Powder
1 TB Hot Water
Instructions
BUNS:
Pre-heat the oven to 220 deg C (450 deg F) – butter a 20 x 30cm (8 x 12 inch) oven dish
Combine the Self-Raising Flour, Salt, Spice and Cinnamon in a medium mixing bowl – add the Butter and rub in until combined
Add the Sugar, Raisins and the Egg – stir to mix – add just enough Milk, little by little, to form a stiff dough
Roll out to a 1cm (10mm) thickness and use a 5cm (2 inch) round cookie cutter to cut out 8 pieces – arrange in the prepared oven dish
CROSSES:
Make a paste by mixing the Flour and Water – transfer to a piping bag and pipe a cross on each dough round – bake 15 – 20 minutes (I use the top grill to brown the buns a little – a minute or two will do) – remove from the oven and transfer to a cooling rack
GLAZE:
Dissolve the Sugar and Gelatin in the Hot Water – brush over the warm Hot Cross Buns
Nutrition Information
Yield

8 Servings
Serving Size

1 Bun
Amount Per Serving
Calories

358
Total Fat

8g
Saturated Fat

4g
Trans Fat

0g
Unsaturated Fat

3g
Cholesterol

41mg
Sodium

826mg
Carbohydrates

64g
Fiber

2g
Sugar

14g
Protein

9g
Nutrition value is not always accurate
Serve warm or cold with Butter.