Easter Dessert Candy Board is a great addition to your Easter desserts. Filled with surprise little sweets and Easter chocolates to keep everyone happy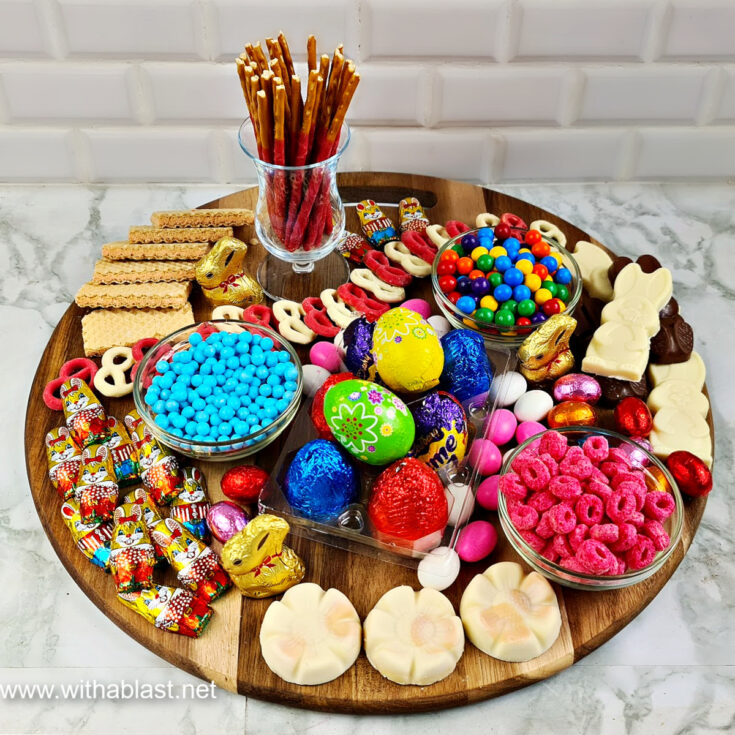 One of the things I love making, besides baking and cooking, is making boards filled with delicious treats.
It could be something like my Easy Charcuterie Board (perfect to start your Easter !) or another Sweet Board, Candy Charcuterie Board, which again is perfect for not only Valentine's Day, but any occasion !
You might find it easier to start with a plan, just a rough idea is enough, of the lay-out for your Candy Platter.
Below you will see I started with placing my glass bowls (you can use any bowls or none at all) in a shape, with my tallest glass at the back.
A swirling row of yogurt coated pretzels is also added as I want to "build" my board more or less around this shape.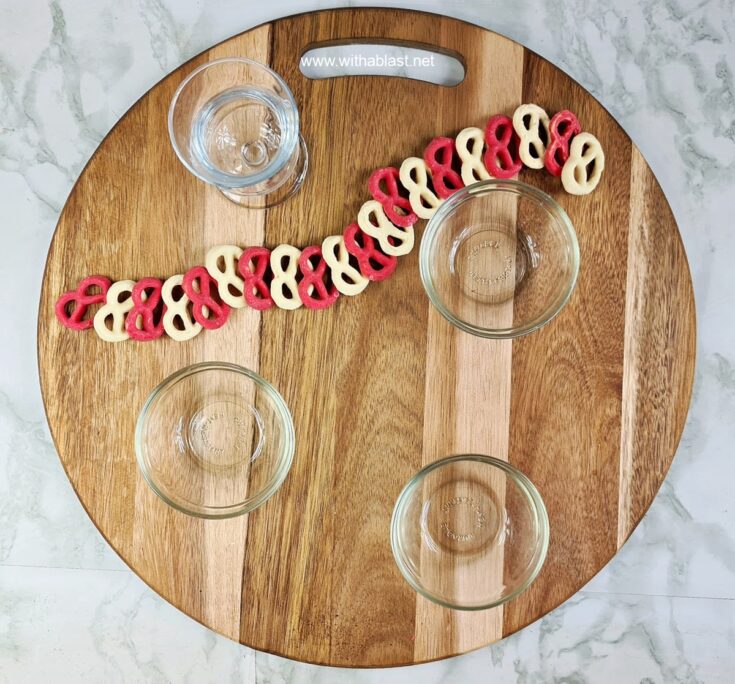 You can also add more tall glasses (holders) at the back for chocolate coated pretzel sticks or similar treats. It is better placed at the back as it won't be bumped over every time someone reaches for a treat behind it.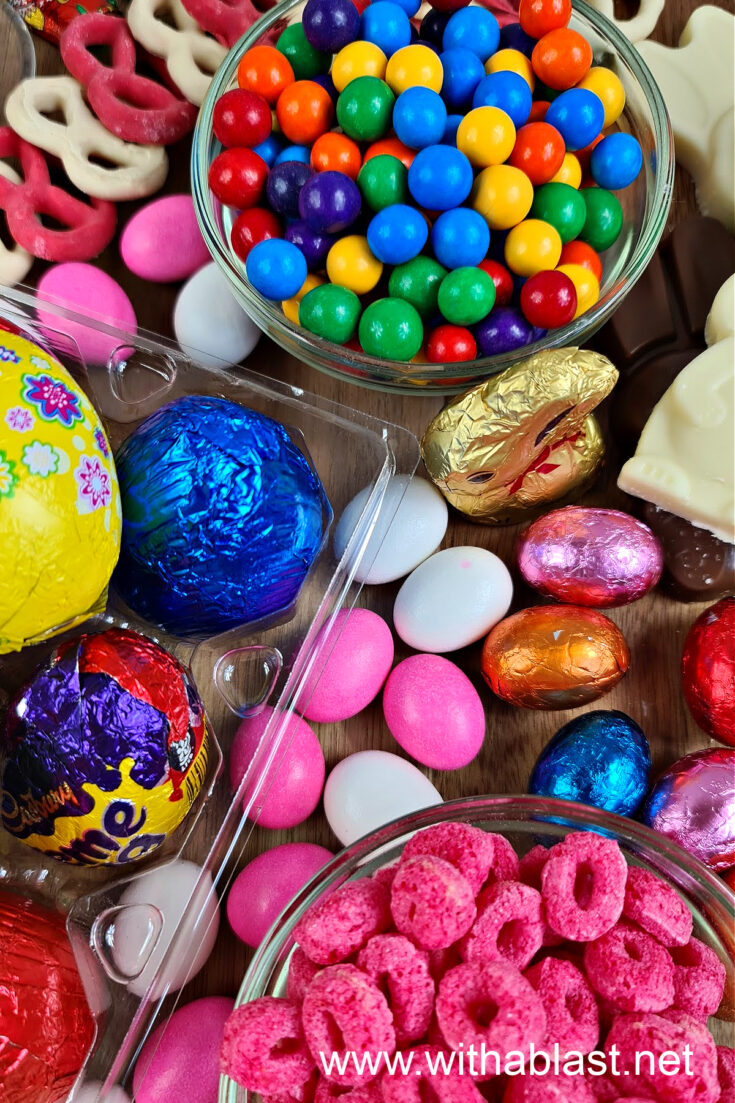 As I have mentioned before in my other platter type board posts, there is not really a recipe to follow.
The main thing is – you add ingredients, in this case candy, which you prefer, suits your color scheme and also ideal for your guests. Keep in mind kids and adults usually prefer different candies.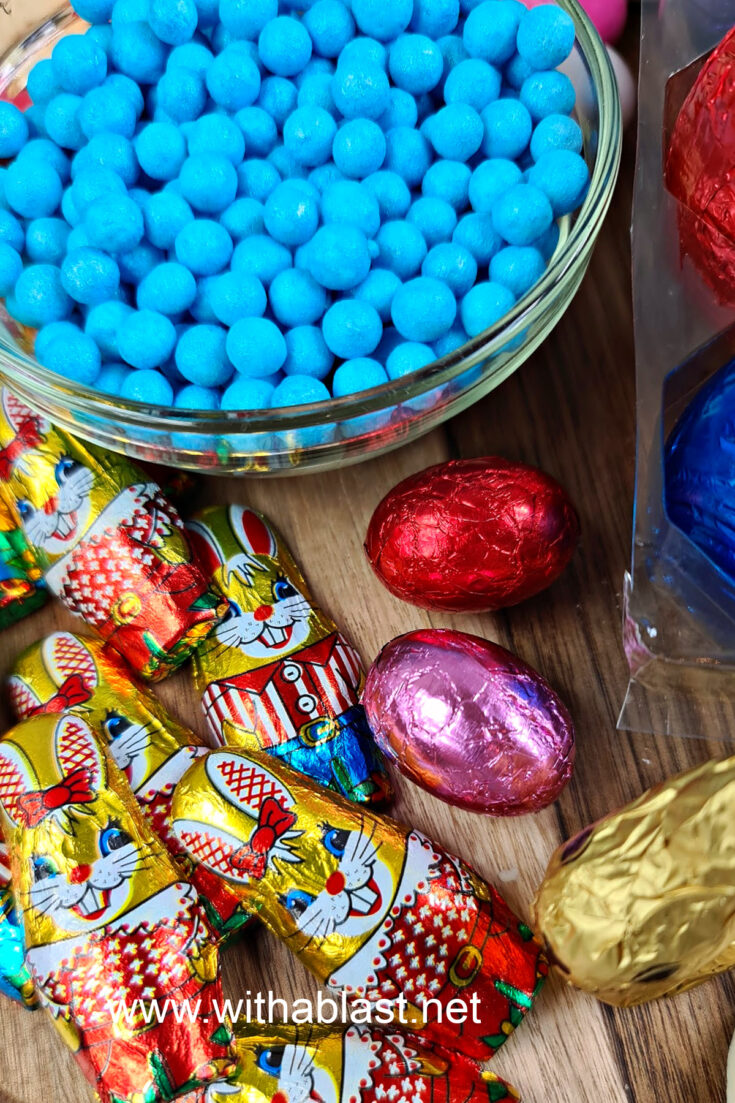 Where do you find the perfect candies for an Easter Dessert Candy Board ?
One answer – in your favorite grocery store in the Easter goodies aisle ! I know not all stores have an aisle dedicated to only Easter goods, but have a look around the store too.
Another thing to keep in mind is that you need not ONLY add Easter candies. I like to add everyday sweeties, think Astro's, candy coated small buttons, wafer cookies and so much more.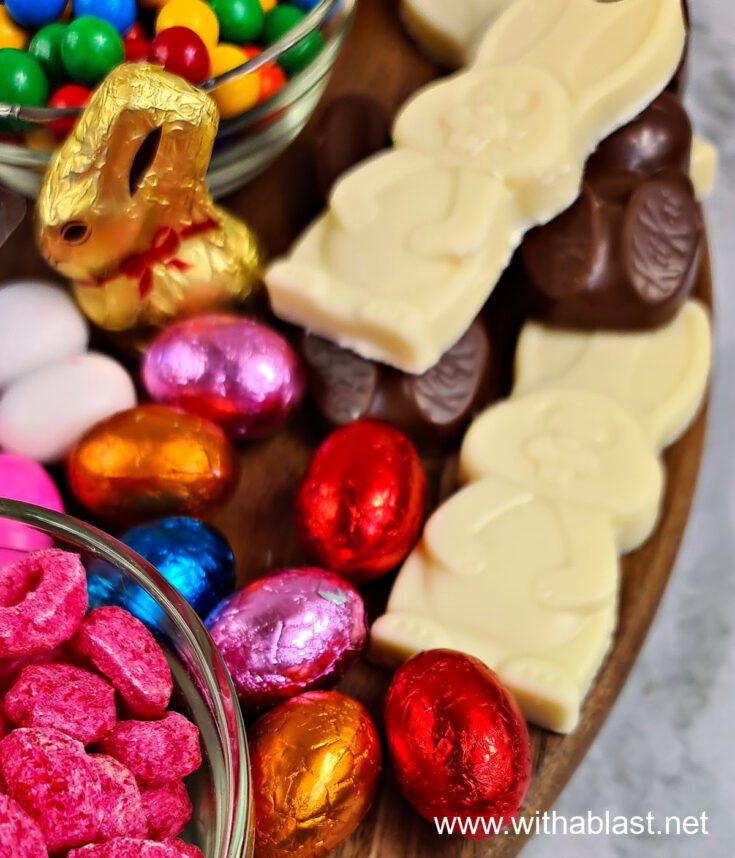 However to fit in with the Easter theme it only makes sense that the majority of candies are in fact Easter candies/sweets.
Pastel or bright colors ? Totally up to you ! Even a mixture of the colors will do. This is the fun part of building a candy board, you make it the way you want it !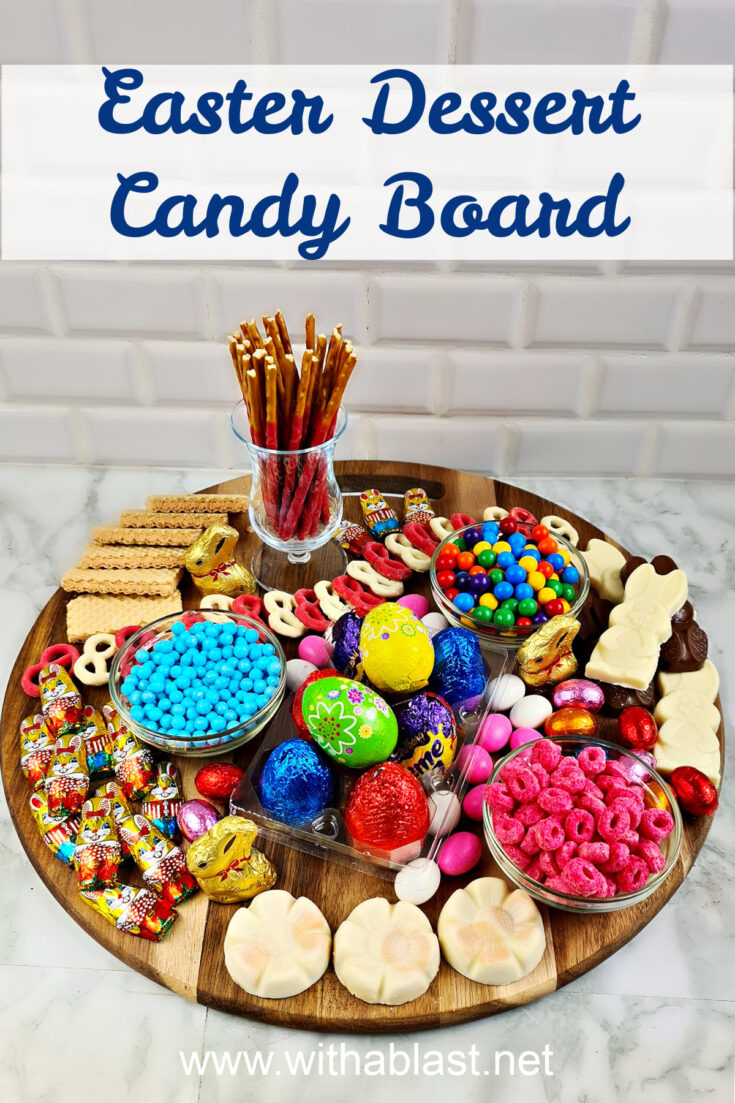 More Easter recipes you might like:
Easter Dessert Candy Board
Yield: Creator's decision
Easter Dessert Candy Board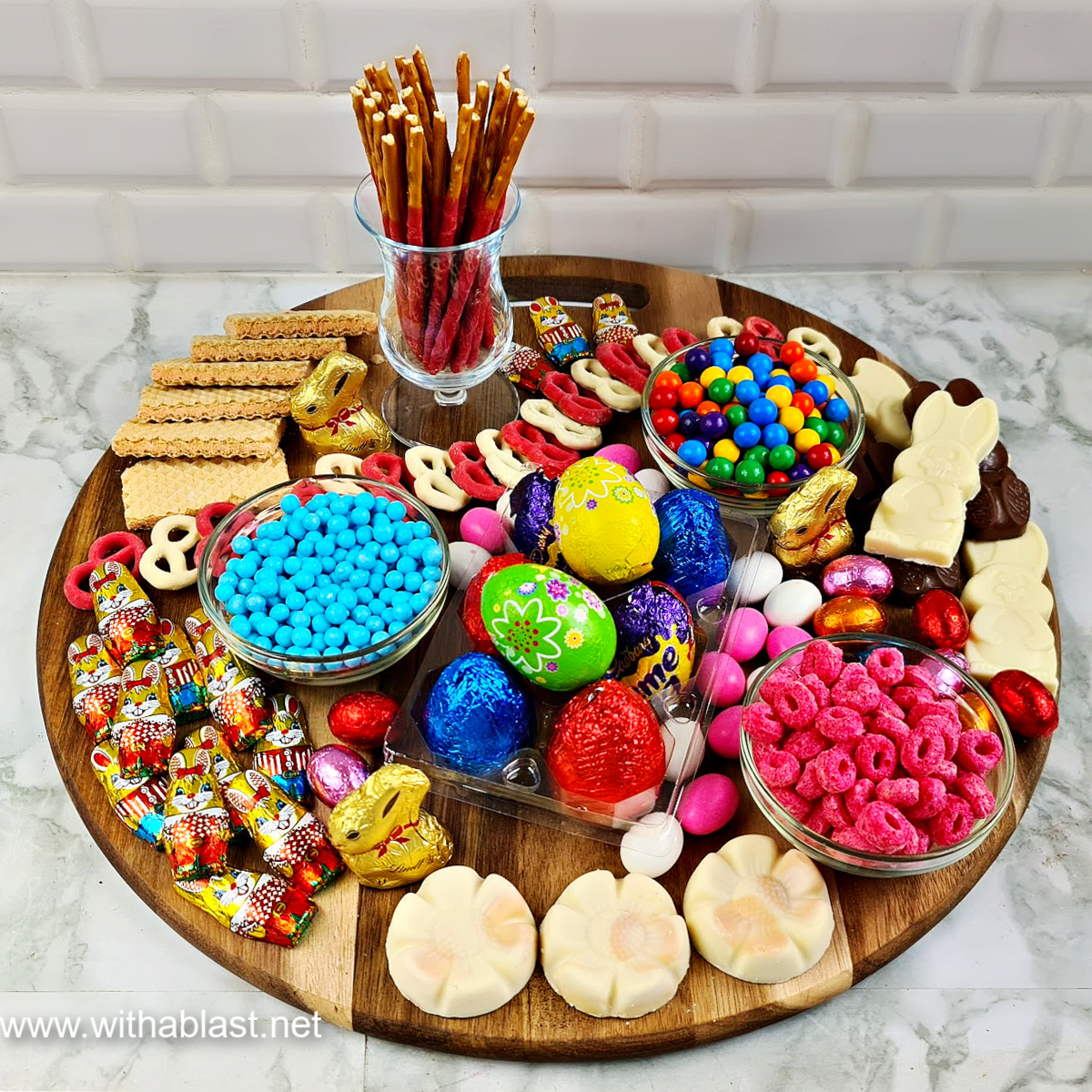 How to make an Easter Dessert Candy Board quickly and easily. Flavors, textures and shapes - all perfect treats to place on a Easter sweet platter !
Materials
1.) Variety of Candies, hard, soft, different shapes, textures and flavors
2.) Variety of Easter Chocolates
3.) Pretzels, coated in yogurt or chocolate (traditonal pretzel shape or sticks)
4.) Cookies i.e chocolate with a filling, wafer cookies etc
5.) Candy coated nuts
Tools
1.) Serving Board
2.) Small bowls or any containers for tiny treats
3.) Glass or similar for Pretzel sticks and similar treats
Instructions
Place your glass/es, bowls etc strategically on the serving board
Start with a row or two of eye catching candies - i.e. the coated Pretzels
Continue to add different candies to the serving board until full
Place larger treats more around the rim and smaller treats on the inside so as to keep the candies from rolling off (not a must, only a tip)
Notes
Any Candy flavor is great for Easter, however Chocolate is always the winner !
Different sizes, shapes and colors will make this a center piece on your dessert table (or go for an all pastel themed board)
Use Candies you like/prefer - no need to use only certain flavors !
Make the Easter Candy Charcuterie board as big or small to suit your needs